By 2040, We Won't Need Subways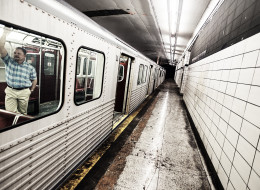 Toronto was recently named the world's fourth "most liveable" city by The Economist, with a notable caveat: the city's poor infrastructure. This comes as no surprise. Toronto's gridlocked streets, endless construction, lack of public transit options, and rickety old streetcar system mark a notable scar on our world class city.
Premier Kathleen Wynne's solution to the transportation infrastructure problem is to spend a whopping $50 billion of taxpayer money over the next 25 years to build an expansive rail network. By 2040, Toronto may finally have the subways that other cities built nearly 200 years earlier. (Similar networks were opened in London in 1863, New York in 1867, and both Boston and Chicago in 1897.)
But can you imagine what the world will look like in 2040?
We are on the cusp of explosive new technologies that will revolutionize how we commute. Innovative tech startups are fixing the problems we currently have with cars: that they pollute too much, are too expensive for many, and congest our overcrowded roads. Here are three notable examples of ideas and companies that will change transportation as we know it:
1. Ride-sharing. New apps like Hailo and Uber have taken the taxi dispatch system by storm, allowing customers to directly order and pay for rides through an app. This is just the beginning of how technology is facilitating the ride-share revolution. Lyft, the next generation ride-sharing app, has its own drivers and offers rides for a fraction of the price of taxis. Its spinoff Lyft Line creates a bus-like system that batches several customers together based on their route, splitting the price even further. Imagine a car picking you up from home and driving you directly to work everyday, for about the price of taking the Go Train. Of course, governments have gone out of their way to ban these apps, while further protecting the fat cat owners of the limited number of taxi licenses.
2. Autonomous, or self-driving cars. We may not be living the dream of flying cars from futuristic shows like the Jetsons, but Google's driverless car is a step in that direction. These cars, now legal in four U.S. states, have logged over a million kilometres on California roads without causing an accident. Driverless cars will significantly reduce traffic by automatically adjusting the speed and distance between cars, they use real-time data to select the best route, and eliminate collisions caused by human error. Imagine having productive work time in the car during your commute. Driverless cars, unfortunately, are still banned in Ontario.
3. Electric cars. Telsa Motors, run by Canadian Elon Musk, is working to mass produce the electric car. Musk recently waived the patent rights for his electric car because he simply cannot keep up with the demand for his product, and Tesla plans to sell electric cars at affordable prices within a few years. These electric cars are greener and cleaner than building new subways, but will require plenty of infrastructure, like charging stations, and more roads and highways -- the exact infrastructure that has been chronically neglected in Toronto.
These dramatic changes will revolutionize transportation in the coming years, and make a $50 billion subway system irrelevant. Ontario should look forward, not backwards. Instead of ploughing ahead with 200 year old solutions, the government would be wise to embrace technological progress and cut through the wall of red tape that work against innovative startups.
This will save taxpayers, and help situate Toronto as a model for 21st century transportation.
This article appeared in the Toronto Sun on Monday August 25, 2014
MORE ON HUFFPOST:
The progressive subway architecture of Munich's underground wonderland pushes the envelope. The U-bahn is made up of mod, technicolor stations with little evidence of human finagling (i.e. no pissed-on benches, trash or graffiti). While several stations are old as funk (as far back as the 1930s), most have been newly renovated to resemble kaleidoscope-like wonders. We like the Sankt-Quirin-Platz station best for its quirky mix of old and new.

Paris makes it easy for us 'mericans to navigate its subway system. As charming as public transportation gets, the romantic art nouveau architecture of the world's second-oldest subway system will put you in the mood for serious PDA on the comfy seats. Brush up on your French, and your train just might meet a tunnel.

One of the most reliable subways in the world, the Hong Kong trains don't have operators. While we think there's a certain thrill to be on the fast track in a driver-less vehicle, the local population is a bit ho-hum about it. To make sure everyone is pleased with their human-less customer service, some stations are equipped with mood indicators.

Your mission, should you choose to accept it: sleuth out North Korea's subway system -- the best-kept subterranean secret in the world. At 150 meters deep, it was made to withstand nuclear attack and link covert underground military facilities. While tourist exploration is severely restricted (only two stations are open to the public), we heard a rogue reporter once snuck out of his guarded hotel to poke around the clandestine admin-only tunnels. There are no glitzy ads or art work to check out here; just the harsh faces of political leaders plastered to train walls.

The Moskovsky Metropoliten has the largest ridership in the world, and that's just counting humans. Believe it or not, the stray dogs of Moscow have trained themselves to board and disembark (bark, bark) at stations of their choice because they have doggie jobs and families to get to, too. (No not really: They're looking for food.) They've taken a cue from fellow riders to avoid eye contact and have a dog's sense to get off at the correct stop. Who could blame the bastards for wanting to check out the underground? Other marvels include the neoclassical station architecture, Komsomolskaya in particular.

Finally, something to fill the void of Swedish-cool that ABBA and Bjorn Borg left behind -- the Tunnelbana, Stockholm's subway, isn't called the world's longest art gallery for nothing. Over 90% of its stations are adorned with mosaics, installations, reliefs and paintings by hundreds of artists badass enough to take it down a level. You can find shards of old buildings at the Kungsträdgården station or descend to the Odenplan station on a staircase resembling a grand piano. Several stations on the blue line feature exposed bedrock, painted in psychedelic colors and patterns that will likely derail your train schedule.

Toei Chikatetsu is Tokyo's futuristic subway system and the busiest metro in the world. What makes this metro so high tech? For starters: The extra busy Shibuya (she-boo-yah!) station, on the fourth floor of a trade center recently installed piezoelectric flooring that harnesses kinetic energy from the rush hour footfall and uses it to power lighting and other electronic equipment. Put that in your eco tech nerd cocktail and stir it.

OTP applauds your willingness to wear dirty clothes in order to save a little water. But get this, eco-warrior: the Madrid metro cleaning system recycles 80% of the water used down below. That's even a better rate than that drizzle bath you call a shower! In fact, the whole system was designed with the Kyoto Protocol in mind. If this doesn't stroke your eco'nsceince, may the carbon footprint gods have mercy.

This baby got a sexy makeover for the 2008 Olympics, much like the rest of Beijing. Never a country to skimp on fancy technology for its metropolitan centers, all trains are now bright and beautiful with sleek touch-screen maps, LCD televisions, underground cellphone reception and bilingual announcements. Forget the Forbidden City; we'll just hang down here.

What do mutant rats and NYC natives have in common? The New York City subway runs 24/7, has an express train on almost every line and always gets you within a few blocks of your destination.  What's more, every other ride features a free show -- whether you asked for it or not. With Michael Jackson moonwalking, drunk Polish men singing show tunes on the platform and gospel a capella groups parading through the car, you're bound to pass the next Bob Dylan during your commute. If you're lucky, you might even get kicked in the face by a pole-swinging break dancer.
Follow Candice Malcolm on Twitter: www.twitter.com/CandiceMalcolm