Kids Are Why We Should Care About Climate Change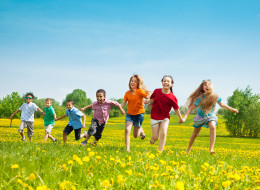 As a husband and father of two children I am deeply concerned about the kind of world they are going to live in when they grow up. I have often despaired in recent years about the terrible environmental legacy my generation will be leaving them, so I was heartened when I read of German Chancellor Angela Merkel's agenda at the G7 summit she hosted last month.
She hoped to set an ambitious goal in the run-up to the next UN climate change summit in Paris in November. Merkel proposed that her fellow leaders make a broad, iron-clad commitment to a low-carbon economy by 2050. But my heart sank when I saw that Prime Minister Stephen Harper had joined forces with the right-wing Japanese prime minister to push that deadline to the end of the century. By then, my two-year-old son could be warning his grandchildren not to swim in the acid bath that is the Pacific Ocean, while waxing nostalgically about the long extinct polar bear.
It's not the first time Harper has obstructed substantial action on climate change and sullied Canada's once-bright reputation, of course. In 2011, he made Canada the only country in the world to pull out of the Kyoto Protocol, the only binding international agreement to curb greenhouse gas emissions. Not content with that outrage, in 2013 Harper pulled Canada out of the UN Convention to Combat Desertification, which fights the effects of drought around the world. At the 1992 Earth Summit in Rio de Janeiro, Canada was highly regarded as a leader in the environmental field. But Harper has methodically eroded that reputation to the extent that the influential Conference Board of Canada branded Canada an environmental laggard in a 2013 report. According to "How Canada Performs" we rank 15th out of 17 developed nations on environmental performance, ahead of only the United States and perennial bottom-dweller Australia.
Harper has decimated key departments at the Fisheries and Oceans, destroyed valuable research libraries and muzzled our top-calibre scientists, and year after year has won Canada the dubious distinction of being designated "fossil of the year" on climate change.
One of the slogans I've seen on buttons handed out by the Green Party is "Because, KIDS." For me, that is the heart of the environmental issue, and my motivation for writing about climate change and trying to raise awareness of the seriousness of this crisis that threatens our very survival as a species. How can Harper, who has children of his own, be so blind to what faces them in their future? Does he really believe, as his finance minister Joe Oliver famously stated, that this is a problem for his granddaughter to solve? And for that matter, how can any of us with children and grandchildren refuse to take action on this issue if we care about their future?
Because, kids -- that says it all.
MORE ON HUFFPOST:
Climate Change: 10 Beautiful Places Under Threat
The impacts of climate warming in Alaska are already occurring, experts have warned. Over the past 50 years, temperatures across Alaska increased by an average of 3.4°F. Winter warming was even greater, rising by an average of 6.3°F jeopardising its famous glaciers and frozen tundra.

The most fragile of Italian cities has been sinking for centuries. Long famous for being the city that is partially under water, sea level rise associated with global warming would have an enormous impact on Venice and the surrounding region. The Italian government has begun constructing steel gates at the entrances to the Venetian lagoon, designed to block tidal surges from flooding the city. However, these barriers may not be enough to cope with global warming.

The West Antarctic Peninsula is one of the fastest warming areas on Earth, with only some areas of the Arctic Circle experiencing faster rising temperatures. Over the past 50 years, temperatures in parts of the continent have jumped between 5 and 6 degrees F— a rate five times faster than the global average. A 2008 report commissioned by WWF warned that if global temperatures rise 3.6 degrees Fahrenheit (2 degrees Celsius) above pre-industrial averages, sea ice in the Southern Ocean could shrink by 10 to 15 percent.

The rapid decline of the world's coral reefs appears to be accelerating, threatening to destroy huge swathes of marine life unless dramatic action is swiftly taken, leading ocean scientists have warned. About half of the world's coral reefs have already been destroyed over the past 30 years, as climate change warms the sea and rising carbon emissions make it more acidic.

The world's highest mountain range contains the planet's largest non-polar ice mass, with over 46,000 glaciers. The mammoth glaciers cross eight countries and are the source of drinking water, irrigation and hydroelectric power for roughly 1.5 billion people. And just like in Antarctica, the ice is melting.

An expected 2°C rise in the world's average temperatures in the next decades will impact island economies such as the Maldives with extreme weather patterns and rising sea levels.

Over the last century, global warming has caused all Alpine glaciers to recede. Scientists predict that most of the glaciers in the Alps could be gone by 2050. Global warming will also bring about changes in rain and snowfall patterns and an increase in the frequency of extreme meteorological events, such as floods and avalanches, experts have warned.

The Arctic is ground zero for climate change, warming at a rate of almost twice the global average. The sea ice that is a critical component of Arctic marine ecosystems is projected to disappear in the summer within a generation.

Called the "epicenter of the current global extinction," by Conservation International, this smattering of more than 4,000 South Pacific islands is at risk from both local human activity and global climate change.