Embrace Our Shared Humanity This World Refugee Day
Since the last World Refugee Day, we've seen an immense shift in the way we talk and think about refugees. While the crisis in Syria had been escalating for many years, a photograph of little Alan Kurdi on a beach in Turkey brought the immeasurable tragedy of the situation into clear focus.

While Canada has happily welcomed over 25,000 Syrian refugees in recent months, we have also witnessed extreme polarization on the refugee issue among our neighbours to the south and occasionally here in Canada, too. The enormity of the problem continues to grow to the point that we risk becoming numb to the seemingly endless images of overfilled -- or worse, over-turned -- ships in the Mediterranean.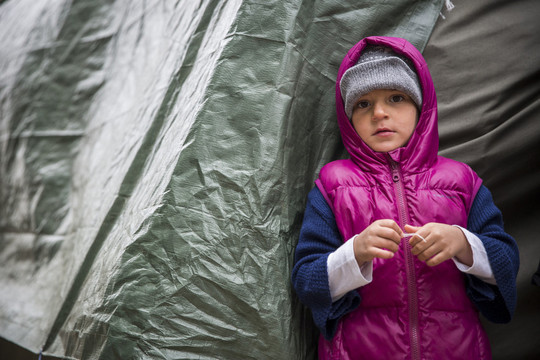 Fleeing northern Syria, five year-old Darin waits on the Serbian border to cross into Croatia. (Photo: Plan International/Jodi Hiltonl)
Worse yet is the fact that the crisis in Syria is only the tip of the iceberg. Countries like Nigeria, Burundi and South Sudan are all experiencing separate yet dire situations that do not have the benefit of Syria's name recognition. Each refugee-producing situation is different and could be caused by a range of catalysts, including war, political unrest, terrorism or even climate change. However, within each situation, there is one constant: that the needs of girls consistently go unheard and unmet.
The conflicts and crises that cause refugee situations also impede the eradication of global poverty, making it even more difficult for people to improve their circumstances. This is clearly illustrated by the fact that 80 per cent of the countries that did not achieve the UN's Millennium Development Goals -- the world's quantified targets for addressing extreme poverty -- endured a recent conflict, a natural disaster or both. It's also important to underscore the fact that those most impacted by conflicts and crises are women, adolescents and children, especially girls. Not yet adults, adolescent girls still require support to enable them to continue to learn and grow. However, girls in crisis situations are often forced to grow up overnight as a result of sexual assault, rape, early marriage and pregnancy.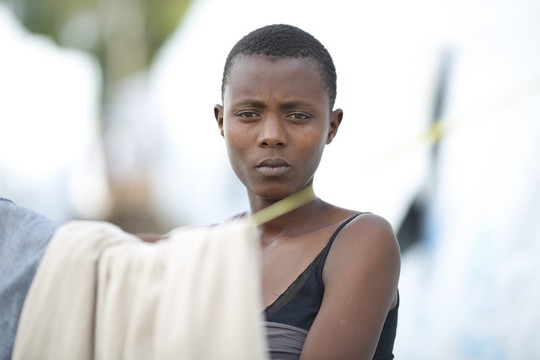 Burundian teenage girls in refugee reception centres and camps in Rwanda encounter many difficulties, but having little knowledge about their reproductive health makes their lives even harder. (Photo: Plan International)
Plan International is working to ensure that the needs of adolescent refugee girls are met and their voices are heard. In Tanzania, this means supporting Burundian refugees like 15-year-old Ndiyokubwayo, who fled her home in the middle of the night to escape brutal violence. She now lives in a refugee camp where she shares a family shelter with over 150 people -- which equates to more than two people per square metre.
Ndiyokubwayo faces a lack of privacy and poor sanitary conditions in the camp latrines, both of which can be challenging when managing menstruation. Plan International Tanzania distributes dignity kits, including soap, toilet paper, underwear, pads, and more to help girls overcome these issues. Plan also provides training on personal hygiene, which is especially important for girls reaching puberty in the camp. While daily struggles like queuing for food and hygiene supplies take up much of Ndiyokubwayo's time, she is hopeful that she'll be able to resume her studies soon so that she can start her own business when she gets older.
In addition to our work in Tanzania, the needs of adolescent girls are also a priority in Rwanda, where Burundian women and girls are provided support geared to their unique experiences, including a protected space for survivors of gender-based violence, as well as recently installed solar lights leading to the camp's toilets and shower rooms to reduce the number of violent incidents against girls and women. In Sudan, we're constructing gender-sensitive latrines so girls can attend school without worrying about managing their period or sexual assault.
Projects like these are just the beginning. We're working to ensure that the needs of adolescent girls are not only addressed, but also tracked, as part of the UN's Sustainable Development Goals.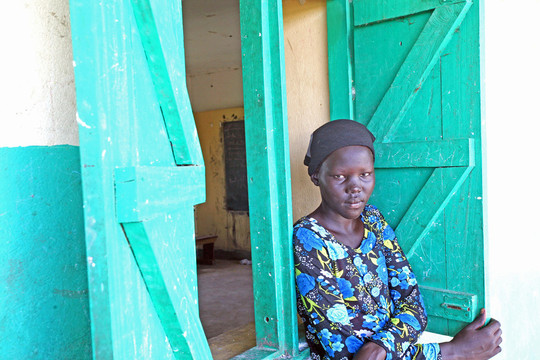 In Pibor, South Sudan, fighters ransacked the Plan-built and supported school, but the children still congregate at the site. (Photo: Plan International)
In the months since I joined Plan International Canada, my awareness of the enormity of the refugee crises around the world has expanded drastically. More than ever, I'm conscious of the fact that each crisis is made up of unique people like Ndiyokubwayo, with their own thoughts, dreams and aspirations. They are united beneath the label "refugee," but that is only one small component of their identity, signaling the instability that characterizes their daily lives and little else.
This World Refugee Day, I challenge all Canadians to recognize our shared humanity and contribute to creating a better world for people facing unthinkable circumstances, be it by donating to support this cause, sharing a message of support, or simply raising awareness of this issue with friends and family.
Together, we can start to turn the dial on this issue. We can help children and their families to find stability, security and safety. We can help them to dream again.
Follow HuffPost Canada Blogs on Facebook
MORE ON HUFFPOST:
Great Things Canadians Have Done So Far For Syrian Refugees
Joe Woodsworth, a senior manager with Surrey, B.C.-based Options Community Services picks up dozens of backpacks, each filled with school supplies for Syrian children. Operation Backpack is the idea of former 24Hours columnist Laila Yuile.

Malak arrived with her family in July after living in a Jordanian refugee camp for two years. Her teeth were so decayed the 5-year-old girl was kept up at night because of the pain until a local dentist stepped forward to help the family for free.

"Hopefully, together, we can prove that Canada in general and the Maritimes in particular are as generous and welcoming as the rest of the world thinks we are," P.E.I. artist Amy Seymour told HuffPost Canada.

In November, the Edmonton Oilers captain gave $10,000 to Edmonton's Mennonite Centre for Newcomers to support their work in helping to resettle incoming Syrian refugees. The donation helped the group meet its two-month goal in a single day.

The Guelph businessman made headlines last month after stepping forward to say he intended to spend $1.5 million to privately sponsor 50 Syrian refugee families to come to Canada. Estill explained he was tired of seeing refugee applications get snarled in long, bureaucratic processes. "I'm a businessperson, I'm very impatient, and we should just do it now," he said.

"It's really good to know that we're so compassionate and that we want to help," said Darrell McLeod of St. Clare's refugee family sponsorship group. "Everybody's very excited about it. Everyone's been really excited to make things happen."

Westbank Developments founder Ian Gillespie is behind many of downtown Vancouver's glitziest skyscrapers.A descendant of Irish immigrants, he made a pledge in November to furnish a 12-unit West End apartment complex and open it to incoming refugees. He also said he's exploring ways to help Syrians get jobs after they arrive in the city.

A small group of from the Keewatin Otchitchak traditional women's drum group gathered by baggage carousels to greet 17 Syrians to Treaty 1 with a song of welcome.

"I need to point out that the people who are desperate refugees are fleeing from the exact same people who perpetrated the kind of violence we saw in Paris and Beirut last week," the Calgary mayor told reporters a week after deadly attacks in France and Lebanon. "They're running away from the bad guys and, as such, we need to be able to open our arms to make sure that we can provide safety to these folks."

Christine Youssef (pictured) greets newly arrived Syrian relatives on a bus near Pearson International Airport in Mississauga on Dec. 11. Youssef and her mother are sponsoring 43 of their Syrian relatives to come to Canada. Thirteen have arrived and are staying at the family's small Scarborough, Ont. bungalow. Soon, nine of the relatives will move out, making room for more relatives to come in.

When CBC News reporter Eman Bare interviewed Mohamed Al-Noury, 21, and Athar Farroukh, 23, she realized the Syrian refugee couple had no wedding pictures. So Bare put a callout on soical media to surprise the high sweethearts with a wedding. Her request spread and within 24 hours people came forward donating a venue, suit, dress, and cake. "Grateful for a community that makes beautiful things happen," wrote Bare on Instagram below a photo taken at the couple's Saskatoon ceremony.
Follow Caroline Riseboro on Twitter: www.twitter.com/criseboro