6 Ways to Deep Clean Your Pores at Home
The past few days have been hot and muggy and that makes all the pollution that's hanging overhead feel even worse. The problem is that just washing your face isn't really enough and unclogging your pores requires a deep cleanse. The good news is that there are a number of things you can easily do at home.
How to Clean Your Pores
Steam. This is one of my favourite treatments when my skin is looking especially lackluster. Simply pour steaming water into a bowl, place a towel over your head and slowly lower your face toward the water. For an even better experience, add a few drops of peppermint or green tea to the water. If you are prone to breakouts, several drops of tea tree oil will be a great choice for you. Steam for 10 to 15 minutes. Always be careful with boiling water.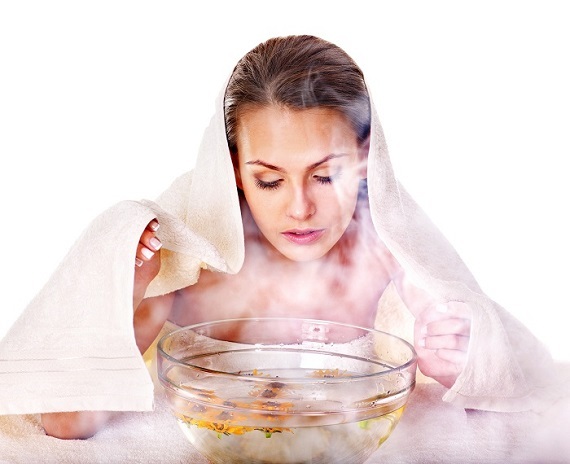 image credit: Dollarphotoclub
DIY honey/lemon masks. Almost every DIY face mask lists honey as an ingredient and that's because of its healing properties, as well as helping to tighten your pores. The simplest mask is to apply a few tablespoons of raw honey right to your face, but you can also add a tablespoon of cinnamon or a tablespoon of yogurt with a teaspoon of olive oil to smooth out the impurities in your skin. Lemon is another one of those seemingly miracle ingredients because the acid is a natural exfoliant. You can add it to the above masks or simply place a few drops directly on to your face. Leave it on for 10 minutes and then wash your face with warm water. These easy masks can be done three or more times a week as needed, but remember that lemon can be drying when applied directly on your skin.
Parsley. Not only is it great for diminishing dark spots, but parsley makes for a great pore cleanser as well. The parsley can be used every other day on its own or twice a week when mixed with lemon and honey. You can soak a small head of parsley in warm water and then dip a wash cloth in the water and apply it to your face for 10 to 15 minutes. Or to make a mask, finely chop a small head of parsley (after you've soaked it in warm water) and combine it with a tablespoon of honey. Apply it to your face for 10 to 15 minutes.
Sugar scrub. Using scrubs on a regular basis is always a must, but sometimes scrubs can be a little bit harsh on sensitive skin so another great option is sugar. A simple recipe is to take two tablespoons of sugar, mixed with a half a lemon (juice) and a little bit of water. Crush it all together until you get a thick paste and gently massage it into your skin, then wash it off.
Baking soda. This is another easy mask to do at home. Two teaspoons of baking soda mixed with a teaspoon of water will make for an excellent pH balancing mask. Leave it on for five to 10 minutes and then wash it off. Of course, as with all the masks, you can also add a teaspoon of honey into the mix.
Clay. I admit that I generally buy a clay mask, but it's super easy to make one at home as well. Take three equal parts of powdered clay (which you can purchase at your local health store), oatmeal and water, combine them together and leave the mixture on your face until it dries. This mask is best saved for summer months as it can be too drying in the winter.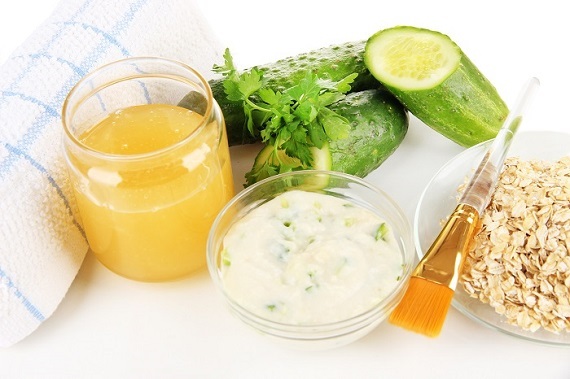 image credit: Dollarphotoclub
Remember that washing your face on a daily basis and always after you exercise will go a long way to keeping your skin glowing and healthy looking.
Do you have any tips for unclogging your pores?
ALSO ON HUFFPOST:
Bananas are packed with Vitamin B6 and Vitamin C which assist in the anti-aging process. Instead of getting rid of overripe bananas you may not eat, mix one with 1/4 cup of plain Greek yogurt and add in 1/2 tbsp of honey to make it stick together.

This is one of our favourite masks because it doubles as a relaxing facial and acne cleanser, especially after the winter when your skin is constantly dry from the indoor heating and outdoor cold. Microwave 1/4 cup of either extra virgin olive oil or pure coconut oil for about 20 seconds until it is borderline hot. Make sure that the oil is not so hot that it will burn your face. Massage onto your skin and leave for about five minutes. To avoid greasy leftovers, combine with the juice of half a lemon and 1/2 cup of hot water and rinse off with a face cloth.

Apple cider vinegar is a natural cleanser and facial toner, which works really well for a deep, intensive cleanse. Mix equal parts apple cider vinegar and water (we mixed together a 1/4 cup of each), and apply with a cotton pad all over your skin.

Baking soda and lemon double as both an amazing scrub and a clarifying mask. The acidity of the lemon will cause the baking soda to fizz, and will work wonders on your face as a natural astringent.

Honey is a known natural product which helps to cure acne and skin scarring, while the lemon works as a natural astringent to help fight signs of inflammation on the skin. Mix equal parts together (1 tbsp of each) and let rest on your face for 10 minutes.

This soothing, all-natural mask will have you feeling like you have just spent the day at the spa! Blend or mash the cucumber and mix with 1 tbsp of aloe vera gel for this cooling face mask.

We always have some frozen berries on hand as they are loaded with antioxidants. Egg whites are also a great way to tighten tired skin. To make this mask, all you have to do is mash up the berries and add 1 tbsp of egg whites. Be extra careful not to stain your clothes in the process, and leave on only for five minutes to avoid discolouring your skin.

We have already noted the healing benefits of honey for irritated skin that is prone to breakouts. Oatmeal also contains anti-inflammatory compounds and antioxidants which help fight acne, especially since oatmeal absorbs oil from the skin's surface. Mix 1/2 cup of raw oats with 2 tbsp honey and you've got a powerful acne-fighting combo!

A plain, mashed up avocado is one of the simplest face masks that requires very little time and preparation, and is a source of 25 essential nutrients including Vitamins A,B,C, K and E. Talk about a superfood! We like to use up any old avocados that have gone too ripe to eat, but shouldn't go to waste. Leave on your face for 10 minutes to reveal a healthy glow.

UP NEXT: DIY Beauty Tricks

RECIPE: Grate a bar of any basic all-natural soap (pure veggie glycerine bars grate in 10 seconds flat) and mix it into a pot of near-boiling water (1.5 L). Remove from heat, stir and let it sit a day. Mix in organic essential oils of your choice.

RECIPE: Melt (not boil) one teaspoon of grated beeswax in a double boiler. Add one teaspoon of quality oil (jojoba, safflower, etc.) and one teaspoon of fair trade shea butter. Add in a few drops of organic essential oil or natural vanilla extract.

RECIPE: Heat up olive oil in a pan and add in a few drops of vitamin E or honey.

RECIPE: Grate two tablespoons of beeswax in a double boiler with three tablespoons of jojoba oil. Once the mixture is melted, remove from heat and stir in 45 drops of certified-organic essential oils that you desire. Pour the hot beeswax into containers and let it cool. The finished product will be a solid perfume so rub a few strokes on your wrist and neck.

RECIPE: Crack an organic egg (with vitamins A, D, K and E), separating out the yolk into a bowl. Drizzle in a little skin-plumping honey, whisk it, apply and let dry for 10 to 15 minutes before removing with a damp cloth.

RECIPE: Mix half a teaspoon of baking soda in 1/3 of warm water. Add in a few drops of organic mint oil.

RECIPE: Mix two tablespoons (30 ml) of baking soda in two cups of warm water. Looking for conditioner? Try mixing two tablespoons of apple cider vinegar with two cups of water.

RECIPE: Try straight-up baking soda on your pits. You can also mix the powder with some water.

RECIPE: Aloe makes a great scar preventer if you have ongoing skin issues like acne. It can also be used as a light moisturizer.

RECIPE: Use a bottle of straight jojoba oil, olive oil and grapeseed oil as shaving oil.

UP NEXT: 15 Life-Changing Beauty Hacks

Run out of shaving cream? Use conditioner instead. Its hydrating ingredients will ensure a close, smooth shave.

If you forget to put on blush in the morning, or need a touch-up mid-day, take GossMakeupArtist's advice and use your lipstick instead. Its creamy formula will blend easily onto your skin, giving you that perfect flush.

Every girl knows that glitter polish is the trickiest of all polishes to remove. Enter Elmer's glue (yes, the stuff you used in school!): according to Wacky Lacki, applying the glue as a base coat will make the glitter polish peel off neatly.

According to AnneorShine, Elmer's Glue also works as a makeshift pore strip. Spread a thin layer on your face, let it dry, then peel off!

Since mascara has a creamy consistency and is obviously safe to use on eyes, it can double as eyeliner. The Beauty Department says all you have to do is run a liner brush against your mascara wand, and voila! A creamy, gel liner.

Accidentally smudged your nail before it dried? NaturalHealthBeauty.co says this can easily be fixed by licking your finger and gently smoothing out the smudge. The saliva will react with the nail polish to soften and blend the surface.

No need to go to the salon to get rid of your split ends -- you can easily do it yourself at home! Follow Ring Finger Tan Line's tip and twist your hair into sections, then snip away at the frayed ends.

For DIY falsies, try Hair-Sublime's neat trick and apply baby powder across lashes in between coats of mascara. Your second coat of mascara will attach to the powder for a longer, fuller look.

Trust Lauren Conrad to have the best beauty tips. An easy way to amp up your lipstick's staying powder is to apply setting powder. After putting on your lipstick, hold tissue paper over your lips and dust a light coat of translucent powder over the tissue. The powder will seep through the tissue and set your lipstick just like it would your makeup!

Cover up dark circles by applying concealer in a triangle shape, as opposed to dotting it around the eye. According to Make Me Up Before You Go Go, using the "youth triangle" pattern, your face will look young and fresh.

Create the illusion of a longer, fuller pony by wearing two ponytails. Just follow Makeup.com's easy tutorial.

This is apparently how Revlon Global Artistic Director, Gucci Westman keeps oil at bay. Just dab a bit of deodorant onto your fingertip and apply underneath the eyes, on the t-zone, and any other oily areas.

Follow diy_kwt's tip and put a Band-Aid over a (dry) painted nail, and paint your polka dot colour of choice overtop.

Take Kobiece Gadzety's advice and use a spoon to apply your liquid liner for that perfect flick.

Create your own lip plumper by adding a drop of peppermint oil to your favourite lip gloss. According to YouQueen, the peppermint will improve circulation and bring more blood to the surface of your lips.

UP NEXT: Spring Beauty Tips

"Grab yourself a Tangle Teezer for your bag (the travel size has a little cover). Nothing gives the hair more natural volume and looks this good!" -- Gloria Chik, Urbane Bloc.

"My spring beauty tip is to switch to a bright lip colour to bring some brightness back into the face. I also suggest incorporating a light sunscreen into your face routine so that you're always covered as you spend more time outdoors." -- Henna Singh, Canadian Beauty.

"I love blush all year round, and it's definitely something I wear everyday (regardless of the weather). My favourite beauty tip for spring is to swap out your darker blush shades (rose-y or bronze-y) and opt for bright coral shades instead! I love this trio from Make Up Forever." -- Kayla Short, Short Presents.

"Sunscreen In the winter and spring months, many forget to apply sunscreen -- but it's arguably the most important part of your skin care regime. I use SkinCeuticals Physical Fusion SPF 50 ($44, available at SkinCeuticals.ca) religiously. It has a gorgeous tint to it, so no foundation required post-application." -- Jessica Denomme, Flats Are For Quitters.

"With spring blossoming around March's corner, I've been playing around with new spring blush palettes and on more than one occasion I may have let the excitement get the best of… my cheeks. Oops! So what do you do when you've applied just a bit too much blush? Blot it off? Don't you dare. Makeup remover? Drop it. Instead, reach for a concealer or a liquid foundation (I prefer concealer) and blur just a touch of product on top of the blush. The end result will be a more natural flushed look -- you can file this one under #SerendipitousMakeupMoments." -- Mikayla Tran, Beauty Echoes Magazine.

"Swap your powder blush and highlighter for a cream version to help bring some life back into your skin after the harsh winter weather. L'Oreal's Visible Lift Blur Blush in Soft Peach and Magic Lumi Iluminating Primer are great options." -- Courtney Connolly, La Belle Sirene.

"If you haven't already, start using a Facial Cleansing Brush! Winter has been harsh to the skin and adding a facial cleansing brush to your beauty routine will repair the skin and prep it for light, breezy spring weather! We like the Clarisonic Facial Brush and the Conair True Glow Sonic Skincare Solution Brush. "Also, VITAMINS help repair your beauty from within. If you haven't already started, begin to add Vitamin B3 to resolve redness in the skin, Vitamin C for blemishes, Vitamin E to add moisture. Winter is a pro at adding redness and blemishes to our lovely faces, and taking away moisture." -- Carcia and Telly Campbell, It's MusicFashionLife.

"Reevaluate your skincare routine. Skin reacts to weather changes so you have to change your routine to accommodate that. Also, bring in some brights with a coral lipstick!" -- Rema Gouyez-Benallal, The Burgundy Book.

"No matter how drab I feel in the winter, I wait until spring to get a haircut, and a fresh head of highlights. It brightens my overall perspective, and eases the transition from hiding under scarves and hats all winter, to feeling confident to say hello to the world again." -- Amanda DiPasquale, Not A Model Blog.

"Keep your makeup light and natural -- winter is finally coming to an end and your skin can breathe in the fresh air! Light coverage, pink hues, and the feeling that your skin is no longer trapped by winter's wrath gives you endless opportunities! This is probably a tip many will share!" -- Emily Hayward, What Emily Said.

"To add a pop of colour into your makeup routine, use a coloured eyeliner on your lower lash line. It's a beautiful and subtle way to wear the trendy shades, especially for someone that is afraid of colour." -- Kaitlyn Delano, Kaitlyn Elisabeth Beauty.

"In the winter, I flat-out give up on my outside appearance; me and my parka are one with the world. Come spring, this all changes. Your hair is out of a hat, hands are out of mittens. Reward them for their seclusion. Treat yourself to a manicure with some ridiculously bright colours, and invest in a hair masque -- Kérastase Masque Elixir Ultime is my favourite." -- Allison Garber, Fashionable People, Questionable Things.

"I'm still rocking the Kiehl's Lip Balm hard to recover from winter, but for me, it's really about brightening things up. I'm all over the pastels for my nails, while my navys, burgundys and greys get put away. I'm also headed to the salon to get a little blonder. It just feels more like spring when my hair is lighter." -- L-A Steeleworthy, Fashionable People, Questionable Things.

"My spring beauty tip can be summarized in one word 'SPF.' I have to admit, during the winter I can be a little neglectful of not consistently applying SPF to my face to protect it from the sun's harmful rays, but with coming of spring, I definitely get back into the habit. BB and CC creams with built-in SPF are quick and easy products to use when you're rushing out the door. My product of choice is Marcelle's CC cream which has an SPF 35." -- Kimberly Lyn, The Souls Of My Shoes.

"To keep your eyes bright and fresh this spring, try opting for an extremely fine lined eye. Achieve this look by applying pencil liner and then using serum or moisturizer on a Q-tip to remove most of the line, leaving only a fine line against the lash line." -- Amanda Montgomery, Latest Wrinkle.

"Keep your skin hydrated. Hydration is important as it makes for a healthy functioning of the system and gives a boost to a youthful-looking complexion. To help keep your skin in tip-top condition, you should use a moisturizer twice a day as part of your beauty regimen. Cleanse, tone and moisturize... it's a cliché for a reason." -- Eva Fydrych, Fashion Studio Magazine.

"To help rejuvenate my lips and get them soft and pillowy, I use KAPLAN MD Perfect Pout lip mask and lip balm duo. This product is amazing when it comes to hydrating your lips and plumping it up. I noticed a huge difference the first time I used it and have been hooked on it ever since." -- Sophie Rawji, Smitten Sophie.

UP NEXT: 50 Beauty Tips

Does your eyeliner constantly crumble while putting it on? Our friends at You Beauty recommend leaving it in the freezer for 15 minutes prior to applying your makeup. It should glide along your lash line seamlessly after that.

If you're out of shaving cream, lather your legs with conditioner instead of soap. Conditioner will soften the hair on your legs making it easier to shave (and it will leave your skin feeling extra silky). Source: You Beauty

Rinsing your hair with beer helps restore moisture to your locks while using vinegar will up the ante in shine. Soak your hair in either liquid (not at the same time) for a few minutes, then rinse with cold water. Source: You Beauty

For curlier, flirtier lashes, the experts at You Beauty recommend heating your lash curler with a hair dryer for five to eight seconds before curling them.

The experts at You Beauty recommend massaging an ice cube over your face until it melts. Do it every night before bed and keep fat cells, acne and wrinkles under control.

Before applying nail polish, wipe nails with an acetone-based cleanser. Essie Weingarten, founder of Essie Cosmetics, told the pros at Redbook that cleaning excess dirt, oil or moisturizer from your nails will ensure that the polish adheres properly. Follow the rest of these tips at Redbook and your perfectly polished manicure will last for a week and a half.

Apparently Pepto-Bismol isn't just a stomach soother, it can also be used as a facial mask. It contains bismuth subsalicylate, which is commonly found in facial creams. In an interview with Reader's Digest, Dr.Frances Jang, a dermatologist at Skinworks, recommended spreading two teaspoons of Pepto-Bismol on your face, then letting it dry for 15 to 30 minutes before rinsing it off with warm water.

Wear sunscreen every day, rain or shine. Even when it's cloudy. According to the American Academy of Dermatology, 80 per cent of the sun's ultraviolet rays pass through the clouds.

It's easy to forget about your elbows, but they need just as much protection and care as other parts of your body. Cure dry elbows by massaging Bio-Oil onto them daily. You'll see and feel softer elbows in at least two days.

In an interview with Reader's Digest, Popie Poulos, hairstylist and owner of The Salon, recommends rinsing your hair with a mixture of chamomile and fresh lemon juice instead of conditioner to permanently lighten your tresses. Allow your hair to dry while sitting in the sun or use a blow dryer — the heat will lighten your locks.

In an interview with Reader's Digest, Dr.Frances Jang, a dermatologist at Skinworks recommends using raw potato slices to soothe your eyes. She says they are astringent which means they help decrease water retention and they also contain the enzyme catalase which helps lighten dark under eye circles. First, wash and peel a potato. Cut two slices and place one on each eye for 10 minutes. Lay down, relax and let the potatoes work their magic. Rinse the eye area gently with lukewarm water when you're done.

We love walking out of the salon with a fresh blow out, but how do you prevent your locks from going limp in the days after? The experts at Allure say plan early. Your hair naturally secretes oil so be two steps ahead and spray your roots with dry shampoo before you start producing oil. This way the dry shampoo will absorb any moisture before it weighs down your tresses. Also make sure you protect your hair from moisture (rain is sure to ruin your mane) and touch up your blow out in the morning using a hair dryer and round brush. It will give you an instant boost of volume.

The trick to achieving a chiseled celebrity-like face is to contour (Angelina Jolie cheekbones, anyone?). Your face is three dimensional so applying foundation in a single tone will only make your face appear flat. Add a highlighter to areas of your face that would usually catch light but create enough shadow to emphasize your jaw line and cheekbones. For tips on how to contour your face according to its specific shape, visit Total Beauty.

Makeup sponges help you apply make up, but not without a cost. They usually soak up more liquid foundation than what ends up on your face. The result? You're wasting foundation and constantly buying new sponges. The fix? Get a foundation brush. You waste less foundation and it allows for a more even and precise application than a sponge would.

Giving yourself a natural glow avec blush is an in look for spring. But you'll want to avoid brushing on too much (lest you look like a clown). So always start your blush line two finger widths away from your nose and only apply it on the apples of your cheeks. This will ensure you create a natural glow without going overboard.

Spritz an old toothbrush or a clean mascara wand with hairspray, then brush brows and style them as desired. Even the most hard to tame brows will fall in line with this trick. Source: Yahoo Shopping

Adding extra eye fringe amps up the glam instantly. First, take your falsies and loosen them by gently flexing the eyelash band, then curl your natural lashes to make sure your falsies line up with your actual lash line. Apply glue on your falsies using a Q-tip. Using tweezers (or finger tips if you feel that gives you more control), place your falsies as close to your lash line as possible. Let your lashes dry for a minute before you add a coat of mascara (this is optional). Source: Makeup.com

You've heard it before — don't pop your zits! The folks over at Daily Glow suggest applying a bit of toothpaste to a pimple before bed and washing it off with warm water when you wake up in the morning. They say that toothpastes draws impurities out of clogged pores and dries the skin with shrinks the pimple. Opt for organic toothpastes rather than gel toothpastes which don't work as well.

Do you start the morning with matte, fresh-looking skin only to find that by the time 5 p.m. rolls in you're a shiny mess? If you have oily skin then blotting papers are a beauty godsend. Don't use powder to soak up the oil. Using too much periodically throughout the day will make your skin appear cakey because you're just layering makeup on top of more makeup. Opt for blotting papers instead. They will soak up all the oil. We love We love Sephora's blotting papers.

If you're out of makeup remover, use body lotion to get rid of makeup. It works especially well on tough mascara.

If you're tired of having thin, pursed puckers, extend your lip line using a neutral-toned lip liner. Then apply lipstick over top. Be careful though — don't extend your lip line too much.

Curl your lashes both before and after applying mascara for longer lashes. You may want to re-curl them throughout the day to get some extra lift, just remember to be gentle when you apply pressure with your curler.

No, no, no! Don't pop your zits. Not only does it increase the chance of scarring, it's also likely that you will worsen the blemish and spread bacteria to other places on your face which could give rise to another breakout.

If you've just had your hair dyed, the last thing you want is for the colour to fade. One surefire way to prevent such a mishap from happening is to use a deep-conditioning treatment once a month. This will help lock in colour and has the added benefit of staving off dry and damaged locks.

Flat irons are amazing tools with multiple uses. Not only can you use it to straighten your hair, you can also create tight curls or soft romantic waves.

Dry, flaky, chapped lips are the worst canvas for lipstick. To ensure that your puckers are in perfect pout condition, the experts at The Beauty Department recommend exfoliating your lips. To do this, apply lip balm to your lips, then using a toothbrush or clean mascara wand, scrub your lips (don't be too rough). Then, use a tissue to wipe away excess flakes and voila! You'll have a perfect pout in no time.

Who doesn't love a spa day? If we could go every day, we probably would, but that would also put a dent in our wallets. A quick, easy and cheaper indulgence is to put your favourite lotion in the microwave for about 10 seconds. Make sure the oils in your lotion don't separate and that it isn't too hot. Apply it on to your skin and enjoy! Source: Bella Sugar

Exfoliation is an important and easy way to buff away the dead skin cells that cover up your skin's natural glow. Use a light exfoliator, like the Daily Microfoliant from Dermalogica, to freshen your face daily.

When choosing a foundation, test a product on the skin near your jawline. And be sure to do it in natural light. This will ensure the foundation tone you choose for your face isn't too different from the natural shade of your neck. We really love Makeup Forever's Invisible Cover HD Foundation because it comes in so many shades.

Don't throw away your old mascara wand, it's still got a few uses left. Clean it and use it as a brow brush instead. You might even find it handy around the house — use it to unclog sinks or clean tough to reach areas in your home. Source: A Thrifty Mrs

What's worse than having to wear a skirt with absolutely no time to shave your legs? We've all been there. The hassle free fix for this is to wearing pantyhose or tights (try a patterned pair for something new). It will disguise stubble as well as any blemishes on your stems.

Before you tweeze, make sure you soften your skin by dabbing a cotton ball soaked in warm water or cream. When you start tweezing, do so in the direction of your hair's growth. Source: Yahoo Shopping

If you want to camouflage some strands of grey hair on the go, the folks at Real Simple suggest using mascara if you have dark hair. For blondes or redheads try dusting your roots with bronzing powder.

Save money on your beauty routine by taking care of your feet on a daily basis. Simply scrub your foot with a pumice stone each morning in the shower. Once you step out and dry off, apply a moisture cream to your feet. This will increase the amount of time you can go without a pedicure and will keep your toes healthy and fungus-free.

We absolutely love dry shampoo, especially Klorane (we use this brand religiously). It absorbs excess oil on your strands and scalp and keeps your mane looking clean and fresh. If you don't have dry shampoo, try washing just the top of your head (or wherever there is oil), with regular shampoo followed by a quick blow dry. Your tresses will look as good as new.

Be beautiful and environmentally savvy while you're at it. Recycle your old beauty products by shipping them to Terra Cycle (you can download their pre-paid UPS shipping packages online so it's completely free). They'll take your old beauty products and transform them into something new.

The experts at Beauty Is My Duty say that you should never pump your mascara (i.e., moving the wand up and down in the tube really quickly) because it will only allow air into the tube which will cause your mascara to dry (and ultimately shorten its lifespan).

Before applying bronzer or self-tanning lotion, mix a drop or two of the solution with moisture cream. Blend using your finger or a Q-tip then apply to skin as you would regular moisturizer. This will ensure the cream blends in — and covers skin — evenly.

This probably sounds crazy, but using an oil-based product to remove makeup or excess dirt from your skin can actually improve your epidermis' condition. Why? Over-cleaning stimulates the sebum glands, which causes skin to over-produce oil. Using oil-based products will have the opposite effect.

There are only two options for your nails — with nail polish or without. Do not allow your nails to be caught somewhere in the middle (there is nothing worse than nails donning chipped red nail polish). Even if you think no one else will notice, trust us, someone will.

Sometimes less is more. Don't slather your face with moisturizer because it will take 10 minutes or more to be absorbed by the skin before your face is ready for makeup. In an interview with Real Simple, Susan Evans, a dermatologist, said the best way to apply face cream is to blend a dime-sized amount on your cheeks, nose, chin and forehead instead of moisturizing heavily.

Make sure you clean your makeup brushes regularly to avoid a buildup of makeup residue and bacteria. You can purchase makeup brush cleaner from a drug or beauty store, or you can simply use shampoo and conditioner to clean your brushes as you would your own hair. Clean brushes guarantee a super smooth and even makeup application every time.

Apply a product containing azulene or witch hazel to help reduce the swelling and redness that's associated with ingrown hairs. From there, coax the ingrown hair from its location with a pair of tweezers (don't pull it out, though — this will only make the ingrown hair regrow in in the same way later).

Don't rub your hair dry with your towel; it will cause your hair to frizz. Instead, before getting out of the shower gently squeeze excess water from your hair. Then, wrap your hair in a towel and pat it dry to absorb any remaining moisture.

Do you really need all those supplements? It's true the healthier you are, the healthier your skin and hair will be. But popping supplements without discussing them with your doctor can do more harm than good. Why? Because mixing certain vitamins and minerals can have the opposite effect of what you're hoping. Talk to your physician before popping any pills.

If you run out of nail polish remover, you can remove cracked or chipped nail polish by applying a clear top coat to the nail and removing it promptly with a cotton ball.

Don't douse yourself with perfume before you leave the house (you don't want to bombard other people's nostril with strong smells). Just because you can't smell it doesn't mean other people won't be able to. If you wear it every day, chances are your olfactory sense has just become desensitized to the scent. Only spray or dab perfume on select spots like your knees, wrists, base of throat, and behind your earlobes.

Add a top coat to freshly painted nails, and then again once they are dry. This makes your nail polish less likely to chip and will ensure it lasts longer.

In order to remove product build-up from locks, use a clarifying shampoo once a week. This will also help prevent dandruff and other annoying hair/scalp conditions.

Our best beauty tip? Smile! It's the most beautiful asset you have. Where it every day.

Our best beauty tip? Smile! It's the most beautiful asset you have. Where it every day.
Follow Caroline Topperman on Twitter: www.twitter.com/styleontheside