Mama Bear Teaches Us How To Dream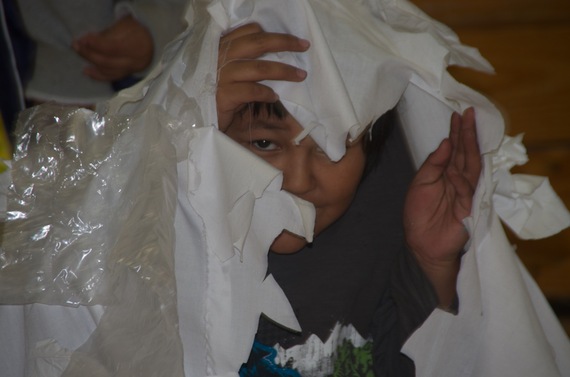 Nine years ago, DAREarts, a national charity that empowers kids using the arts, came to Marten Falls (Ogoki Post) First Nation after a successful week in Webequie First Nation and we had some adjustments to make. Ogoki was much smaller. There were no high school students here. There were some problems with holding on to teachers, drug dependency, very high absenteeism, and a lot of anger.
This was when the Internet was a community board, when no one (except some of us) knew that Residential Schools and the 60s scoop did so much damage, and when a water boiling advisory was the norm.
Some things have changed since then, but not all.
Now, there's Internet. Intermittent Internet.
Now, everyone knows about the Residential Schools, and if they don't, they just don't want to.
Now, there's STILL a water boil advisory.
Our trip here last week happened to fall just after the 50th anniversary of 12-year-old Chanie Wenjack's attempt to walk away from sexual abuse in a terrible government and church sanctioned institution to his home in Ogoki. He froze to death en route.
His death -- a blip in the news -- became the subject of a beautiful song by Mi'kmaw Singer Songwriter Willie Dunn ("Charlie Wenjack" was sung to me in Vice Principal Wayne Potts' office in 2010 in Attawapiskat when he found out I was Mi'kmak.) Chanie's story was so far under the wire that it didn't get the attention it deserved until this year, when Tragically Hip's Gord Downie released his book/animation/concert and author Joseph Boyden published his novela Wenjack.
DAREarts has been working with Annie Wenjack for years, not knowing the connection until this year. She is Chanie's sister. Many other members of his family have worked with us over the past nine years. The circles keep connecting us all together, and that's where the dreaming now starts.
Elder Elizabeth Achneepineskum told our workshop participants (grades 5, 6 and 7 students of Henry Coaster Memorial School) the story of a mama bear that took a baby and taught him to talk like a bear. "She pointed out the geese flying south and she said, 'We're going to eat them!' When the bear was killed by humans for meat, they realized that she had protected the boy, and they honoured her with a human burial because she was his mother. The humans taught the boy how to talk like humans. When they asked the boy how he survived the long cold winters of hibernation, he told them, 'I dreamed about food.'
Principal Fay Zoccole said to me, on our way to the airport at the end of the week, "These kids don't really get to dream. Their reality makes it very difficult to look ahead, to have hope." To have a Teaching that tells us that we need to dream our future, to honour our past, to love our culture and build on our lives tied up in such a joyful, funny, enrapturing undertaking as the DAREarts First Roots Project is inspiring.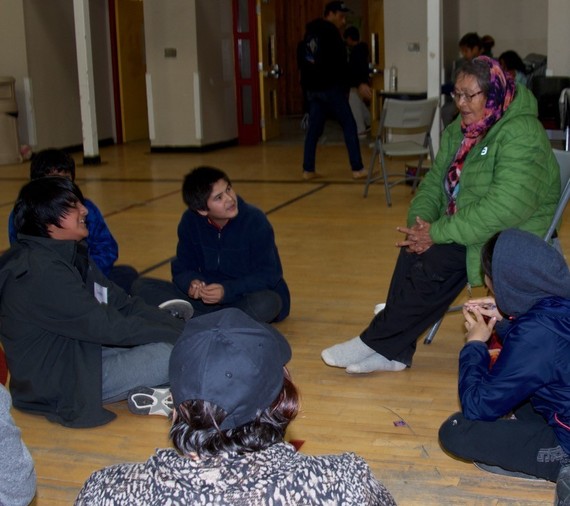 When asked about their impression of bears, the kids told us that they were "dump bears" they lived in "dump dens" and "stink like sh*t." But when they heard Elder Elizabeth tell a traditional story about a mother bear teaching a baby how to live, they found something new. With that, the kids updated their millennial-old story and applied it to their own lives. They did this. And when, to tell their story in art, drama and music, they built that bear out of water bottles -- hundreds of them, that otherwise would have gone to the dump -- they made a bigger statement.
They stayed after school. Forgot that their time to work was over. Stayed into the evening. Brought their little bothers and sisters and those kids helped, too. Adults came too. All week, the gym was lit up with music and laughter and the hum of productivity. They performed their play and shared their creations with their community. The final words were spoken, loud and clear by a little boy who came every day and evening. "My mother taught me how to dream."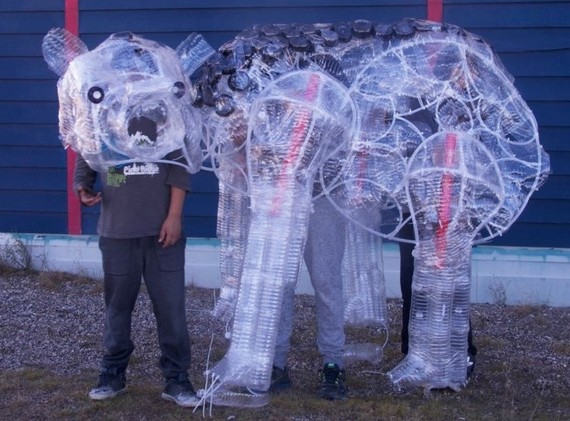 Something else in Ogoki has changed, too. On the final day when I went back to the school for one last visit and a ride to the airport (the rest of the team went ahead -- to Webequie) I smelled sage for the first time. I smudged and looked around at the kids. All of them were gathered in the rotunda hall of the school, calm, quiet, listening. The school is changing. Their Principal is a strong Indigenous woman. The Education Authority is receiving a little more funding for programs.
Twelve-year-old Chanie Wenjack was robbed of his culture, his innocence, his life. DAREarts is dreaming of a time when these children can live a life full of possibility and hope.

"The Boy Bear," along with other bear stories from First Nations kids all over Canada, will be read May 4th at the DAREarts Leadership Awards in Toronto and the students' stories, artwork, songs and photography will be shared in an installation at the Stratford Festival every night of the world premiere of 'The Breathing Hole' next August and September to celebrate Canada 150.
All photos courtesy of DAREarts
Follow HuffPost Canada Blogs on Facebook
Also on HuffPost:
Residential Schools: A Photo History
Children hold letters that spell "Goodbye" at the Fort Simpson, N.W.T, Residential School in 1922.

The blackboard on the left reads: "Thou Shalt Not Tell Lies." Cree students at the Anglican-run Lac la Ronge Mission School in Saskatchewan in 1945.

Inuit children who lived too far away and had to stay at school during the summer at the Anglican Mission School in Aklavik, N.W.T. in 1941.

Sisters of the Soeurs du Sacré-Coeur d'Ottawa and students on the steps of the school on the Pukatawagan Reserve in Manitoba in 1960.

An undated photos of aboriginal students attending the Metlakatla, B.C., Residential School.

La Tuque Residential School's hockey team at a tournament held during the Quebec Winter Carnival in 1967.

Canada's first and only Indian Air Cadet Unit, "No. 610" in 1956. The boys are from the Roman Catholic-run Williams Lake, B.C., Residential School.

Chemistry class at Kamloop's Residential School in 1959

Students play pool at the Norway House Residential School in Manitoba in 1960.

Students at a dormitory of the Shingwauk Residential School in Ontario in 1960

The carpentry shop at a Kamloops, B.C., residential school in the late 1950s.

Children at the Fort Resolution, N.W.T., residential school in 1928.

Undated photo of a group of students and parents from the Saddle Lake Reserve in Alberta en route to the Methodist-operated Red Deer Industrial School.

St-Michael's Residential School in 1959

Shingle Point Residential School & Home For Boys, Mackenzie District, N.W.T. in 1930.

Students from the residential school in Moose Factory Island in Ontario attend a service at St. Thomas Anglican Church in 1946.

Aboriginal children at the Roman Catholic-run Fort Providence Residential Mission School in the Northwest Territories in 1929.

An undated photo of a dog team carrying a hay load near the residential school at Fort Resolution, N.W.T.

Undated photo of children cutting logs at the residential school in Fort Resolution, N.W.T.

Undated photo of boys cutting hay at the residential school in Duck Lake, Sask.

Two Métis children with an Inuit child at the All Saints Residential School, in Shingle Point, Yukon, in 1930.

Students at the Onion Lake Catholic Residential School in 1950.

Adeline Raciette amd Emily Bone study on the lawn of the Assiniboia Residential School in Manitoba in 1958.

Students share dish-washing chores at Portage La Prairie Residential School in Manitoba in 1950.

Fort Qu'Appelle Industrial School in Saskatchewan in 1884.

The Alert Bay Mission School in British Columbia in 1885.
Follow Cathy Elliott on Twitter: www.twitter.com/cathyelliottcom