I'm An MP And I'm Among Those Who Struggle With Depression

In January and February of 2015, after I lost a federal byelection, I refused to get out of bed. I rarely showered, washed my hair, brushed my teeth or left the house.
In January and February of 2016 things were different. I had a job. I was the Member of Parliament for Whitby and parliamentary secretary to the prime minister for heaven's sakes. I had to get out of bed, have a shower, wash my hair and get out of the house (let alone get out of the bed).
It was very overwhelming. So overwhelming, in fact, that one day in late February I abruptly left a meeting I was having with my caucus colleagues, had a brief stay in an Ottawa emergency room, then left on a train, en route to Whitby.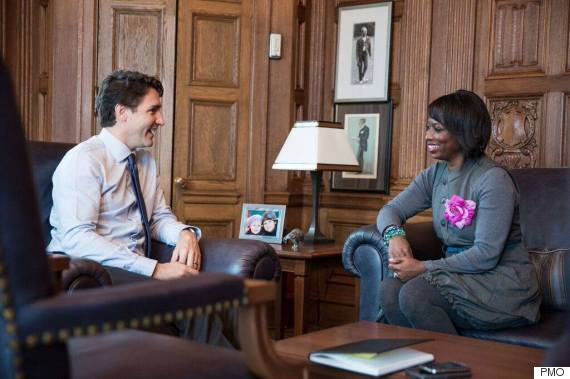 Whitby MP Celina Caesar-Chavannes speaks with with Prime Minister Justin Trudeau in his office. (Photo: PMO)
I spent the entire train ride sobbing uncontrollably. I had makeup streaming down my face and had to use my dress to wipe my nose. I was what one would call a "hot mess!"
I had been diagnosed with depression in mid-2015, but this was different. I was spiralling out of control and I did not know what to do. I sat on the train thinking, "Will anybody help me? Does anybody see how much pain I am in?"
By the time I got home, I felt at a total loss. Like my life was slipping away.
A couple of phone calls later (and here I thank Don Stuss for being my "phone a friend"), I was in Sunnybrook hospital, under the alias of Lisa May, sitting for six hours beside a man who needed more help than I did, and a woman who needed more help than he did.
When I finally saw a doctor -- who clearly knew that I needed to be an in-patient -- there were no beds. Alas, the paradox of being a mental-health patient in our health-care system.
I felt like I could not get out of a deep dark hole. No matter how hard I tried, the hole either got deeper or wider, there was no getting out
The weeks and months that followed were precipitated by a series of erratic behaviours, usually involving nasty emails to colleagues, constant fights with my husband (not to mention a couple of calls to a divorce lawyer), limited time spent at social gatherings and a see-saw of medications.
Medications for mood, motivation and to help me with sleeping. Some made me gain weight, others made me nauseous, and others simply did not work.
My life had turned into a never-ending episode of WTFville. All I could think of was "Why now?" Why is this happening to me now? Why is my life falling apart now?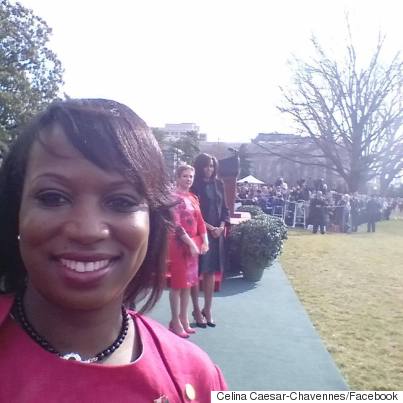 MP Celina Caesar-Chavannes in Washington with Sophie Gregoire Trudeau and Michelle Obama behind her on stage on March 10, 2016.
I should be on top of the world. I have a great job, husband, children and supports. Why is this happening to me? I felt like I could not get out of a deep dark hole. No matter how hard I tried, the hole either got deeper or wider, there was no getting out. I would be stuck in there forever.
And then a miracle happened... yeah right! Not exactly. No miracles. No quick fixes. However, one day, l could not get out of bed and criticized myself for being lazy. Then, when I finally thought, OK, now I can get out of bed, I was so exhausted by the self-stigmatization that I just returned to bed.
That day I remembered thinking "Celina, it's OK" -- it's OK to rest for a little while. It's OK to have bad days. It's OK to not be able to tackle everything. Celina. Honey. It's OK!
I smiled that day. For the first time in a long time, I felt like my depression did not own me, but that it was a part of me, and that too was OK.
Owning my depression is my therapy. Talking about it, in my opinion, gives others permission to talk about mental health as well.
Don't get me wrong, I still battled with medication and meditation and yoga and exercise and everything else they tell you to do that is supposed to make your mental health better! I battle every day, but this two word message to myself, was a reminder of my humanity, my vulnerability... and my strength.
I believe in the power of storytelling and owning your story. Owning my depression is my therapy. Talking about it, in my opinion, gives others permission to talk about mental health as well. Not everybody is able to be vulnerable and express themselves, but I am, and so, I do!
Owning your mental illness is like a gift that gives you permission to rest for a little while. It is a gift that allows you to take time to breathe. And yes, I am well aware that I will read some comments below that I do not like, as I am sure some of you reading this blog will face situations that you do not like.
Life is not always going to be easy. Storms will come through, and it may appear that the world is going to end. However, I want you to know, for certain, that the world will continue to spin, and that everything will be OK.
Love and hugs, Celina
Frame Of Mind is a new series inspired by The Maddie Project that focuses on teens and mental health. The series aims to raise awareness and spark a conversation by speaking directly to teens who are going through a tough time, as well as their families, teachers and community leaders. We want to ensure that teens who are struggling with mental illness get the help, support and compassion they need. If you would like to contribute a blog to this series, please email cablogteam@huffingtonpost.com
More From Frame Of Mind:

Related on HuffPost:
Frame of Mind: Youth Mental Health Issues And Suicide In Canada
One in five Canadians will experience mental illness in their lifetime Source: Canadian Mental Health Association

Nearly half of those who feel they have suffered from depression or anxiety have never gone to see a doctor about this problem. Source: CMHA

Latest studies showed more than 1.3 million young Canadians have a mood disorder or addiction. Two-thirds had symptoms before the age of 15. Source: Statistics Canada, Government of Canada

Suicide is among the leading causes of death in 15- to 24-year-old Canadians, second only to accidents. In 2012, 261 Canadian kids and teens took their own lives. Source: CMHA, Statistics Canada

LGBTQ youth face about 14 times the risk of suicide and substance abuse than their heterosexual peers Source: CMHA Ontario

First Nations youth are at a higher risk. The suicide rate among First Nations youth is roughly five to seven times higher than that of the general population. Source: Parliament of Canada study, 2014

People with mental illness and addictions are more likely to die prematurely than those without. Mental illness can cut 10 to 20 years from a person's life expectancy. Source: Centre for Addiction and Mental Health

Contending with her bipolar disorder brought Yashi Brown to poetry, and with it, she's trying to end the stigma of mental illness.

If you need help, visit ementalhealth.ca to search for services in your area. Or call the Kids' Help Phone at 1-800-668-6868, it's Canada's only free phone counselling service for youth under 20.
Follow HuffPost Canada Blogs on Facebook
Follow Celina Caesar-Chavannes on Twitter: www.twitter.com/MPCelina