A Gender-Equal Workplace Is A Healthy Workplace
This past March 8 was National Women's Day. It was a day to celebrate the social, economic, cultural, and political achievements of women all around the world. Although it was only one short day, I think it's great that we are taking the time to acknowledge all the wonderful things that women have accomplished.
One accomplishment that stands out to me is the growing number of women in the workplace. It's fantastic that in 2014, women made up almost half of the labour force compared to just 37 per cent in 1976.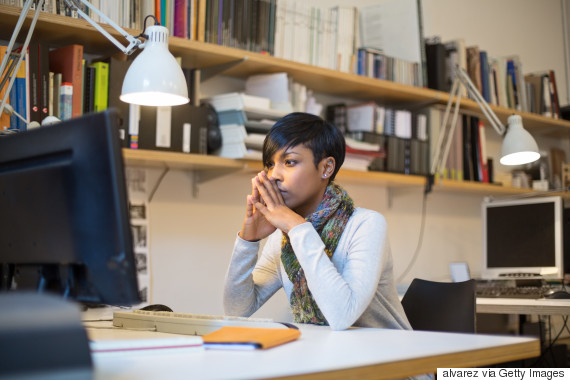 (Photo: Alvarez via Getty Images)
While it augurs well that more and more companies are hiring female employees, it does bring with it a new set of mental-health matters that an HR manager should consider. Although mental health affects everyone, women experience more stress, anxiety and depression at work than men do. In fact, research has found that women are 1.4 times more likely to suffer from these mental illnesses than their male colleagues.
I'd like to share with you two main reasons why women in the workplace suffer mental-health issues more than men, as well as some solutions you can use to help minimize them at your workplace.
Domestic responsibilities
When women consider the choice to start a family, enter the workforce or return to work after having children, care for elderly parents, or pursue advancement within their career, they are considering work-life balance. Although working husbands and fathers have taken on more familial responsibilities over the years, women still tend to take on the majority of these responsibilities. Juggling career pressures with family obligations can increase risks of stress, anxiety and even depression.
Making small changes to your mindset can go miles in positively impacting the well-being of the women in your workplace.
How can managers give women the support they need? Providing programs that offer greater work-life balance is the key. This balance means different things to different families, but could include encouraging flexible working hours, allowing telecommuting and implementing child-care services. I know it may not always be possible to establish these family friendly services, but an important thing you can do is to be more accommodating and ask the women in your organization what would be helpful to them. Making small changes to your mindset can go miles in positively impacting the well-being of the women in your workplace.
Inequality
Even though we have seen quite a positive improvement in women joining the labour force, many women still experience inequality in their career. One study shows that women earn about 26 per cent less than men do. On top of still receiving lower pay, women also face higher levels of job insecurity as well as lack of career advancement. Unsurprisingly, this causes high rates of anxiety, depression and distress among female workers. A large part of wellness is equality, so a valuable step you can take is to ensure that your workplace enforces pay equity.
To encourage female leadership, many companies are rewarding behaviours such as nurturing and communication. When an organization develops feelings of pride, trustworthiness and respect, as well as welcoming ideas and building good fellowship, it will encourage women to move past the glass ceiling and create a foundation that can reduce stress and mental-health issues in the workplace.
Making sure your organization has the tools in place to foster understanding and equality can make all the difference to female employees. Checking in with them to see what more your company can do to retain happy, healthy staff is vital to their overall well-being.
Are you giving the women in your workplace the support they need?
Follow HuffPost Canada Blogs on Facebook
Also on HuffPost:
10 Secrets Of A Happy Workplace
John Havens, founder of the non-profit organization, The H(app)athon Project suggests using technology to track our health, stress and happiness levels could be the the key. He sites Cardio, which enables you to measure your heart rate using an iPhone camera> He even suggests tapping into Affectiva, an app used by ad agencies to read people's emotions through their facial expressions. In the same vein, Action For Happiness promotes the Check Your Mood site on its website.

If the drudgery of office life is getting you down, you could do worse than get back to nature. According to research carried out by City & Guilds revealed gardeners and florists as the UK's happiest workers. Although the results suggest this has less to do with flowers and foliage and more to do with freedom and free reign. As many as 80% said it was because they were able to manage their own workload and have autonomy over their daily tasks.

Google may have been voted America's 'Best Place To Work' four years running but for a while there was a serious happiness deficit among its female employees. When its People Operations team (that's HR to you and me) investigated further they found that women who had recently given birth were leaving at twice Google's average departure rate. In response Google boosted its industry-standard maternity leave plan from 12 weeks paid time off (just seven outside California) to five months of full pay and full benefits. After the new plan was implemented the attrition rate for new mothers halved, dropping down to the average rate for the rest of the firm.

You know that feeling when you're so engrossed in what you're doing you're completely oblivous to what's going on around you? Well, according to psychologists, this state is the epitome of true work happiness. According the the Hungarian psychology professor, Mihaly Csikszentmihalyi, and doctoral student at Harvard, Matt Killingsworth, the quality of our mental focus in the moment is the key to happiness while mind-wandering is its nemesis. Csikszentmihalyi found that we are happiest when we enter the 'flow state' - an ecstatic experience of total concentration that requires our complete attention due to its difficulty.

A programme called TinyPulse allows bosses to gather employee feedback via weekly anonymous surveys and provides a channel through which workers can raise issues and communicate with their bosses.

New research published by the Employee Ownership Association and sponsored by the John Lewis Partnership shows that staff working in employee owned companies (organisations in which all staff have company shares) are happier, healthier and more secure than workers without a stake in their company. 

Craig A Jackson, Professor of Occupational Health Psychology at Birmingham City University investigates the idea of whether clinical hypnosis could be used in the workplace to improve health and stress of employees. He proffers some fairly weighty arguments in favour of the notion but would you really feel comfortable allowing your boss to do a Deren Brown on you?

The Navy nuclear-powered Navy submarine, the USS Santa Fe had a reputation of having the worst performance, the lowest morale and the lowest retention of all the Navy's nuclear submarines.  There were often delays for launches, and repairs could be repeated multiple times.  When a new captain was brought in, one of the first changes he made was to insist that crew members didn't simply follow orders without thinking for themselves. If they thought something was wrong, they were to speak up and not simply following instructions blindly. As a result of his changes, the crew was able to pass an inspection by senior officers no problem.

Used by some companies to assist with recruitment, the Myers-Briggs Type Indicator assessment is a psychometric questionnaire designed to measure psychological preferences in how people perceive the world and make decisions. "Whatever the circumstances of your life, the understanding of type can make your perceptions clearer, your judgements sounder, and your life closer to your heart's desire," said founder, Isabel Briggs Myers.

Jess Lee, the 30-year-old CEO of style e-commerce site, Polyvore, believes simplicity is at the heart of work happiness. In January she implemented a company-wide "simplification month". "To get the company down to its simplest possible state, I asked everyone to make a list of all the work they do, identify what was most impactful, and then cut, optimize or simplify everything else," she says. "In that one month, the product engineering team deleted some of the product features that were less used, we changed some of the ad programs, we simplified some of the communication processes inside the company, we refactored a lot of code and we streamlined our user support processes. "I think we got the company down to a simpler state and people had a clearer mind because their to-do lists were cleaner and simpler."
Follow Charles Benayon on Twitter: www.twitter.com/CharlesBenayon