5 Lessons From The Wild And Unpredictable MMVA Red Carpet
This Sunday, I'll be co-hosting the 2016 iHeartRadio MMVA Red Carpet for the third year in a row. The MMVA red carpet is unlike any other red carpet across the country for many reasons, but mainly because of the high-energy vibe and the wild celebrity arrivals that it's historically known for!
NOTE TO SELF: Plans are good. Improv is (sometimes) better.
Every year the arrivals take fans (and us) by complete surprise and I can't wait to see what's in store this weekend. When it's showtime and we go live, we're ready to follow the master plan put together by our incredible production crew, but life doesn't always follow the exact plan... and sometimes that can lead to magical moments. Cheers to having a plan but being open-minded to live television possibilities!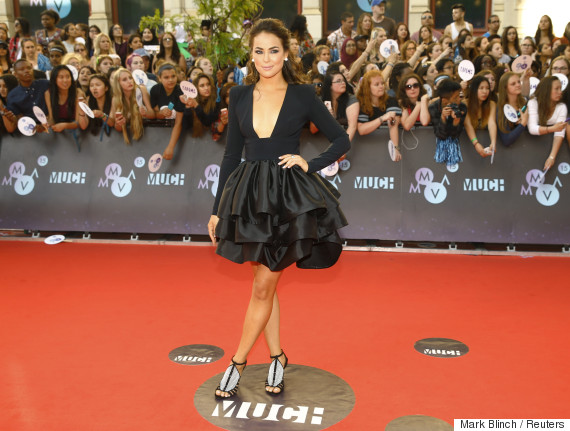 PRO-TIP: Practice your pose.

Even though my job gives me a lot of opportunities in front of the camera, posing in front of photographers on the big night is seriously scary. Where do you look? How do you pose? How long do you stay? How many poses per position? AHHHHH. You know how they say "practice makes perfect?" Well, it's definitely true in this case. Practicing poses in front a full-length mirror before stepping out can avoid that unintentional deer-in-the-headlights look. Instead, channel an inner Tyra Banks and give those photographers a serious dose of smize action and H2T modeling.

HEADS UP: Learn to read lips.

Learning to read lips is a very nice bonus during the MMVA red carpet show. The fans are very loud, at times -- so loud that it is impossible to hear anything -- which is wonderful because we love the excitement that the fans bring! However, it also makes my job very difficult since there's information coming at me left, right and centre! For example, the producers of the show speak to me through my earpiece, my producer and floor director are giving me a slew of visual and audio cues, my co-hosts can jump in my ear at any time during the show, and most importantly, I'm greeting celebs and talking about the show, their outfits and anything in between!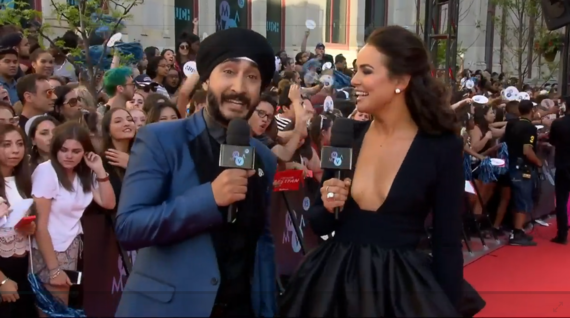 TRUTH: It takes a village.

Being surrounded by the right people on a big night like the MMVAs is a game changer. My stylist, Katie Tobin, and make-up artist, Nikki Strachan, are slay-queens and I can't wait for everyone to see what they've come up with this Sunday! Wardrobe is always the first thing to be figured out and we do a few rounds of fittings before finalizing the winner. Once that is signed, sealed and delivered, I show it to my make-up artist who creates a mood board of what beauty looks could work. And last but not least, we settle on a hair style.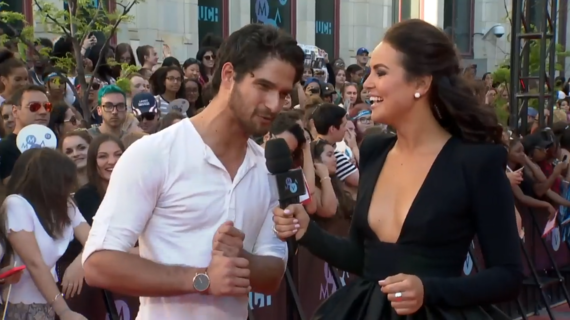 REMINDER: Soak up every moment.

When we wrapped last year's show, I remember walking into Bell Media headquarters at 299 Queen West and being asked what my favourite moments were, at which point I quickly realized that I pulled a Will Ferrell in Old School and essentially blacked out during the entire show. Thank goodness for social media moments and watching the entire episode the morning after from the comfort of my bed, in sweats and nursing my sore feet back to life. This year, my goal is try to pump the breaks throughout the broadcast to just look around, take a deep breath and soak up all the MMVA magic.
Catch me co-hosting the 2016 iHeartRadio MMVA Red Carpet this Sunday at 8 p.m. ET on Much and Much.com.
Follow HuffPost Canada Blogs on Facebook
MORE ON HUFFPOST:
MMVAs 2015: Best And Worst Dressed
Gigi Hadid slayed the MMVA red carpet in this Mikhael Kale ensemble. The crop top and skirt combo with its thigh-high slit make for a super sexy look, while that white PVC moto jacket adds that extra edge.

The customized #HADID patch is also an excellent touch.

Debby Ryan took a style cue from the boys with her modern-day pantsuit. While we love the culottes and the dress shirt and blazer combo, we really wish Debby had chosen a different accessories -- those pumps and that clutch seem a bit random.

This long vest and pants combo isn't really cutting it for us, especially with the top being completely buttoned up. We do, however, have to hand it to Jason for going outside of the box with his style.

WERK. This black dress is super hot on Sarah, with that plunging neckline and perfectly placed cut outs. Also her bob = perfection.

RED HOT.

Hailee's dress is pretty busy in itself with that geometric-turned-zebra print, and paired with those caged heels, it goes a little over the top for us.

Hot pink on Carly Rae = gorgeous, but the dress itself is a bit blah to us. We also wish she chose different shoes.

We're digging this caged dress on Lights -- it makes a statement without being too over-the-top.

Fun, fresh and oh-so-Kardi.

Don't get us wrong, we're usually HUGE fans of Cristine's style, but we wish she had gone for something more out there as opposed to a typically sexy mini dress and platform pumps.

Another case of a dress with too much going on: the fishnet bodice and the leather and PVC details overtop remind us of some weird superhero costume. Tori's hair and makeup though? Perfection.

We much prefer Omi's vest and trousers ensemble than Jason Derulo's. Also those 1 7 kicks? Dope.

Those overalls just look sloppy, especially with the giant rips. Not quite red carpet attire, Sonreal.

This whole James Dean look totally works on Cody -- but he missed the mark on one thing: his shoes!

She may be a host, but Liz Trinnear's rhinestone and floral embellished dress is fit for an A-lister.

Totes adorbs.

A lot of mismatching going on here --brown printed pants paired with a too-casual navy blue short-sleeved dress shirt and those loafers make for a not-so-good ensemble.

Doesn't Ed look like a dapper gent in this three-piece suit? However, we appreciate that he wore his sneakers as opposed to dress shoes, because let's be honest, that's way more Ed!

Yes to The Weeknd's vintage denim jacket. We want one, too.

Simple, classic, and effective.
Follow Chloe Wilde on Twitter: www.twitter.com/thechloewilde