House Of Cards Season 1, Episode 6 Recap: The Brick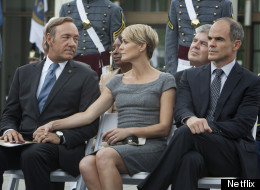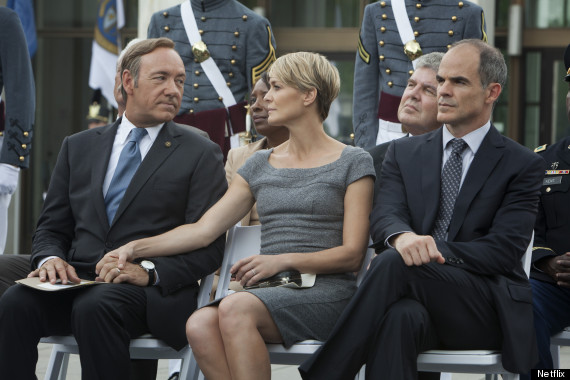 Contains spoilers -- do not read unless you've seen House Of Cards Season 1, Episode 6
You know when a TV show tries to convey an issue via a metaphor, and sometimes it's subtle, but at other times it has all the covertness of a heavy brick hurtling through the air? Well, in this episode, House of Cards uses a very literal representation of what it's trying to communicate. In this case, yes, it's a brick, and it's smashing through Frank's window.
OK, so it all ends up being an elaborate ruse by Frank (which, c'mon, really?!), but it's nonetheless effective in displaying what this show is all about. It's brute force masking the machinations and scheming underneath; both will get you what you want, but one is a lot less messy. And while Frank usually chooses the cleaner option, in this case he has to get down and dirty to end the teacher's strike, which we learn has now stretched on for a month.
Most of this episode is dedicated to the Frank vs. Spinella plotline. Frank still wants that collective bargaining addendum added to the bill, and Spinella doesn't want any reform. His ultimate goal is to keep the teachers happy. So the two continually butt heads, until Frank takes things into his own ... er ... somebody else's hand.
When the brick flies through his window, Frank has an excuse to play the "too much violence" card, stating that the teachers and the teacher's union are taking things too far, behaving irrationally for their cause. He then uses Zoe to get the message out there in the media (with the term "disorganized labor"), and it, of course, spreads like wildfire. For the time being, Frank succeeds at making people believe that the teachers are radicals, out for blood and not thinking of the children.
Spinella and Frank agree to have a debate on CNN, and we think it'll be an easy victory for Frank. We've seen him play with words before. But in a very unwise move, he brings Claire with him to the studio to support him, and in an even stupider move, he uses her as a mechanism by saying she can't live her life normally since the brick incident. Claire, ever-stoic, stands there like a statue, not daring to move. Spinella uses this to his advantage and completely screws Frank with it -- Frank stumbles, and starts reciting vowels nonsensically. He bites it, and he bites it huge. He even becomes a viral YouTube sensation! Hilarious.
After a week of humiliation, even in the halls of The Pentagon, Frank eventually meets again with Spinella, insults him to the point where Spinella becomes violent, and gets punched in the face. He then blackmails Spinella into ending the strike. All the subtlety of a brick, no? Frank has sunk low now to achieve his agenda.
In other news, Peter is back! Seems all of Frank's blunt manipulation on that front worked, too. Peter has now been sober for a month (coincidentally as long as the teacher's strike), and wants to run for Governor of Pennsylvania. Frank is elated, and tells Claire that she must enlist him at CWI for some project so that he can a) create jobs and b) make it look like he knows what he's doing. For the second time in this episode, Frank uses Claire to his own ends, just like he uses Zoe and Peter.
The B-plotline helps us understand that Claire is a simmering pot of rage and resentment. While she realizes that she can't necessarily and/or easily combat Frank on his own terms, she can take that misery she experiences and spread it out to others. We saw it with the firings in the first few episodes, and we see it again here when Claire goes to visit their former security man, Steve, who's on his deathbed with pancreatic cancer.
Steve confesses to Claire that he's always been in love with her, and that he hates Frank. Now this is a very sick, gaunt man, confessing a secret on his deathbed. Wouldn't the appropriate response be to quietly nod, excuse yourself and never speak of it again? Not Claire. She does the harshest thing imaginable -- she reaches up his hospital gown, grabs his (probably non-functioning) penis and pulls, hard. She hisses, "Now you know my secret." And now so do we. Underneath that statuesque demeanor is a force to be reckoned with, one who might ultimately bring down Frank and his ... sigh ... house of cards.
Best Frank Quote: "When you make someone Secretary of State, they owe you for life."
You can stream House Of Cards at any time on Netflix.
House Of Cards Episode 5 Recap
House Of Cards Episode 4 Recap
House Of Cards Episode 3 Recap
House Of Cards Episode 2 Recap
House Of Cards Episode 1 Recap
UK TV Remakes The US Got Right
Original UK Series: "Till Death Us Do Part" The show that introduced the world to "lovable bigot" Archie Bunker, "All in the Family" was the first series to spend five consecutive years on top of the Nielsen ratings. Produced by Norman Lear and Bud Yorkin (who also adapted "Sanford and Son" from its UK predecessor) the sitcom was notable for its decision to tackle social issues that other network comedies of the time had never touched, such as homosexuality, racism, rape, abortion, breast cancer and the Vietnam war.

Original UK Series: "Steptoe and Son" This iconic NBC sitcom, which aired from 1972 until 1977, was one of the highest rated shows of its time, peaking at number 2 in the ratings behind only "All in the Family." It is considered groundbreaking for its portrayal of race, and is thought to have paved the way for "The Cosby Show" and other sitcoms centered around African American families. (Although the British original was groundbreaking in different ways, notably for its elements of social realism, it featured Caucasian leads.)

Original UK Series: "Dragon's Den" A hit in both the UK and Canada, "Dragon's Den" embodies all the elements of a hit reality show: Judges with attitude, random wackiness, and average Joes who either make money or fools of themselves. "Shark Tank" works because it didn't meddle with the winning formula -- it's harsh, cruel and blunt; it even uses two of the same "Sharks" that appear on the Canadian version.

Original UK Series: "Hell's Kitchen" The thread that ties these two together is Gordon Ramsay. Without his acerbic, curse-laden diatribes, this show would not work on either continent. There's something almost cathartic about watching "Hell's Kitchen," which might be why it works so well -- you instantly feel better about your own cooking, and you can release a bit of anger every time Ramsay yells at one of the contestants.

Original UK Series: "Shameless" Showtime's American adaptation of "Shameless" has worked for a few reasons. Most importantly, its central story of a dysfunctional family struggling to make ends meet resonated with audiences during the recession. The show also hit home runs with its casting: William H. Macy plays a great drunk, and Emmy Rossum has emerged as the show's tough, sexy breakout star.

Original UK Series: "Who Wants To Be A Millionaire?" There are a two very simple reasons "Who Wants To Be A Millionaire?" took off in the US. Number one: Every single American TV viewer would like to be a millionaire. Number two: Regis Philbin and his monochromatic shirt/tie combinations were awesome.

Original UK Series: "The Office" Ricky Gervais' British sitcom "The Office" premiered in 2001 and followed the employees of the fictional Wernham Hogg Paper Company. Though it only lasted two seasons in the UK, it lives on in the US. The American version starred Steve Carell and made him a highly-coveted film actor, and did the same for John Krasinski, Jenna Fischer and more of its stars. Now going into its ninth season, the dry humor and mockumentary-style series about the Dunder Mifflin Paper Company employees set the tone for many more comedies to come (i.e. "Modern Family").

Original UK Series: "What Not to Wear" The BAFTA-nominated original UK series "What Not To Wear" had Trinny Woodall and Susannah Constantine makeover some of the UK's most awfully dressed Brits for five seasons (before they left and Lisa Butcher and Mica Paris took over for the show's sixth and seventh seasons). Though the US installment of "What Not to Wear" premiered shortly thereafter with a bit of a rough start with Wayne Scot Lukas, the American version found its footing in Season 2. The dynamic between Stacy London and Clinton Kelly has helped the show last for nine seasons and counting.

Original UK Series: "Queer as Folk" The UK's original "Queer as Folk" made its debut in 1999 and broke gay stereotypes throughout its two seasons, as did the US remake. "Queer as Folk" premiered on Showtime stateside in 2000 and made a splash as the first hour-long drama on American television to portray the lives of gay men and women. The series covered homophobia, late-in-life gay characters, coming out, gay adoption, HIV and many more taboo subjects. "Queer as Folk" broke down cultural barriers, paving the way for series like "The L Word" to make their debut and for acceptance of the gay community at large.

Original UK Series: "Man About The House" The UK original lasted six seasons in the early-to-mid-'70s, but the US version produced more than four times as many episodes (172 in total) over its eight seasons on the air, mainly due to a hilarious cast led by the late John Ritter.

Original UK Series: "Strictly Come Dancing" Before there was Pam Anderson, Drew Lachey and Bristol Palin (just three of the U.S. version's "All Stars" for Season 15), there was the UK's "Strictly Come Dancing," which premiered in 2004 and immediately spawned international spin-offs in 32 other countries and counting.

Original UK Series: "Pop Idol" "American Idol" is a ratings juggernaut, and it's not showing many signs of slowing down. With a revolving panel of music icons as celebrity judges and a fanbase that not only votes each week for their favorite singers, but buys their music and follows the contestants on tour, this is the reality competition to beat in the ratings.

Original UK Series: "Changing Rooms" It's not easy to find designers who are personable, talented and able to deal with the demands of a microbudget, time-crunched renovation, but both of these shows managed to do that, which is why they were both long-running hits in their respective countries. On both shows, viewers got crash courses in how to remake a room for very little dough, and even if we ultimately preferred the mildly acerbic British designers, both shows were the best kind of how-to program: They made you actually think you might be able to accomplish something similar (if you got off your couch, that is).

Original UK series: "Prime Suspect" We know, we know, the Helen Mirren original is a classic character-driven cop drama and the NBC show never quite rose to the heights that the UK series did. Having said that, NBC's version of the cop show evolved into an enjoyably meaty, well-acted ensemble drama that made great use of its versatile, talented cast and a committed performance from star Maria Bello. We were all ready to doubt the US version of the show, but her Jane Timoney made believers of us during "Prime Suspect's" brief run on the Peacock network.

Original UK Series: "The Inbetweeners" Though time will tell if the MTV adaptation will be able to rival the cult appeal of the original, the first three episodes of the new comedy prove just as charming as the British show, albeit in distinctly American ways. British humor may be dry and acerbic, but the new cast has undeniable chemistry and comic timing, and it will be interesting to see where the show goes when it starts utilizing its original material, rather than the six episodes it based on the UK series.
Follow Chris Jancelewicz on Twitter: www.twitter.com/CJancelewicz