Summer Beer Guide: Wheat Beer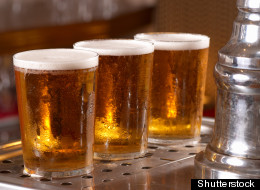 As the weather warms up, every beer blogger and his cousin are compiling lists of their summer beers for 2013. This isn't inherently a bad thing, and often it might lead you to a new beer you had not tried before. It could also leave you crying into your lager, as you don't have access to any of the specific beers on a particular list. So while I'll suggest some specific beers, I want to present to you my list of ultimate summer styles, and why you want to drink them. I'll also include a recipe to accompany the beer.
Today I'm going to cover Wheat Beers. Over the next six weeks, I'll also cover off Fruit Beers, Saisons, Lawn Mower Beers, BBQ Beers, and Campfire Beers.
Wheat Beer
One of the most obvious "summer" styles are wheat beers. These beers are generally bright, slightly tart or sour, quite refreshing, and generally weigh-in at 5 per cent or less. The general division in the style is between the Belgian-style Wit (white) beers and German-style Weisse beers. In the Belgian-style, the beer is unfiltered and cloudy, and in addition to malted barley and wheat, hops, water and yeast, they can also contain un-malted wheat and oats (which give a silky mouthfeel) as well as herbs and spices.
The German-style is made in accordance with the Reinheitsgebot (The Bavarian Purity Law), and therefore can only contained malted grains, hops, yeast and water. It, too, is cloudy and tart. In both cases, special ale yeasts produce spicy notes when they ferment, often giving flavours of clove, allspice, coriander and cinnamon, as well as bananas and bubblegum. Both styles lend themselves well to grilled fish, salads of fresh garden vegetables, and BBQ chicken or pork. You could also have the Bavarian classic sausage, Weissewurst. Made with veal and bacon fat, it is always served with a local wheat beer and pretzel. Oh, and it's generally served as a mid-morning snack. On the rare occasions I get asked what an ideal "breakfast beer" is, it's to the wheat beers -- particularly German weisse -- that I point. They also make tremendous summer time brews.
For Belgian-style whites, Unibroue's Blanche de Chambly is incredible and has wide distribution. A bit more regionally specific, look for Mill St Wit (Ontario), Dieu du Ciel! Blanche de Paradis (Quebec), or Driftwood White Bark Ale (BC).
If you prefer the German-style, Granville Island Robson Street Hefeweizen (BC) has Nation-wide distribution. The mighty Denison's Weisse beer was, for years, the highest-rated German-style Weisse on Ratebeer.com. It's mainly available in Ontario, but is worth seeking out. Also look for Howe Sound King Heffe (BC), Muskoka Summer Weisse (Ontario) and Propellor Hefeweizen (Nova Scotia).
Orange Glazed Pork Chops

Here's a little pro-tip: Marmalade is a BBQ'ers secret weapon. Packing a heap of sweet, bitter and sour flavours, even if you don't like it on your toast, keep a jar of this in your fridge. Used in glazes, BBQ sauces, or right out of the jar, once you start using it, you will wonder why you didn't sooner. In this simple recipe, it's cut with bright citrusy wheat beer to make an excellent glaze for pork chops, though it would be equally well suited to a light white fish fillet.

1/2 cup marmalade (best quality you can find, home made if possible)
1/3 cup wheat beer (I like using a German-style weisse)
1 tbsp honey
1 tbsp Louisiana hot sauce (Tobasco, Frank's et al)
4 medium-sized pork chops (bone-in, if you can)

Stir all ingredients other than the pork well to form a syrupy glaze. If you don't like the rinds in the marmalade, feel free to pass the glaze through a strainer to remove them. If the glaze seems too thin, add a bit more marmalade. Over a medium-hot grill, cook the pork to your desired doneness. When the chops are within one minute of being done, brush them generously with the glaze, turning to cook it. Let the chops rest for five minutes, and serve them with fresh local vegetables.
Summer Beer Taste Test, 2013
Comments: "This one would be great solo." "Pretty good, not a bold flavor but well balanced." "Hello! I like you!" "Pleasantly bitter." "Stands out a bit from the rest of them. Hit of citrus to start, then mellows." "Sophisticated, floral, hoppy. Nice balance: not too bitter. Very good."

Comments: "Really pleasant and fruity." "Floral, citrusy and bright. I could drink a LOT of this." "Thin, with a hint of floral." "Great for summer. Light but fun." "A floral nose, but not much taste in the mouth." "Light, not too sweet, flavorful."

Comments: "Super bitter, but fresh and clean." "Great aroma; hoppy taste, drinkable, not too exciting." "Smells floral and hoppy, pleasantly bitter and totally drinkable." "Lightly bitter, lovely floral aroma and aftertaste." "Pleasant, nice level of hops without being overpowering." "Hoppy, fresh and light, without much complexity or depth."

Comments: "Too bitter for me." "Solid, balanced, with just the right amount of hops." "REALLY hoppy aroma. A little too bitter for me." "Very bitter, too bitter for my taste." "Hoppy yet fruity. Could be a good 'intro to hops' beer for someone not used to them." "Very refreshing and crisp, with a clean, citrusy finish." "Smoky with a hoppy finish."

Comments: "Hoppy, bitter and metallic, but with real complexity. A little wintery for a summer afternoon." "Average?" "Easy to drink, not bad." "Easy drinking, pleasant bitterness." "Middle of the road." "Thin flavor."

Comments: "Perfect for pairing with food." "Tastes almost like nothing? There's a little bitterness at the end." " Ah, I like this, but it's a little boring." "Is there honey in there?" "Nothing stands out with this, but it's not bad."

Comments: "Bitter. Nothing special." "Not bad, drinkable. Tastes like adjunct lager." "This smells strange. A little too hoppy. Don't love it." "Crisp and clean. I'd drink this on a hot day." " A bit boring, but inoffensive and quite drinkable." Sweet, with some banana-y, clove-y notes like a hefeweizen." "Light. Too light. Tastes cheap."

Comments: "Good but not very distinguishable." "NOT into this. Smells and tastes a little burned?" "I feel like this could be good for a shandy, but it's a bit boring." "Not nice. Sort of a greasy taste." "Delicious. A lot of flavor, but not too hoppy. CHUG."

Comments: "Bitter and clean." "Boring and light, but drinkable." "Too wheaty, but not bad." "Too thin. Flavorless. Bleh." "Kind of neutral with some bitterness. Slight skunkiness at the end." "A good sipping beer."

Comments: "Refreshing, but no real defining characteristics." "Light, but not much flavor." "Light, inoffensive, but kind of unremarkable." "Watery. Not feeling it." "Pretty bland and watery." "Sweet nose on first impression, but a muddy, even dank, finish." "Tastes like flat Bud Light."
Follow Chris Schryer on Twitter: www.twitter.com/ChrisSchryer