Even Michael Jackson (the English beer writer, not the American pop star) -- a man who played a huge part in the the renaissance of great beer in the U.K. in the 1970s and also in the concept of beer styles in general -- felt that you needed a simple beer to drink after pushing a lawn-mower around the garden on a hot summer's day.
It needed to be tasty served cold, and be satiating yet interesting. And while some people assume that a lawnmower beer is a basic light lager, I want to challenge that assumption. Following my posts on Wheat Beers, Fruit Beers and Sour Beers, today we are going to explore Lawnmower Beers.
There is no denying, more people probably reach for a light lager after cutting the grass or weeding the garden, than anything else. Generally these beers are made with large amounts of rice or corn in them, to lighten both the colour and the taste. They also are served at or below 0°C, further inhibiting flavours (colder liquids have less impact on your sense of smell/taste). I've made tasting notes about beers in this category that include the observation "tastes like soda water with a splash of tonic." They are meant to be drunk quickly, and not pondered. That being said, there are some light lagers that go beyond the norm, and bring some taste to the party. F&M Stone Hammer Light (Ontario) is a light lager I would happily drink.
Lagers (including but not limited to Pils, Pilsners, amber lagers and more) are a modern beer invention, pioneered in the 1840s, using a different strain of yeast than the ale yeast that were widely known at the time. These yeasts ferment at colder temperatures, and also are active at the bottom of the fermentor (ale yeast are active at the top). The beers are also aged for many weeks ("lagern" is the German verb "to age"), which allows any chemical byproducts from the fermentation to dissipate and is why lagers are generally described as being "clean" or "crisp" with minimal esters and lingering characteristics.
Many of the varieties our big brewers make today rely heavily on adjuncts (corn, rice, etc), often as syrups, rather than just barley. That being said there are many excellent lagers available, in every province and territory. Creemore Springs Premium (Ontario) is amazing, nationally available, and was one of the aforementioned Michael Jackson's favourite North American lagers. Their Kellerbeir is also top-notch. The beer that started me on the road to craftbeer and one that still has a special spot in my heart is Moosehead Lager (New Brunswick). Locally check out Hop City Barking Squirrel Lager (Ontario), Quidi Vidi Continental Pilsener (Newfoundland), or Paddock Wood Czech Mate Pilsner (Saskatchewan).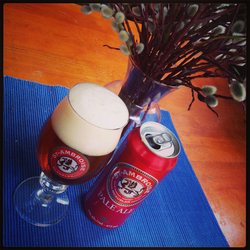 While English milds are light beers (often around 3 per cent alcohol), they don't fit a lot of people's definition of "light," as they are often fairly malty and even smoky. On the other hand, English pale ales are wonderful beers that are generally very well balanced, nicely dry and hoppy, and normally not more than 5 per cent.
And while more and more brewers are focusing their energy on the North American-style pale ale, there are still numerous excellent English-style pales available in Canada. Granville Island English Bay Pale Ale (BC) has national distribution and is a good example of the style. Thornbridge Kipling (England) has also had good rotation in my beer fridge this year, and can be found via importers. Featuring amazing New Zealand hops, it's one of the best pale ales I've ever had. Closer to home, look for Phillips Blue Buck (BC), Propeller Pale Ale (Nova Scotia), Black Oak Pale Ale (Ontario), McAuslan St. Ambroise Pale Ale (Quebec), Yukon Gold English Pale Ale (Yukon), Gahan Harvest Gold Pale Ale (PEI), or Fort Garry Pale Ale (Manitoba).
North American-style pale ales are based off the English-style pales, but in this case it's as if the balance is being impacted by an inner-ear infection. Hops are very much the prevalent aroma and taste, and while they're not hugely bitter, the aromatics paint big strokes over the fairly subtle malty sweetness. These beers are my daily-drinking beers, whether I just finished mowing the lawn, am cooking dinner, or am unwinding after the kids are in bed. Alexander Keith's Hop Series Ales (Nova Scotia) are North American pale ales, and are single-hop brews, featuring Cascade or Hallertau hops. They are great gateway beers into the style and are available nation-wide. Also look out for Great Lakes Crazy Canuck Pale Ale (Ontario), Tofino Tuff Session Ale (BC), Le Trou du Diable Mactavish in Memoriam (Quebec), Garrison Hop Yard Pale Ale (Nova Scotia) or Alley Kat Full Moon Pale Ale (Alberta).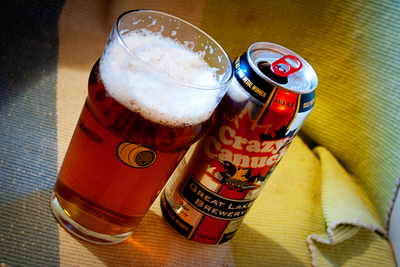 Classic Fish and Chips

A solid fish and chips is not necessarily the most healthy thing you can eat, but it's easy and versatile. You can make it with frozen cuts of cod or haddock, or shell out top dollar for fresh caught halibut. The batter takes seconds to make. And it goes perfect with a variety of beers, from light lagers up to big North American pale ales. Just be careful choosing your frying pot (if you don't have your own deep fryer). Leave enough space for the displacement of the fish, and for the oil to triple in volume when the fish first goes in.

1 cup all-purpose flour (plus more for dusting)
1 egg
1 341ml bottle beer (a lager or mid-hoppy pale ale)
1 tsp baking powder
Pinch of salt
4 fillets of white fish (cod, haddock, halibut, etc)

Pre-heat fryer or pot of oil with 3-4" of oil in it (vegetable, sunflower, etc) to 375°F. Whisk all ingredients other than the fish together to form a batter, with no lumps. Dust fish fillets in flour and coat in batter. Carefully drop into frying oil (watch for splashing and the expansion of the oil). Fry for 3-4 minutes and turn the fillets over. Fry for another 3-4 minutes until golden, and remove to paper towel to drain. Serve with french fries (either made in the fryer as well, or baked/bought/stolen) or onion rings (leftover batter can be used to coat flour-dusted slices of onion and fried to golden brown). Top with a squeeze of lemon juice, a dash of malt vinegar and a good shake of salt.
Best Canadian Craft Beers
Beer: Red Racer Pale Ale Brewery: Central City Brewing City: Surrey, British Columbia The Type: Imperial pale ales are hoppier than regular pale beers, originally thanks to the extra hops added in the United Kingdom to keep the beer fresh on its journey to British soldiers stationed in India. The Brew: Central City won Brewery of the Year at the 2012 Canadian Brewing Awards. The brewery describes the taste as "ruby red grapefruit, with depth of malt backbone."

Beer: Glutenberg Belgian Double Brewery: Brasseurs Sans Gluten City: Montreal, Quebec The Type: Traditional beer is definitely not gluten-free friendly, because it's made with barley (and sometimes wheat). The gluten-free beer offerings are still slim, but growing. The Brew: All of Brasseurs' brews are gluten free, made with grains like millet. Love strong, comforting tastes? This warm and spicy beer has notes of molasses, clove, and nutmeg, and 6.5 per cent alcohol.

Beer: Weissbier Brewery: Denisons Brewing Company City: Toronto, Ontario The Type: These beers are light and low on aftertaste, thanks to the use of wheat in brewing. The Brew: "Weissbier" is what they call wheat beer in Bavaria, and this beer from Denisons is a traditional Bavarian-style brew made with a special Bavarian yeast. It's been number one in the German Hefeweizen category on ratebeer.com for more than a decade.

Beer: Nutcracker Porter Brewery: Black Oak Brewery City: Etobicoke, Ontario The Type: Porters are dark like stouts, but generally sweeter and less hoppy. The Brew: Save this suggestion for the holiday season, when this dark cinnamon-spiced brew will be perfect with some figgy pudding—which Black Oak says is one of the flavours in this beer.

Beer: St-Ambroise Oatmeal Stout Brewery: Brasserie McAuslan Brewery City: Montreal, Quebec The Type: These dark and rich beers often use unmalted roasted barley to give the beer a character kind of like coffee. The Brew: This beer is brewed from 40 per cent dark malts and roasted barley, but also has oatmeal to give it body and a mocha-coloured head.

Beer: Saison Station 16 Brewery: Hopfenstark City: L'Assomption, Quebec The Type: These highly carbonated beers were originally brewed in the cooler months in Belgium and then stored by farm workers to drink in the summer months. The Brew: This spring seasonal brew is Belgian style with citrus and clove aromas.

Beer: La Fin du Monde Brewery: Unibroue City: Clarington, Ontario The Type: Belgium has a centuries-old beer brewing tradition, and Belgian-style beers can be of several different varieties. The Brew: This beer with a floral bouquet has, so far, won more medals and awards than any other Canadian beer.

Beer: Meade Brewery: Applewood City: Stouffville, Ontario The Type: This ancient beverage is not exactly a beer: rather, it's a fermented honey and wine beverage that sometimes also contains grain mash and/or hops, which can give it a beer-like flavour. The Brew: If you're looking for a buzz, you'd get a good start reaching for this beverage, with a 20 per cent alcohol content.

Beer: Blueberry Cream Ale Brewery: Pumphouse Brewery City: Moncton, New Brunswick The Type: These tend to be ales, but have a different character because of the low bitterness and malt flavour required to let the fruit shine through. The Brew: East Coast blueberries are delicious, and this beer ads spicy notes to kick things up a notch.

Beer: Dooryard Organic Ale Brewery: Picaroons Traditional Ales City: Fredericton, New Brunswick The Type: When the weather is warm you want a seasonal brew that's clean and refreshing, like the ones in this category. The Brew: Picaroon's certified-organic summer ale, with three traditional wheat beer styles in the blend, won bronze at the Canadian Brewing Awards in 2009 and 2010.

Beer: Holy Smoke Scotch Ale Brewery: Church-Key Brewing Company City: Cambellford, Ontario The Type: These beers are given their smokey flavour through the use of malted barley dried over an open flame. The Brew: This peat-smoked Scotch ale is so dark that it's nearly black.

Beer: Oranje Weiss Brewery: Amsterdam Brewery City: Toronto, Ontario The Type: This Belgian-style beer is light and crisp that narrowly escaped extinction twice in the 20th century. The Brew: This seasonal brew is an unfiltered white, flavoured with orange peel, coriander, and anise.

Beer: Wee Heavy Scotch Ale Brewery: Amsterdam Brewery City: Toronto, Ontario The Type: These dark and strong beers are bittersweet and sometimes slightly metallic. The Brew: This ruby-red beer is available every winter, with a blend of five different malts to keep your belly warm.

Beer: Rye Pale Ale Brewery: Cameron's Brewing City: Oakville, Ontario The Type: Rye beers are made when a portion of the barley malt is replaced with rye, which is generally malted. The Brew: Part of Cameron's brewmaster series, this bittersweet beer has won several Canadian Brewing Awards, including a bronze in 2013.

Beer: Imperial I.P.A Brewery: Garrison Brewing Company City: Halifax, Nova Scotia The Type: Copper coloured and fruity, these beers are originally from England. The Brew: Garrison bills this as "the hoppiest beer in Atlantic Canada." Depending on your taste for hops, that either sounds great or awful. If you're a hophead, this is your brew.

Beer: Pilsner Brewery: King Brewery City: Nobleton, Ontario The Type: These beers have a more distinctive hop taste than other lagers, with a dry and somewhat bitter flavour. The Brew: King imports the Bohemian malts used to brew this Czech-style beer, which won a silver medal in 2013 at the Canadian Brewing Awards.

Beer: Fighting Irish Red Brewery: Yellow Belly City: St. John's, Newfoundland and Labrador The Type: Thick bodied and amber or red coloured, depending on the particular brew used. The Brew: Billed as the brewery's most complex beer, Yellow Belly's red brew has notes like burnt toast and strawberry jam.

Beer: Traditional Ale Brewery: Big Rock Brewery City: Calgary, Alberta http://www.bigrockbeer.com/sites/default/files/images/beer/main/beer-bottle-traditional.png The Type: Look for caramel and chocolate flavours, sometimes with a slight citrus accent. The Brew: This beer was first brewed in 1985 with the goal of creating an English-style beer that was markedly different from the typical Canadian bottle.

Beer: Black Cat Brewery: Paddock Wood Brewing Co. City: Saskatoon, Saskatchewan The Type: Lagers are aged longer, which gives them a smooth finish. These are the world's most popular beers. The Brew: This beer with "delicate coffee notes" comes from Saskatchewan's first microbrewery.

Beer: Lug Tread Brewery: Beau's All Natural Brewing Company City: Vankleek Hill, Ontario The Type: This German style of beer has a noticeable hoppiness without being extreme, and is not as bitter as regular German pale lager. The Brew: Beau's flagship brew is a tribute to the classic beer of Cologne, Germany. It's top fermented like an ale and then cold aged like a lager.
Follow Chris Schryer on Twitter: www.twitter.com/ChrisSchryer