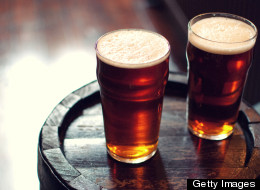 Continuing along with our exploration of summer beer styles, the next most obvious category after wheat beers (which we explored last week), are fruit beers.
Fruit beers are, well, fruity. Bright and refreshing, they really vary quite a bit, depending both on the fruit used, as well as what the underlying style of beer is. Fruit beers range from light lime-type lagers, where a basic North American Light Lager is the foundation, right through to the famous Lambic Kriek and Framboise beers of Belgium, fermented with wild yeast. And there is plenty of territory in between.
Pale ales with citrus that compliment the bright floral and citrusy hops, wheat beers with raspberries or apricots, stouts or porters with dark juicy berries; I've even had a beer made with gummi bears. And we still haven't mentioned shandys and radlers (which really, are basically the same thing).
Because of this variety of styles, even if you've had one fruit beer you didn't particularly like, it's never a bad idea to try one that is new to you. For many people who "don't like beer", a fruit beer is often an option that they actually enjoy. Because of the bright, generally refreshing fruit flavours, they are great dockside or patio beers.
As I noted, the most common and widely available fruit flavoured beers are the lime lager variety. If that is where you want to start, try to find beers that are made with real fruit juices, and are based on beers you already like. There are plenty of options on the market, no matter what market you are in.
Shandys and Radlers (a German cocktail of pils mixed with a fruit based soda; often grapefruit, lemon or lime), are quite popular in summer. While they're not really a fruit beer (rather, they're a beer cocktail), I'll include them here, as they are beer, and they often are fruity. Again, a base beer that you already know and like is a good starting point, and -- again -- real fruits are also a good thing. Two that I've been happy to drink recently are the excellent Stiegl Radlermass (from Austria) and Rickard's Shandy, which is made with a nicely tart lemon soda. Both have fairly wide distribution nationally, in retail and licensed sales.
Fruit-flavoured wheat beers are probably the most numerous in the craft beer scene. Generally, the brewer opts for a fairly tart fruit to compliment the tart refreshing wheat beer. If this is your cup of tea (or mug of beer), look for Amsterdam Framboise (Ontario; raspberry wheat beer), McAuslan Apricot Wheat (Quebec), Alley Kat Aprikat (Alberta; apricot wheat beer) or Yukon Brewing Deadman Creek (Yukon; a cranberry wheat beer).
While less prominent, pale ales and blonde ales with fruits generally feature a bit more hop presence, and might be your answer if are a person who "doesn't like fruit beers." The only three that immediately pop to mind for me are Pumphouse Blueberry Ale (New Brunswick; blonde ale with blueberries) and Great Lakes Orange Peel Ale (Ontario) or Bellwoods Brewery Omerta Pale Ale (Ontario; North American pale ale with blood oranges). The last two are both classic hoppy pales, where the oranges used are not sweet and juicy, but nicely augment the citrus elements of the hops, with bitter and aromatic orange aromas.
Killer Fruity BBQ "Splash" Sauce

I'm actually trained in French cooking. And one of the joys, when I stopped working in a French bistro, was taking time to learn about (and experiment with) simple, "peasant" cooking from a variety of other cultures. Mexican, Greek and Italian became some of my go-to styles, as they often featured basic flavourful recipes that called for many ingredients that I could grow in my own garden. A summer stand-by was a grilling sauce for fish that was Greek-ish in origin. A really simple recipe of half olive oil, half Greek white wine (remember when you couldn't look left at the LCBO without seeing a Pinot Grigio?) with some chopped up garlic in it. Since becoming more beer-centric, I've adapted the recipe, and often mix it with a nice fruity wheat beer, like McAuslan Apricot Wheat.

200 ml apricot wheat beer
200 ml olive oil ("experienced"; virgin and extra-virgin burn at too low a temperature. Just get plain olive oil)
1 clove garlic, chopped
1 small shallot, chopped

Mix all ingredients in an old wine bottle or swing-top beer bottle. Shake vigorously before each splash, and splash generously over grilling fish on the BBQ. It might flare-up a bit, in which case, mind how generous you are. I love this on grilled cod, where the nice bright beer balances the fairly rich fish. Keep in your refrigerator between meals, and remember to pull it out an hour before you need it, as the olive oil might solidify somewhat.
Summer Beer Taste Test, 2013
Comments: "This one would be great solo." "Pretty good, not a bold flavor but well balanced." "Hello! I like you!" "Pleasantly bitter." "Stands out a bit from the rest of them. Hit of citrus to start, then mellows." "Sophisticated, floral, hoppy. Nice balance: not too bitter. Very good."

Comments: "Really pleasant and fruity." "Floral, citrusy and bright. I could drink a LOT of this." "Thin, with a hint of floral." "Great for summer. Light but fun." "A floral nose, but not much taste in the mouth." "Light, not too sweet, flavorful."

Comments: "Super bitter, but fresh and clean." "Great aroma; hoppy taste, drinkable, not too exciting." "Smells floral and hoppy, pleasantly bitter and totally drinkable." "Lightly bitter, lovely floral aroma and aftertaste." "Pleasant, nice level of hops without being overpowering." "Hoppy, fresh and light, without much complexity or depth."

Comments: "Too bitter for me." "Solid, balanced, with just the right amount of hops." "REALLY hoppy aroma. A little too bitter for me." "Very bitter, too bitter for my taste." "Hoppy yet fruity. Could be a good 'intro to hops' beer for someone not used to them." "Very refreshing and crisp, with a clean, citrusy finish." "Smoky with a hoppy finish."

Comments: "Hoppy, bitter and metallic, but with real complexity. A little wintery for a summer afternoon." "Average?" "Easy to drink, not bad." "Easy drinking, pleasant bitterness." "Middle of the road." "Thin flavor."

Comments: "Perfect for pairing with food." "Tastes almost like nothing? There's a little bitterness at the end." " Ah, I like this, but it's a little boring." "Is there honey in there?" "Nothing stands out with this, but it's not bad."

Comments: "Bitter. Nothing special." "Not bad, drinkable. Tastes like adjunct lager." "This smells strange. A little too hoppy. Don't love it." "Crisp and clean. I'd drink this on a hot day." " A bit boring, but inoffensive and quite drinkable." Sweet, with some banana-y, clove-y notes like a hefeweizen." "Light. Too light. Tastes cheap."

Comments: "Good but not very distinguishable." "NOT into this. Smells and tastes a little burned?" "I feel like this could be good for a shandy, but it's a bit boring." "Not nice. Sort of a greasy taste." "Delicious. A lot of flavor, but not too hoppy. CHUG."

Comments: "Bitter and clean." "Boring and light, but drinkable." "Too wheaty, but not bad." "Too thin. Flavorless. Bleh." "Kind of neutral with some bitterness. Slight skunkiness at the end." "A good sipping beer."

Comments: "Refreshing, but no real defining characteristics." "Light, but not much flavor." "Light, inoffensive, but kind of unremarkable." "Watery. Not feeling it." "Pretty bland and watery." "Sweet nose on first impression, but a muddy, even dank, finish." "Tastes like flat Bud Light."
Follow Chris Schryer on Twitter: www.twitter.com/ChrisSchryer