Talk to Your Partner About Sex...and Reap the Benefits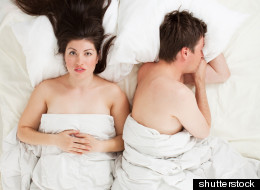 For years, I have been perplexed by how rarely we discuss sex with our partners. For instance, I was speaking with a woman who has been with a guy for eight years but has never reached orgasm.
Her: "We've just never really talked about it."
Me: (in my inside voice) "Really? You've been together for eight years and slept in the same bed maybe 2,555 times and you've never talked about it?"
Me: (in my outside voice) "Really? Why is that?"
Her: "Well, it just kinda seems like a hassle. I've never been one who could climax easily so it's just easier this way. And besides, I don't want to get one of those huge dildos that I see in those sex shop windows."
I start to picture those '80s sex shop windows you used to see and, yes, she's right, not super appealing for women; however, this is 2013 and things have changed. The term "sex toy" now refers to so much more than dildos.
There are many ways to safely and gently bring sex toys and, more importantly, conversations about sex into your love life. I suggest approaching the topic with something like this:
"I want to have a fun conversation about you, me...and sex. I'm happy with our sex life but I know we could give each other so much more."
The main vibe of the first chat (and that's all it needs to be at this time) needs to be very, very safe in that both partners feel like they are already great lovers but that they could be even better. There is an opportunity for them to become mind-blowing, toe-curling, knock-it-out-of-the-park lovers and really, who doesn't want to be that?
Some other language you can use may be, "I'd like us to have some fun and I want to explore these things with you, my Man/my Woman."
BLOG CONTINUES AFTER SLIDESHOW
Expert Tips to Improve Your Sex Life
Take a Cue from 50 "Shades of Grey " Using sex toys is a very practical way to spice up your sex life, and should be encouraged as long both partners are agreeable. Ultimately, one of the reasons "Fifty Shades" is so great is that it was about honesty and transparency in a relationship, and that communication and discussion makes for better sex. Watch

Find Your Body's Erogenous Zones It's not all about the obvious spots. There may be many parts of your body you've overlooked when it comes to sex and sensuality. After all, our entire bodies are a map of interconnected nerves, so a slow and sensuous exploration of one another's bodies may yield some surpises for both of you. From the ankles to the nape of the neck or the small of the back, experiment with light touch and try varying degrees of massage pressure. Watch

Forget These Three Myths 1) Sex drive diminishes with age 2) Passion Can't Exist in Long Term relationship 3) Female orgasm can only happen through intercourse None of the above are true, so don't believe it when people tell you "That's just the way it is."Watch

Up Your Libibo By Losing That Belly For men, testosterone levels may vary, but losing belly fat can up your libido because a big belly actually converts testosterone into estrogen! Watch

Connect Emotionally for Better Sex The best way to improve your sex life is to improve the emotional connection in your relationship. Communication and safety are key in telling your lover what you do and don't like. Watch

Keeping Sex Interesting In Your Marriage Make it a surprise every time, don't have expectations and don't analyze as its happening. Sex should be spontaneous and natural, and that will keep it fresh. Watch

Experiment With Bondage Consentual light bondage can really spice up a couples sex life, but sometimes there is a temptation to keep pushing the envelope. If there is any concern on either partners part about venturing too far, a simple discussion and agreement about boundaries can keep the experimentation fun and comfortable for both parties. Watch

Do Not Resist the Biological Imperative Sex is a biological imperative that in humans has taken on added dimensions. Music, soap operas, art and movies are all influenced by it. Joy has its own biology, and when we suppress that impulse, we see deviant behaviors emerge. So give in to your healthy impulses. Watch

Explore Your Man's Secret G-Spot Men do have a hidden G-spot, but many men are a bit squeamish about it. It's the prostate gland and men can actually achieve orgasm just from its stimulation. Dr. Pepper Schwartz discussed how to find this special spot on a man, and revealed an unexpected benefit of engaging in this sexual practice. Watch

Enjoy Foods That Are Aphrodisiacs We've all heard that oysters and chocolate can have an aphrodisiac effect because they trigger some of the same feelings we experience when we fall in love. But Ellie Krieger says that the way we eat can also stimulate the sex drive. For a more tactile, sensual experience try eating and feeding one another foods that we eat with our fingers -- maybe a shrimp cocktail or something like that. It's the interaction and tehesharing of the sensual experience that really does the trick.

Let Sex Improve Your Longevity The data is very clear that sex improves our health. Men who increase their weekly sex activity from once to twice a week can increase their life expectancy by up to three years. For women it is not the frequency but intimacy that makes the difference, but for all of us, the connection with another that truly heals. Watch

Synchronize Your Orgasms If timing is an issue between partners, the partner who is slower to climax may want to work on getting aroused more beforehand. Vibrators are also an option and some can even be worn for hands-free stimulation. There is also a new cream for men called Promescent than can prevent premature ejaculation. Watch
Both egos are exposed and vulnerable in these types of conversations so working together towards a common goal (a mind-blowing sex life) is key. From the female point of view, she may feel like she's not sexy enough and men might feel they are not man enough, so that is why I stress the need to tread lightly and make this a conversation, rather than "I want, I want, I want."
Don't move quickly -- you may begin conversations on a Friday and then pick it up again the following Friday and remain in conversation for another few weeks from there. No one's needs are laughed at or disrespected. This will get you nowhere.
Next comes the window shopping. Go online and start looking at sex toys. Leave your credit cards in your wallets and just look. Have fun with it; read each other the descriptions and make a list of your favorites.
I recommend a Canadian company called, Ohhh Canada, run by Katrina McKay. They are Toronto-based and have a fabulous selection. I recently spoke with Katrina about the products she offered and I inquired specifically about what she recommends for couples introducing toys for the first time. She had this suggestion:
"Start simply with lube -- it makes all the difference." Style of lube is up to you, whether it's water-based, warming or flavoured.
Then from there you could use a fun game, like the "52 Weeks of Naughty Nights Scratch Card Game" or one of the many books available on her site. You can read them together as a couple or separately.
When it's time to purchase your first toy, I suggest you each select a favourite and then purchase both of them. You need to be open to each other's choice. One client of mine didn't actually want a particular toy but since his girlfriend chose it, he was open, he remained open and it's now their favourite toy.
To add to the fun, you could take your window shopping to the next level and go to an actual sex toy shop. There are many different types -- some are boutique with niche products and others are two floors with anything you could possibly think of. Just being there together can bring on laughter and a sense of openness, exploration and togetherness.
A natural progression from here could be to attend a workshop through such companies like Good For Her. Workshops for couples can be taken in person or online and some titles include, "Sexual Communication Secrets" or "Steamy Sex for Couples." And yes, it is a real workshop and yes, you keep your clothes on.
I recognize these conversations are not easy for many people. When egos are exposed, you need an even blend of vulnerability and humour but most importantly love and respect for each other.
Follow Christine Hart on Twitter: www.twitter.com/yourdatecoach