Premier Wynne Making Life Harder For Ontario Taxpayers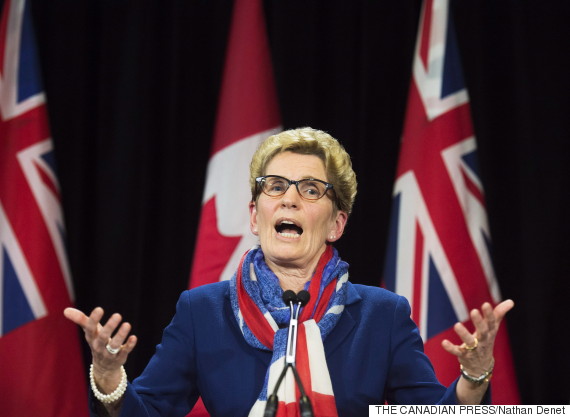 Ontario Premier Kathleen Wynne's speaks during a press conference regarding the political fundraising question at Queen's Park in Toronto on Monday, April 11, 2016. (Photo: THE CANADIAN PRESS/Nathan Denette)
Over the long weekend, many Ontarians took time to visit friends and family across the province. For many, a topic of conversation over dining tables or dockside drinks was the state of the province and revelations from the past week of the conduct of Premier Kathleen Wynne.
But where to begin? Premier Wynne certainly had a wild week making Ontario a more difficult and expensive place to live.
First there were the leaked cabinet documents that exposed her government's secret plan to ban natural gas in Ontario. Natural gas is used by 76 per cent of Ontarians to heat their homes, and it offers some relief against high electricity costs.
Premier Wynne's plan revealed her intention to force virtually everyone in the province to heat their homes with some of the most expensive electricity in North America. The difference in price between natural gas home heat and electric is estimated to be over $2,000 per year. And that doesn't even include the $4,500 average price tag of converting the home to electric heat from gas.
Then there was the political finance reform legislation that was introduced at Queen's Park last week. Wynne's plan involves a taxpayer subsidy directly to political parties for them to spend on attack ads and flyers. The legislation would funnel $10.7 million in taxpayer money directly to Ontario's political parties.
She certainly needed the long weekend break to recover from her flurry of punches to taxpayers in just five short days.
The Financial Accountability Officer (FAO) also released his report, piling onto Wynne's bad week. The FAO report found that the government's plan to balance the budget would only be achieved if the economy outperforms the past five years, and based on the one-time sale of assets.
After achieving so-called balance -- which is not real balance because it excludes infrastructure expenses -- the FAO found that the province would fall almost immediately back into deficit, and that within five years the provincial debt levels would hit $350 billion.
The government also passed the carbon tax legislation last week, which will increase the cost of all manufactured goods in the province, drive out business and hike the price of fuel -- which is already heavily taxed in Ontario -- by $0.043 per litre just to start.
And who could forget the coup de grace last week, the auditor general's report following her investigation into funds that the Wynne government had secretly paid to teachers' unions. The auditor general found that since 2000, $80.5 million has been given to teachers' union organizations. Of that, $22 million was given with no strings attached.
Indeed, the auditor general found that the $2.5 million that was given to three unions to cover the union's side of bargaining costs was given with no expectation of any expense report or receipts. It was not until the auditor general was empowered to conduct an investigation that the government made receipts a requirement for the unions.
It was a wild week for Kathleen Wynne and she certainly needed the long weekend break to recover from her flurry of punches to taxpayers in just five short days. But the truth is, those who really need the break are the hardworking families across this province whose lives all just became more difficult because of the poor decision of Premier Kathleen Wynne's government.
Follow HuffPost Canada Blogs on Facebook
MORE ON HUFFPOST:
6 Things To Know About Kathleen Wynne
Wynne came out as a lesbian when she was 37 years old. She married partner Jane Rounthwaite in 2005 after meeting her at Queen's University 30 years prior. They met when Rounthwaite interviewed her for the job of floor proctor.

Before being elected as an MPP for Don Valley West, she was a trustee for Ward 8 on the Toronto District School Board. She also worked as a conflict mediation professional.

When she first ran in Don Valley West in 2003, she was told that a gay woman could not win. She did anyway.

She defeated then-PC leader and now Toronto mayoral candidate John Tory in the riding of Don Valley West in 2007, making him the first party leader to lose a seat in 17 years.

Wynne is Canada's first openly gay premier and Ontario's first female premier.

Wynne is an avid runner. An Liberal ad from 2013 shows her pounding the pavement hard.
Follow Christine Van Geyn on Twitter: www.twitter.com/cvangeyn