This Is The World's Healthiest Vegetable (And No, It's Not Kale)
Step aside, kale and cauliflower. There's a new superfood veggie that's at the top of everyone's grocery list!
Watercress is a refreshing leafy green that's a close cousin to kale, broccoli, Brussels sprouts and cauliflower -- but its health benefits outshine the rest of the family's.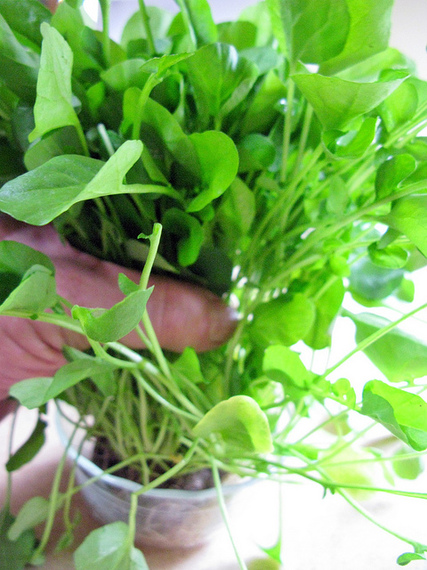 (Photo credit: Miheco via Flickr).
Did you have that one family member who always seemed to upstage everyone else? That's watercress. If watercress was a person, it would get an A+ on everything and still be humble about it. There is no such thing as a "perfect food," but watercress is as close as it gets.
Literally, watercress has a perfect nutrition score based on the Aggregate Nutrient Density Index, a rating of a food's nutritional value divided by its calories. Basically, how much nutrition can you pack into a food without impacting your waistline? Watercress received a score of 100, putting so-called superfoods like kale (score of 49) and cauliflower (score of 25) to shame.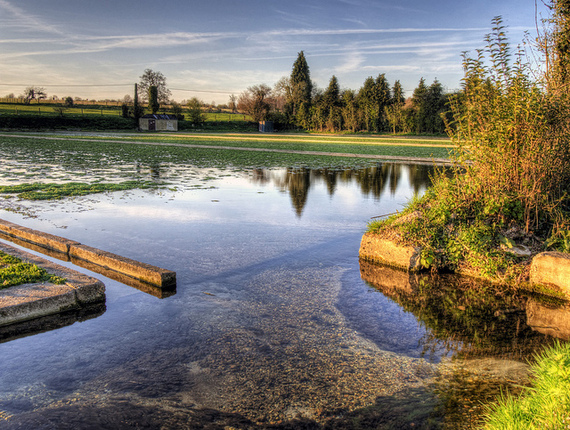 (Photo credit: Neil Howard via Flickr).
Here are the top five health benefits of watercress:
1. Cancer-Fighting Potential
Watercress is an excellent source of immune system-boosting vitamins A and C. Thanks to its high antioxidant levels, watercress may also lower inflammation and prevent cancer cells from spreading. This leafy green contains isothiocyanates, compounds that help the body detoxify from chemicals that cause cancer.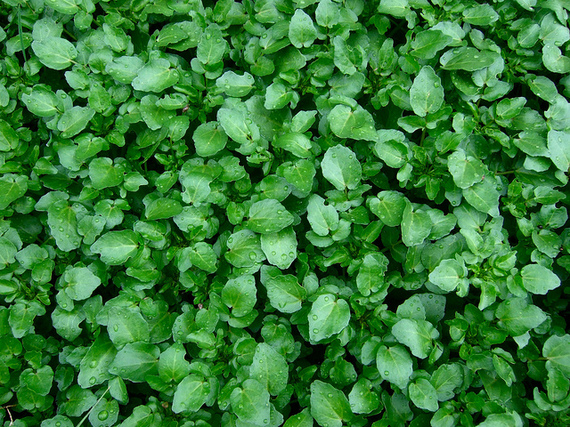 (Photo credit: Wendell Smith via Flickr).
A study of 60 smokers and non-smokers found that adding 1 1/2 cups of raw watercress to their diets for two months reduced DNA damage and increased antioxidant levels in the blood, potentially reducing cancer risk. In several studies, regularly eating cruciferous vegetables such as watercress is linked to a lower risk of bladder, lung, prostate and breast cancers. Watercress may also help prevent damage to healthy cells during cancer treatment.
2. Bone Health
Watercress helps build healthy bones in a couple of ways. It's an excellent source of vitamin K and has three times the amount of calcium as broccoli, nutrients that are needed for strong bones.

(Photo credit: Gabriel Li via Flickr).
3. Heart Health
Watercress may help prevent heart disease by lowering triglyceride levels. It's also rich in nitrates, compounds that can lower blood pressure.
4. Diabetes Prevention and Management
Watercress is rich in an antioxidant called alpha-lipoic acid that may help improve sensitivity of cells to insulin and reduce blood sugar levels. It may also help lower neuropathy or nerve damage, a common complication of diabetes.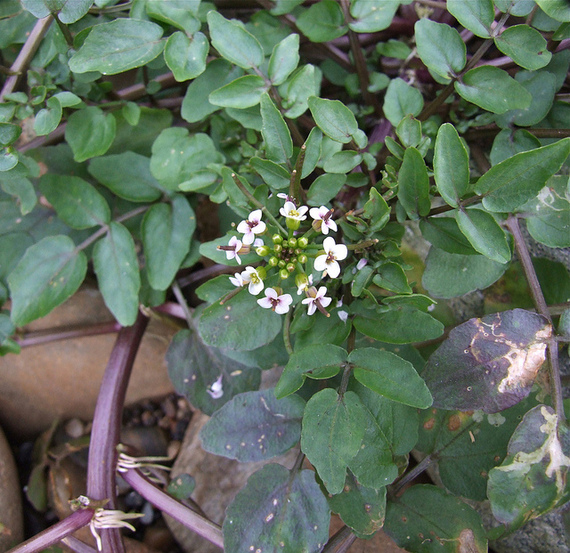 (Photo credit: Wille Angus via Flickr).
5. Eye Health
Watercress is rich in lutein and zeaxanthin, phytochemicals that prevent cataracts and macular degeneration, worsening eyesight due to aging.
Watercress Tips
How to Buy:
Look for watercress with dark green leaves. Keep it in the fridge with the stems in a glass of water and cover it to help it last longer.
How to Enjoy:
Watercress has a light, peppery flavour, making it a great alternative to people who don't like the bitter taste of arugula or kale.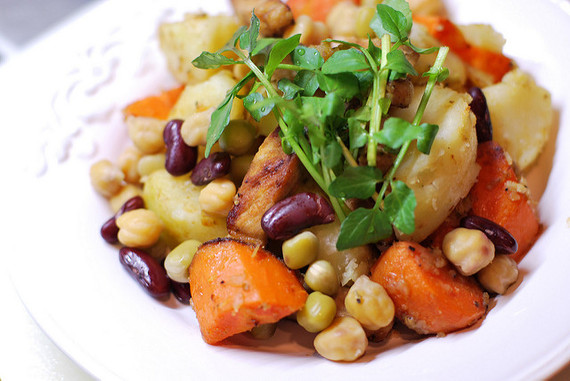 (Photo credit: Puamelia via Flickr).
You've probably heard of watercress taking centre stage in British tea sandwiches. It's also delicious in salads, smoothies, pasta, soups or steamed with lemon and garlic. Get more watercress ideas and recipes here.
Photo credit: Amelia Crook via Flickr).
You can also try watercress mixed with other greens. M&R Farm has watercress mixed with baby greens such as lettuces, kale and chard and baby spinach for quick and easy salads this spring and summer.
Another great use for watercress as the weather gets warmer: consider using watercress in your marinade. This vegetable is high in chlorophyll which can help prevent the formation of cancer-causing chemicals when grilling meat, fish and poultry at high temperatures.
This blog was supported by M&R Farms. All opinions are 100 per cent Christy's own.
Follow HuffPost Canada Blogs on Facebook
ALSO ON HUFFPOST:
Spring Vegetables We're So Excited For
Artichokes are a one-of-a-kind vegetable. They taste unlike anything else, but their unique flavor is mild enough that they can be really enhanced by certain preparations. Dipped in drawn butter, fried, grilled or mixed into a cheesy dip, artichokes are incredibly versatile, which makes it easy to eat them every day. If you're intimidated at the thought of cooking an artichoke, don't be. See here for our handy guide for dealing with this unapproachable vegetable, and next, check out these awesome artichoke recipes.

This delicate, slightly bitter leafy green makes excellent salads, refreshing crostini toppings and sharp sandwich fillers. It's not overly bitter like some other greens (we're looking at you, dandelion), but it's spicy enough to be interesting. See here for some arugula recipes that will make you forget all about winter.

This pink and green stalky vegetable is an awesome sign of spring that we wait for every year. Whether it's in pie or a crumble, jam or a cocktail, rhubarb brings color and a distinct flavor that screams "spring!" See here for some rhubarb recipes that you have to try this season.

Move aside, kale. Spinach is in season in spring and we couldn't be more ready for our iron-rich, leafy green. From refreshing salads to comforting spinach-artichoke dip, this tried-and-true green will do you well this spring. Put that frozen spinach away and use the fresh stuff. You'll be glad you did. And if you're still clinging onto the comfort food of winter, check out the only creamed spinach recipe you'll ever need.

Ramps are super cool. Also called wild leeks, they have a very pungent aroma. They've been in the limelight for the last few years for good reason -- they're super cool because they're not grown commercially, and are instead found in forests, which make them hard to come by. Now you see why all the hipsters love 'em. We love them too. See here for some ramp recipes that will make you feel extra bougie.

Also called garlic shoots, stems or spears, garlic scapes confuse people. You'll want to set the record straight this spring, because garlic scapes are awesome. They the long, loopy stalks of garlic plants, and are "vegetable, aromatic and even herb all in one." Use them wisely with some of these great garlic scape recipes.

Don't be alarmed -- they may look a little frightening, but morel mushrooms are one of spring's most exciting offerings. They might be best prepared simply, sautéed in butter and sprinkled with salt, but they also go great with everything from pasta to meat to other vegetables. See here for some morel recipes you don't want to miss.

This approachable vegetable has a sophisticated quality about it -- maybe it's the crown it wears on its head, or how it can be delicate and a showstopper at the same time. Whatever it is, we love asparagus -- grilled, boiled, baked or raw. See here for some awesome asparagus recipes.

The best way to eat a scallion -- also known as a spring onion or green onion -- may be in pancake form, but you'd be limiting yourself if you stopped there. They're subtle and store for a long time, and they're also surprisingly easy to grow them yourself. See her for some amazing scallion/spring onions recipes.

Radishes -- those peppery and oh-so crisp root vegetables -- have that gorgeous pop of color that will deliver you from winter to spring. You might think you're done with root vegetables come April, but the humble yet mighty radish will prove you wrong. See here for some radish recipes that are sure to convert you into a radish-lover.

Also know as spring garlic, green garlic is the immature version of the "regular" garlic we all know well. Sometimes it can look so similar to green or spring onions that it's hard to tell the difference, so if you're confused, just smell the plant. Either it will smell like garlic or it won't. Green garlic is awesome because the whole plant is edible, and the flavor is slightly less overpowering than fully mature garlic. See here for some great green garlic recipes.

Pea shoots are the bright, delicate, crunchy precursor to peas. They're easy and quick to grow, which makes them a great vegetable for those early days of spring when you're itching for all the spring produce that hasn't quite arrived in full yet. If you're ready to knock the doors of winter down, go for some curly tendrils, watery stems and crisp leaves. For more about pea shoots, see here.

Leeks may be a bit underrated -- but they shouldn't be. While understated, they're really powerful in all kinds of recipes, from soups to frittatas, and even roasted on their own. They definitely require a little scrubbing, but it's all well worth it for the sweet oniony flavor they'll bring you. See here for some leek recipes and you'll realize just how important these sturdy onions are.

Talk about one-of-a-kind. Fennel is a vegetable that can't be confused with anything else. It tastes like licorice or anise, has a large and sturdy bulb and tiny, fur-like leaves. It might sound like some alien vegetable you want to avoid, but fennel is actually quite versatile -- making great salad additions, pizza toppings and even desserts. See here for some fennel recipes you're going to want to try this spring.

This peppery, watery green grows near creeks and streams -- go figure! It makes for some supremely refreshing salads and sandwiches, and is an excellent soup garnish. Once you start eating it, winter will seem like a distant memory. See here for some watercress recipes that will make you feel extra fancy.
Follow Christy Brissette, MSc, RD on Twitter: www.twitter.com/80twentyrule