Turn Your Goal "Fretting" Into Succesful Goal Setting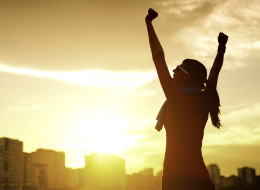 Every year there is a certain pressure to come up with new goals on New Year's Day. If you are anything like me, then you know how I feel about New Years resolutions: bah humbug I say!
Don't get me wrong; I'm not against wanting to improve oneself or taking ones business and life to the next level. We should always strive for improvement and for better.
But this New Years goal setting can very easily turn into Goal Fretting if you do it the wrong way.

I've spoken to many people, clients, friends, colleagues, who are excited about turning over a new leaf once the clock hits 00:01 on January 1st. The goal is to lose 30 pounds, to make more money, to take the business to a new level of success.
What I don't often hear is a resolution on how they actually plan on reaching their goals.
Believe me, this is most common, I've done lofty goal setting every New Year's Day for years.
In recent years we've heard so much about the law of attraction, about thoughts turning into things, about positive attitude attracting all you want to your life. I'm not dismissing this. I'm just saying that if you are resting on your goals to magically being fulfilled while you don't change a thing in how you approach them, sorry, it may just not happen. You may be missing an important step here: to have a plan!
Learn From Your Past
Looking back at the past year is a good idea. But you have to do it right in order to get something out of it and not just reminisce on what you should have done and what could have happened if you had actually done it.
So this year take a peace of paper. Divide it into two columns and label them " wins" and " lessons learned."
Think back and under "wins" write down all your achievements from the past year. Things that made you proud and things that warmed your heart. Everything you want to see more of in the New Year.
Under "lessons learned" think of the challenges you've had in the past year, things that didn't go well, efforts that blew up in your face, like a business venture gone bad, events that hurt you, like the loss of a loved one.
Don't write down all the bad stuff that happened, instead word them in a way that will help you grow in the New Year.
Have A Plan
Having goals is great if you have a plan on how to get you there. Vision boards are still big, even years after the movie The Secret introduced them to us. Many people have made it big and achieved their goals and dreams by creating vision boards and being very specific in what they want.
But the best vision board will not get you the riches and loving relationships you crave if you don't take action toward those goals.
If your goal is to find a loving relationship, don't expect your mate to magically find you. You may have to leave the house, join some groups, go to events, and even create an online dating account if that resonates with you. Take action!
Don't Do It Alone
This may easily be the most important part to being successful and achieving your goals: don't go at it alone. Get support. Align yourself with the people you need in your life to take you to the next level, push you to expand your comfort zone.
If your goals are to take your business further then you ever have, to make more money, to create success like you've never imagined you could, hire a business coach, find a mentor, build relationships that will help you, and the other person, to grow, think outside the box, create an action plan, and maybe most importantly, be accountable to someone other then you. You can let yourself down, but you are much less likely to admit to your coach or mentor you didn't take the necessary action.
Your goal might be health related. Especially around New Years every year millions of people around the world pledge to lose weight and get in shape. Statistics have shown that 85% of all self-directed fitness programs, including newly purchased gym memberships, are abandoned within the first three weeks after signing up.
That's a fact. If your goals are health related, hire a personal trainer or a health coach who can keep you motivated and accountable to show up. A trainer or coach will also help you create a program that will get you results and support you maintaining your success.
Goal setting doesn't have to turn into Goal Fretting. If you are seriously committed to making changes in your life, identify what has been, and hasn't been, working for you in the past, come up with a plan, find a coach to support you every step of the way.
Don't be another statistic, do it right this time!
MORE ON HUFFPOST:
9 Page-Turners To Help You Keep Your Resolutions
"A domestic thriller of the first order." The minutiae of everyday life turn sinister for two women in this taut, fraught tale. Read full book review.

"Readers who aren't put off by the Hollywood pacing, with action set pieces less like Conan Doyle than the Robert Downey Jr. movies, are in for a rare treat, a mystery as original as it is enthralling." A Sherlockian pastiche without Holmes and Watson? Yes indeed, and it's a tour de force quite unlike any other fruit from these densely plowed fields. Read full book review.

"Even the most astute readers will be in for a shock as Hawkins slowly unspools the facts, exposing the harsh realities of love and obsession's inescapable links to violence." Desperate to find lives more fulfilling than her own, a lonely London commuter imagines the story of a couple she's only glimpsed through the train window in Hawkins' chilling, assured debut, in which the line between truth and lie constantly shifts like the rocking of a train. Read full book review.

"Has some Twin Peaks moments even if it tries a little too hard. Still, read with all the lights on!" "Secret members, stolen notebooks, pilfered writing ideas—it was all so ridiculous!" So rages Jääskeläinen's exasperated heroine, and she does have a point. Read full book review.

"No one does psychological terror better than King. Another spine-tingling pleasure for his fans." In his second novel of 2014 (the other being Mr. Mercedes), veteran yarn spinner King continues to point out the unspeakably spooky weirdness that lies on the fringes of ordinary life. Read full book review.

"Mandel's solid writing and magnetic narrative make for a strong combination in what should be a breakout novel." Survivors and victims of a pandemic populate this quietly ambitious take on a post-apocalyptic world where some strive to preserve art, culture and kindness. Read full book review.

"An electrifying, empathetic work of journalism that makes a four-year-old story feel fresh." The mind-boggling story of 33 Chilean miners trapped 2,000 feet underground for 10 weeks. Read full book review.

"All the elements of a classic espionage story are here. The novel moves with relentless momentum, scattering bodies in its wake." The Russians are the bad guys once again in this spy-vs.-spy thriller. Read full book review.

"A genre-bending literary thriller worth the time." Pirates; serial killings; steamy, unrequited love: Pérez-Reverte (Pirates of the Levant, 2010, etc.) imbues the sensational with significance. Read full book review.
Follow Claudia Richey on Twitter: www.twitter.com/wellnessprofit