How To Go Wild With Cottage Chic
Having become the subjects of their own microscope as part of Colin and Justin's Cabin Pressure, the boys dish on what to expect ahead of their TV series premiere on Tuesday...
Seven years past, after landing -- for the first time -- in Canada, we made the acquaintance of Cherri Campbell and her husband David Sparkes during a Cirque Du Soleil performance in Toronto. A close friendship was quickly built and, over dinner one evening, they invited us for a weekend of cottaging.
The table fell silent as we absorbed the request. Cherri asked if we'd ever gone cottaging and we listened, horror rising. She, by her own account, was a big fan, as was David. Cue one of the most embarrassing conversations we've ever had. "We, erm, well, no. Not ever." Looking confused, our Canadian chums asked if we fancied giving it a go and we responded, again in the negative.
Cottaging in Canada, we soon discovered, and cottaging in Britain, are two entirely different pursuits.
Embarrassment rising, realization eventually dawned that we were at cross-purposes. We explained that 'cottaging' is British slang for the questionable 'pursuit' that got George Michael into a spot of American restroom bother some years past. Oh dear. Lost in Translation had nothing on this debacle.
Anyway, toilet talk aside, we soon learned that, as much as our pals adore Toronto's urban rush, they also harboured the dream of owning a cottage and, following several trips to the snowy northern tundra, we birth a similar dream.
Committed urbanites, however, we could never conceive of spending all our time out with the city. But what if we were to pool resources and make a joint purchase? Why not? It made perfect sense.
Without further ado we appointed Doug Hogarth of Forest Hill Real Estate, and our search began. We looked at a dozen or so cabins over one weekend and, while each had its own appeal, none hit the mark. There was a cute rustic abode, for example, but it was simply too far off the beaten track. A 1970s clapboard bungalow also spiked our interest, but, blimey, it needed so much work. The frustrating 'nearly right' list went on and on like an endless forest trail.
With one last appointment before heading back to the city, we girded our loins for further disappointment. Little did we know then, that a love affair to rival Liz and Dick was about to unfold.
Folk say you know when a house is right, huh? We -- all four of us --agreed that this was it; the perfect cottage. Log built and turn key (or so we thought), it boasted four bedrooms, two living rooms and two bathrooms. A wraparound deck and views to die for sealed the deal. But then an air of terror descended upon us. Wouldn't everyone who viewed the red roofed cabin fall similarly in love? Might the house go to sealed bids? And would its price, therefore, skyrocket? Damn. It felt like we were losing the cottage before we could even properly stake a claim.
Undeterred, we made an initial bid which was promptly declined. Timing was an issue; we were flying off on holiday the following day, and couldn't change our plans. So we packed our bags and set off for the sun...
By day two of our Caribbean break, we'd wound ourselves into a frenzy thinking about the cottage with which we'd fallen so madly and deeply in love. Unable to stop ourselves, we reached for our iPhone and dialed our realtor. "Hey Doug - it's us. We're calling about the log cabin." Silence, then; "Hey, boys, nice to hear from you." We paused to gather our thoughts, then (on speaker phone so we could both pitch in) asked; "Is it still for sale?" Silence again, then; "Actually yes, do you want to rebid?"
You can imagine the scene; Scottish frenzy rising like a bubbling cauldron. Our agent advised that, if we wanted to show serious intent, we should move quickly. So we agreed a slightly elevated price, submitted a formal offer (subject to terms) and waited. Intense negotiations followed but, just four weeks later, we closed. And so it came to pass that, just shy of Christmas 2012, our little Muskoka dream became a reality.
Soon we'd be retracting everything we'd ever said about knotty (naughty?) pine and planning full scale renovation. An updated kitchen, new bathrooms, as well as state-of-the-art integrated sound and vision, would be merely the start. And the best news? Sharing the budget. It doesn't take a statistician to comment that this equates to just 50 per cent of costs per couple. It's a no-brainer. Why don't more folk do this, rather than over stretch or forgo their dream?
Since taking ownership, we've been battling a path along Highway 400 to our weekend retreat whenever time permits. And we've torn it apart room by room. At the same time, we've been selling the, ahem, 'quaint' chattels inherited with the red roofed abode. It's fair to say Kijiji and Ebay have been busy. So, if wall-mounted geese, dried flower wreathes and brass bedpans float your boat, you're in for an online treat. As we like to say in cottage country: "One man's discarded loon... is another man's avian bounty." And the cash raised has gone into our reno' budget.
Today, to showcase the kind of transformations you'll see on Cabin Pressure, we've chosen to reveal one of the rooms corrected during the massive project. The airy bedroom was initially composed of two inter connecting smaller rooms, but our theory has always been this: fewer good rooms are better than a labyrinth of tiny spaces. And so it came to pass that, with the planning department satisfied and a structural engineer consulted, we connected zones to make one commodious, pitch ceilinged master suite.
Whilst 'correcting' the space, we were fortunate to be able to save the existing floor. After laborious sanding to remove the orange glaze, we treated it to three even coats of grey/brown stain and the cooler aesthetic, we hope, speaks for itself.
The nightstands and associated case goods came from Urban Barn and, coupled with loads of creamy linens set against a grey, nickel buttoned headboard by N'Shape Design, elicit an inviting scene to which our cottage co owners can escape after languid days by the lake. Mountains of accessories from Homesense and a pair of creamy linen chaise longues (with removable covers for easy washing) complete our cottage spell.
While the bedroom transformation was successful and went (for the most part) without too many hitches, the same can't be said for the rest of the cottage transformation. Indeed as work progressed in other zones, project drama truly escalated. Little did we know what lay in store. Exacerbated by a tiny design budget -- and an even smaller team -- something had to give. Jeesh.
We hope you enjoy the series on Cottage Life, an exciting new network whose tag line is 'Where every day is the weekend.' But will broad Scottish smiles -- and gritty determination -- build a bright future (during the weekends or otherwise) for our cottaging foursome? And will we, to use local parlance, 'get 'er done'? All will be revealed. Prepare for a VERY bumpy ride as the Cabin Pressure lid prepares to pop!
'Colin and Justin's Cabin Pressure' airs on Cottage Life (check your cable package or TV guide for provider specific info) at 10pm, from Tuesday 18th March. For programme info, style guides and more, visit www.colinandjustinscabinpressure.com
Bedroom Before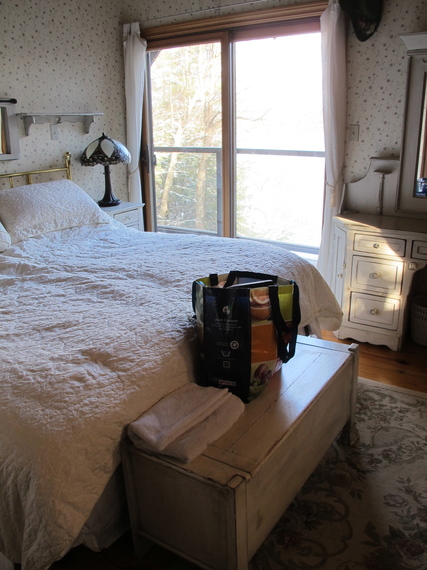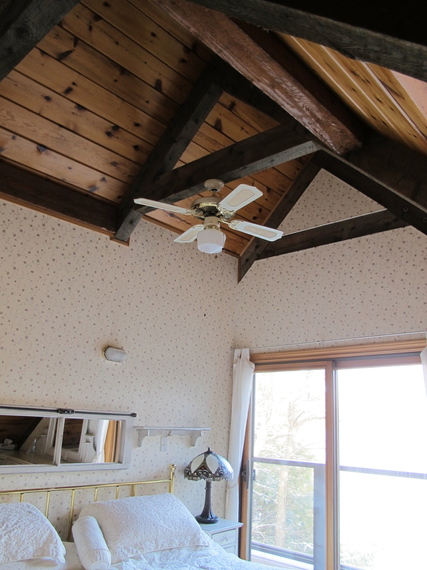 Bedroom After - photography by Brandon Barre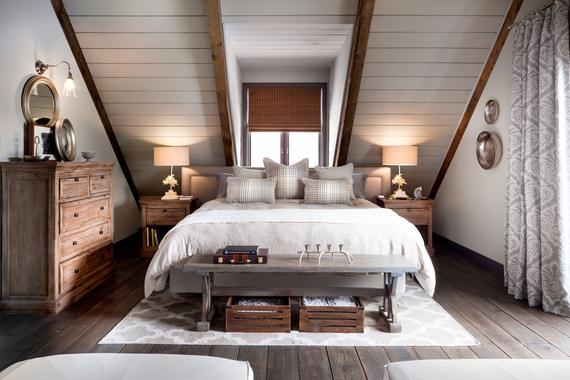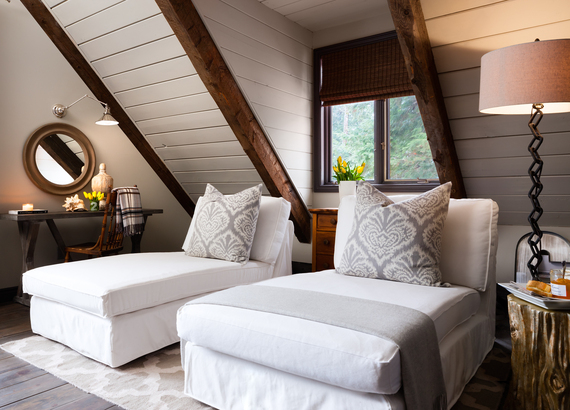 ALSO ON HUFFPOST:
Stress-Free Painting Tips
Don't let finding the right paint color cause you stress. Jordan tells us, "there are plenty of tools to help you choose the right color for your space and I recommend using them for every step of the design process." Tools like Chip It allow you to pull a palette from any inspirational image, and online apps let you add color to photos of your own space so you can visualize the result before you start.

"Let's face it, paint chips just aren't big enough and you don't want to put in all that work on painting a space only to realize it wasn't the right color choice," Jordan told us, and suggests buying sample pots of the shades you are considering. Variations in lighting, the times of the day and even the season can effect the way a color looks in a space. Jordan recommended using Small Wall™, an adhesive backed paint sample board that you can test the colors on.

It sounds time-consuming, but properly preparing your room will save you stress. "Nothing is worse than ruining an expensive piece of furniture or carpet with excess paint that has dripped off of your roller or brush," said Jordan. This means using painter's table to protect fixtures and molding, and covering floors and furniture with drop cloths.

You may just want to dive in and start slapping paint on the walls, but trust us, doing things in order will save you from a headache and prevent having to clean up drips or repaint areas laters on. Jordan told us "the proper order should be ceiling, walls, wood/trim and floor."

Although it's great to get a deal at the hardware store, choosing better quality brushes and supplies will save you time in the long run. A good brush will hold more paint, and allow you to get an even finish with less coats.

Wet wipes or disposable facial cloths are perfect for wiping up paint drips or footprints from wood floors because the alcohol will loosen it up. Keeping these on hand will save you the stress of cleaning up the paint once it has dried.

This may sound like a no-brainer, but before you begin, arrange all of your necessary tools, like cans, brushes, rags and rollers in one area. Having your materials scattered around your space will surely cause accidental messes and more work.

Before heading to the paint store, take accurate measurements of your room's height, width and length so the salesperson can help you determine the right amount of paint you'll need. Running out of paint halfway through a project is not only annoying, but you may see a slight variation in color when you have a second batch made.

This HGTV video shows you paint brush selection tips with Amy Matthews.
Follow Colin & Justin on Twitter: www.twitter.com/colinjustin