Bayer-Monsanto Deal Hints At Dark Future Of Corporate Monopolies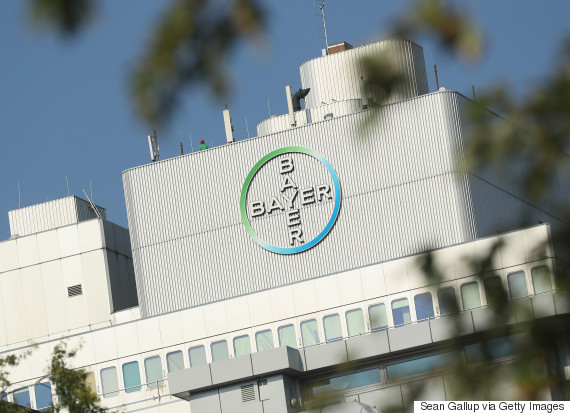 The logo of German pharmaceuticals and chemicals giant Bayer stands over Bayer corporate offices in Berlin, Germany. The company confirmed that it has sealed the deal to buy Monsanto for US$66 billion. (Photo: Sean Gallup/Getty Images)
News broke this week that Monsanto accepted a $66-billion takeover bid from Bayer. The new company would control more than 25 per cent of the global supply of commercial seeds and pesticides. Bayer's crop chemicals business is the world's second largest after Syngenta, and Monsanto is the leading commercial seeds business.

Monsanto held a 26 per cent market share of all seeds sold in 2011. Bayer (mainly a pharmaceuticals company) sells 17 per cent of the world's total agrochemicals and also has a comparatively small seeds sector. If competition authorities pass the deal, the combined company would be the globe's largest seller of both seeds and agrochemicals.
The deal marks a trend towards consolidation in the industry with Dow and DuPont having agreed to merge and Swiss seed/pesticide giant Syngenta merging with ChemChina, a Chinese government concern.
The mergers would mean that three companies would dominate the commercial agricultural seeds and chemicals sector. But alarm bells are ringing with the European Commission putting its approval of the Dow-DuPont deal temporarily on hold, and the U.S. Senate Judiciary Committee is about to hold hearings on the deal due to concerns about consolidation in the industry, which has resulted in increased seed and pesticide prices.
In response to the Monsanto-Bayer merger, U.S. National Farmers Union President Roger Johnson issued the following statement:
Consolidation of this magnitude cannot be the standard for agriculture, nor should we allow it to determine the landscape for our future...

We will continue to express concern that these megadeals are being made to benefit the corporate boardrooms at the expense of family farmers, ranchers, consumers and rural economies. We are pleased that next week the Senate Judiciary Committee will be reviewing the alarming trend of consolidation in agriculture that has led to less competition, stifled innovation, higher prices and job loss in rural America.

We underscore the importance that all mergers, including this recent Bayer/Monsanto deal, be put under the magnifying glass of the committee and the U.S. Department of Justice.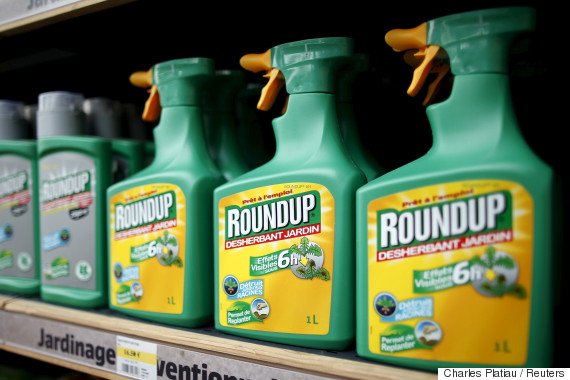 Monsanto's Roundup weedkiller is displayed for sale at a garden shop. (Photo: REUTERS/Charles Platiau/Files)
For all the rhetoric that we often hear about "the market" and large corporations offering choice to farmers and consumers, the evidence is restriction of choice and the squeezing out of competitors. Over the years, for instance, Monsanto has bought up dozens of competitors to become the largest supplier of genetically engineered seeds with seed prices having risen dramatically.

Consolidation and monopoly in any sector should be of concern to everyone. But the fact that the large agribusiness conglomerates specialize in a globalized, industrial-scale, chemical-intensive model of farming that is adversely affecting what we eat should have us very concerned. Do we want this system to be intensified even further just because their business models depend on it?

Farmers are increasingly reliant on patented corporate seeds, whether non-GM hybrid seeds or GM, and the chemical inputs designed to be used with them. Monsanto seed traits are now in 80 per cent of corn and more than 90 per cent of soybeans grown in the U.S. It comes as little surprise then that people in the U.S. now consume a largely corn-based diet: a less diverse diet than in the past, which is high in calorific value, but low in health-promoting, nutrient dense food.

By its very nature, the capitalist economic model that corporate agriculture is attached to demands expansion, market capture and profit growth. And, it must be accepted that it does bring certain benefits to those farmers who have remained in agriculture (if not for the 330 farmers who leave their land every week, according to data from the National Agricultural Statistics Service).

But in the U.S., "success" in agriculture depends on over $51 billion of taxpayer handouts to over a 10-year period to oil the wheels of a particular system of agriculture designed to maintain corporate agribusiness profit margins. And such, "success" fails to factor in all of the external social, health and environmental costs that mean this type of model is ultimately unsustainable. It is easy to spin failure as success when the parameters are narrowly defined.
A handful of powerful and politically connected corporations are determining what is grown, how it is to be grown... and what ends up on the plate.
Moreover, the exporting of the Green Revolution paradigm throughout the globe has been a boon to transnational seed and agrochemical manufacturers, which have benefited from undermining a healthy, sustainable indigenous agriculture and transforming it into a profitable enterprise for global capital.

The main players in the global agribusiness sector rank among the Fortune 500 corporations. These companies are high-rollers in a geo-politicised, globalised system of food production whereby huge company profits are linked to the worldwide eradication of the small farm (the bedrock of global food production), bad food, poor health, rigged trade, environmental devastation, mono-cropping and diminished food and diet diversity, the destruction of rural communities, ecocide, degraded soil, water scarcity and drought, destructive and inappropriate models of development and farmers who live a knife-edge existence and for whom debt has become a fact of life.

A handful of powerful and politically connected corporations are determining what is grown, how it is to be grown, what needs to be done to grow it, who grows it and what ends up on the plate.

We should be highly concerned about a food system increasingly dominated by companies that have a history (see this on Monsanto and this on Bayer) of releasing health-damaging, environmentally polluting products onto the market and engaging in bribery, cover-ups, monopolistic practices and what should be considered as crimes against humanity.

It's not so much the Bayer-Monsanto deal is a move in the wrong direction (which it is), but increasing consolidation is to be expected given the trend in many key sectors toward monopoly capitalism or just plain cartelism, whichever way you choose to look at it. It's the system of industrialized, capital-intensive agriculture wedded to powerful players whose interests lie in perpetuating and extending their neoliberal economic model that is the real problem.

So what is the solution? We can start here.
Follow HuffPost Canada Blogs on Facebook
MORE ON HUFFPOST:
Monsanto And 6 More Greenwashing Envirovillains On Twitter
BP's Gulf of Mexico region twitter is BP_America. The twitter account constantly promotes BP's expenditures on oil spill recovery in 140 characters or less: "BP is providing $3M to Florida for mental health resources, part of a $52M behavioral health fund for Gulf," "Turtle caretakers help 'write the book' on rehabilitating turtles affected by oil spill," and often includes quotes from Senior Vice President, Kent Wells. As is to be expected, a BP faux-twitter account, BPGlobalPR, cropped up to protest and expose falsities in BP's claims. BPGlobalPR is more popular than BP's actual twitter account with 901 followers, while BP_America only has 143 followers.

Monsanto, an international agricultural biotech corporation, is the main producer of genetically engineered seeds, selling 90 percent of genetically engineered seeds in the United States. The corporation has been called the most hated corporation in the world. Check Monsanto out on twitter.

BottledH20Babe is a greenwashed twitter account by the International Bottled Water Association. Tweets from BottledH20Babe include, "Bottled water is the greenest, healthiest drink on the shelf!" and "It's better than soda." The most recent tweet from the disturbingly titled BottledH20Babe promotes a video of how water is bottled: "Cool video on how spring water gets from the natural spring to the bottle."

The National Corn Growers Association is the largest representative of the network of United States corn growers. National Corn's twitter account often pushes greenwashed news to its followers: "corn growers' cure for global warming," "this summer discover ethanol" and more.

General Motors uses its twitter feed to rally support from twitter users and attempts to stress its green corporate commitment. GM's twitter features profiles of GM employees, such as John Bradburn, a GM engineer and "expert on reducing waste and recycling" who "keeps it green." Do you subscribe to this envirovillain's twitter feed?

According to reports, American Electric Power, an energy corporation responsible for serving 1.5 million people in Ohio and West Virginia, is one of three energy companies, along with FirstEnergy and Duke Energy, urging the Senate to weaken clean air safeguards in the Clean Air Act. The greenwashing coporation's twitter account posts news about the corporation's "greening" efforts, power outages and more.

Chevron, a notorious envirovillain, promotes many of its "green" causes on twitter. Chevron, which even sponsored California State Parks Foundation's Earth Day 2010, tweets news of "significant natural gas find in Australia" and "Africa, Latin America and Energy Development in the Atlantic Basin."
Follow Colin Todhunter on Twitter: www.twitter.com/Colin_Todhunter