Canadian Cottage Country: The New Hamptons?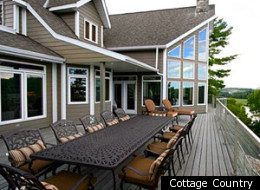 There are tell-tale signs of a cottage country lifestyle coup: martini glasses have taken a backseat to mason jars and humanity has reached a collective consensus that we will settle for nothing less than all-Navajo everything (evidence: Pendleton renaissance). Quite simply, when it comes to the finer things in life, all roads lead to cottage country, especially that of the Canadian variety.
From Muskoka taking first place on National Geographic's "10 Best Trips of Summer 2011" and appearing on "Best of the World 2012" travel lists to a star-studded cottager roster, there is no doubt that Canadian cottage country is the destination du jour. Hear ye, hear ye, birch bark is the new black and for a pretty penny you can rent a piece of paradise in the lap of lakeside luxury.
Location: Chester, Nova Scotia Price Tag: $2,500/wk Description: This Chester Village 4-bedroom oceanfront cottage has been used as a movie set and is located in the heart of one of North America's largest sailing and yachting destinations. The property includes a boathouse, private beach and a butler.

Location: Kawartha Lakes, Ontario Price Tag: $8,500/wk Description: This 8,000 sq. foot cottage has a wrap-around deck, private pool, hot-tub, movie theatre, fitness room, billiards room, and each of the six guest rooms has an en-suite fireplace.

Location: Kawarthas, Ontario Price Tag: $6,500 - $10,000/week Description: This 5,500 sq. foot cottage with 20-foot ceilings is situated in the Peterborough Game Reserve, and boasts a gourmet kitchen, fitness centre, movie theatre, pool, and a fully-equipped office in the loft for those who need to keep their careers front and centre while vacationing in the back of beyond.

Location: Parry Sound, Ontario Price Tag: $6,000/wk Description: This 5-bedroom log cabin on the most prestigious part of Lake Manitouwabing has a wrap-around deck, 220-feet of private waterfront, air conditioning and two motor boats that guests can use to cruise around Georgian Bay and visit nearby restaurants, golf and tennis clubs.

Location: Muskoka, Ontario Price Tag: $6,000/wk Description: This 1,500 sq. foot lakefront cottage embodies the quintessential Muskoka experience. With 500-feet of private shoreline, the waterfront has a separate boathouse, a huge dock with an outdoor bar, as well as a hot tub and outdoor shower.
Follow Cottage Country on Twitter: www.twitter.com/Cottagers