Diamond Mining Companies Can Be Forces for Good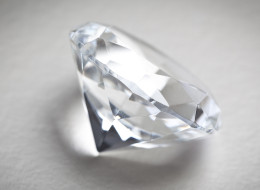 That sparkling rock on your finger -- there's a good chance it came from a mine in Botswana, which supplies 22 per cent of the world's diamonds.
Kgosi Kegapetswe is the chief of Letlhakane, a village in north-central Botswana that borders a huge mine that since 1969 was owned by an international diamond company.
For years, he felt like a stranger on his own land.
Access to the land was restricted, according to the chief, who told us that when he visited the off-limits property to discuss an issue like grazing rights for his community's livestock, he waited like a supplicant at the property line. When armed guards admitted him, he was marched to the meeting place and then marched back off again. He said there wasn't enough consultation with his community. He didn't even know the company sold the property in 2009 until the new owners showed up.
But when Canadian mining company Lucara Diamond took possession, everything changed.
We have read literally hundreds of news stories about global mining operations abusing the environment and human rights. Canada is home to an estimated 75 per cent of the world's international mining companies, and every time these companies trample rights or the environment, respect for our country takes another hit. In the past several months alone, there have been protests against Canadian-owned mines in Bolivia, Ecuador, the Dominican Republic, Greece, Israel, Nicaragua, Peru, Romania and Slovakia.
But while touring Botswana with Governor General David Johnston in May, we visited Lucara's Karowe diamond mine. For only the second time in the history of the mine, they brought out raw diamonds to show visitors. These small, dirty-looking, foggy white-ish pebbles were uncut diamonds worth more than two million dollars. As the diamonds were showcased, company officials boasted that they had created a different kind of mine -- one that respects local communities and wants them to benefit from the mine's riches.
It sounded too good to be true. When the corporate tour guides weren't near, we quietly pulled Kegapetswe aside and asked for the real scoop. Was all this true, or just corporate whitewash? He assured us it was real.
"It's not like the other mine that came before," he said."We are working together with the mine now and we are happy."
William Lamb, CEO of B.C.-based Lucara Diamond Corp, said that before Lucara ever broke ground, company representatives attended numerous community meetings in all five surrounding villages to introduce themselves, explain the company's plans for the property and solicit for input and concerns from the residents.
Kegapetswe told us the company negotiated fairly with local livestock herders whose grazing lands were affected by the mine, and paid relocation costs to those who wished to move.
When Lucara built access roads into the mine site, community members helped plan the routes so local farmers now also have better access between their farms and the villages.
An environmental plan for the mine was developed with input from the communities and Kegapetswe told us that issues and concerns are acted upon promptly. For example, when mining operations got underway in 2010, mine vehicles were generating vast clouds of choking dust along the dirt roads that passed by the farms. When he raised the issue, the mine immediately began spraying the roads daily with water dampen the dust, then followed up to ensure the community was satisfied.
Resource extraction businesses like mines reap the natural riches of a region. It's our belief, therefore, that these businesses have an obligation to share the wealth with the people who lived there long before they came, and to whom those natural riches rightly belong.
And it's not enough to simply say that a mine creates local jobs. Mines are not for life -- once the diamonds or gold are gone, so are the jobs. A mine that truly wants to benefit its host communities must create opportunities and change that will outlive the mine itself.
Lucara is helping create new long-term industry for the villages around its mine by investing in an abattoir, creating jobs and an accessible location for local farmers to have their livestock slaughtered and processed.
The company is supporting local entrepreneurs by guaranteeing start-up loans. Fifty-two entrepreneurial hopefuls have applied for loans and two have already been approved--a brick-making business, and a tent-rental and catering business.
Local women also benefit. With the Women's Empowerment Network, launched in 2011, women from each of the five villages are learning leadership skills, financial and business skills, and about important issues like women's health. Currently the group is fundraising to send one woman from each village to an international women's conference in Helsinki, Finland, next year.

As for Kegapetswe, he can walk onto the mine property whenever he wants -- no armed guards necessary.
Canadian resource businesses operating abroad are essentially ambassadors for our country. Their impact -- good or bad -- on their host communities affects how those communities think of Canada itself.
PHOTOS: Black Opals, Painite, Lithium and 6 More Of The Most Valuable Minerals In The World
Thought to be the rarest mineral on the planet, painite remains priceless. One of the hardest minerals to locate, it can only be harvested in Mogok and Kachin States in Myanmar. Only 25 small crystals and only two faceted crystals have been discovered in the world. Painite costs around 60,000 dollars per carat.

Coltan, a mineral that is refined through heat resistance into a metal powder, is often found in electronics. While this may not be the world's most expensive metal, it is weighted with blood. Coltan is mostly harvested in the Congo, Rwanda and Venezuela and is considered to be a leading conflict mineral. Violence, rape and monetary exploitation are often side effects of the mining practices. Rwandan rebel soldiers force prisoners, some children, to dig for the mineral. Coltan mining also impacts the endangered Mountain Gorilla as it is mined near the Kahuzi Biega National Park, depleting the gorilla habitat. Coltan harvest in the Democratic Republic of Congo reaps $8 million a year. Each pound of coltan sells for $100.

Rubies get their red color from the presence of chromium. Ninety percent of the world's ruby supply is harvested in Burma. As of 2007, ruby mining funded the country's repressive military regime. Reports of worker abuse are abundant. In Burma, mining officials add amphetamines to the drinking water of workers, often children, to encourage productivity. Rubies are the most expensive gemstones in the world. According to the Guinness Book of Records, the largest ruby weighed 18 pounds.

Diamonds are one of the chief minerals that cause environmental damage, human exploitation and forceful harvest. This past month, in Zimbabwe, the country earned $72 million at an inaugural diamond auction, selling diamonds from two corrupt mines where miners were murdered and children enslaved. 900,000 carats of the blood diamonds from the two mines were auctioned.

From the United States to Burkina Faso to the Philippines, gold is mined around the world. The world's gold supply is anticipated to begin to expire by 2055, forcing exponential markups until the precious resource becomes unobtainable. However, gold cannot be mined without great costs to the environment, such as Pebble Mine in Bristol Bay, Alaska, and to human life. At a gold and copper mine in Chile, 33 miners have been trapped for 20 days in an emergency shelter. It is reported that it will take 120 days to rescue the miners. Rescuers will send the miners food through plastic tubes.

Discovered in 1817, lithium is a highly sought after mineral and represents a billion dollar industry. Lithium is crucial to the production of rechargeable batteries. Afghanistan possesses one of the largest lithium supplies in the world and was hailed in a Pentagon memo as the "Saudi Arabia of lithium."

Black Opals are mined in Australia, Mexico, Idaho, Nevada and Brazil. This dark type of opal is the rarest type of opal mineral. Recently, the stone has been harvested in Mali and Ethiopia.

First discovered in Bekily, Madagsacar, the blue garnet is one of the priciest gems in the world. In 2003, a 4.2 carat stone was sold for $6.8 million. The blue garnet transforms its hue from blue-green in daylight to purple in incandescent light due to the presence of vanadium.

According to Environmental Graffiti, Jadeite is found in California, Guatemala and Mexico. In 1997, Christie's auction house held a sale in Hong Kong where a necklace of 27 jadeite beads sold for $9.3 million. The world's largest jadeite boulder (pictured) was found in Myanamar in 1982 and measures 12 feet in length and 6 and a half feet in height.
Craig and Marc Kielburger are co-founders of international charity and educational partner, Free The Children. Its youth empowerment event, We Day, is in 11 cities across North America this year, inspiring more than 160,000 attendees from over 4,000 schools. For more information, visit www.weday.com.

Follow Craig and Marc Kielburger on Twitter: www.twitter.com/craigkielburger