Make Giving Back A Family Affair
Most holidays come with ready-made traditions--some important, some frivolous. Canada Day is for barbecuing and fireworks, and Thanksgiving is for expressing gratitude for our bountiful lives (while devouring a big bird).
Seven Canadian provinces have established a holiday in February to break up the bleak winter months with another long weekend. Four of them -- Alberta, B.C., Manitoba and Ontario -- have dedicated their winter holiday to families.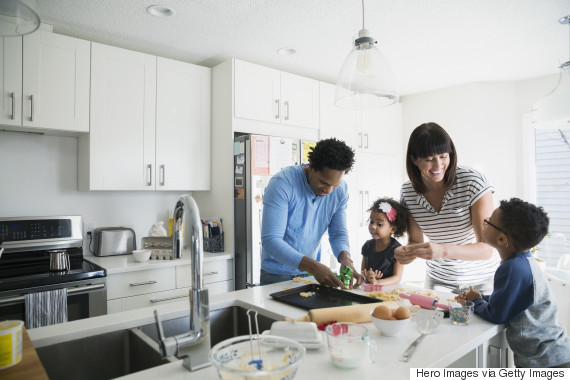 However, Family Day is thus far a holiday without a tradition. That's a shame because traditions are an important part of family life. Maintaining traditions makes families stronger and more stable, and gives children a feeling of comfort and security, according to Dr. Susan Coady, a researcher in family relations at Ohio State University.
But what to do when the weather is gloomy and you and your credit card are still coming down from the last holiday? Rather than retreat into separate rooms in the February darkness or risk it becoming just another greeting card holiday, let's imbue this unclaimed occasion with a tradition of giving. Not giving gifts, but giving back as a family to our communities.
Here are some ideas to help you launch a Family Day giving tradition:
Make 'giving plates.' This bake-and-take activity is sure to become a family favourite. Decorate some inexpensive ceramic plates with food-safe paints. Have a family baking session to fill the plate with goodies. Finally, share your gift with new or isolated neighbors, sick or stressed friends, or even the mail carrier or bus driver.
Empty-the-closets day. Ransack the family wardrobes for old, unwanted apparel. Bag it up and make a family trip to the local Salvation Army or Goodwill store to donate your duds. Why not bring some of the leftover home-made treats for the hard-working volunteers there, as well?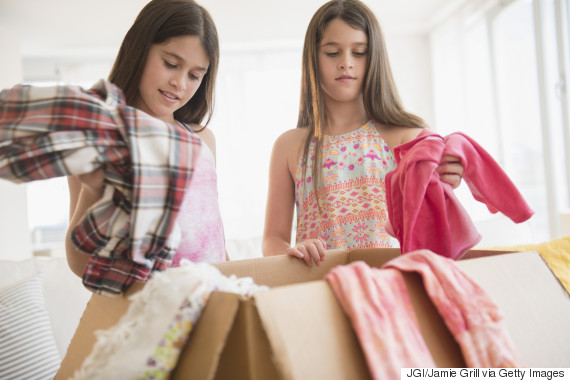 Family film night. Fire up the popcorn maker and park the family in front of Netflix. Instead of the latest Star Wars installment, choose a film with a social message like The Help. Afterwards, discuss the issues in the film, how the characters took action and what actions the family can take for a related cause.
Talk Dollars and Sense. Plan your family budget for the year with your children. We're not suggesting you let your teen balance your accounts, but financial literacy helps kids feel empowered, and gets them thinking about how much it takes to run a household. Set aside some funds for great family experiences -- like a trip -- but also for a charitable commitment. Encourage your kids to do the same by donating birthday money or a portion of their allowance. Help them with research, but let them pick the cause they care about.
Red letter day. Every Family Day, pick a cause to write about. Compose a joint letter -- or, if kids are older, individual letters -- to take action on the issue. Maybe it's writing to your Member of Parliament about climate change, or supporting an Amnesty International campaign to free political prisoners.
Use this generic holiday to start a meaningful tradition. Because the family that gives together, stays together.
Craig and Marc Kielburger are the co-founders of the WE movement, which includes WE Charity, ME to WE Social Enterprise and WE Day.  
Follow HuffPost Canada Blogs on Facebook
Also on HuffPost:
Volunteering With Your Family
Introduce your children to books that encourage compassion and generosity toward others. Try "The Lorax" by Dr. Seuss for its message about the environment, "The Legend of Bluebonnet" by Tomie De Paola for its focus on sacrificing for others, and "Something Beautiful" by Sharon Wyeth, which is about seeing beauty in the unlikeliest places. Biographies about inspiring figures ("Martin's Big Words: The Life of Dr. Martin Luther King, Jr." by Doreen Rappaport) can also spark important conversations on how they can pitch in.

A great way to get your family invested in volunteering is to use it as a way to explore their interests and talents. Are they into sports? Volunteer to coach a youth league or help them start a collection of unused gear to donate to a school or organization in need. Are they crazy about animals? Pitch in at a pet shelter or with an animal welfare organization. To foster an even deeper sense of togetherness, participate in activities that explore your family's heritage, whether it's volunteering at a museum or reading stories at your local community center.

What sparks excitement in a teenager may provoke boredom or confusion in your grade-school child. Try to turn younger children on to volunteering by starting with simple visit to a food bank or clothing drive where they can sort items. Alternatively, you can help them start an ongoing collection (glasses, old cell phones, etc.) to donate. For older children, activities that connect to their interests and skills will help them develop their talents, stay out of trouble and serve others.

It's too easy to lose out on the real spirit of the holidays when you're caught in a whirlwhind of materialism. How about finding a way to make your holiday about slowing down and spending time with your family? There are plenty of food banks, hospitals, homeless shelters and retirement homes that welcome volunteers on holidays like Thanksgiving and Christmas. It's a great way to establish a ritual of volunteering with your kids that could well extend through the rest of the year.

Even if your family can't devote a whole day to volunteering, incorporate giving as a routine. Make service both a long-term commitment and an everyday occurrence. And the benefits are long-lasting: According to Tanisha Smith, a national director of volunteer services for Volunteers of America: "Two-thirds of youths who volunteer become active adults who volunteer."

We admit that it's a hard sell to get your kid to sacrifice the allure of the traditional birthday party, but Volunteer Guide has some great pointers for making volunteering -- and fun! -- the main attraction. Encourage guests to donate a small sum to a charity of your family's choice in lieu of an extravagant gift. And instead of useless party favors, kids can leave knowing that they've made the world a little brighter, whether they've written a letter to a sick kid or planted a tree.

Volunteering is a great opportunity to model good values and have important conversations with your kids. Make it meaningful by asking them questions before, during and after: What do they hope to get out of this day of service? What did they learn? Go to DoingGoodTogether.org for more great discussion-starters.
Follow Craig and Marc Kielburger on Twitter: www.twitter.com/craigkielburger