Behind the Headlines: Resolutions Can Mean a Little Bit More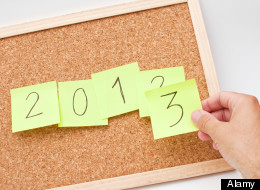 Behind the Headlines: In a unique take on daily news hits, Free The Children co-founders Craig and Marc Kielburger go behind the headlines to explore how the stories you read are connected to the causes you care about. You'll never read the news in the same way again.
The headline that got us thinking: New Years Resolutions: Have you broken yours yet?

Happy 2013! We're two days in -- how many New Year's resolutions have you already snapped in two, like the dry branches of a discarded Christmas tree?
At the start of our calendar year there's a lot of pressure to "be a better person," which usually means "look like a better person" by consuming better food, dressing better and breaking bad habits.

If you're not careful, New Year's resolutions can be all about ego: I'm going to lose weight; I'm going to exercise, get a promotion, get more sleep, break my Walking Dead addiction.
True, personal well-being can indirectly benefit others. But it's not the promise of lower provincial health care costs that drives up gym memberships in early January. Personal trainers and lululemon stay in business because of the red wine and mass quantities of miniature chocolates consumed over the holidays.
There's nothing wrong with these classic resolutions: better body, better office, better relationship. But there's no guarantee they will make you a better person.
We propose an alternative that is scientifically proven to make you better, or at least happier on a biochemical level. You might learn a new skill or meet the person of your dreams. It's easier than waking up at dawn to learn the bitter truth about your new trainer -- she actually wants you to run. On the treadmill.
So here's the secret: resolve to make the world a better place.
Sound intimidating? It doesn't have to be. But just like personal resolutions, you'll need more than will power and resolve to achieve a better world; you'll need real targets. It's not enough to quit smoking without a realistic plan and interim goals. In the same way, you can't better the world without a blueprint. This year, make more socially conscious choices. Little ones and big ones. Every day habits and long-term commitments.
Volunteer every other Saturday at a community centre, animal shelter, or retirement home. You might meet someone who shares your values and interests -- beyond your affinity for pale ale and an après bar fast food fix.
If you still want to run, sign up for a charity marathon and train until then -- make the commitment now and start seeking sponsors for even more donations to the cause. If you really don't want to run, sponsor another runner, cheer on the participants and pass out Gatorade from the sidelines.
Shopping as if economy depends on it can count as your socially conscious resolution -- if you take the haul from your Boxing Month forages to a shelter or daycare. Some good can come from braving the malls in search of discounted toys and housewares.
Coach Peewee hockey or volunteer to supervise street games for the neighbourhood kids. When your own child has outgrown skates or other sports equipment, hand it down to another member of the neighbourhood team.
Become a Scout leader or Big Sister to spend more time with your own kids or mentor other young people. Or start your own mini mentorship opportunity: lead a free or pay-what-you-can seminar at the local library or community centre. Offer anything from cooking to computer software lessons -- share your skill set. You could start small by cooking a meal for a friend who has fallen ill or recently welcomed a baby (frozen, easy-access meals in this case -- we speak from experience here). Offer your elderly neighbour a Facebook tutorial to help them keep in touch with their grandkids.
In your home, turn down the heat and throw on an extra layer. You'll save money, fight climate change and find another occasion to wear the reindeer jumper you bought for your ugly Christmas sweater party. Or build a fire using the newly-acquired wilderness survival skills from your time as a Scout or Girl Guides leader. Properly insulate windows and doors to conserve the heat you're still paying for.
The joy you get from helping others is a scientifically-proven rush of endorphins called the "helper's high." It's like a runner's high with no running involved. You can still use your treadmill to hang laundry. And you'll be happier, healthier and "better," however you define it.
The more you achieve, the better you feel and the more resolutions you keep.
The true meaning of Christmas and the selfless holiday spirit shouldn't stop along with the airing of Charlie Brown's special and How the Grinch Stole Christmas.
Maybe New Year's resolutions can mean a little bit more.
Craig and Marc Kielburger are founders of international charity and educational partner, Free The Children. Its youth empowerment event, We Day, is in eight cities across Canada this year, inspiring more than 100,000 attendees. For more information, visit www.weday.com
Being a "Belieber" means so much more than just fawning over the teen heartthrob's sweeping hairdo -- it also means keeping up with the pop star's constant charity giving, from auctioning off his bike to playing in a basketball fundraiser game. The pop star's most recent generous endeavor was launching a charity campaign along with his holiday album. It benefited seven charities, including Pencils of Promise and City of Hope. "I know firsthand that if you believe in your dreams, everything is possible," Bieber said on his website. Find a charity you "Beliebe" in here.

For her outspoken support and advocacy for members of the LGBT community, Lady Gaga was honored with the Trevor Hero Award earlier this month. "Our young people are at the center of a health crisis, and vocal leaders like Lady Gaga...have stepped up to help change our culture," David McFarland, interim executive director and CEO of the Trevor Project, said in a statement. One of the many "You and I" singer's charity initiatives this year included auctioning off nude photos and a naked portrait of herself on eBay to benefit her Born This Way Foundation. Learn more about Gaga's charity, launching in 2012, here.

Determined to end the famine that took the lives of nearly 30,000 children in Africa, Bono, who is a HuffPost blogger, commissioned the help of big-name celebrities to produce The F Word: Famine is the Real Obscenity, a short film that informs of the famine's devastating effects. Sign ONE's petition here to call on world leaders to help.

It wasn't enough for Scarlett Johansson to just a write a check for those suffering from hunger and drought in East Africa. The actress, an Oxfam ambassador, chronicled her experience through a series of exclusive HuffPost blogs. She described the conditions, learned about long-term solutions and met with pastoralists and farmers who described a sense of hope amid heartache -- ultimately galvanizing others to get involved in the cause. To help Oxfam continue to save famine victims, donate here.

Ten years after getting inspired to help refugees while filming "Tomb Raider" in Cambodia, Angelina Jolie is still fulfilling her mission to raise awareness for global humanitarian issues with the UNHCR. Jolie was honored for her decade of service in October and was asked to take on the expanded role of "special envoy" to the nations that are struggling the most. Help give a voice to refugees by donating to UNHCR here.

Curtis "50 Cent" Jackson made an about-face in 2011. The HuffPost blogger, motivated by his struggles growing up, launched a line of energy drinks that provides meals for families in Africa. Jackson also wrote a book this year on bullying -- acknowledging he was once part of the problem. Help 50 give back by visiting his site here.

To teach kids how important it is to advocate for countries that don't have clean water, Matt Damon dressed up as Santa Claus for Christmas and told the children perched on his lap how wishing for a Water.org bottle this season could hep bring potable drinking water to those in need. Support Water.org's holiday campaign here.

When the historic Congo election came with ballot stuffing, intimidation and a lack of support for women and illiterate voters, Ben Affleck headed out there in December to investigate what was happening on the ground. This HuffPost blogger returned with a three-part series, co-written with Cindy McCain, about the injustices people in the region face.

In true form, Ashton Kutcher mixed entertainment and information, aiming to reach a wide audience in April when The Demi and Ashton Foundation launched a huge campaign to spread awareness about sex slavery. The launch video for the campaign, featuring Arianna Huffington, spurred conversation about the issue and brought to light the harsh facts surrounding trafficking. Take action to fight sex slavery by visiting the DNAFoundation here.

Ellen DeGeneres was named the Obama administration's new secret weapon this year in the fight against AIDS. DeGeneres was deemed the new special envoy to raise global awareness, the Associated Press reported. Sec. of State Hilary Rodham Clinton cited DeGeneres' "sharp wit and big heart, and her impressive TV audience and 8 million followers on Twitter." The TV host also supports animal, poverty and breast cancer organizations, among dozens of other charities. Support DeGeneres and the work of the Global Fund here.

To help breast cancer sufferers facing the disease that she overcame, Sheryl Crow helped found the Sheryl Crow Imaging Center -- in conjunction with L.A.'s Pink Lotus Breast Center -- which offers the latest advancements in digital screening and diagnostic imaging technologies. The only one of its kind in the country, the center provides free treatment to uninsured women. Want to help a patient in need? Donate here.
Follow Craig and Marc Kielburger on Twitter: www.twitter.com/craigkielburger