Change Maker: Victor Chan's Voyage Of Compassion With The Dalai Lama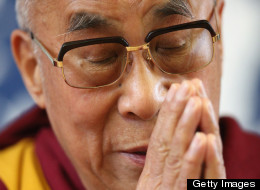 Craig and Marc Kielburger, founders of Free The Children and Me to We, check in with some of their favourite actors, authors, singers and activists to find out how they are changing the world.
If there is one person in this world we truly envy, it's Victor Chan. For more than 40 years, Chan has had the incredible opportunity to accompany one of our heroes -- His Holiness the Dalai Lama -- on his world travels.
Chan has created a national treasure in Canada. The Dalai Lama Centre for Peace and Education he founded in Vancouver helps Canada's education system teach our children compassion and mindfulness. A close confidante of the Dalai Lama, he make the teachings of His Holiness more accessible to Canadians through his books -- such as The Wisdom of Compassion: Stories of Remarkable Encounters and Timeless Insights, published this past January -- and by bringing the Dalai Lama to Speak at We Day.
Chan's own story is only somewhat less amazing than that of the Dalai Lama himself. Born and raised in Hong Kong, Chan was a free spirit by nature. He chafed under Hong Kong's regimented education system that, he says, utterly failed to teach children creativity, emotional competence, or social responsibility. When he reached university age he left to attend schools in Canada and the United States. He still yearned for adventure.
In 1971, Chan took a break from his studies and bought a Volkswagen camper van in Holland with six friends. They rigged the vehicle to sleep seven and began a rambling year-long journey through Europe into Turkey and Iran, eventually ending up in Afghanistan.
One day while sipping tea with two female friends in Kabul, a pair of Afghan men sitting nearby invited them to a banquet the following evening. It was a trap and the trio was abducted. They were driven to a hideout deep in the mountains and repeatedly threatened with death. Then, while driving them to a new hideout, their captors lost control of the vehicle and crashed. Chan and his companions escaped in a dash down the mountain and hitchhiked back to Kabul.
Then free, the trio discussed what to do next. One of the women had a letter of introduction to the Dalai Lama at his home in exile in Dharmsala, India, and invited Chan to come along.
The meeting was not what he expected. At the time, Chan says he was quite the hippie -- long flowing hair, drooping moustache, and a "Zorro-like" cape. Throughout the entire meeting, Chan recalls, the Dalai Lama kept casting sidelong glances at him and giggling uncontrollably. "I think he had never seen a Chinese hippie before!"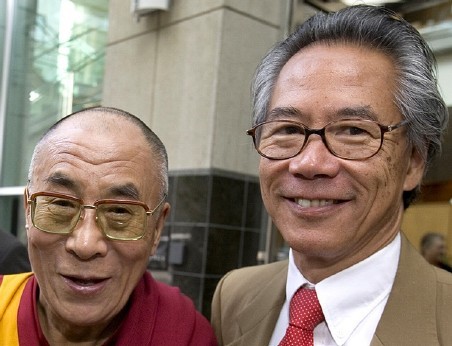 Chan says he was discomforted by the reaction, but was quickly won over by this famous spiritual leader who was not pretentious or formal, but refreshingly open and spontaneous. As he spent more time with the Dalai Lama, Chan fell in love with Tibetan culture.
"They prize laughter and don't take themselves seriously -- it was a breath of fresh air from how I grew up in Chinese culture."
Since that encounter, Chan has travelled with the Dalai Lama across four continents. Those journeys, and many intimate conversations, resulted in two co-authored books: The Wisdom of Forgiveness in 2004, and now The Wisdom of Compassion.
Chan shares stories about the Dalai Lama's encounters with world leaders, children living in poverty, activists, and scientists, among others.
He recounts a visit he and the Dalai Lama paid to a neuroscience research facility in Madison, Wisconsin. One after another, masters in meditation were placed into an MRI machine and asked to meditate on the idea of compassion. Chan says it was incredible to watch the brain scans. In every mediator, the part of the brain associated with feelings of well-being "lit up." More fascinating, Chan says, was the amount of activity in the centers of the brain involved in movement. According to Chan, the research showed, "When people have this sense of powerful compassion, they also have a powerful desire to act."
In 2005, Chan founded the Dalai Lama Centre for Peace and Education in Vancouver. He explains the centre exists to "educate the heart" -- providing resources and sharing scientific learning on how to incorporate the teaching of compassion and mindfulness into education.
The centre plays a key role in supporting the Vancouver School Board in becoming a leader in Canada for teaching compassion and social responsibility in the classroom. From May 9-11 the Dalai Lama Center will host a conference in Vancouver entitled "How Mindfulness Helps Children Thrive" that will bring together scientists, educators, health care professionals, and others to share information and ideas on how to teach compassion to children.
You can learn more about the work of the Dalai Lama Center at dalailamacenter.org, and find out more about Victor Chan and the books he has written with the Dalai Lama at victorchanbooks.org
Craig and Marc Kielburger are co-founders of international charity and educational partner, Free The Children. Its youth empowerment event, We Day, is in 11 cities across North America this year, inspiring more than 160,000 attendees from over 4,000 schools. For more information, visit www.weday.com.

10 Ways To Become A Positive Thinker
Remembering all the good things that you have makes it a whole lot easier not to focus on what you don't have. Being thankful and appreciating the abundance in your life -- rather than dwelling on what feels lacking -- is rule #1 for shifting your thinking from negative to positive.

Once you've minimized your interaction with the negative Nancies in your life, creating an inner circle filled with support and encouragement is the next step. Having people around who see the best in you will help you see the best in yourself.

Break up with your toxic friends and say goodbye to the boyfriend or girlfriend who brings you down. Minimizing negative energy in your environment is a prerequisite to overcoming negativity in your thinking.

The easiest way to fall into the negativity trap is by making yourself a victim. But on the flipside, to take responsibility for your own actions is to take charge of your own happiness. Remind yourself daily that although we may not be able to control what happens to us, we are always in charge of our reactions.

This one may take practice, but it really works. Changing your sentence structure from negative to positive (From "Why do I always get bad grades on chem exams?" to "It might not have been what I hoped, but I know my next grade will be better") is key to shifting your perceptions from can't to can. Make a concerted effort to see challenges as opportunities, and watch as doors open where there were none before.

Getting into the habit of being kind and forgiving to others will help you extend the same courtesy to yourself. And when you're a friend to yourself, it's a whole lot easier to forgive yourself for your mistakes and cultivate a positive outlook for your future. And if you believe in karma, well, what goes around comes around.

Events and situations aren't inherently good or bad -- we just project those descriptions onto them. This means that we have a great deal of power over how we choose to view whatever comes our way -- deciding to focus on the positive is a powerful way to take charge in your life.

Signing up for a weekly yoga class or committing to 10 minutes of mediation before bed each night can go a long way in helping you slow down your mind so that you can observe and recognize your thought patterns. Even just talking a walk in nature or reminding yourself to breathe deeply can help reset your brain and clear out unnecessary worries.

Becoming the captain of your own ship is a must in developing a positive outlook. Instead of worrying what other people think of you and trying to live up the their standards, decide for yourself who you want to be and what you want to accomplish. Following your own path will give you a boost of confidence and self-esteem that makes the future -- and the present -- seem brighter.

Laughing at yourself, seeking out opportunities to play and enjoy humor, and making others laugh can go a long way in creating an optimistic mindset. Laughter relieves stress and reminds you not to take life so seriously.
Follow Craig and Marc Kielburger on Twitter: www.twitter.com/craigkielburger