Toronto Air Show Triggers The Trauma Of War
Welcoming refugees into our communities implies a responsibility to provide a safe environment for rehabilitation and integration. Yet this weekend thousands of our neighbours will be exposed to trauma in a spectacle many of us would do away with in the first place.

For many Torontonians the Canadian International Air Show is, at best, a nuisance. I have yet to encounter a neighbour who lives in an affected community with an even remotely positive opinion of warplanes making low altitude passes for days on end. The organizers realize this. According to their website, "Like all (...) events such as auto races, walks, marathons, bicycle rides for charity [the air show] may be seen as disruptive by some while being anticipated and enjoyed by others. We understand that the noise generated (...) may be a concern."

The air show is nothing like a charity bike ride. In a city with a large population of refugee newcomers and people who have experienced the trauma of war it is insulting, invasive, and violent.

Last week the world was presented with yet another heartbreaking image from Syria: five-year-old Omran Daqneesh, sitting bloodied, covered in dust, and shell-shocked after being rescued from the wreckage of an airstrike. Witnessing his trauma is made all the more painful by our inability to help.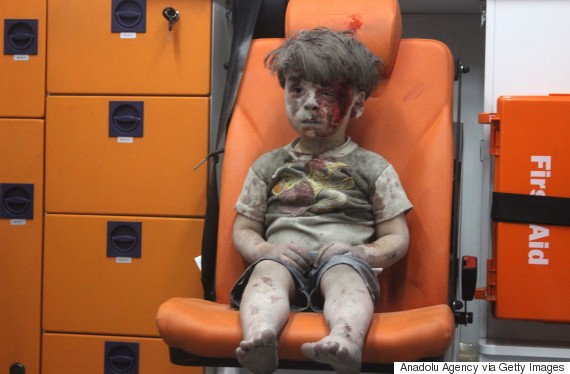 Omran Daqneesh sits alone in the back of the ambulance after he got injured during an air strike targeting the Qaterji neighbourhood of Aleppo on August 17, 2016. (Photo by Mahmud Rslan/Anadolu Agency/Getty Images)
We can't stop the great power game of the Syrian Civil War. We can't rescue all the children suffering the horrors of aerial bombardment. We have, however, proudly and publicly resettled thousands of Syrians. About 10,000 refugees from around the world arrive in Toronto every year. In 2017 the total will be close to 20,000 given the increased quota for Syrians. The federal government recently announced a significantly larger proportion of refugee newcomers.

I work with a new initiative called The Together Project. One of our goals is to help build social networks between refugee newcomers and Canadians. Our first public event was a large picnic in Dufferin Grove Park. There I met a father from Homs (an utterly decimated city) who told me how it had taken his family several months to enjoy sunny days and open spaces. In Homs, cloud cover meant less risk of high-altitude bombardment. A colleague recounted a story of a family resettled from Lebanon who sedated their toddler before leaving for the airport because the mere sight of a plane made her hysterical.

Integration is a dynamic process whereby newcomers and societies learn, adapt, and grow together. Host societies aren't expected to fundamentally change to serve a minority group. But in Toronto, people affected by war are not an insignificant minority. This includes newcomers who aren't refugees, Canadians, and family members struggling with inter-generational trauma.

We accept the importance of trigger warnings to help fellow citizens avoid potential harm. For example, signs reading "Combat Veteran Lives Here: Please be Courteous with Fireworks" made the rounds of social media in the lead up to the Fourth of July.

Who is the air show for? Apparently, the organizers "understand that some people [ ...] may find some of the aircraft loud" but ask them "to consider the benefits of the Canadian International Air Show to its fans." Considering the undefined "benefits" accrued to "fans" as somehow comparable to the potential harm to members of our communities is simply indecent.
My original argument, published in the Toronto Star, garnered a great deal of backlash from the conservative end of the political spectrum. The response from humanitarian workers, people who work in newcomer services, academics, former refugees. and affected communities has been illuminating, if less public and bombastic. The article was shared by volunteers in Greek refugee camps located next to military bases and airports who recounted how at the arrival of planes "children start hysterical crying, screaming, praying [...] some adults NEVER leave their tents because they are so afraid."

Closer to home, the Parkdale neighbourhood is home to a significant proportion of people who came to Toronto as immigrants, including many from refugee-sending regions. It is adjacent to the CNE and waterfront where the air show takes place.
I was contacted by Maya Bastian, a Parkdale resident and Sri Lankan diaspora filmmaker who spent time there in the particularly brutal final phases of the country's 25 year civil war. Civilians, particularly (though not exclusively) Tamils, were subjected to incessant air raids. An estimated 100,000 Tamils reside in Toronto.

Maya is documenting their lived experiences in an upcoming short film entitled "Air Show." As she described the project, the actors are all survivors of aerial bombing, who will be reacting in real-time to the air show. Set entirely in her own neighbourhood, she hopes the film will serve to show the jarring dichotomy between the experiences of out of town attendees, and residents forced to endure it in their very homes.

While some obviously see aircraft as entertainment, people in war zones have a far more traumatic relationship to them. In Aleppo, groups of children have formed "air defence brigades." Their method: burning piles of tires to obstruct bombers. Take a moment to let that sink in as a childhood experience. Now imagine these kids' reaction to the Snowbirds ("Canada's National Pride in the Skies") making passes over their new homes. I am sickened by the notion that children with acute PTSD will face three days of harassment in their place of refuge. It matters very little whether these aircraft have a military purpose.

The Liberal government has done an outstanding job of capitalizing on Canadians' sense of moral purpose. There is palpable relief that we can get back to our image of an open society playing a constructive international role. Yet we suffer from a deep dissonance. We congratulate ourselves for our humanitarianism, and tacitly condone selling weapons to authoritarian regimes that target civilians, repress civil society, imprison people for sexual orientation, and execute political prisoners.

Glorification of the tools of war is antiquated, regressive, and morally repugnant. It's something we deride in other countries, and is contrary to everything good about Toronto. The conversation has been going on in affected communities for years. It is high time for policymakers to pay attention and begin public consultations.
Follow HuffPost Canada Blogs on Facebook
ALSO ON HUFFPOST:
7 Deadly Threats Facing Innocent Syrian Civilians
The plight of Syrians besieged in the town of Madaya prompted an international humanitarian response (AP Photo) Hunger, starvation, and extreme malnourishment present existential threats to millions of Syria's most vulnerable people. The young, the elderly, and the infirm are all particularly susceptible to the effects of malnutrition, which can stunt the growth of children, and exacerbate chronic medical conditions. Unicef deputy director Lily Caprani told HuffPost UK about the effects long-term malnourishment are having as the Syrian conflict enters its fifth year. She said: "There's hunger in the short term, and then malnutrition over the longer term severely and in some cases irreversibly damages children's development, so a child who at the age of two or three is undernourished can physical stop growing. "Unfortunately there are some cases where that cannot be undone. We're trying to stop getting it to that stage." Unicef continues to work in Syria, and it estimates it has helped the majority of those who need help in accessible areas. That still leaves as many as two million out of reach of aid, however. Towns which are besieged by fighting are particularly difficult to access. In one example, the situation in the Syrian town of Madaya, north west of Damascus, had become so dire that the UN estimated 400 residents needed to be immediately evacuated to receive life-saving treatment. Their conditions related to extreme malnourishment and starvation, as well as medical conditions.

Syrian boys play with snow following a storm in the northern Syrian city of Aleppo on January 5 Exposure to the elements is become a concern for aid agencies operating in and around Syria. Harsh winters bring snow, ice, and chilling winds - making for harrowing conditions in houses lacking electricity and the refugee camps bordering on vast, desolate landscapes. "One of the key things we worry about every year in that on top of everything else, we now have extreme cold," Lily Caprani of Unicef UK says, "Although we're doing everything we can to them, they're living in tents, in containers." The organisation is leading a campaign to keep children warm this winter with hats, gloves and scalfs. "Many of the refugees in... countries such as Jordan and Lebanon live in terrible conditions and are struggling to find warmth as temperatures fall," Robert Mardini, director for the Near and Middle East with the International Committee of the Red Cross, told Al Jazeera. "They live with the uncertainty of not knowing what tomorrow will bring, or even if they will ever make it back home one day."

Syrians searching for survivors in the rubble of destroyed buildings following the barrel bomb-attacks of Syrian air forces on February 2, 2014, in Aleppo, Syria. Barrel bombs continue to plague Syrian cities. The improvised devices are thrown from transport helicopters, without the ability to hit specific targets. According to the Syrian Network for Human Rights, the number of civilains killed by Syrian regime barrel bombs outnumbers those slain by the so-called Islamic State and al-Qaeda. Jeremy Binnie, Middle East editor for IHS Jane's Defence Weekly, told HuffPost UK that the bombs were developed due to either a lack of weaponry or aircraft around a year or so into the current conflict. He said: "While early ones appeared to be similar in size to oil barrels, the ones that have been seen generally have a smaller diameter. "They were first seen in the summer of 2012. "They are a way of turning the Syrian air force's Mi-8/17 helicopters into attack aircraft as the improvised bombs can be rolled out the rear cargo doors." "The bombs are capable of destroying buildings and killing people, but almost certainly have less explosive power than mass-produced aircraft bombs of similar size."

A Russian bomber drops bombs on a target. Russia has unleashed another barrage of airstrikes against targets in Syria Airstrikes from foreign forces continue to pose a threat to civilian life - however unintended this may be. In December, at least 26 people were believed to have been killed following US-led airstrikes attacking suspected Isis positions. The Guardian reported Rami Abdel Rahman of the Syrian Observatory for Human Rights as saying Isis is in control of Al-Khan but is only on its outskirts, "which is why all of the deaths were civilians". The US military command said it was investigating the claims. Britain's Royal Air Force, which received Parliamentary authority to commence airstrikes last year, says it is able to say no civilians have died as a result of its recent airstrikes in Syria which are planned meticulously to prevent collateral damage.

A health worker marks the thumb of a Syrian child after giving him polio vaccine (File Photo) Dirty water and the resulting disease pose a continued threat to Syrians living in increasingly unsanitary conditions. Unicef is one of a number of aid agencies working to mitigate the risks, but even it admits that millions of Syrian children and adults who continue to be at risk in areas that cannot be easily reached. While the threat continues to be high - disease is one of the areas of success for agencies trying hard to prevent a public health disaster dovetailing with the fierce conflict. Lily Caprani of Unicef told HuffPost UK: "We're making sure children and the vulnerable are immunized against waterborne disease, because we know they are going to be exposed to disease so we make sure they're going to be protected. "This can help prevent a public health disaster. One of the very few pieces of good news is that you would expect the resurgence of disease and infections we would normally not see. "But because we've managed to immunize we've prevented this. There have been no new cases of polio since January 2014 and that's short of a miracle. "It's relatively cheap to do - it doesn't cost a lot of money and it prevents the snowball effect of a public health emergency." Nonetheless, the shocking state of health uncovered at the besieged town of Madaya in January points towards localised medical emergencies being commonplace in some areas in the country.

A visitor looks at photographs in the 'Caesar's Photos: Inside Syria's Secret Prisons', a collection of photographs smuggled out of Syria last year Torture and execution remain a threat to civilian life throughout Syria, with hundreds allegedly killed at the hands of President Assad's regime alone. Syria has systematically tortured and executed 11,000 of its citizens in the three-year war, according to a report by former war crimes prosecutors, who compared the bodies they saw to images of Nazi death camp victims. Meanwhile the so-called Islamic State has been adept at publicising its regime's torture and execution, even publishing reports in its own magazine, with countless Syrians and scores of foreigners killed in the now signature orange jumpsuits. In January, the Syrian Observatory of Human Rights reported that an Islamic State militant executed his own mother, after she encouraged him to leave the terror group.

Violence and exploitation resulting from the break down of Syrian society present a real threat to the lives of adults and children alike, whilst kidnapping remains a tactic of fear used by militants. There are countless examples of violence between warring factions spilling over into civilian communities, wounding and killing innocent people. Unicef's experience of conflict emergencies across the world has led it to the conclusion that education can protect children from violence and exploitation. Lily Caprani, UK deputy director, told HuffPost UK: "If children are in education, they're in a safe space. If children are in a safe environment with safe people, the risks of violence and exploitation are lower. "This protects children from adults who might not have their best interests at heart." Kidnapping by Islamic State militants continues to present a real threat to civilian life. Last year, hundreds of innocent people were taken by the group amid mounting international calls for the release of those abducted.
Follow Craig Damian Smith on Twitter: www.twitter.com/craigdamian