Grading Each B.C. Political Party's Stance On Cannabis
Considering how important cannabis is to our province in every way, it's surprising that legalization hasn't been a bigger topic in this election. Legalization could be a big boon for B.C., or it could be a devastating blow to our provincial economy. We need a premier who will get it right.
Here's how I'm scoring the three B.C. parties on their cannabis policy.
To get an "A" grade, a party leader would need to do three things.
1. Pledge to stop cannabis possession arrests immediately, without waiting for Trudeau.
The federal government has pledged to continue arrests until cannabis legalization is totally in place, a process that could take a least a year, and probably a few years. B.C. has the power to stop cannabis possession arrests at any time, and this needs to be a priority.
2. Pledge to protect B.C.'s local cannabis growers by demanding the power to license and regulate cultivation at the provincial level.
Provinces control who can commercially brew alcohol, and provinces should control who can commercially grow cannabis. If the sole power to issue grow licenses remains with the federal government, we can expect to see a small number of companies getting those licenses, and a truly open system will not emerge.
3. Pledge to support cities currently licensing dispensaries.
Some cities in B.C. are issuing business licenses for local dispensaries. B.C. needs a premier who will respect those licenses and the civic process behind them.
Here's where the parties stand and how we score them: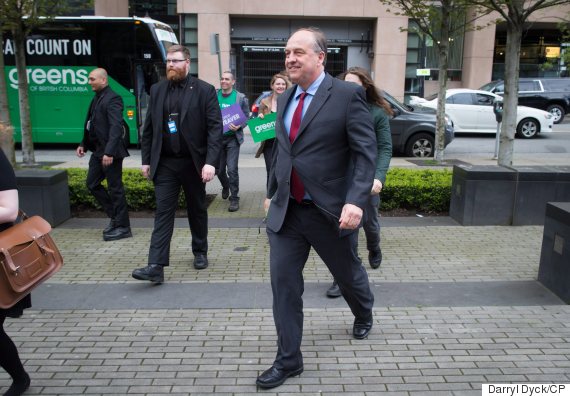 B.C. Green Party Leader Andrew Weaver. (Photo: Darryl Dyck/CP)
B.C. Green Party: C+
Positives: Andrew Weaver is the only party leader to use the phrase "craft cannabis" and to acknowledge the importance of cannabis growers to B.C.'s local economy. He has expressed concern about B.C.'s cannabis industry being taken over by "big multinationals." Says he supports cannabis being sold in a manner similar to "craft breweries," but also from liquor stores and pharmacies.
Negatives: Weaver has not explained how he will protect B.C.'s craft cannabis industry when licenses will be issued by the federal government. Has not pledged to immediately stop possession arrests.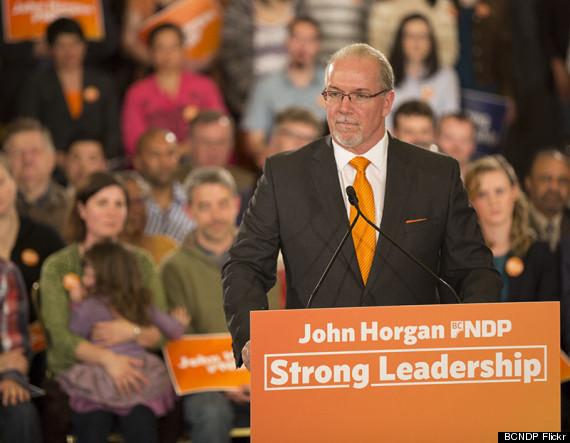 B.C. NDP Leader John Horgan. (Photo: BCNDP/Flickr)
B.C. NDP: C+
Positives: John Horgan has called legalization "overdue" and says "there are people of all walks of life who prefer to have a pull on a joint or eat a biscuit, rather than a martini, to unwind." Last year Horgan sent two MLAs to Washington and Oregon to study their legal cannabis systems.
Horgan has met with dispensary operators to discuss the role of dispensaries under legalization. Horgan says he supports cannabis being sold from many outlets, with a model that is "a hybrid" of private beer and wine stores, pharmacies, cannabis dispensaries, liquor stores and the craft beer model.
Horgan has said cannabis taxes need to be low so that legal cannabis can compete.
Many NDP MLA's and candidates, including Melanie Mark, Nicholas Simons, Spencer Herbert, Rob Fleming, Michelle Mungall, Colleen Ross and and others, have worked to support their local cannabis dispensaries over the years.
Negatives: Horgan has not discussed B.C.'s craft cannabis industry, and has not pledged to immediately stop possession arrests. The party has not included cannabis policy in their election platform.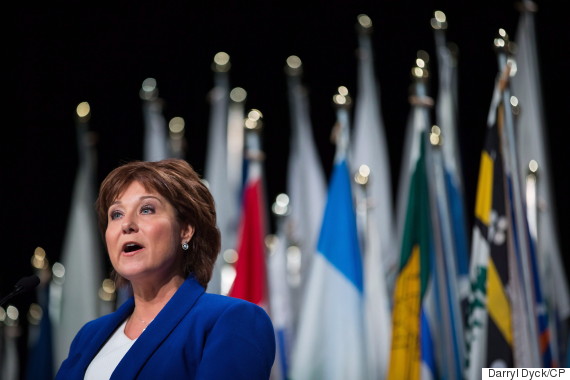 B.C. Liberal Leader Christy Clark. (Photo: Darry Dyck/CP)
B.C. Liberal Party: D
Positives: None. Christy Clark has not committed herself to any sort of cannabis policy at all.
Negatives: Despite holding power for 16 years, the B.C. Liberals have never once seriously talked about cannabis policy. They have offered no comment on the spread of dispensaries, and completely ignored the 2013 Sensible B.C. campaign which collected over 200,000 signatures in 90 days to support decriminalization in B.C.
Clark says the legal age for cannabis in B.C. should be "at least 19" and has suggested it could be higher. "Just like alcohol, it's got a lot of harms associated with it, so I want to make sure we do everything we can to keep it out of the hands of kids." She wants cannabis taxes to go towards paying for the increased health care and higher law-enforcement costs, which she says will result from legalization.
Clark has refused to give any idea of how her party would proceed on cannabis, saying only that she would gather an expert panel of police officers and health officials and follow their advice. This could be a slow process and lead to a very restrictive system.
Please keep the pressure on all candidates to discuss and support B.C.'s cannabis industry. Our province has a multi-billion dollar cannabis industry that includes growers and dispensaries all across B.C. Whoever wins this election should be able to work with that existing industry, to bring it into the mainstream, for the benefit of all British Columbians.
Follow HuffPost Canada Blogs on Facebook
Also on HuffPost:
WEED: The New Science of Marijuana
Marijuana's advocates believe the long-maligned plant can enhance life—and help deliver people from sickness and pain. A Seattle cannabis worker cradles the resin-dusted bud of a strain called Blueberry Cheesecake.

Lily Rowland receives a dose of an oil derived mainly from cannabidiol (CBD), a nonpsychoactive substance in marijuana. She used to suffer hundreds of seizures with violent convulsions every day. Her family moved to Colorado, which voted to legalize marijuana in 2012, so that she could begin a daily regimen.

Phillip Hague, the chief horticulturist at a Denver cannabis company called Mindful, sniffs the roots of a plant to check on their health. He's grown cannabis most of his life and has traveled the world researching its many varieties. He's interested in developing new strains with higher concentrations of marijuana's lesser known compounds that appear to have medical uses. "Cannabis speaks to me," he says.

At Denver's LivWell, which has an enormous indoor growing operation, workers remove marijuana leaves before the buds are trimmed, keeping the plants destined for medical use separate from those for recreational use. After Colorado legalized marijuana, thousands of young people from all over the world flocked to the state to participate in the multimillion-dollar business phenomenon that's been called the Green Rush.

Kim Clark's younger son, Caden, 11, suffers from severe epilepsy. Despite having brain surgery twice, he'd never had a seizure-free day until he started taking CBD oil.
Follow Dana Larsen on Twitter: www.twitter.com/danalarsen