I Tried It: Floating as Meditation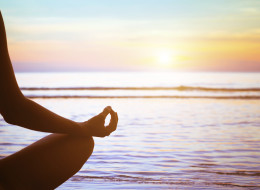 The first thing that pops into my head when I enter the float room at Float Toronto is, "will anyone notice if I sneak out?" In front of me the actual flotation tank, an 8' x 4' x 4' fiberglass contraption with a big trap door and a tangle of pipes and wires protruding from the furthest end, looms large. The whole thing is a little creepy, and slightly reminiscent of a submarine scene from 20,000 Leagues Under the Sea. I haven't even been in the building five minutes and already I'm ready to bolt. But I don't. I'm sticking this out. Float tanks are popping up across the country with people raving about their meditative effects, so they can't be that bad. And besides, it's not going to kill me. Will it?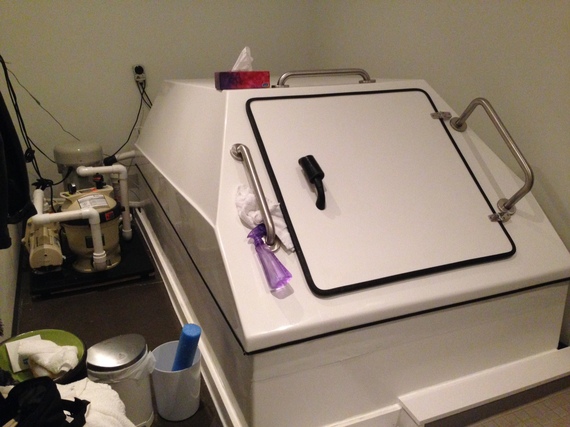 Floating is a form of sensory deprivation, developed in 1954 by Dr. John C. Lilly, in partnership with the National Institute of Mental Health. Dr. Lilly was interested in studying the origin of consciousness and its relation to the brain, but through experiments (both his and others), scientists discovered that the float tank could induce a relaxed state, which was (surprisingly) not unpleasant, and in fact, quite healing.
The original design for the tank (known as the Lilly tank) had subjects upright and fully immersed in water, with a full-face mask to facilitate breathing. Today, tanks have evolved to allow the user to float horizontally in a lightproof, soundproof tank, buoyed by a solution of water and a high concentration of Epsom salts.
When practiced over long periods of time, this type of sensory deprivation can result in extreme anxiety, hallucinations, and depression. However, as Lilly and his peers discovered in early experiments, short-term sessions can produce feelings of relaxation and a meditative state. Lucky for me, my session is only booked for an hour.
Before I begin my float, I run through a list of questions with Sean Lavery, one of the co-founders of Float Toronto (the other is partner Jesse Ratner-Decle).
Can I fall asleep and drown?
Apparently not. While many people fall asleep, if you were to turn over, the stinging of the salt water in your eyes, nose, and mouth would wake you immediately.
How often are the tanks cleaned?
The water is fully filtered three to five times between each float, via an intense filtration system and a UV filter. The Epsom salt solution also has natural sanitary properties.
What should I do to prepare?
Avoid caffeine the day of your float and don't shave within 24 hours.
What's the longest anyone has floated?
An endurance athlete in Portland apparently floated for the better part of 24 hours, but that seems pretty extreme. The longest Sean has gone is three hours.
Why do people float?
It's the closest you can get to a feeling of weightlessness. Without gravity working against you, all your joints decompress, alleviating aches and pains. It's also been shown to improve circulation and lower cortisol.
Less stress? Yes please. I'm now ready to jump in with both feet, so to speak. I follow Sean's directions, and rinse off in the shower provided in the private room. Next, I dim the lights (so that I'm not overwhelmed when I emerge from total darkness an hour later). I insert my ear plugs, and finally, it's time to enter the tank.
I can hear my heart hammering in my ears, but I steel myself, take a deep breath, and haul open the door. I dip a toe into the water. It's neither hot, nor cold, and I'm slightly disappointed, having expected something approximating a warm bath, but the temperature of the water is a precise 34.1 degrees, also known as "skin-receptor neutral" where you lose track of where your body ends and the water begins.
I kneel down and, after a few more deep breaths, I make my first attempt at shutting the door. As soon as the darkness hits, I panic and shove the door open, desperate for the dim light of the room. "Don't be scared, you can do this!" My logical brain is delivering the pep talk, but my animal brain is fixating on the tight confines of the space. I'm not prepared to quit though, so I try again.
I shut the door and I'm immediately submerged in the dark. The darkest of dark. Can't-see-your-hand-in-front-of-your-face dark. I maneuver myself onto my back and I'm buoyed by the ten inches of water and 850 pounds of dissolved Epsom salt. The air is thick and warm, and at first, I find it hard to breathe, but as I start to adjust to the sensations in the tank, I calm down, and my breathing returns to its natural rhythm.
I spend most of my time in the tank lying in an aquatic savasana, legs and arms down by my sides. I experiment with placing my hands behind my head, like an aquatic version of an afternoon siesta in a hammock. At some point I clearly overcome my anxiety and fall asleep, waking when my muscle twitch jostles the water, sending a round of small waves.
There's no sense of time in the tank. It's impossible to gauge whether I've been in for 10 minutes or 50 minutes, and, although I skipped my daily cappuccino, as per the pre-float recommendations, I think my mid-afternoon moment of weakness involving a hot chocolate might be kicking in. I'm restless, which seems somehow antithetical to the serenity and calm I'm supposed to be feeling.
More time passes and eventually, soft music fades in, signaling the end of my float. Despite my moments of restlessness, I emerge from the tank with an overall feeling of peace and calm. I wonder for a moment, what it would be like to float to music the entire time in the tank, letting the ethereal sounds of Bon Iver transport me on his musical soundwaves, but Sean says that would defeat the sensory deprivation element. Too bad.
So with the experiment over and done with, would I do it again? Never say never. Although I had a few moments of panic and anxiety in the dark space, the overall effect was definitely meditative and pretty interesting. In a world where we seem to crave activities and solutions that help us disconnect from the constant bombardment of information and technology, 60 minutes with nothing on the agenda seems like a wet dream.
Interested in trying this out for yourself? Float centres have popped up across the country in cities like Vancouver, Toronto, London, Winnipeg, Calgary, and Montreal. Google to find one near you.
ALSO ON HUFFPOST:
There are several different kinds of meditation, and you may find that more than one of them is helpful for you. This guide from the Institute for Applied Meditation outlines eight of the main methods — including mindfulness (vipassana), which comes from the Buddhist tradition; transcendal, a meditative tradition of Hinduism; and qi gong, a Taoist form that works with breath and movement.

There are many reasons why meditation should be a part of your daily routine. A regular meditation practice can reduce stress, which has a host of potential health benefits including easing headaches, high blood pressure, and anxiety, notes WebMD. It could also help you fall asleep and get better rest, which is very important; people with poor sleep have been shown to be at a higher risk for accidents, weight gain, and diabetes, according to Harvard. And time set aside to meditate means time just for you — something we could all use more of!

If you're not convinced yet, studies have shown the benefits of meditation. Research published in 2011 showed that meditation could increase grey-matter density in areas of the brain associated with learning, memory, and emotion regulation, reported the Globe and Mail. Another study published in 2012 found that meditation classes, over the course of several years, were associated with reduced cardiovascular risk for people with coronary heart disease. And a five-year Harvard study is looking at how meditation may lead to changes in the brain activity, and even genes, of people who are chronically stressed.

There are many ways to meditate, which means there's one out there for you. Some people sit while meditating, while others lie down; you can go with the method you prefer, or mix it up based on where you're practicing. Either way, good posture helps you relax and breathe properly. You can close your eyes or keep them open, but if you prefer them open, try to keep your gaze down and unfocused. Most of all, try to find a time when you won't be interrupted — even if that means meditating for just five minutes. Put away your phone, get off the laptop, and focus! Mindful, a publication dedicated to bringing mindfulness to everyday life, has more tips for getting started with meditation.

The beauty of meditation is that you can do it anywhere. Obviously, it'd be great if you can do it sitting on a beach listening to the waves crash in, or in a quiet temple with an expert to guide you. But the key is actually doing it, not making sure you only meditate in the best possible environment. In your home, try to find a room where you can relax, be comfortable, and not be interrupted. However, you can also try it on the go — download an app or podcast (see some suggestions in slides 8 and 9) and make the most of your commute!

How do you know that all this mindfulness is doing its job? Sometimes it can be hard to tell, because it's not as obvious as other health practices: you don't have a cut that you can watch heal or a headache that goes away. But there are still ways to check in. Wildmild advises that you can tell that meditation is helping you if you begin to develop more concentration or start noticing things like your breathing or how particular parts of your body feel while you're meditating. You may also feel calmer overall and have improved posture. If you don't feel that meditation is working for you, don't be afraid to mix it up, as different approaches to practice work for different people.

The only things you truly need to meditate are time and yourself. But there are some items that can help you get zen. Try meditating lying on an acupressure mat like a Sponk, which can help with relaxation and loosening your muscles. A zabuton is a padded mat that makes it more comfortable and supportive to sit on the floor while meditating, and a zafu can help you sit cross-legged.

There are several apps that can help you establish a meditation practice. Buddhify 2 (iOS) gives you several meditations of varying lengths for a variety of situations, including "Eating" and "Can't Sleep." Omvana (iOS) lets you mix and match meditations with background sounds and music, and you can purchase new files from the app's built-in store. And Buddhist Meditation Trainer (Android) lets you work through ten levels of enlightenment with daily meditation.

Many meditation resources can be found online as well — even for free. Elisha Goldstein, the mental health blogger for Mindful, has a 10-minute body-scan video on YouTube that is a great short meditation. If you have a bit more time, try this 20-minute video that focuses on breathing. The Guardian ran a series of five podcasts about mindfulness that looked at bringing the practice into your everyday life. And UCLA posts a new guided meditation podcast every week.

You can also get some help in person by attending a meditation class or workshop. Many yoga studios offer classes, some of them combining meditation and yoga. Buddhist temples may also offer sessions that are open to the general public, often for a small donation. You can also look for a local Shambhala group — the organization often runs introductory meditation programs.

NEXT: Reasons To Love Meditation

Research published just last month in the journal Health Psychology shows that mindfulness is not only associated with feeling less stressed, it's also linked with decreased levels of the stress hormone cortisol.

It lets us get to know our true selves. Mindfulness can help us see beyond those rose-colored glasses when we need to really objectively analyze ourselves. A study in the journal Psychological Science shows that mindfulness can help us conquer common "blind spots," which can amplify or diminish our own flaws beyond reality.

Researchers from the University of California, Santa Barbara, found that college students who were trained in mindfulness performed better on the verbal reasoning section of the GRE, and also experienced improvements in their working memory. "Our results suggest that cultivating mindfulness is an effective and efficient technique for improving cognitive function, with widereaching consequences," the researchers wrote in the Psychological Science study.

A 2011 study in the journal Annals of Rheumatic Disease shows that even though mindfulness training may not help to lessen pain for people with rheumatoid arthritis, it could help to lower their stress and fatigue.

University of Oregon researchers found that integrative body-mind training -- which is a meditation technique -- can actually result in brain changes that may be protective against mental illness. The meditation practice was linked with increased signaling connections in the brain, something called axonal density, as well as increased protective tissue (myelin) around the axons in the anterior cingulate brain region.

Ever wondered why mindfulness meditation can make you feel more focused and zen? It's because it helps the brain to have better control over processing pain and emotions, specifically through the control of cortical alpha rhythms (which play a role in what senses our minds are attentive to), according to a study in the journal Frontiers in Human Neuroscience.

Mindfulness meditation improves our focused engagement in music, helping us to truly enjoy and experience what we're listening to, according to a study in the journal Psychology of Music.

You don't have to actually be meditating for it to still benefit your brain's emotional processing. That's the finding of a study in the journal Frontiers in Human Neuroscience, which shows that the amygdala brain region's response to emotional stimuli is changed by meditation, and this effect occurs even when a person isn't actively meditating.

The health benefits of mindfulness can be boiled down to four elements, according to a Perspectives on Psychological Science study: body awareness, self-awareness, regulation of emotion and regulation of attention.

Doctors, listen up: Mindfulness meditation could help you better care for your patients. Research from the University of Rochester Medical Center shows that doctors who are trained in mindfulness meditation are less judgmental, more self-aware and better listeners when it comes to interacting with patients

Sure, we love all the things meditation does for us. But it could also benefit people we interact with, by making us more compassionate, according to a study in the journal Psychological Science. Researchers from Northeastern and Harvard universities found that meditation is linked with more virtuous, "do-good" behavior.

Research from the Jefferson-Myrna Brind Center of Integrative Medicine shows that mindfulness coupled with art therapy can successfully decrease stress symptoms among women with breast cancer. And not only that, but imaging tests show that it is actually linked with brain changes related to stress, emotions and reward.

Loneliness among seniors can be dangerous, in that it's known to raise risks for a number of health conditions. But researchers from the University of California, Los Angeles, found that mindfulness meditation helped to decrease these feelings of loneliness among the elderly, and boost their health by reducing the expression of genes linked with inflammation.

Not only will your health benefit from mindfulness meditation training, but your wallet might, too. Research in the American Journal of Health Promotion shows that practicing Transcendental Meditation is linked with lower yearly doctor costs, compared with people who don't practice the meditation technique.

Aside from practicing good hygiene, mindfulness meditation and exercise could lessen the nasty effects of colds. Researchers from the University of Wisconsin School of Medicine and Health found that people who engage in the practices miss fewer days of work from acute respiratory infections, and also experience a shortened duration and severity of symptoms.

As many as one in five pregnant women will experience depression, but those who are at especially high risk for depression may benefit from some mindfulness yoga. "Research on the impact of mindfulness yoga on pregnant women is limited but encouraging," study researcher Dr. Maria Muzik, M.D., an assistant professor of psychiatry at the University of Michigan, said in a statement. "This study builds the foundation for further research on how yoga may lead to an empowered and positive feeling toward pregnancy."

Teaching teens how to practice mindfulness through school programs could help them experience less stress, anxiety and depression, according to a study from the University of Leuven.

Trying to shed a few pounds to get to a healthier weight? Mindfulness could be your best friend, according to a survey of psychologists conducted by Consumer Reports and the American Psychological Association. Mindfulness training was considered an "excellent" or "good" strategy for weight loss by seven out of 10 psychologists in the survey.

We saved the best for last! A University of Utah study found that mindfulness training can not only help us better control our emotions and moods, but it can also help us sleep better at night. "People who reported higher levels of mindfulness described better control over their emotions and behaviors during the day. In addition, higher mindfulness was associated with lower activation at bedtime, which could have benefits for sleep quality and future ability to manage stress," study researcher Holly Rau said in a statement.
Follow Daniela Andrews on Twitter: www.twitter.com/danielaandrews