There's a Reason Millennials Want a Culture of Collaboration at Work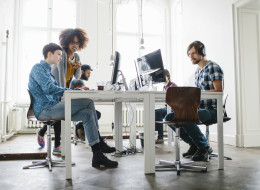 All too often, businesses will throw a bunch of intelligent and creative people together in a room, cross their fingers, and hope for some spark of creativity and innovation.
Well, those days are numbered.
Although the concept of collaboration has been around for as long as we have, it exists in a constant state of evolution. We have gone from Post-It notes, flip-charts and whiteboards to SMART boards and Skype brainstorms. From email to internal social media.
Not only are office spaces now designed to encourage collaboration, but companies are also changing how employees communicate and collaborate. It's not enough to simply hope your employees will get together and that creativity will ensue.
Building this type of culture not only makes business 'cents' through increased productivity and creativity, but it also creates a more engaged workforce, increasing morale and helping attract and retain top talent.
And if you're a company that wants to attract the next generation of talent -- read: millennials -- you better have a corporate culture that knows how to be collaborative.
Millennials have spoken. A recent study shows that a culture of collaboration is one of the top things millennials are looking for in an employer. This new generation of workers wants to use technology to connect with the world and their peers in ways that allow them to have deeper and more globalized connections.
Many innovative businesses already integrate familiar external communication platforms into daily work life, but more and more leading companies are looking for secure, internal versions to share knowledge and information in ways that are familiar to younger workers, only through at-work networks.
Indeed, some of today's most successful companies build great ideas around the use of physical and virtual tools to inspire and enable a collaborative workforce.
Taking a page from the higher education and research and development industries, innovative institutions have long used collaboration between faculties to drive the cross pollination of ideas. Inspiring and creative ideas truly can come from everywhere and everyone, which is why the ways in which people communicate can make the difference between a brand discovering greatness, or being left behind.
As a result, it's not surprising that some of Canada's Best Workplaces are early adopters of diverse avenues of collaboration. While some opt for virtual means, others have found innovative ways to engage employees within their physical space. A great example is Procter & Gamble Inc. The company's Toronto headquarters offers "digital workspaces" and open concept collaborative workspaces which feature technology to enable off-site employees to remain in touch with each other and their on-site team. This kind of flexibility makes it hard to not stay in the loop.
But a company doesn't need to be a large or multinational enterprise to reap the benefits of collaboration. Kindred Home Care, the 30-year-old company based out of small town St. Stephen, New Brunswick, took on the challenge to become the first in its industry to start using an internal social collaboration tool to increase productivity and communication. In an industry that is typically slow to embrace new technologies, Kindred fared well with its new tool; employees were able to assist customers 300 per cent quicker within the first six months, all while increasing employee engagement.
Other Canadian companies including Canadian Tire and Manitoba Hydro engage their employees in interesting ways in the physical spectrum. Canadian Tire created "HotiDEAS," a forum for IT employees to share best practices, allowing for knowledge and ideas to flow freely among the staff in a supportive environment. Manitoba Hydro has introduced monthly lunches with its CEO, where employees are chosen at random to attend, and then ask questions. The idea is to give employees at all levels of the company the opportunity to share feedback and ideas with senior management, in an effort to change the narrative on important issues.
Collaboration, whether it's virtual or physical, is in our nature, which is why it drives fulfillment. According to a recent study from The Wharton School of Business at University of Pennsylvania, employees who feel they are working in a loving, caring culture reported higher levels of satisfaction and teamwork, leading to better performance.
Harnessing a collaborative culture provides employees with regular opportunity to express gratitude and affection towards team members. This, in turn, builds job satisfaction and commitment to the organization. As more millennials move into the workforce, established teams must adapt to new ways of doing business, keeping collaboration top of mind.
However, tools of collaboration are only as good as the culture of collaboration. Before implementing tools to help employees work and communicate closely with one another, companies need to develop a strategy to understand why collaboration is important and make sure that any tools or strategies being implemented best serve the needs of employees, and management too.
ALSO ON HUFFPOST:
8 Millennials That Ditched Wall Street For Social Good
As a successful investment banker, Rachael Chong was dissatisfied with her opportunities for giving back in a meaningful way. She soon swapped the corporate world for the nonprofit one, founding Catchafire, an organization which helps professionals volunteer pro bono services to nonprofits without quitting their day jobs.

With an extensive banking background, Rhoden Monrose left his position at Citigroup to make the finance industry more socially responsible. He founded CariCorps under the belief that business professionals could both do well and do good. Through CariCorps, Monrose teaches millennials how to have socially responsible finance careers. Millennial members are provided with free technical and professional skills and motivated to be involved in charity and community service while working on Wall Street.

With a degree in applied mathematics, management & accounting and previous employment at finance bigwigs such as Deloitte and Touche LLP and JP Morgan & Associates, Ben Keesey was on the corporate track. But a trip to Africa changed his course -- Keesey now champions the cause of those affected by the atrocities of Joseph Kony and the LRA conflict through the nonprofit Invisible Children.

With a degree in economics from Harvard already under her belt and an M.B.A. in progress, Jessica Matthews seems primed for Wall Street. However, she's used her business expertise to found Uncharted Play, a social enterprise that uses technology and playful activities to help solve real-world issues. One example is SOCCKET, a soccer ball that converts light into energy while you play. The sales from SOCCKET help provide children in need with reliable energy access.

Patrick Dowd was an investment banking analyst for J.P. Morgan when Occupy Wall Street broke out. He remembered the positive model for youth mobilization and protest he had experienced while helping with the Jagriti Yatra train journey as a Fulbright scholar in India. Dowd eventually quit his job and pioneered the Millennial Trains Project, a nonprofit which takes millennials on crowd-funded train trips across the country. While aboard, youths participate in seminars and workshops and explore America's social opportunities and challenges.

Formerly employed by McKinsey & Company, Alejandro Gac-Artigas leapt into education with the 2011 launch of Springboard Collaborative. The Philadelphia-based organization has helped narrow the literacy gap for 642 children by providing teachers and parents with skills to incentivize learning and reading over the summer break. Gac-Artigas was motivated to found the startup because he was frustrated by the "summertime reading losses in elementary school that account for two-thirds of the achievement gap in high school."

Krishna Ramkumar was a senior associate with the Boston Consulting Group before founding Avanti, a collection of learning centers in four Indian cities. Avanti mentors students from low-income high schools in science and math. Last year, 6,000 students applied for the program's 150 available spots. The India-based organization makes college a more accessible dream for students from economically disadvantaged schools.

For five years Tinia Pina worked a variety of positions in the finance sector, including as a consultant, analyst, and investments accountant, before founding Re-Nuble, Inc. As a sustainable startup, Re-Nuble, Inc. takes excess food from restaurants and recycles it, using the organic nutrients to create renewable energy and organic fertilizer. Pina has expanded the organization, bringing plant-based nutrients to consumers who seek more accessible and less expensive sustainable food.
Follow David Borrelli on Twitter: www.twitter.com/Daveborrelli