How Can We Store Renewable Energy?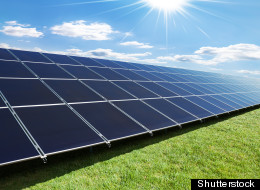 Entrepreneurs, inventors and researchers all over the world are beavering away, trying to find an answer to a multi-billion dollar question: How do you cheaply and reliably store energy for the grid?
Due to the intermittent nature of solar and wind power energy storage is key to integrating more and more renewables onto the grid. And the trend is clear -- prices for renewable energy technology are dropping and more and more policy is coming online that encourages renewable energy development. Grid operators need stability and they're willing to pay. Lux Research just released a report, which finds that grid storage demand will expand to $10.4 billion by 2017.
Energy storage is going to be part of new, smarter, more flexible grids. Short-term storage can help balance the ebbs and flows of electricity in the grid, it will increase the amount of renewable energy that can go on the grid from 20 to 50 per cent or higher, it will work well with increasing numbers of electric cars and it can even help utilities defer investments in very expensive infrastructure by making the grid more efficient.
In Canada we've got many entrepreneurs working on figuring out energy storage. Cam Carver is the CEO of Temporal Power, an energy storage startup based in Mississauga, Ontario. They're taking an idea that Da Vinci himself worked on, the flywheel, and scaling it up for commercial use.
"A flywheel is essentially a mechanical battery that stores kinetic energy, and what we're doing is we're storing energy in a very heavy, fast-spinning wheel of solid steel," says Carver.
It sounds complicated but think of a flywheel like a game of tether-ball (thanks to Cleantechnica for the analogy). In tether-ball you infrequently provide large bursts of energy to swing the rope and the ball around the pole. The weight of the rope and ball combine to even out the bursts of energy, giving it a relatively constant motion around the pole. But the rope stores energy as well and after it fully wraps around the pole the ball reverses its direction at a relatively steady pace without any further energy input from the players.
When the sun is out or the wind is blowing the flywheel is spinning up, charging the battery so to speak. When energy is needed it slows down releasing the stored up kinetic energy.
The flywheel at Temporal started out in the garage of Jeff Veltri, the company's co-founder and current CTO. They've since scaled that table-top version up three times to the one we saw in their warehouse, a seven-foot tall, 9,000-pound solid steel flywheel that is suspended by magnets in a vacuum to reduce friction. It can store the equivalent of 50 kilowatt hours of electricity.
Temporal is also working on two pilot projects, one with NRStor to counter-balance short-term voltage variations, the other is a five megawatt storage plant that will go in near Tillsonburg, an area rife with wind development and the location of the Siemens plant that shipped the first made-in-Canada wind turbines. These two projects show the versatility of the flywheel as the Ontario Power Generation project works on a minute-to-minute basis while the five megawatt project works on a longer timeframe.
"This is part of the magic pill. This helps solve a very important and immediate part of the problem," says Carver.
Energy Storage: The Final Fontier for Wide-Scale Renewable Energy
Cam Carver is the CEO of Temporal Power a startup in the energy storage business based in Mississauga, Ontario. He stands next to all of the iterations of the flywheel energy storage device his company makes. Photo David Dodge

Cam Carver is the CEO of Temporal Power a startup in the energy storage business based in Mississauga, Ontario. Photo David Dodge

Cam Carver, CEO of Temporal Power with a 9,000 pound steel flywheel suspended by magnets and held in a vacuum to reduce friction. Photo David Dodge

The original version of the Temporal Power flywheel was a small table-top version. Photo David Dodge

Community Energy Storage systems such as this one from eCAMION are installed in the community, this one at the Roding Arena and Community Centre in North York, to balance the electricity supply and support more renewable energy on the grid. Photo David Dodge

Carmine Pizzurro with eCAMION's Community Energy Storage system. It contains 1,700 lithium ion battery cells, enough to power a small block of houses. Photo David Dodge

Carmine Pizzurro of eCAMION shows the panel of electronic controls on a Community Energy Storage system that automatically smooths out the peaks and valley's in the local energy supply just outside a community centre with a solar system on the roof. Photo David Dodge
Community Energy Storage
The next company we tracked down in the energy storage space features a product that the great majority of us carry around every day -- a lithium-ion battery, like the one in your cell phone.
The company is called eCAMION and the project we checked out is called Community Energy Storage. It's a giant lithium-ion battery with 1,700 separate cells and enough juice to keep a modest sized neighborhood running for a couple of hours. It's tucked in a non-descript green box near the Roding Arena and Community Centre in North York.
Carmine Pizzurro of eCAMION describes it as a shock absorber for the grid. It interacts dynamically with the grid, storing energy when it's abundant, releasing energy when it's needed.
"It's an excellent way to make your grid more efficient, not only does it peak shave, but because it's coupled with renewables it's a more efficient use of electricity on the grid. You can use the battery source as energy to make the whole grid more efficient and more useful for the utilities," says Pizzurro.
Peak shaving, valley filling, load shifting. This isn't the latest in technology from Gillette these are real, day-to-day concerns for grid operators and it ultimately affects how much your electricity bill ends up costing you.
Typically when the grid needs energy they fire up what's called a peaker plant. They usually run on natural gas and when they're needed they cost a pretty penny. Not only can battery projects like this mitigate the need to run these peaker plants, but they improve power quality and help make existing grid assets long longer.
This is the first time the idea has been tested on a grid-scale in Canada, which was kind of the point of the $16 million project which received a $5 million grant from Sustainable Development Technology Canada.
And Pizzurro has quite a pedigree when it comes to battery technology. He ran a battery plant for GM for eight years and was a part of the Chevy Volt's battery program.
"So the amount of experience I have with batteries is pretty good and what we wanted to do was to utilize that experience and give it to the utility grid because there is a huge need for battery storage on the energy grid," says Pizzurro.
The initial Community Energy Storage project was commissioned earlier in 2013 and two more will be built.
Batteries Included
These were just the two energy storage companies we visited but projects like these are happening everywhere. Different flywheels are getting built. Battery storage technology is being integrated into projects around the world such as this 5 megawatt project near Portland. Companies are developing large batteries to go with wind turbines or going even bigger and attaching a large battery farm to a large wind project.
Sustainable Energy Technologies in Calgary is developing inverters for home-based solar systems in Germany which are integrating a battery. They then sell the power back to the grid when the sun isn't shining so brightly in order to make more money.
As project after project succeeds or fails, the level of knowledge will increase and the engineering culture at the utilities and grid operators will gradually shift. There are clever, ambitious people out there doing exciting things, and with a $10 billion-dollar prize you can rest assured that someone will figure it out.
5 Things Canada Should Do To Be A Green Energy Power
Renewable energy projects require time and money to get off the ground. So if Canada intends to expand its green economy, says Robert Hornung, president of the Canadian Wind Energy Association, industry needs to have a sense of the size of the market for renewable for energy that governments want to create. In jurisdictions such as Ontario and Quebec, for instance, he says governments have done a good job of setting targets for the share of renewable energy to incorporate into the mix by 2015. But beyond that point, "the direction [...] is less clear." "It takes time to develop wind energy projects. If you're hoping that a wind energy project is going to be up and running in 2016 or 2017, you need to start working on that project in 2013," he said. "If there's no signal that there's actually going to be a market for these projects nobody is going to start doing that work."

With role models like Denmark and Germany, which have undertaken ambitious renewable energy policies with gusto, Canada needn't reinvent the wheel to become a leader in the green economy. But before looking overseas, environmentalists point to expanding what's already working within our own borders in provinces like Ontario, where the government has pledged to phase out coal energy by 2014 and create 50,000 green economy jobs by 2015. "We need more policies like in Ontario," said Tim Weis, director of renewable energy and efficiency policy at the Pembina Institute, a non-profit think tank based in Calgary. In Ontario, the sector is supported up by a feed-in tariff program that pays guaranteed prices for renewable energy, as well as subsidies for firms that manufacture renewable energy technologies in the province. But Weis says there is a need to develop a "broader and more consistent market" for green technologies. "Ontario is a big market and it's going to do well in terms of developing manufacturing capacity for wind and solar, but what we need is to expand that market to other parts of Canada so we have a bigger domestic market," he said.

What's one of the quickest ways to support the growth of Canada's green economy? Stop subsidizing the production of oil and gas, says Adam Scott, green energy project coordinator at Toronto-based Environmental Defence. At present, he says, subsidies for fossil fuel-producing sources of energy, particularly at the federal level, dwarf support for renewable energy -- which he sees as a major roadblock to advancement. "Everybody complains about why we are subsidizing green energy, but it's because we're trying to level the playing field with all these other subsidized forms of energy," he said. "Subsidizing fossil fuels really has a huge drag on the development of renewable energy." Putting a price on carbon that's consistent and country-wide would also help, says Tim Weis, director of renewable energy and efficiency policy at the Pembina Institute. "We need a market signal that levels the playing field and lets everyone know where we're going on this," he said. "It's pretty important that that happens at a national level so it's well coordinated across the country, and everyone is looking at the same picture."

Improving the energy efficiency of buildings and construction projects tends to be "the poor child" of efforts to grow the green economy, says Tim Weis, director of renewable energy and efficiency policy at the Pembina Institute. But if Canada wants to up game in the green economy arena, he says that must change. "[Improving energy efficiency] pays for itself, it has usually the fastest and the strongest bang for your buck in terms of actually reducing emissions and reducing energy, so it really needs to be at the top of the list," he said. That means developing more initiatives like the federal government's former ecoENERGY Retrofit program, which granted homeowners up to $5,000 to improve the energy efficiency of their homes by installing everything from better insulation to high-efficiency windows. The program expired at the end of last month. Though Weis says that particular program was "fairly successful," he estimates that 90 per cent of the homes in Canada could still benefit from an upgrade. "That's still a big area that we need to be working on nationally," he said.

"[The Conservative government] is always saying that Canada is an energy superpower, but they're very selective in what energy fits that bill," says Adam Scott, green energy project coordinator at Toronto-based Environmental Defence. As he sees it, getting serious about growing Canada's green economy will require federal support for renewable energy, and a national strategy for incorporating wind and solar into the overall energy mix. "Ontario is doing very well, Nova Scotia is developing renewable energy and some of the other provinces are looking at it, but without a national approach, Canadian companies are limited to [what] these local jurisdictions are doing," he said. This concern is shared by Ontario Energy Minister Chris Bentley, who says, "The world is going green." "I would have thought that every government that wants to support jobs and prosperity would want to participate in the green energy economy," he said. "I anxiously await their decision to be part of that in the future."
Follow David Dodge on Twitter: www.twitter.com/greenergy_dave