Electric Cars: The Fast and the Chargeable
Tesla, the pioneering electric vehicle manufacturer made the news recently and it wasn't about their cars or their flamboyant founder, Elon Musk. No, Tesla made the news because it paid off $465 million in government loans nine years early.
Not only that but Tesla also reported their first profit in 10 years. Tesla is also estimating that it will sell 21,000 units of its Model S, its family sedan, in 2013 and they're also working on an SUV and a new affordable EV for the masses.
When NAIT, Enmax, the City of Edmonton and the Solar Energy Society of Alberta decided to put on the Future of Transportation Symposium on April 27th it was probably the nerdiest show and shine in the world. There were sessions on making your own bio-diesel fuel and the carbon impact of electric vehicles versus hybrids versus gas powered cars. It was full of early adopters and it's a funny thing about early adopters -- they might get some of the details wrong but when it comes to the broad strokes they are usually right on. And it was also no surprise that the four Teslas on display were the stars of the show.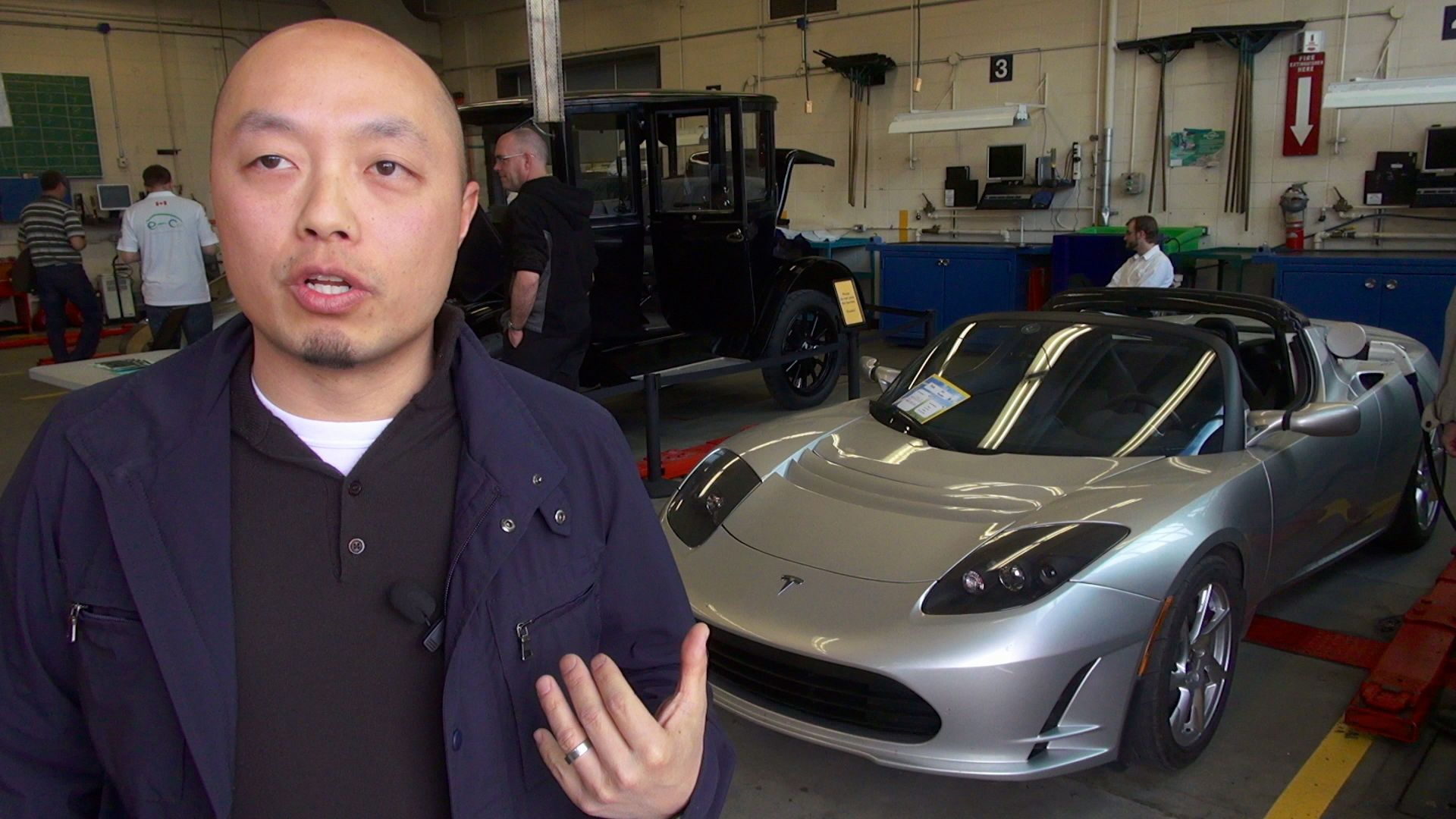 Tesla -- The mad genius
Ed Ma is a lawyer, an enthusiastic greenie and an early adopter when it comes to technology. He owns a 2011 Tesla Roadster 2.5.
"I think it's important for people to understand that electric cars are more than just golf carts, they are real, they are sexy, they have real world driving ranges now. And the pollution, I mean its zero tailpipe emissions," says Ma.
"I needed a car that I can drive all year round and that would give me real world driving ranges. We have a second property that we drive out to in the mountains so I need to know that I can go out there and back on one charge. So I drive it all year round and the fact that this is a supercar that I can drive all year round makes it that much more exciting."
When he says supercar he's not joking either. It goes from 0-97 km/h in 3.7 seconds. Having 970 pounds worth of batteries over the axels, winter tires and an excellent traction control system helps out with the winter driving as well.
This trip up to Edmonton to participate in the Tesla owners panel at the symposium was the furthest he had ever driven his car from Calgary.
"I knew from watching the gauges that I had enough to get here, but just enough. However in Red Deer there was a charge station that I stopped in for 30 minutes, which I normally do, and charged for half an hour and by the time I finished I got here with more than enough range," says Ma.
Ed Ma with his 2011 Tesla Roadster 2.5 at the NAIT Future of Transportation Symposium in Edmonton. Ma drives to the mountains and back on one charge and loves driving his Tesla through Calgary's snowy winters. Photo David Dodge

Chris Misch, VP of Sun Country Highway, an EV charger company based in Saskatoon, Saskatchewan. Sun Country created the world's longest network of EV chargers across Canada to confirm the arrival of the electric car in Canada and to celebrate the 50th Anniversary of the TransCanada Highway. Photo David Dodge

A Tesla Roadster owner talks about his electric sports car than can do 0 to 97 km/h in 3.7 seconds at the Future of Transportation symposium held at NAIT in Edmonton. Photo David Dodge

The Mitsubishi i-MiEV is the lowest price all-electric vehicle available in Canada today. It is also the most fuel efficient subcompact production vehicle by a wide margin. Photo David Dodge

In the first quarter of 2013 the Nissan Leaf became the second best selling electric vehicle in Canada behind the Tesla. The Volt is in third place. Photo David Dodge

The Chevy Volt was the top selling electric hybrid car in 2012, but sales of the Nissan Leaf and Tesla surpassed the Volt in the first quarter of 2013. General Motors is talking about a new version of the Volt that could be released next year and cost $7,000 less. Photo David Dodge

A Tesla Roadster at the Future of Transportation Symposium at NAIT. The event was put on by the Solar Energy Society of Alberta, the City of Edmonton, Enmax and NAIT in Edmonton.

Two NAIT Alternative Energy students calculated the emissions of various electric and hybrid cars at the Future of Transportation Solar Energy Society event at NAIT. As you can see the Tesla Roadster gets the equivalent of 119 mpg equivalent, which is fantastic compared to hybrids or gasoline cars, but not quite as good as the Misubishi i-MiEV the production car with the lowest emissions that the students looked at. Photo David Dodge

Alf White of Edmonton admiring a very old 1911 Detroit electric car at the Future of Transportation symposium held at NAIT in Edmonton. The car is from the Reynolds Museum. Photo David Dodge

Kassandra McLean a recent grad of the Alternative Energy Program at NAIT looked at the emissions of electric cars and hybrids and found the Mitsubishi i-MiEV to have the lowest greenhouse gas emissions of the electric cars. Photo David Dodge
Charge me up
That charge station he used was a Sun Country Highway CS90 at a Peavey Mart in Red Deer. Saskatoon-based Sun Country makes electric vehicle chargers and they too were at the symposium. When you're selling chargers for a product that hasn't really rounded the corner in terms of popularity there's a bit of a chicken or the egg dilemma.
Sun Country Highway had an ambitious idea to combat electric vehicle and range myths.
"We helped to fund and create the world's longest green highway," says Christopher Misch, a VP with Sun Country Highway. They did it in 2012, the 50th anniversary of the completion of the Trans-Canada Canada.
"We set up almost 80 chargers, publicly available level 2 chargers from St. Johns, Newfoundland all the way to Victoria, British Columbia. And then we drove this bad boy, an electric Tesla Roadster, in the middle of a Canadian winter just to prove a point."
Solar and EVs
It seems the early adopters of electric vehicles are also early adopters of solar energy. A recent California study found that 39 per cent of plug-in vehicle owners also have solar photovoltaic systems.
Adam Gagnon of Calgary is one of this hardy breed of early adopters as well. He's a market development manager for Calgary's municipal utility Enmax. He leases a Nissan Leaf EV and just recently installed eight solar modules on his roof.
"Solar and electric cars work great together. It's a great opportunity to generate clean power for your electric vehicle and to me it just made sense to put the solar panels on my garage and have the whole thing as sort of a package," says Gagnon.
"When I am not there it generates power and puts it on the grid. And at night I take the power basically back off the grid and into my electric vehicle."
The connection between electric cars and the solar community was obvious at the Future of Transportation event which was sponsored by the Solar Energy Society of Alberta. There were solar installers there and even a solar cooker demonstration where they were making chocolate chip cookies.
EV emissions and what would you buy?
Talk about electric vehicles enough and you'll run into the upstream emissions argument - that if you're getting your electricity from a dirty and greenhouse gas heavy source, like coal, that your electric vehicle really isn't helping.
It turns out that's wrong. Even with Alberta's coal-fired electricity grid - one of the most greenhouse gas intensive electricity grids in the country.
That nugget comes courtesy of Kassandra McLean, a new grad of NAIT's Alternative Energy program. She crunched the numbers for every vehicle that was at the symposium, taking into account both tailpipe and upstream emissions.
The production vehicle that emits the least greenhouse gas emissions: The Mitsubishi i-MiEV.
"The Leaf came in close second and the Tesla came in higher because it's not meant to be a high efficiency car. It's a sports car. But even then it was significantly less than a number of the other cars we looked at," says McLean.
So given her knowledge of fuel efficiency, what car would this graduate of the NAIT alternative energy program buy?
"Because I'm a student I have to look at cost. I can't just go out there and get a nice new Chevy Volt or a Tesla, you know I can't do it. So I have to consider what can I get that's in my budget that's also going to be the most fuel-efficient. I was looking at getting a Chevy Spark and then I was looking at getting a Fiat, then a Kia Rio," says McLean. These are not hybrids or electric vehicles, but fuel sipping gas powered subcompacts that are approaching 60 mpg on the highway.
We also asked her what she would advise her parents to buy. Her response - a Chevy Volt or a Mitsubishi i-Miev.
And if you've got means?
"If you're rich and you've got money to burn Tesla, no doubt. That thing is beautiful, you've got an incredible 0-60, they're gorgeous to look at. Yeah, without a doubt, Tesla."
And so there you have it, from the mind of a new graduate of NAIT's Alternative Energy program, the future of transportation, summed up in a young consumer's decision-making process.
Follow David Dodge on Twitter: www.twitter.com/greenergy_dave