When Diseases Spread Faster Than Vaccines, Children Pay The Price
When the only thing standing in the way of saving a child's life is a lack of money, we need to collectively pause and reflect on our priorities as a global society.
Last year, a funding shortfall to one of the most successful global health programs in history, meant that 40 million children were left unprotected from one of the most contagious diseases the world has ever known: Measles.
Investments in the measles vaccine are considered one of the best buys in global health. Yet we are still coming up short and failing the world's most vulnerable children.
A leading cause of death among children worldwide, measles affects 20 million people each year, and complications from the disease kills 315 children every day.
Those statistics may be shocking. But even more shocking is the fact that we have had a safe, effective, and cheap vaccine against measles for more than 50 years.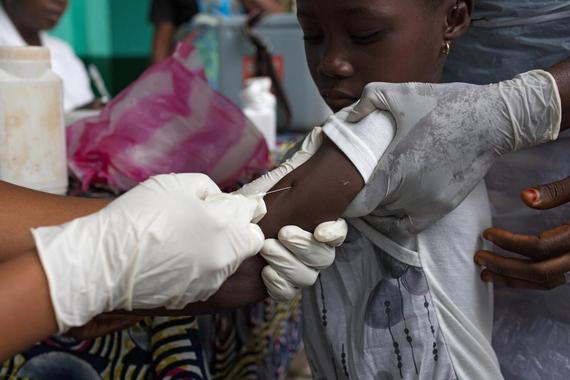 We know how to protect against measles and we have the tools to do it. In fact, at less than $2 each in low-income countries, the measles vaccine is one of the cheapest to deliver. Investments in the measles vaccine are considered one of the best buys in global health. Yet we are still coming up short and failing the world's most vulnerable children.
UNICEF vaccinates 40 per cent of the world's children from a multitude of deadly illnesses and co-founded the Measles & Rubella Initiative (M&RI). This initiative has been working since 2001 to protect almost two billion children across 88 countries through vaccination. The results have been nothing short of remarkable.
Between 2000 and 2014, we've seen a 79 per cent reduction in global measles deaths due to large-scale vaccination campaigns. That equates to 17.1 million deaths prevented, and most of these in countries where children have poor access to medical care and where options for treatment would be limited should they contract the disease.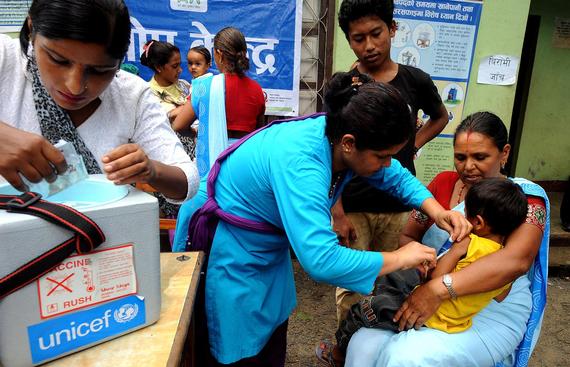 Canada has played a key role in making that happen. In total, Canada has contributed nearly $47 million to the Measles & Rubella Initiative since 2002, and has been an outspoken leader in the effort to eliminate measles completely.
And, by matching funds donated by UNICEF supporters in a major drive last year, the Government of Canada will help with the purchase of measles-rubella vaccines for nearly 300,000 boys and girls in Haiti. This will support the Expanded Programme on Immunization in Haiti, promoting quality health care services for children and improving routine vaccination coverage to at least 90 per cent coverage in the country.
The last week of April is World Immunization Week, a chance for all of us to remember the more than 1.5 million children around the world who die annually from diseases that can be prevented by immunization, and to help refocus public attention on the importance of vaccination for all -- particularly those who are consistently excluded.
Through the Global Vaccine Action Plan, UNICEF and our partners have outlined clear goals for expanding immunization coverage globally: for every country to ensure that at a national level, 90 per cent of children under one year of age are reached through routine immunization, and at least 80 per cent in every district or equivalent administrative unit, by the year 2020.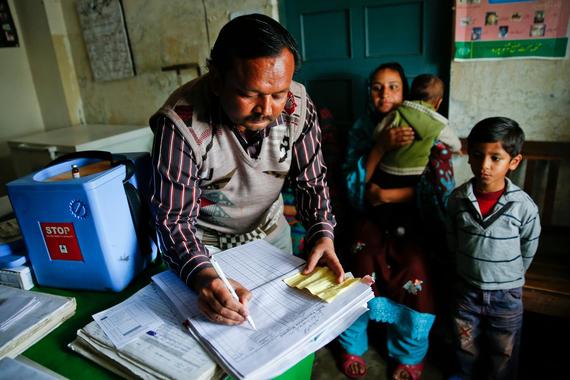 But it's going to take concerted effort on everyone's part to get there, including Canada's. The Government of Canada recognizes the value of immunization in saving lives, which is why our country has a long history of support towards eradicating polio, maternal and neonatal tetanus, and measles, to name a few.
Building on this history, UNICEF is calling on the Government of Canada to support the eradication of measles through a $75 million contribution to M&RI over five years.
This will help save millions of children's lives.
You can't put a price tag on that.
Follow HuffPost Canada Blogs on Facebook
ALSO ON HUFFPOST:
Everything You Need To Know About Measles
The measles, also known as rubeola, is spread through coughing, sneezing and breathing. Symptoms include fever, cough, runny nose, red eyes and sore throat. This is then followed by a red, blotchy skin rash.

Although the measles are highly contagious, they are not common in Canada and the U.S., which is why the recent outbreak is so worrisome. Today, the measles are common in Europe, Asia, Africa and the Pacific. The virus spreads when infected people travel abroad.

If your child's fever lasts for at least three days and they have a cough, catarrh (nose and air passages are filled with mucus), or conjunctivitis (pink eye), then they likely have the measles. Tiny white spots on the inside of the mouth, known as Koplik spots, will also appear, usually two days before the measles rash occurs.

This is because the measles can lead to serious complications, including pneumonia, encephalitis (swelling of the brain), and death. According to Mayo Clinic, the measles kills more than 100,000 people a year, most are under the age of five.

There is no specific treatment for the measles because it's caused by a virus. When someone is infected with the measles, their symptoms don't show until 10 to 14 days after exposure. The infected individual is then kept isolated and treated for things like lack of vitamin A, protein deficiencies, respiratory tract infections, eye-related complications and dehydration through diarrhea. Most people will recover from the measles within two to three weeks. However, between five and 20 per cent of people who contract the disease die from complications.

The measles vaccine is known as the MMR shot (measles-mumps-rubella) or the MMRV shot (measles-mumps-rubella-varicella). Two doses of the vaccine can protect you for life as the first has 85 to 95 per cent efficacy and the second is almost 100 per cent.

The second shot is then given between the ages of four and six.

This is because pregnancy changes your immune system. Thus, pregnant women who have not yet received the vaccine should wait until after they give birth.

Infectious disease specialist Dr. Michael Gardam recommends receiving the second vaccination within 72 hours of exposure to the virus. "It is really incredibly contagious and it's spread through the airborne route," he says. "So I don't have to touch you, or come even close to you -- if you're breathing the air that I just exhaled, you can get infected."

So far there have been six confirmed cases of the measles in Toronto -- four adults and two kids under the age of two. Thankfully, this is significantly lower than last year's outbreak in British Columbia, where 433 cases were reported. Additionally, there is one case of the measles in the Niagara region. The infected individual is an unvaccinated, female adult who had recently visited Toronto. One case has been reported in Manitoba.
Follow David Morley on Twitter: www.twitter.com/dmorleyunicef