Canada Is Ready For a Transformative Energy Experience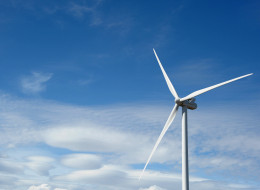 Some people think a widespread shift from fossil fuels to cleaner energy sources is not practical or even possible. You've probably heard the arguments: wind doesn't always blow, sun doesn't always shine, the technology's not advanced enough, installations take up too much space, we need sources of baseload power that can only come from fossil fuels or nuclear power. And so we carry on, rushing to squeeze every last drop of oil and gas from the ground using increasingly difficult and destructive methods like fracking, deep-sea drilling and oil sands extraction, with seemingly little concern for what we'll do after we've burned it all.
A lot of research is challenging those skeptical assumptions, including some by the David Suzuki Foundation, working with the Trottier Energy Futures Project. "Canada has vast renewable energy resources in the form of hydropower, solar, wind energy, and biomass, as well as geothermal, wave, and tidal resources that are many times larger than current or projected levels of total fuel and electricity consumption," the recent Trottier report, "An Inventory of Low-Carbon Energy for Canada," concludes.
Those findings are confirmed by research and experience elsewhere in the world. A study by engineers at Stanford University reports, "it is technically and economically feasible to convert New York's all-purpose energy infrastructure to one powered by wind, water and sunlight," and doing so "shows the way to a sustainable, inexpensive and reliable energy supply that creates local jobs and saves the state billions of dollars in pollution-related costs."
An article in the New York Times points to research by the Paris-based International Energy Agency, showing, "Thirteen countries got more than 30 per cent of their electricity from renewable energy in 2011."
The Stanford study's lead author, engineering professor Mark Z. Jacobson, told the New York Times, "You could power America with renewables from a technical and economic standpoint. The biggest obstacles are social and political -- what you need is the will to do it."
It would be even less of a challenge in Canada. Thanks in part to our abundant hydro resources, we produced more than 63 per cent of our electricity with renewable sources in 2011. The U.S. produced 12.3 per cent.
The biggest obstacles in shifting to clean energy may be social and political, but one of the greatest challenges is creating a "smart" electricity grid. As Trottier Project managing director Ralph Torrie says, we'll have to replace our antiquated grid with one that "will use information technologies to balance a wider range of supply sources, energy storage, interprovincial transfers of electricity and a wide variety of energy management and efficiency tools." Because the current system is due for an overhaul, now is an ideal time to invest in reconfiguring it.
Other challenges include the costs and the impacts of renewable energy installations on ecosystems and wildlife. And with biofuels, the sustainability of source materials and effects on land and food supplies must also be considered. But these are far from insurmountable. Fossil fuel and nuclear power sources are also extremely costly and have far greater environmental impacts. And many studies show that moving to renewables creates jobs and contributes to economic health.
The recent Trottier study looked at Canada's potential in the context of reducing energy-related greenhouse gas emissions by 80 per cent by 2050 -- a necessary target if we are to do our part to combat climate change. Reaching that target will also require becoming more efficient in the ways we produce and consume fuels and electricity. This means looking at our individual behaviours as well as considering our habits and practices for everything from public transportation to building design to manufacturing.
Sure, it will be a challenge. But the alternative -- to carry on polluting air, water and soil and putting our future at risk with global warming -- isn't pretty. We've faced and overcome many challenges before. When people have mobilized resources in the past, we've been able to accomplish a lot in relatively little time -- from defeating the fascist threat in the Second World War to putting people on the moon.
Finding smarter ways to power our societies is something we can and must do.
Written with contributions from David Suzuki Foundation Communications Manager Ian Hanington.
Learn more at www.davidsuzuki.org.
Top U.S. Renewable Energy Sources - 2011 (MOST RECENT DATA)
Renewable energy made up 9 percent of all energy consumed in 2011, according to the U.S. Energy Information Agency, and that number is predicted to grow throughout the next decade. Here's a breakdown of the top sources of renewable energy in the country, from wind to water and everything in between. Information courtesy of the U.S. Energy Information Agency.

Solar power and photovoltaic cells make up the smallest percentage of U.S. renewable energy production, but its future looks fairly promising. Warren Buffett's Berkshire Hathaway invested $2.5 billion in Calif. solar company SunPower earlier this year. Also, unlike other sources of renewables, energy can also be generated by small-scale solar installations (like on the rooftop of a home or business), and declining costs have made solar much more affordable. Information courtesy of the U.S. Energy Information Agency.

Geothermal power captures naturally occurring heat from the earth to turn it into power. The renewable source is geographically dependent, but the Western half of the U.S. has many promising locations for power plants, like The Geysers in Calif., the largest geothermal power plant in the world. The U.S. is the largest producer of geothermal power on the planet, but growth hasn't kept up with wind or solar development in recent years. Information courtesy of the U.S. Energy Information Agency.

Believe it or not, burned garbage accounts for 5 percent of all renewable energy created in the U.S. each year. More than 29 million tons of municipal solid waste was burned in 2010 to create steam to spin turbines and generate power, and there are more than 75 waste-to-energy plants in the country. Emissions regulations have been in place at waste incineration plants since the 1960s, but the EPA warned in a 2006 report that the toxins released during the process could pose a serious environmental risk if not strictly enforced. Information courtesy of the U.S. Energy Information Agency.

The amount of wind power has grown for each of the past three years throughout the U.S. and accounted for the largest growth in capacity of any energy resource in the country last year. Wind turbines now supply more than 50,000 megawatts a year, enough to power 13 million homes, according to Reuters. Federal tax credits, which were set to expire at the end of 2012, have made wind farms an attractive form of renewable energy. Congress approved an extension of the credits through the end of 2013. After production, wind turbines are net zero, meaning they require no energy and produce no emissions. The only problematic thing generated in some cases other than clean power has been a whole lot of noise. Information courtesy of the U.S. Energy Information Agency.

Biofuels, like ethanol, are created from organic matter like corn or soybeans. Gasoline in the U.S. contains 9 percent of the resource by federal mandate under the Renewable Fuel Standard program, and more than 40 percent of the corn crop last year was turned into biofuel. The resource is slightly more unstable than other renewables because it depends on the productivity of farms - drought or other environmental problems can significantly lower yields and increase prices. On average, ethanol has 20 percent fewer emissions than traditional gasoline but some types, like cellulosic ethanol, cut greenhouse gas emissions more than 85 percent, according to the U.S. Department of Energy. Information courtesy of the U.S. Energy Information Agency.

Timber accounts for nearly a quarter of all renewable energy created in the country. Rising energy costs have led to an upswing in wood burning over the past decade, and nearly 20 percent of New England homes use wood for heating, according to a National Geographic report. Although it may be a cheaper alternative, wood burning stoves and fireplaces release more emissions of fine particles than other home heating methods, according to the EPA. Burning good wood in an efficient burner lowers toxic emissions and lost energy. Oh, and always have working smoke and carbon monoxide detectors handy. Information courtesy of the U.S. Energy Information Agency.

Almost all of the current hydroelectric power plants in the U.S. were built before the mid-1970's, but it's still the highest producing renewable energy source in the country. In 2011, 8 percent of all power created in the U.S. came from hydroelectric sources, but it's also one of the most geographically dependent sources of energy. The Pacific Northwest gets more than half of all power via hydroelectric due to prime geography. Information courtesy of the U.S. Energy Information Agency.

Watch this TED talk on the missing link in the future of renewable energy.
Follow David Suzuki on Twitter: www.twitter.com/DavidSuzukiFDN