How To Build A Reading Corner In Your Home
Thursday is International Literacy Day, a chance to celebrate the power of reading in children's lives. If you're a book-lover yourself, you may remember curling up with your latest childhood treasure (it was Anne of Green Gables for me!)
With your kids back in the classroom, processing new information every day, you may wish you'd kept them reading more this summer. You're not alone. In a world of video games, YouTube, and social media, many Canadian families find that books stay shut on the shelves.
If your September resolution is to help your kids read more books, I have a suggestion. Why not consider building a reading corner in your home? I'll tell you how in a moment, but first, here's some evidence that it's worth the effort.
Reading corners work. Everywhere.
Reading corners are helping families improve reading all over the world -- even in countries where poverty rates are high. Programs like Literacy Boost , created by Save the Children and run in partnership with World Vision, help children read more at home, something that's critical for success in school.
In Ethiopia, ten-year-old Seble loves spending time in the reading corner she and her grandfather have made together. It has a small desk and bench for Seble to sit on, while doing her silent reading. The nook has no book shelf, but Seble has strung a 'book line' between her walls.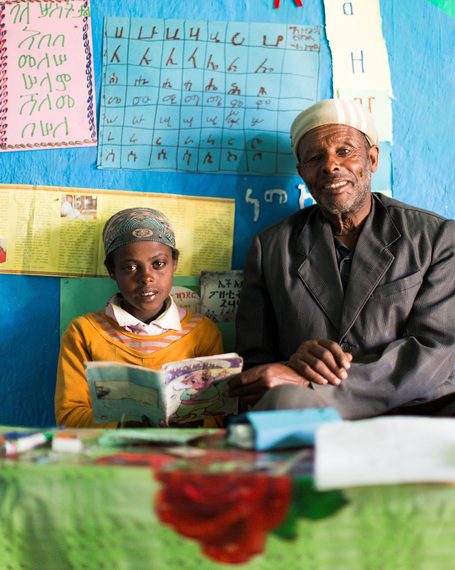 Seble's reading has improved since they built the reading corner, says her grandfather. Photo/Max Greenstein, Matter Studio
Half a world away, in India, eight-year-old Sakhi has a reading corner of her own. Here, she stores the activities she's completed, and the treasured books that she's borrowed from her Literacy Boost reading club.
"I like reading the most," says Sakhi. "But I also like the activity where we draw or write something we learned at the reading club. We take it home and store it in our reading corners."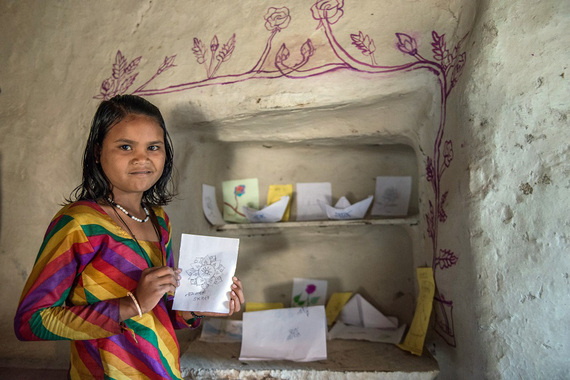 Sakhi in her reading corner, which she's decorated to reflect her personality. Photo/World Vision
A global learning crisis
Reading corners -- and other measures like them -- have come just in time, say those who work with children in developing countries.
"There is a global learning crisis," says Linda Hiebert, World Vision's partnership leader for education and life skills. "Even with greater access to schools, 250 million children are completing Grade Four without basic literacy skills."
The reasons for the gap are understandable, but heartbreaking. Frequent illness, natural disasters, or the need to earn money to help support the family can all interfere with children's dreams of learning to read. School attendance suffers, meaning students get less reading time. They fall behind, lowering self-esteem.
Then there's the lack of engaging reading materials, written in children's native tongues. A school system may require that students learn to read in a language they have yet to learn -- English or French, for example. This can be overwhelming, especially when a hungry child is struggling to concentrate.
Literacy Boost's reading clubs -- along with its sessions for parents and caregivers supporting young readers -- are making a measurable difference. A key part of the success? Making child-friendly books available for loan, so children can read at home.
Why reading corners work
Whether overseas or here in Canada, having a simple reading corner in your home can work in three different ways:
Help young brains switch on for reading: Knowing that there's a comfortable, quiet, fun place just for reading can often make all the difference.
Add power to the primary years: Reading corners help boost children's reading during those early, foundational years, so they can understand and remember the tougher material later in school.
Increase the 'brain food' in your home: Believe it or not, studies have shown that the volume of mentally stimulating content in your home may predict the structure of a child's brain later in life. Books are most definitely brain food!
How to build a reading corner
"Reading corners can be as big or small as a family's budget dictates," says Craig Geddes, World Vision's literacy program manager. You can make a reading corner in your home in three simple steps:
Pick a cozy spot where your child can display their favorite books and crafts. Make sure the space is well-lit and that there's a comfortable place to sit (a pillow will do or you could use a small table and chair).
Together with your child, decorate the reading corner. Your imagination is the only limit. You can add a shelf to display books; hang yarn or string between two corners and use clothes pins to display arts and crafts; and make your own literacy games with materials you might already have in your home (like this special version of Snakes and Ladders).
Sit down together in the reading corner and enjoy a good book!
This last is perhaps the most enduring legacy of a designated reading corner. Seeing it is a reminder to parents to switch off the computer, and put down that cell phone. Then take a few minutes to read with your children.
They could be the best moments of your day.
Give the gift of improved education to children overseas through World Vision's new You Decide web page.
With files from Bryna Jones
Follow HuffPost Canada Blogs on Facebook
ALSO ON HUFFPOST:
Matilda, by Roald Dahl Matilda is a star pupil at school who is popular with her classmates but life looks a lot different when she's at home or dealing with the school principal. Fortunately, Matilda is a resourceful, smart girl, and has a few tricks up her sleeves to deal with life's annoyances.

The Handmade's Tale, by Margaret Atwood In a dystopian future, Offred, a handmaid in the Republic of Gilead, is desperate to escape her prison — a home where she and other handmaids only exist to give birth. As she remembers her life before imprisonment — a life with her husband and daughter — she thinks about whether she can make one of the most important decisions that could have fatal consequences.

Watchmen, by Alan Moore and Dave Gibbons A group of super heroes have fallen from grace. Meanwhile, a silent assassin is stalking the group, picking them off one-by-one as the U.S. and Russia prepare to start a nuclear war. Alan Moore's incredible graphic novel inspired thousands of fans and a movie.

The Joy Luck Club, by Amy Tan Four Chinese women meet up regularly in San Francisco to eat dim sum, play mahjong and talk — they call themselves The Joy Luck Club. Forty years later, their stories continue, and the connection between mother and daughter is shown in all its complexities.

Love in the Time of Cholera, by Gabriel Garcia Marquez Florentino Ariza and Fermina Daza fall in love, but then Fermina marries a wealthy doctor. Heartbroken, Florentino engages in many affairs, but always pines for her first, true love. Then, the doctor dies, and Florentino attends the funeral. More than 50 years later, he attempts to win back Fermina.

It, by Stephen King The children felt IT; the adults didn't have a clue. Even after they moved away and grew up, the children couldn't escape IT and the terror IT wreaked on the town of Derry, Maine.

The Alchemist, by Paulo Coelho A shepherd boy named Santiago travels from his home in Spain to the Egyptian desert in search of treasure buried in the Pyramids. During his journey, Santiago encounters a Gypsy woman, a man who calls himself king and an alchemist — each of whom point him in the direction of his quest. Along the way, he discovers that he maybe shouldn't try to find the physical treasure after all, but the treasure within.

The Polar Express, by Chris Van Allsburg This classic holiday book was awarded the Caldecott Medal in 1986 and continues to delight fans both young and old.

Scary Stories to Tell in the Dark, retold by Alvin Schwartz, illustrated by Stephen Gammell One of the scariest books of our childhood, Scary Stories is now a classic — albeit one that will keep you up all night with the light on.

Maus Book 1: A Survivor's Tale: My Father Bleeds History, by Art Spiegelman A cartoonist attempts to tell his father's story of what life was like as a Jewish prisoner during the Holocaust, and afterwards, as a survivor. The author ends up telling his story too, a difficult task when the father and son don't have a great relationship and the son is dealing with survivor's guilt.

A Light in the Attic, by Shel Silverstein This classic book combines whimsical poetry and illustrations that both children and adults can enjoy.

The Vampire Lestat, by Anne Rice The second volume in Anne Rice's Vampire Chronicles, Lestat follows a former aristocrat who grew up in pre-revolutionary France. Now, he's a rock star in the 1980s and is searching for others just like him.

Ender's Game, by Orson Scott Card Andrew "Ender" Wiggin is a legend at Battle School, where young children are taught to play war games. But what he doesn't realize is that the games are real — an attempt to save Earth from "the buggers" — and only Ender can save them.

Number the Stars, by Lois Lowry It's 1943, in occupied Copenhagen. Annemarie Johansen and her best friend Ellen Rosen, both 10-years-old, reminisce about life before the war, as they watch Nazi soldiers march through the streets. Ellen moves in with the Johansens after the Jews of Denmark are "relocated" and Annemarie is asked to go on a dangerous mission to save her friend's life.

Lilith's Brood, by Octavia E. Butler Lilith Iyapo is resurrected by powerful beings — the Oankali — centuries after war destroys Earth. The Oankali attempt to rescue Earth by merging genetically with humans, but now, Lilith and all of humanity must share the world with aliens: their children.

Love You Forever, by Robert Munsch A beautiful story about a parent's love for their child, Love You Forever captures a universal sentiment about the bond between parents and their offspring.

The Color Purple, by Alice Walker The Pulitzer Prize winning novel follows the lives of women of colour in the southern U.S. in the 1930s. The story focuses on Cellie, a woman who grows up dealing with the rape and abuse by her father. Cellie only wants to protect her sister, Nettie, who ends up escaping to Africa. After being sold as a child bride to an older man, Cellie faces a long life of abuse and hardship.

Batman: The Dark Knight Rises, by Frank Miller This instant classic shows a new, rougher Gotham City, ten years after Batman's retirement.

The Witches, by Roald Dahl Real witches are in town and they have a terrible plan to get rid of the people they hate the most: children.

The Lord God Made Them All, by James Herriot If you're an animal lover, it might be because you read James Herriot's classic book.The Yorkshire veterinarian tells heartwarming stories about animals and pets, both big and small.

Tracks, by Louise Erdrich A story about deep unrest as Indian tribes struggle to keep what little remains of their land.

The Secret Diary of Adrian Mole, Aged 13 3/4, by Sue Townsend It's a tough life for Adrian Mole. His first love, Pandora, has left him; a neighbour seems to be seducing his mom and the BBC refuses to publish his poetry. WTF?