A Simple Snow Angel Can Show Your Support For Peace In Syria
It was my first week in Canada, and I was seven. We had arrived in winter, and the new tights my mother had bought for me were baggy. I felt them wrinkling up around my feet as I sunk into my desk at the new school. Just one more reason to feel uncomfortable.
My teacher told me to stand and sing "Oh Candy!" with the rest of the class, so I nervously rose to my feet. It was really "O Canada!", although I didn't understand at the time what that meant. As a newly landed immigrant, I was feeling very lost.
At recess, a girl named Sherry Johnston taught me how to make an angel in the snow using my whole body. There was no snow in my home country of South Africa, but I knew about angels. They were a symbol of peace and hope. Lying there, looking up at the snowflakes swirling thick and fast toward me, I had the sense that things might be okay.

Snow angels for Syria
Flash forward to today, when thousands of Syrian families are far from all that's comfortable and familiar. Some are cowering in besieged villages inside Syria's borders. Others are sleeping on the run on their way to safety. Still others are beginning anew here in Canada, struggling, like I did, to feel that they belong.
If there's snow where you are this week, you can do something simple to help. Perhaps you're heading into the snow to ski, sled or skate. Wherever you're at, there's something you can do to send a message of hope and peace to Syrian families.
Could you take a few minutes to make a Snow Angel for Syria? It might seem like a small thing, but you'll be part of a national gesture of solidarity and support for the children of Syria.
Here's what World Vision is asking you to do:
Start your phone or camera rolling.
Say who you are and where you are from.
Share a quick message -- ask Canada to be a leader in the peace process, for example, or whatever else inspires you about helping Syrian families.
Create a snow angel -- and take a minute to look up at the sky above you.
Share the message on social media. #SnowAngels4Syria, #WorldVisionCan
Why your angel is needed
March 15 marks five years since the start of the Syrian conflict. Any Syrian child who is five years old or younger was born into war and has known nothing else. I think it's fair to say that most Syrian children age eight or younger can't recall what life was like before the war.
Now, imagine these children trying to make it through the harshness of winter. I battled with my uncomfortable baggy tights -- but at least I had tights to wear. Syrian children in refugee camps are navigating the deep snow in thin shoes and nowhere near enough winter clothing.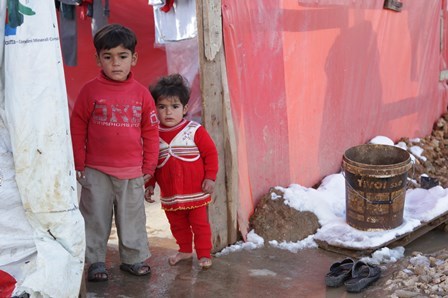 In Lebanon Abd Al Kader and his little sister Mona are living in temporary shelter with their family. Mona doesn't have any winter boots, so she stays inside all day. World Vision photo
Encouraging the peace process

Last week in Munich, a 17-member collection of global leaders agreed to a plan for the cessation of hostilities in Syria -- and to accelerate and expand aid deliveries. But World Vision believes there are additional steps that can and should be taken to end this conflict.

"Canada has an opportunity to demonstrate leadership with the international community," says Michael Messenger, president of World Vision Canada. "Our country can help to ensure unhindered humanitarian access to Syrian families in need, and to champion the peace process."
"Peace is the only solution for ending a humanitarian crisis that jeopardizes the future of millions of children," says Michael.
Peace is the only solution. And your angel can help send that message. Please take five minutes and make a Snow Angel for Syria today.

In Lebanon, Syrian refugees Faysal and Aziza sometimes can't sleep because of the heavy snow. Their parents stay up all night to clear the snow from their tent, to prevent collapse. World Vision photo
Follow HuffPost Canada Blogs on Facebook
MORE ON HUFFPOST:
Great Things Canadians Have Done So Far For Syrian Refugees
Joe Woodsworth, a senior manager with Surrey, B.C.-based Options Community Services picks up dozens of backpacks, each filled with school supplies for Syrian children. Operation Backpack is the idea of former 24Hours columnist Laila Yuile.

Malak arrived with her family in July after living in a Jordanian refugee camp for two years. Her teeth were so decayed the 5-year-old girl was kept up at night because of the pain until a local dentist stepped forward to help the family for free.

"Hopefully, together, we can prove that Canada in general and the Maritimes in particular are as generous and welcoming as the rest of the world thinks we are," P.E.I. artist Amy Seymour told HuffPost Canada.

In November, the Edmonton Oilers captain gave $10,000 to Edmonton's Mennonite Centre for Newcomers to support their work in helping to resettle incoming Syrian refugees. The donation helped the group meet its two-month goal in a single day.

The Guelph businessman made headlines last month after stepping forward to say he intended to spend $1.5 million to privately sponsor 50 Syrian refugee families to come to Canada. Estill explained he was tired of seeing refugee applications get snarled in long, bureaucratic processes. "I'm a businessperson, I'm very impatient, and we should just do it now," he said.

"It's really good to know that we're so compassionate and that we want to help," said Darrell McLeod of St. Clare's refugee family sponsorship group. "Everybody's very excited about it. Everyone's been really excited to make things happen."

Westbank Developments founder Ian Gillespie is behind many of downtown Vancouver's glitziest skyscrapers.A descendant of Irish immigrants, he made a pledge in November to furnish a 12-unit West End apartment complex and open it to incoming refugees. He also said he's exploring ways to help Syrians get jobs after they arrive in the city.

A small group of from the Keewatin Otchitchak traditional women's drum group gathered by baggage carousels to greet 17 Syrians to Treaty 1 with a song of welcome.

"I need to point out that the people who are desperate refugees are fleeing from the exact same people who perpetrated the kind of violence we saw in Paris and Beirut last week," the Calgary mayor told reporters a week after deadly attacks in France and Lebanon. "They're running away from the bad guys and, as such, we need to be able to open our arms to make sure that we can provide safety to these folks."

Christine Youssef (pictured) greets newly arrived Syrian relatives on a bus near Pearson International Airport in Mississauga on Dec. 11. Youssef and her mother are sponsoring 43 of their Syrian relatives to come to Canada. Thirteen have arrived and are staying at the family's small Scarborough, Ont. bungalow. Soon, nine of the relatives will move out, making room for more relatives to come in.

When CBC News reporter Eman Bare interviewed Mohamed Al-Noury, 21, and Athar Farroukh, 23, she realized the Syrian refugee couple had no wedding pictures. So Bare put a callout on soical media to surprise the high sweethearts with a wedding. Her request spread and within 24 hours people came forward donating a venue, suit, dress, and cake. "Grateful for a community that makes beautiful things happen," wrote Bare on Instagram below a photo taken at the couple's Saskatoon ceremony.