This International Women's Day, Think Of Syria's Mothers
Mother Bareaa, her husband, Hisham, and their daughters Sedra and Judi, couldn't wait to connect with other Syrian families. World Vision Photo
I recently finished reading the book Room on which the Academy Award-nominated film was based. In it, a mother raises her young son under unthinkable circumstances: a tiny room in which they were both held captive.
As I closed the book, I was left with a sense of awe for what "Ma" had somehow managed to provide for her little boy Jack during five years in captivity. The mother had almost nothing to work with and unimaginable cruelty and deprivation to contend with.
But Ma used all of her resources, her love, her patience, and her creativity, to raise an intelligent, compassionate child with an unshakable sense of his worth. Jack eventually emerges from the room with the capacity to embrace the world and prevail.
Meeting mothers from Syria
I had much of the same feeling last Saturday, but this time, the mothers were real-life and standing right in front of me. They had all recently arrived from the Middle East having escaped Syria, and had come to a giant play date organized by World Vision and the Mennonite Central Committee for their families.
In some ways, the play date had a lot in common with a typical Canadian party. There were craft tables, face painting, and a bouncy castle. How many times have I stood talking with moms at similar events, while our children played? But in other ways, Saturday couldn't have been more different.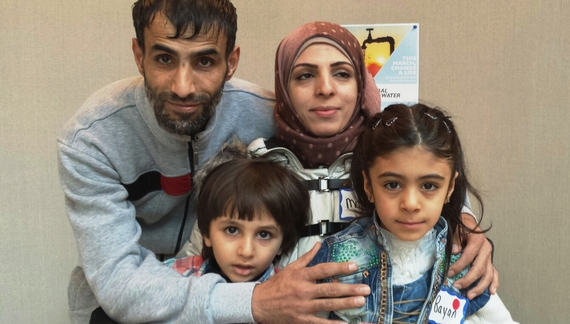 I met Manal (top right) and her family shortly after they arrived at the playdate. The way daughter Bayan (right) ran for the bouncy castle, you'd never think she spent a year-and-a-half in a refugee camp! World Vision photo
Many of the families knew very little English, so spoke with me through translators. Some had been in Canada only a couple of weeks. Others had been here longer, but hadn't met any other Syrians in the towns where they're living. The mothers greeted one another with a sense of immediate recognition, even if they'd never met before. For in a way, they knew one another already.
The wonder of mother Bareaa
Bareaa's name means "a wonderful thing," and the name fits. I've never met a woman so generous with her warmth, her smiles and her hugs. Despite the cruelty and deprivation she's endured, Bareaa was so quick to see and feel the joy that she could see all around her. And do everything that she could for other Syrian refugee mothers and their children.
"Sister, I came today because I wanted to meet other Syrians," Bareaa, told me. "I want to help them with anything they need. My sponsored family gave me so very much -- and I want to give some to others."
Beyond thanking and hugging any Canadian she spoke with, Bareaa was looking out for the other Syrian children at the play date.
"All of the children are happy and smiling," she said, her eyes filled with joy. "I can see that they are doing well."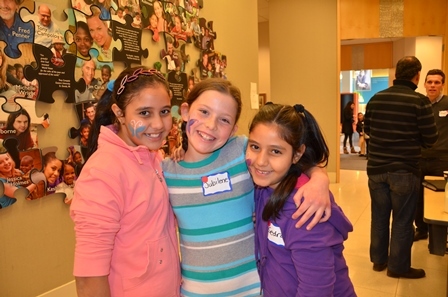 Bareaa's girls, Judi and Sedra, made a new friend on Saturday, Jubilene of Toronto. World Vision photo
Because the play date was a happy event, I didn't want to spoil things by asking painful questions. But as the children ran and played together, I found myself looking over at the mothers, watching them.
Some of the moms in the room may have clutched their babies while running from gunfire and bombing. Others may have prayed as they spent months living in a tent wondering what possible future lay ahead for their children. And without a doubt, every woman in the room used all of her resourcefulness to keep her children warm, fed and comforted.
"Bravo, sister. I honour you. I would do anything to take away some of the pain that you've experienced. And I know that I'll never understand what you carry around inside."
Many of the women carry memories that their new friends in Canada may never be able to understand. Bareaa shared one story.
"When we were in the crowds, leaving, we saw one woman running with a cushion," she tells me. "She was carrying a cushion." I kept listening, curious. Of all the things to bring with her during a sudden exodus, why did this mother choose a cushion? I soon realized I was processing this story as someone who's never experienced the shattering effects of war.
"She thought she had grabbed her little boy," explained Bareaa, her warm eyes filling with tears. "She looked up suddenly and said to us 'It's not my son!'"
I needed to step away for a while, and pull myself together before returning to the party.
My message to Syria's mothers
I didn't get to tell the mothers at the party everything that I wanted to. And there are thousands of Syrian mothers living in Canada whom I'll never meet at a play date.
Here's what I want to say to each one of them:
"Bravo, sister. I honour you. I would do anything to take away some of the pain that you've experienced. And I know that I'll never understand what you carry around inside."
"But your children -- they're so beautiful. And you've used all of your resources -- your love, your patience, and your creativity -- to keep them alive and healthy. You've taught them when there was no school and comforted them when there was nothing comforting to say. You've made 'home' in camps, tents, and on the side of the road."
"I will do whatever I can, through my donations, through my prayers and through my writing, to help carry your children to safety and happiness."
This International Women's Day March 8, please join me in thinking of Syria's mothers.
ALSO ON HUFFPOST:
International Women's Day Reads
I Am Malala, by Malala Yousafzai as told to Christina Lamb. Malala needs no introduction. She is an incredible advocate for girls and their right to education. Malala came close to paying the ultimate price for her beliefs when she was shot at point-blank range on her way home from school. This is her story, and it is certainly an inspiring one.

We Should All Be Feminists, by Chimamanda Ngozi Adichie. Published after the overwhelming success of her TEDx talk, this essay by award-winning Nigerian author, Adichie should (in our opinion) be required reading. Adichie puts forward a new and nuanced definition of feminism, in addition to shining light on the outright discrimination and the more subtle behaviours that hold women back. This talk went viral for a reason, and the written version is well worth reading.

The Unfinished Revolution: Voices from the Global Fight for Women's Rights, edited by Minky Worden. This text is a primer on the global struggle for equality and women's rights. It is a chorus of international voices discussing the plight of many women around the world — those who are denied education and/or the opportunity to work, those in situations of conflict who are the victims of violence and rape as a weapon, those who find themselves ensnared by sexual slavery. There are so many reasons why the rights of women still need to be fought for, and many of them are outlined in this valuable work.

Ain't I A Woman? : Black Women And Feminism, by bell hooks. As far as the women's rights movements have come in North America and around the world, it is often only the voices of white women that are given the opportunity to be heard. This book by bell hooks offers an important perspective on how sexism has impacted women of colour, the racism within the feminist movement, as well as how black women are and can be involved in the women's rights movement. Even almost 30 years later, this work continues to be a must-read.

Half The Sky: Turning Oppression Into Opportunity For Women Worldwide, by Nicholas D. Kristof & Sheryl Wudunn. This book, from Pulitzer Prize-winning writers Kristof and Wudnn, highlights the struggles faced by women in the developing world, but with a glimmer of hope. By sharing these women's remarkable stories, they demonstrate that when a woman's true potential is nurtured and supported, the impact is mighty in improving their lives, their communities, and the surrounding economy.

Girls Like Us: Fighting for a World Where Girls are Not for Sale, an Activist Finds Her Calling and Heals Herself, by Rachel Lloyd. Author and activist, Rachel Lloyd shares her story in this moving memoir. From her personal experience as a survivor of sexual exploitation, Lloyd took it upon herself to help women and girls facing similar circumstances, by founding GEMS: Girls Educational And Mentoring Services. Lloyd also shares the stories of the girls who have been helped, and how helping others helped her heal.

Enough is Enough: Aboriginal Women Speak Out, as told to Janet Silman. One of Canada's ugly secrets is our ongoing ignorance surrounding native women's voices — both those who are struggling with disadvantages and racism, as well as those hundreds of missing and murdered women (even if a national inquiry has finally begun). This somewhat difficult-to-find text (ask about it at your local public or university library) was published in the early nineties, and shares the experience and unique challenges of growing up both female and native.

The Good Girls Revolt: How The Women Of Newsweek Sued Their Bosses And Changed The Workplace, by Lynn Povich. This book tells the story of a group of women who banded together to sue their employer, Newsweek, for systematic discrimination. Povich, who was one of the women involved in the suit, explains what that meant, and what the consequences were for the women, both professionally and personally. She also addresses how the change and eventual legislation they set in motion has improved, but not completely changed, the situation for working women today. There is more work to be done!

Men Explain Things To Me, by Rebecca Solnit. Rebecca Solnit popularized the concept of "mansplaining" with her insightful and humorous essay on men who explain things to women that they assume women don't already know. The book also highlights other important issues, namely, men silencing women, the prevalence of violence against women, and the reason why feminism continues to be crucial around the world.

I Call Myself A Feminist: The View from Twenty-Five Women Under Thirty, edited by Victoria Pope, Rachel Holmes, Amy Annette, Alice Stride and Martha Mosse This collection features a range of young women — from activists to award-winning authors, to engineers and comedians — who share what feminism and being a feminist means to them. Their range of backgrounds and experiences contribute to an entertaining and informative read about the young women who represent the future of feminism.