What's To Be Done About The World's Refugees?
"Would you care to fill out an application?"
My husband and I have a small apartment on the main floor of our home. We're currently in the process of showing it to prospective tenants eager to move in next month.
It's unbelievably hard to find a reasonably priced apartment in downtown Toronto. Our little space is clean, attractive, and safe. Almost everyone who sees the place wants to rent it. As a result, Dave and I normally receive about 20 applications.
Then comes the part that feels so unfair. We sit at the kitchen table, sifting through the papers describing people's lives. Making the case for their having a home here. We hold the power to choose who gets that home, and who keeps looking.
We meet quite a few "safe bets": clean, quiet, individuals with professional backgrounds and great references. Then there are those seeking refuge from life's storms. We often meet someone just separating from their spouse. There's usually a student working two or three jobs, just to make tuition. And often, a single mom with a little child or two.
We feel uneasy holding so much power, just because we live here already. But hold it we do. We have children of our own, and we want to protect our home, so we're very careful. But we also know that if we reject someone who is vulnerable and struggling, many others will certainly do the same.
This week in New York
What's happening at the United Nations today is oddly similar to our kitchen-table apartment discussions.
Many of the world's most powerful landlords are meeting for the Refugee and Migration Summit. Heads of state from all over the world, including our own Prime Minister Trudeau, will discuss the fate of more than 21.3 million refugees -- more than any time since the Second World War.
This is the first summit at this level about the large movements of refugees and migrants needing a safe place to call home. It's an historic opportunity to come up with a blueprint for a better international response.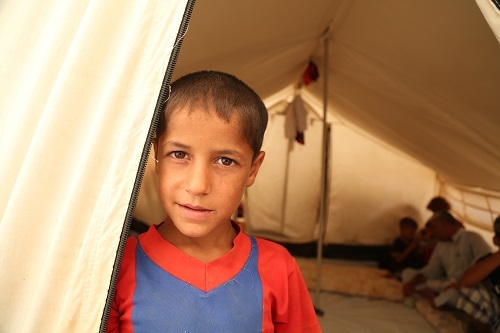 Seven-year-old Ibrahim is one of the 21.3 million people whose homes have become unlivable. Where will his family go now? World Vision Photo
An ineffective agreement?
Two prominent aid groups, Human Rights Watch and Amnesty International, have criticized the agreement that's to be signed at the UN today. They say it falls short of what's needed to deal with the global crisis.
In a press release, Amnesty International wrote that UN member states are set to adopt a refugee deal that's "ineffective." UN Secretary-General Ban Ki-moon had proposed a plan in which governments would commit to welcoming "10 per cent of the world's refugees annually."
"Member states stripped the UN proposals of any substance," wrote Amnesty, "making sure there was nothing obligating them to take in specific numbers of people."
The power of the landlord
As home owners with an apartment to share, my husband and I have the absolute power to choose. We pick which tenant to take, and decide how many should live in the space. We could even take the ad down from Kijiji today, and not rent the space at all.
If we did this, though, we'd be a lot poorer. Not just financially, though money would definitely be an issue. Renting out part of our home does wonders for our home economy, no doubt about it. Many people have said that welcoming refugees to our country does the same for Canada.
But without a newcomer in our space next month, Dave and I would be poorer in other ways. We know from experience that sharing our space through the years has left us richer on the inside.
We recall the single mom and baby girl who lived here soon after we bought our home. We remember the university student with multiple sclerosis, struggling to make it to medical school. And the very elderly gentleman at a personal crossroads in his life. Each has shared their stories, given us their friendship, and helped us to think more broadly.

Refugees deserve a home
Each one of these vulnerable tenants was a gamble of sorts. They might not have "worked out." They might have yielded more cost -- financial and otherwise -- than benefit. But each of these people deserved a safe, welcoming and dignified place to call home.
It's the same with the world's refugees, as they stand waiting for someone to open the door. Canada has generously welcomed 30,647 refugees so far. For this, I'm grateful and very proud.
When it comes to the millions of refugees looking for a place to lay their heads, UN member states have the power to decide whether the door is opened -- or whether some of the world's most vulnerable families must keep looking.
For the sake of the 21.3 million people in search of a home, I pray that they choose wisely.
Follow HuffPost Canada Blogs on Facebook
ALSO ON HUFFPOST:
Child Refugees Stage Their Stories
In this image, 12-year-old Bassam, 11-year-old Tamer, 16-year-old Lubna and 11-year-old Farah act out different jobs at the refugee camp. Many Syrian children in Lebanon's Anjar refugee camp are forced to work to help support their families.Bassam and Tamer started selling tissues after their father was injured during a shelling blitz in Syria. The brothers often work 12 hours and earn about $3 a day, and have faced abuse while on the job.Farah weeds and clears land for sowing to support her family of 10. In this photo, she and Lubna pose as factory workers peeling oranges to make tinned fruit. These laborers often work 11-hour days for as little as $8 a day."What makes me very tired is that I have to keep bending down. When we try and stand up, they ask us to bend down," she said. "We spend the whole day like this. The money they give us is not enough."Many of these working children are also forced to miss out on educational opportunities in order to work."Education is very important. I feel it is especially important for girls. When girls get education, they are respected in society," said Lubna. "Some girls even have jobs in factories. They shouldn't be working -- they should be studying."

Hatem, 15, has been living in a refugee camp in Lebanon for four years. He saw his school get hit in an airstrike in Syria and fled, fearing his house would be targeted. Hatem says he is "sad and scared" about his destiny. He was enrolled in school for two years, but had to stop because his family couldn't afford to continue funding his education. He loved going to school -- his favorite subjects were math, English and Arabic. The teenager had planned to go to university and join the army, but those dreams are now gone. "Because I am working now and I have been off school for three years, I have missed a lot of studying and won't be able to fill the gap," Hatem said. He now sells clothes at a marketplace and practices dabke, a modern Arab folk circle dance, to keep himself busy.

Anicet, 10, fled Burundi with his grandparents almost a year ago, and currently attends a temporary learning space run by Save the Children in Tanzania's Nyarugusu refugee camp. Malaria is one of the camp's greatest killers.When Anicet grows up, he wants to be a malaria doctor. In this image, he practices his dream job while his friends act as patients and mosquitoes."I want to be a doctor so that I can help people, make a difference and save lives," said Anicet. "This would make me a very important person and it would help me get something in my life."

Many young girls and children are sent to collect firewood in the forest surrounding Nyarugusu refugee camp so their families can cook the food they receive. Women and children who venture into the woods face many dangers, including assault. Here, Esperanse, 15, shows what it is like for young girls and women to search for firewood in the forest surrounding the camp. She herself narrowly escaped an assault from three men. "There are a lot of dangers that come when we go looking for firewood. " says Esperanse. "We can get snakebites, or even encounter men who want to abuse us. Even if we're able to escape and run away, we have to throw down all our firewood and we lose what we came for." "My wish for the future is to have a place where I can live peacefully, a place where I can feel established, where I can feel that I'm at home, without all of these other problems," she added.

Children in Tanzania's Nyarugusu refugee camp re-enact crossing the mountains of Burundi on foot to seek refuge. Iveye, 6, is pictured on the far left carrying her 18-month-old sister, Rebecca, on her back. It took the siblings and their family five days to travel from their home to Tanzania, and the journey was far from easy."When we reached the [Burundi-Tanzania] border, the police on the Burundian side would not let me cross into Tanzania with my daughters," the girls' father, Pierre, said. "So I separated from them and snuck across the border using a secret path. When I had safely reached the other side, I came out and signaled to Iveye and her sisters." "When they saw me, they ran across the border right under the gaze of the policemen who could do nothing to stop them," he added.

Samira, 10, sitting, and Zeina, 11, standing, are best friends. Samira would like to be an actress and Zeina an artist. Both girls left Syria with their families to escape the violence. The house next to Samira's was shelled, killing the family next door. Now the girls live in Lebanon's Bekaa Valley. "In Syria, when we got snow or wind, it was OK," Samira said. "But here, when the wind blows, we get a bit scared, as we're afraid the tent will get blown away."

Walaa, 11, left Syria with her pregnant mother because bombs had blown up the hospitals, schools and supermarkets in their area. They had no access food, water or health services. When she was walking home one day, Walaa saw her school explode. This picture uses Walaa's original drawing to depict the moment her school was bombed.

Here, children in Nyarugusu refugee camp show the different ways they play and express themselves in the camp's "Child Friendly Space," known as CFS. For many kids, CFS is an oasis and cocoon of safety where they can socialize with each other.Fifteen-year-old Jacob, center, dreams of becoming a professional dancer. When he realized that he and his family had to flee Burundi, he performed dance routines in his local town market until he earned enough money to pay for his and his grandparents' transport to cross into Tanzania."I feel good about myself when I dance," said Jacob. "I feel that dancing will help me achieve my goals in life."