Should the Catholic Church Acknowledge the Destruction of Classical Pagan Culture?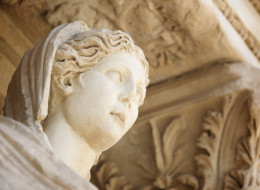 I recently read an article that offered a Christian apology to Jewish people for the wrongs committed against them. The author also acknowledged the way that Christianity was "built" on Judaism. That's great; however, there's a glaring omission here. Christianity was also largely "built" on the destruction and desecration of Greco-Roman polytheistic culture.
To be sure, Christians suffered under the early Empire. This was partly due to their beliefs and partly due to their behaviour. The Christian cult took root in a Roman world that was remarkably tolerant of most religions and in which co-existence was the norm; however, Christians were unique in their assertiveness to position their god as the "one true god," their willingness to renounce their family for their god and their frequent apocalyptic predictions.
It was all too strange and disruptive for the Romans who never hesitated to take harsh action against agitators or troublemakers of any kind (including pagan ones).
Nonetheless, by the late 4th century and early 5th century CE, Christianity had gained considerable political power; however, the majority of Romans of all classes were still pagan. They continued to honor the gods and goddesses that they had honored since the dawn of their civilization.
To solidify Christianity as the sole religion of the Empire, early Christian leaders legalized brutal policies that persecuted pagans. This gave Christians the legal green light to commit atrocious acts of vandalism that destroyed centuries of Classical art, history and culture.
Christian vandals smashed the heads and limbs off statues of beloved gods and goddesses that had been venerated for generations. They knocked the noses off the faces, and carved crosses into the foreheads, of deities, heroes and emperors. They burned ancient texts, obliterating centuries of knowledge, literature and heritage.
These acts of vandalism robbed our Western civilization of a beautiful and important part of our own art history and culture. We'll never know what monuments or statuary were smashed to dust, or what masterpieces of literature or learning were turned to smoke.
Pagan temples were closed and demolished, stripped of their marble to build churches. This included the oldest temple in the Forum, the Temple of Vesta, whose order of Vestal priestesses was forcibly disbanded after having kept the sacred fire burning in the temple for 1,000 years.
To usurp the importance of the Vestals, the Catholic church eventually created its own version of priestesses -- nuns. Like the Vestals who were married to Rome, the nuns would be married to their god. Like the Vestals were celibate, the nuns would be celibate. Yet where the Vestals had power and privilege, the nuns would live in poverty and subservience.
To further Christianize resisters, the church usurped indigenous pagan festivals with Christian ones, the most obvious being the Saturnalia in late December which became Christmas. They created an arsenal of saints to replace the rich diversity of pagan gods and goddesses.
Symbolism and ritual from pagan traditions were also claimed to have Christian origins. The flame of Vesta became the flame in Mary's immaculate heart. The wafers the Vestals made for offerings became the wafers of the Eucharist. The pagan temples that were still standing had crosses placed atop them. The list goes on.
Forced conversions to Christianity were common, as was the seizure of property or assets belonging to pagans. And in an unprecedented move of religious tyranny, it became illegal - upon pain of torture or death to honor Vesta or other gods and goddesses even within the sacred privacy of one's own home. [LINK]
It isn't pleasant to hear -- especially for those who hold their religion dear -- but forced conversions and cultural destruction, done on a massive scale, played a significant role in the way Christianity established itself as the dominant religion. This approach set the tone for the fear and oppression of the "Dark Ages" when anything that wasn't Christian -- including science, medicine and free thought -- was deemed heretical and violently suppressed.
With the advancement of humanism and secular law, Christianity has lost most of its ability to impose its beliefs on others. And now, owing to the spiritual and intellectual freedom that exists in our society, more and more people have rediscovered Vesta and other ancient traditions, most of which have evolved to reflect 21st-century humanist values and are therefore well-suited to those who identify as spiritual but not religious.
It goes without saying that I've had to gloss over 2,000 years of history here (and haven't even touched on the fact that the Romans committed their share of atrocities). The impact of this period had far-reaching effects on many faiths and cultures.
My goal has been to illustrate how one world view gained dominance through the destruction of another and how, in the process, priceless works of Classical art, knowledge and culture -- so relevant to the human experience for all of us in the Western world - -were lost forever.
We'll never know how our society might have developed, especially in terms of scientific and social advancement, had one androcentric religion not held exclusive control of so many and for so long. The ancient world was brutal, but it had its forward thinkers and rays of light.
But back to the beginning: Should the Catholic church acknowledge the harms it did so long ago to Greco-Roman pagan culture? Of course, I don't believe it will. Anti-pagan propaganda and a denial/whitewashing of history is still too prevalent for that to happen. Others have asked for this apology -- pagans and Christians alike -- to no meaningful avail.
Yet to me, there's something to be said for acknowledging past harms. From the internment of Japanese Canadians during WWII to the mistreatment of First Nations children forced to endure the residential school system, an acknowledgement is as much about spreading knowledge and preventing future injustice as it is about mending fences.
For as the ancient Roman statesman Seneca the Younger tells us, errare humanum est, sed in errare perseverare diabolicum. To err is human, but to persist in error is diabolical.
MORE ON HUFFPOST:
Like many religions, pagans employs certain symbols both as representations of their faith and as images and objects that contain power in and of themselves. The pentacle is probably the most common in paganism, often depicted in art and jewelry. Some say its five points represent the four directions plus the sacred spirit.

As Harvard's Pluralism Project notes, it is difficult to determine the number of pagan adherents around the world as estimates vary widely. The number may be anywhere between 200,000 and 1 million, or possibly more. Most pagans don't exhibit their religious identity outside of the ritual space (unless they wear clothing or jewelry depicting pagan symbols such as the pentacle.) According to The Pagan Census, modern pagans are distributed fairly even throughout the U.S., with a slight majority on either coast. Men and women of all ages, races and backgrounds practice paganism, though the census said the community tends to skew toward white, middle class women.

Contemporary paganism is widespread and somewhat scattered, hence the difficulty counting adherents. Modern paganism does not descend from a singular ancient religion but rather many ancient indigenous and folkloric traditions, and there is no central text to refer to that can shed light on doctrine. There are, however, subtle distinctions that delineate Celtic and northern European sects, Baltic and Slavic sects, Greek and southern European sects, American neopaganism, and other groupings around the world. Some covens (organized groups of pagans) worship specific deities, such as Diana or Odin. Others practice ancient Druidism, such John Rothwell ("Arthur Pendragon") pictured, while some focus on activism, such as the Reclaiming tradition.

In general, pagan worship centers around earth and spirit, as opposed to specific structures imbued with sacredness (ie. a church, Mecca, the Vatican, etc.) Forests, hilltops, urban warehouses and individual's homes can operate as ritual sites, especially because many pagans take measures to "create sacred space" for rituals regardless of where they are. That said, some natural or ancient sites, such as Stonehenge or Machu Picchu, may hold particular importance for some pagans.

The triple goddess in modern paganism embodies the maiden, the mother and the crone. These three aspects are meant to encompass the full power of the goddess, reflected in the moon's cycles. The waxing moon represents the maiden; the full moon represents the mother; and the waning moon represents the crone. Pagans will often hold gatherings or do personal meditation to observe these moon phases. In addition to the goddess, some pagans worship a masculine divinity, occasionally in the form of the Horned God or the Green Man. Many also revere the natural world as divine, as well.

There are eight sabbats that make up the pagan "wheel of the year," though not all pagans observe all eight. Each sabbat corresponds with different seasonal events of the year. Pagans celebrate the winter solstice, spring equinox, summer solstice and autumn equinox (or "quarter days") to mark the deepest part of the season and the lengthening or shortening of daylight.

The other four sabbats, or "cross quarter days," are Imbolc, Beltane, Lughnasadh and Samhain. Imbolc falls in early February and celebrates the onset of springtime, encouraging the sprouting of seeds and new life. Beltane is an early summer celebration in May, often seen as a fertility festival. Lughnasadh falls in August and is the first of several harvest festivals. Samhain coincides with the western Halloween and is a holiday for paying tribute to the deceased. It is often seen as a time when the veil between this world and the afterlife is thinnest.

Pagans often construct altars for rituals and to keep in their homes, and these may act as offerings to specific deities or to 'the goddess' more generally. Each object holds certain meaning, such as rocks to symbolize earth, seeds to symbolize intentions and new life, bread to symbolize bounty, and so on.

Pagans occasionally employ tools in rituals and personal practice that may either function in ritual procedures (such as an athame, pictured), aid in divination (such as a pendulum), assist in cleansing (such as water or incense) or pay respects to a specific deity (such as a statuette). Other tools may include drums, candles, ribbons, cauldrons and more, depending on the specific ritual or practice for which they will be used.

Fire plays a prominent role in many pagan rituals and in personal practice (through candles and incense.) During some rituals pagans circle around a large fire, which is seen to hold transformative power. Fire may also be used in cleansing, divination, trance and ecstatic dancing.

The anatomy of any pagan ritual will vary from group to group, but Reclaiming -- one of the best-known American pagan groups -- identifies several key components. Typically rituals begin with grounding and cleansing, then move to the 'casting' of a circle. Leaders and/or participants will often invoke deities, then guide one another into trance or magic work. At the end, participants often share food and drink before closing the ritual by devoking and opening the space once again.

Magic in paganism and witchcraft is primarily about change and transformation. By some accounts, magic allows practitioners to remove the barriers of what they think is possible so that they can manipulate the physical or spiritual world. Most groups shun what is sometimes referred to as "black magic" and instead employ magic crafts that encourages practitioners to draw health and fortune into their lives and the lives of others. Some magical activities include chanting, trance, craft work and more elaborate manipulations of objects.

One of the key elements of pagan rituals and personal practice is the invocation of specific deities. The chosen deity may correspond to a certain sabbat (such as Brigid for Imbolc). The invocation is intended to invite the god or goddess to assist the ritual or so the participant may come to know the divine through embodiment.

The Pagan Census found in 2003 that just over 50% of respondents said they were solitary practitioners. This means they do not belong to a coven and may not have been 'trained' by a larger spiritual organization. Solitary practitioners observe rituals and practice magic on their own, or perhaps occasionally in small groups. Even for those involved in covens, personal practice is seen as key for developing magic skills and deepening spiritual connection.

Modern pagan leaders are often hard to identify due to the dispersed nature of the faith. Individuals may be trained and ordained by specific seminaries or by independent groups (such as Reclaiming). In general, pagan sects are non- or semi-hierarchical, but certain individuals may hold sway in the community due to their large followings (Such as Starhawk, pictured) or their influence through authorship.

Along with legal marriage and domestic partnership, some pagans practice handfasting, a ritualistic but not legal form of marriage. According to BBC, handfasting rituals are believed to predate Christianity and was certainly present by medieval times. During the ceremony, the couple will tie their wrists together with ribbons or twine to represent their union.

Paganism is by no means an adults-only tradition. The 1999 Pagan Census found that just over 40% of participants reported that they had children. The growing number of children in the pagan community has lead some groups to open their rituals to families and youth, adjusting some practices that may not have been appropriate or accessible for young people. In some traditions pagans pass on traditions and lore to children through trainings and camps, a form of spiritual education common in many religions. In her book, "Circle Round", pagan leader Starhawk outlines practical tools and lessons for conveying pagan traditions to children, as well as for raising pagan families.

Though not a rule for pagan communities, some groups make activism and community work central to their practice. Some of the causes promoted by pagan groups include environmental protection, gender and racial equality, LGBT rights and the preservation of sacred indigenous sites.
Follow Debra Macleod on Twitter: www.twitter.com/DebraMacleod