The Project: Guatemala More Than Just A Reality Show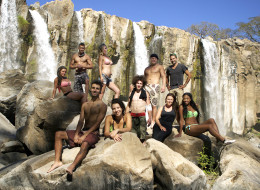 Aside from dance reality competitions and amazing and wild adventure shows where pairs embark on a race or journey together, I don't really dig reality shows. Big Brother, The Bachelor, Jersey Shore, The Real Housewives -- all shows I can't wrap my head around. It probably doesn't help that many of the contestants (of the ones in which a pot of cash is awaiting a winner) or cast members (where cameras follow them around, waiting for stupidity and hijinks to ensue) can be so damn annoying.
So if I didn't know the premise of The Project: Guatemala, I would've been throwing something at the TV. OK, a slight exaggeration; I would've just changed the channel. Really, though, just about everyone involved -- with the exception of awesome host Ray Zahab (Running The Sahara) -- deserved a punch in the mouth at one point. Again, perhaps a slight exaggeration, but a slap upside the head would also do nicely.
The Project: Guatemala features nine privileged 20-somethings who think they've been chosen to take part in a fluffy reality show where they can drink, party and hook up with fellow hotties in paradise. But because it looks like a reality show and sounds like a reality show and annoys like a reality show, then it must be a reality show, right? Well, let's just say it's certainly real.
The nine knuckleheads -- all of whom hail from either Ontario, Alberta or B.C. -- learn that instead of a posh hotel in Guatemala City, they're actually headed to a rural area to help build a community hall for orphaned children via Canadian-run charity The Project Somos Children's Village.
Back in June, Zahab spoke about the show, telling media at the City upfronts, "I'm very proud it's Canadian. This is groundbreaking, it's something that's never been done before on TV." Honestly, how many times can a reality show (or any show, really) boast that?
The young Canadians are given the choice right off the bat on whether to stay or go, and no one is forcing them to stay. They can go back to their privileged lives and pretend this awful, horrible nightmare didn't happen. Or they can suck it up, lose the "woe is me" attitude, look around and see what a true nightmare is and how lucky they actually have it, and work like they've never worked before. (No, really, some of them have never worked before.)
Once reality (real reality, none of this concocted BS "reality") sets in, it's the girls who are most affected by what the following six weeks will bring. Like, OMG, what are they going to, like, do without their heels and hair products and self-tanners? How could they go a day without showing their cleavage?
Maybe it's because my idea of dressing up involves a comfy pair of jeans and flats, not sky-high heels, shorts up to here, and a shirt down to here, but the women crying over what their hair looked like and bitching about being told what not to wear was both laughable and infuriating. I get that they're really far out of their comfort zones, but considering their new surroundings, one would think they would realize how trivial their complaints are. Honestly, I think I would have more of a problem with the latrine situation but, funnily enough, that doesn't seem to faze them.
The guys have an easier time of it, presumably because clothing and accessories and beauty products aren't that much of a concern, and some of them actually seem ready to embrace the challenge. And that is what I can't wait for with the rest of them. I can't wait for them to have that sense of accomplishment, something only hard work and dedication can get you. I want them to feel actual emotion about someone other than themselves, and while they might not completely lose the flighty, nitwit attitudes, I am rooting for them to dig deep and learn things they would have never known about themselves and the world. For the next six weeks, I can't wait to see how this entire experience changes them. Fingers crossed.
'The Project: Guatemala' premieres Monday, Sept. 23 at 10 p.m. ET on OLN and City.
A single-camera, half-hour comedy set in the world of advertising, "The Crazy Ones" revolves around the dynamics between a father, played by Robin Williams, and his daughter, played by Sarah Michelle Gellar.

"The Bachelor Canada" is the Canadian version of the perennially successful "The Bachelor" franchise on City and OMNI Television. This nine-episode, original reality series will feature an all-Canadian cast including the host, bachelorettes and of course, the highly sought-after bachelor. Season 2 starts production in 2014.

New live-action, multi-camera comedy from Seth MacFarlane, Alec Sulkin, and Wellesley Wild, the creatively outrageous team behind "Ted" and "Family Guy." "Dads" stars Seth Green and Giovanni Ribisi as two successful guys -- and childhood best friends -- whose lives get turned upside-down when their pain-in-the-neck patriarchs (Martin Mull and Peter Riegert) move in.

When Terry Gannon, a recently divorced single mother, temporarily moves in with her estranged father, a beer-swilling former baseball player, she reluctantly starts coaching her son's underdog little league team and is drawn back into the world of sports she vowed to leave behind.

"Package Deal" is the story of three overly close brothers and the woman who comes between them. Danny is the smart, good-looking, and successful lawyer brother; Sheldon is the stubborn, politically incorrect, and bossy salesman older brother; and Ryan is the sensitive, slightly metrosexual, and former house-husband brother. Sharing more than just a last name, they are overly involved in each other's lives -- until Kim, a beautiful, smart, and funny woman, begins dating Danny and finally cuts his umbilical cord from his brothers.

In a new comedy from Chuck Lorre, Anna Faris plays Christy, a single mom whose newly found sobriety has given her the ability to see her life clearly -- and she does not like the view. Now, she must try to untangle years of reckless decisions in order to make a better life for her and her kids.

Starring popular Australian comedian Rebel Wilson, "Super Fun Night" is a new half-hour, single-camera comedy series that follows three nerdy female friends in their mid-to-late 20s on their "funcomfortable" quest to have fun every Friday night -- even if it kills them. Kimmie, Helen-Alice, and Marika have been best friends for 13 years, united by a love for warrior princesses, rock parties (with actual rocks), and fantasizing about one day having a boyfriend. Every Friday night they are "always together, always inside!" But after Kimmie is promoted at her law firm and invited to drinks by Richard, the cute new lawyer from London, she realizes the friends haven't been out since ... well, since prom.

"Storage Wars Canada" is a modern-day treasure hunt, as six professional buyers use their knowledge, expertise, and wit to bid on the contents of abandoned, repossessed, and forgotten storage containers. With mere minutes to scan the contents of a locker using only the beam of a flashlight, the high-stakes fun begins when the buyers have to out-bid each other for the locker, which could be full of trash -- or treasure.

Starring Eva Longoria, "Mother Up!" is an animated adult comedy series about a former street-smart -- but now disgraced -- big-city music executive-turned-suburban supermom with one catch: she is not a very good parent.

Based on the hugely popular and multiple-award-winning BBC 3 series Gavin & Stacey, "Us & Them" is an ensemble, single-camera comedy starring Jason Ritter and Alexis Bledel, about a young couple whose path to happily-ever-after is complicated by the screwed-up circus of people closest to them.

Of all the notorious lawmen that have ever patrolled the violent Texas frontier, none are more storied than the Texas Rangers. But being the only female ranger in this elite squad isn't going to stop badass Molly Parker, who is committed to finding the truth and seeing justice served. While she's surrounded by law enforcement colleagues who want to see her fail, including Police Lieutenant Guillermo Salazar, the Rangers, led by Company Commander Luis Zea, have her back.

Based on the Dutch series "Overspel," "Betrayal" follows Sara and Jack, two lovers caught in an affair, and an impossible situation on opposite sides of a murder investigation. Photographer Sara Hadley and attorney Jack McAllister's chance meeting leads to an instant and undeniable attraction.

In Victorian England, the young and beautiful Alice tells a tale of a strange new land that exists on the other side of a rabbit hole. An invisible cat, a hookah-smoking caterpillar, and playing cards that talk are just some of the fantastic things she's seen during this impossible adventure. Surely this troubled girl must be insane, and her doctors aim to cure her with a treatment that will make her forget everything. Alice seems ready to put it all behind her, especially the painful memory of the genie she fell in love with and lost forever -- the handsome and mysterious Cyrus.

From the Emmy Award-winning writers/producers of "Parks and Recreation," this single-camera comedy stars Andy Samberg and Andre Braugher. "Brooklyn Nine-Nine" is an ensemble comedy about what happens when a detective who doesn't take anything seriously gets a new "by-the-book" boss who wants him to grow up and respect the badge.

Every day across the country, Americans imagine what it would be like to strike it rich. They dream of new houses, new cars, new everything. It could never happen to them -- but what if it did?

From writer/producer Rand Ravich comes this emotionally charged action thriller. It begins with a field trip for the students of Ballard High School, a place that educates the children of Washington, D.C.'s elite, top-of-their-industry CEOs, international diplomats, political power players, and even the president's son. But when their bus is ambushed on a secluded rural road, the teenagers and their chaperones are taken, igniting a national crisis.

"Enlisted" is an irreverent and heartfelt single-camera, family comedy set in the military. Starring Geoff Stults, the series follows three brothers and the group of misfits who surround them as they get reacquainted on a small Florida Army base.
Follow Denette Wilford on Twitter: www.twitter.com/DenetteWilford