Rob Ford Threw a Political Hail Mary that Doug Can't Catch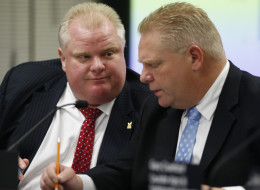 Sometimes it's the little details that reveal so much, especially when they're captured on television.
Former Toronto Councillor Doug Ford made an important appearance at City Hall Friday afternoon. He was there to officially enter the race for Mayor. Why? Because his embattled brother Rob, the current Mayor, suffered a serious setback earlier this week. After privately experiencing persistent abdominal pain for three months, things took a turn for the worst and he was hospitalized. The early diagnosis is a tumour. The official prognosis is expected early next week.
Shortly after Doug left City Hall, the Mayor released a written statement saying that he is physically unable to continue his reelection campaign, a campaign that at one point saw him trailing early frontrunner and former Conservative ally John Tory by more than 10 points in the polls. Doug is replacing him on the ballot. (Friday was the deadline for last-minute election sign-ups and withdrawals.)
In the midst of the circus that surrounded him at City Hall, one cameraman caught a rare moment of vulnerability. Shooting him up close from the left, one drop of sweat slowly trickled down Doug's cheek.
He should be sweating because the Ford Legacy is in serious jeopardy. Scandal-plagued and globally derided, Rob Ford was never guaranteed a second term running Canada's largest city. How could he have possibly won anyway considering all the crack videos, the drunk videos, the racism, the sexism, the drunk driving, the physical assaults, the sexual harassment, the threats of violence, the constant lying, the numerous unexplained absences and multiple political conflicts of interest that have defined him these past two years alone?
With only six weeks to go until Toronto elects its next municipal government, Doug Ford, the obnoxious, ignorant, careless, and deeply polarizing former Councillor with his own conflicts of interest and drug dealing past, is now stepping in to try to rescue his brother's administration. Good luck with that.
Meanwhile, there's the puzzling matter of Rob Ford's political future. He is withdrawing from the race for Mayor but he's not out of the election altogether. Originally, it was his nephew, Michael Ford, who was running to fill his old Councillor seat in Ward 2's Etobicoke North riding. Now that Doug is running for Mayor, Rob is replacing Michael as a Conservative candidate in that race.
An innocent question: if a man is too seriously ill to run for one political office, how is he healthy enough to run for another? Granted, running for Mayor is obviously more physically demanding than vying for a lower profile City Councillor gig, but still, if your stomach pains are so bad to the point where you need constant professional care and lots of rest and relaxation, why are you running for anything?
The likely answer: because there's a good chance he might actually win. For all the city-wide support he's lost in the last year and a half, there are a considerable number of Etobicoke residents who still believe in his now discredited populist "taxpayer protector" rhetoric that got him on City Council in the first place. Rob Ford is counting on that decade-plus connection with those remarkably loyal and forgiving voters to keep him on Council without having to do too much door-to-door campaigning.
Unfortunately, this is a gamble and it depends greatly on next week's test results. If that mass on his abdomen is cancerous (and let's all hope it's not), this sneaky back-up plan to get reelected, this time as a City Councillor, will have to be abandoned. Even if it's like the earlier mass he had in 2009 (which turned out to be benign), he'll still have to have surgery and may need plenty of time to rest and recover. As of this moment, he has few good political options.
CBC News Network's Carole MacNeil asked a number of guests about the possibility of Doug potentially winning the election, Rob winning back his seat, Doug making him the Deputy Mayor and then at some point, stepping aside to let Rob become the Mayor again. Not one thought this was a plausible scenario, not just because of the unlikeliness of both being elected, but because of the absurd idea that the ambitious Doug (who has expressed a desire to lead the Ontario Tories) would ever relinquish power to his younger brother, especially when you consider his many health problems.
Regardless of the end result of Rob Ford's medical situation, whether it's manageable or not (and again let's hope it is a solvable problem), it's the end of a turbulent era in Toronto politics. Doug Ford has an impossible task ahead of himself. He has to run on his brother's highly questionable record as well as his own, somehow make up a lot of ground between himself and John Tory while still watching out for the formidable Olivia Chow, and avoid getting swallowed up by all the growing scandals that have already plagued his entire family, all in just a month and a half.
He should be sweating.
Read more by Dennis Earl at dennisearl.wordpress.com
ALSO ON HUFFPOST:
Rob Ford's Brother Doug: What We Know
Doug Ford is alleged to have sold hashish for several years in the 1980s, The Globe and Mail reported. People who grew up with him said he was a go-to dealer for hash. Ford denied the allegations.

Doug Ford resented his brother after he was left to run Deco Labels and Tags, the family business, while Rob was free to run for office, according to Robyn Doolittle's book "Crazy Town."

Doug Ford went one-on-one with award-winning Canadian author Margaret Atwood over plans to close some libraries. When Atwood came out against the plan, Ford said, "I don't even know her. If she walked by me, I wouldn't have a clue who she is." They later met at a farewell party for Rob Ford's arts adviser.

Doug Ford's vision for Toronto's waterfront included a monorail, an island airport, a 1.6-million-square-foot mall and the world's biggest Ferris wheel, The Toronto Star reported.

Doug Ford's daughter Krista was captain of the Toronto Triumph in the Lingerie Football League, The Toronto Sun reported.

When Doug Ford was elected to his brother Rob's former council seat, he said he would donate the entirety of his approximately $100,000 council salary to charity throughout his four-year term, The Toronto Sun reported.

Doug was called "corrupt and corrupting" by Coun. Gord Perks after he was seen handing out $20 bills to people at a Toronto Community Housing building at Christmas in 2013, The Globe and Mail reported. Ford said he handed out the money because he didn't have time to buy gift cards. "I didn't have time. I went and bought toys for kids. The parents were standing there, so I gave them $20 to go buy themselves a coffee," he said.

In 2012, Doug Ford said on a radio show that he would have beaten up an aggressive bike courier if he weren't an elected politician, Toronto Life reported.

Doug Ford has gone to bat for his brother on many occasions, sometimes abrasively so. One of those times saw him respond to Coun. Denzil Minnan-Wong's motion that the mayor step aside and apologize for lying about smoking crack as follows. "The question is: have you ever smoked marijuana?" Doug openly asked of Minnan-Wong. He then called on other councillors to stand up and admit whether they had smoked weed.

Doug Ford was forced to apologize to Toronto police Chief Bill Blair after accusing the cop of helping to leak information that officers were set to subpoena Rob as political "payback." Blair sued Doug for defamation and he apologized, though the chief wasn't quick to accept it.

NEXT: Doug Ford Means Business

Councillor Doug Ford and his brother Mayor Rob Ford gets into a shouting match with members of the public in chambers at City Hall in Toronto on November 18, 2013 during a special council meeting to limit more of his powers. (Deborah Baic/The Globe and Mail)

Toronto City Councillor Doug Ford makes his way to the council chamber as councillors look to pass motions to limit the powers of his brother, Mayor Rob Ford, in Toronto on Monday November 18, 2013.THE CANADIAN PRESS/Chris Young

Councillor Doug Ford reads a prepared statement to the media outside his brother Rob's office at Toronto city hall on May 22 2013. Rob Ford, the mayor of Toronto, is at the centre of a scandal stemming from a video allegedly showing him smoking a crack pipe. (Fred Lum/The Globe and Mail)

Toronto city councillor Doug Ford leaves a radio station where he has a program with his brother, Mayor Rob Ford, in Toronto on Sunday May 26, 2013. THE CANADIAN PRESS/Aaron Vincent Elkaim

Toronto City Councillor Doug Ford reads a statement to journalists at Toronto City Hall on May 22, 2013. The man who has most strongly defended Toronto Mayor Rob Ford against allegations he was filmed smoking crack cocaine is vehemently denying a claim that he himself once dealt in hashish. The Globe and Mail alleges in a story published Saturday that the mayor's brother, Coun. Doug Ford, was once a drug dealer in '80s -- a claim denounced by his lawyer as false. THE CANADIAN PRESS/Chris Young

City councillor Doug Ford defends his brother, Mayor Rob Ford, at city council in Toronto on Wednesday, Nov. 13, 2013. THE CANADIAN PRESS/Nathan Denette

Renata Ford attends a news conference as her husband Toronto Mayor Rob Ford speaks to the media on Thursday November 14, 2013. THE CANADIAN PRESS/Chris Young

Mayor Rob Ford's wife Renata Ford, centre, is escorted to her car by staff after attending a press conference with her husband at city hall in Toronto on Thursday, Nov. 14, 2013. THE CANADIAN PRESS/Nathan Denette

Mayor Rob Ford's wife Renata Ford, second left, is escorted to her car by staff after attending a press conference with her husband at city hall in Toronto on Thursday, Nov. 14, 2013. THE CANADIAN PRESS/Nathan Denette

Toronto Mayor Rob Ford stands at an elevator door as he tries to escort his wife Renata out of a news conference on Thursday November 14, 2013. THE CANADIAN PRESS/Chris Young

Toronto Mayor Rob Ford (centre) jostles with the media as he tries to escort his wife Renata (left) out of a news conference in Toronto on Thursday November 14, 2013. THE CANADIAN PRESS/Chris Young

Rob Ford on election day at his family's (mom and dad's) home in Toronto on October 25, 2010, watching as the results come up on the TV announcing him as the winner, and shortly afterwards, hearing that his brother Doug won as well. Hugs from his mother, Diane, and his wife Renata.This is when he found out his brother had won as well. Renata, Rob's wife, threw her arms up, as did mom, Diane, at left. (Photo by Peter Power/The Globe and Mail)

Mayor-elect Rob Ford being greeted by his supporters and making his speech at theToronto Congress Centre in Toronto on October 25, 2010, after winning the election. This is where he said the win was for his father. Mom, Diane, is left and wife Renata is right. (Photo by Peter Power/The Globe and Mail)

Rob Ford on election day at his family's (mom and dad's) home in Toronto on October 25, 2010, watching as the results come up on the TV announcing him as the winner, and shortly afterwards, hearing that his brother Doug won as well. Hugs and kisses immediately followed with his wife Renata. (Photo by Peter Power/The Globe and Mail)

Mayor Rob Ford gets a kiss from his wife Renata at city hall council chambers as he was officially sworn in as new mayor of Toronto Dec. 7, 2010.(Photo by Kevin Van Paassen/The Globe and Mail)

Next: Rob Ford's Biggest Gaffes

In March, former mayoral candidate Sarah Thomson accused Rob Ford of grabbing her behind while at an event. She later suggested the mayor was so out of it that she wondered if he was on cocaine. Ford has denied the accusations.

In November of 2012, an Ontario Superior Court Judge ordered Rob Ford to be removed from office for violating Toronto's Conflict-of-Interest Act. The ruling stemmed from Ford's participation in a council vote to recommend he repay donations that he solicited for his private football foundation using official city letterhead. After weeks of uncertainty about who would replace Ford, the mayor won his appeal, allowing him to remain in power.

Ford's role as coach of a high school football team has repeatedly landed him in hot water. From a city bus used to ferry the team home after a reported brawl, to missed council meetings and court appearances, Ford's gridiron exploits have made headlines again and again. Despite the controversy, Ford has maintained that he's not giving up his other job to focus on running the city.

On a trade mission to Chicago, Ford infamously confused Winnipeg and Windsor, a verbal stumble that prompted chuckles on both sides of the border.

A video clip of Ford falling while attempting to throw a football at a Grey Cup event was quickly turned into GIF image that went viral.

In October of 2012, a photo hit the web of Ford reading while driving. The mayor admitted to doing it, but refused to hire a driver, despite pleas from the police and political allies. The incident was far from the first Fordian fail on the road. The mayor has also been accused of giving a motorist the finger while driving and has admitted that he pleaded guilty to refusing to provide a breath sample after driving under the influence of alcohol in Florida.

A photo hit the web in September of 2012 of Ford posing with a neo-Nazi dressed in a foreign military uniform. Ford explained that he was unaware of the man's political beliefs. At least one major Jewish group said it was satisfied the mayor meant no harm.

For several months in 2012, Ford took part in a very public weight-loss campaign. Weigh-ins staged before the press meant the mayor had nowhere to hide, and after some initial success, he actually started putting on pounds. Ford admitted to giving up soon after.

Ford called the police in May of 2012 and alleged that Toronto Star reporter Daniel Dale trespassed on his property. Dale denied the allegations and said Ford approached him with a raised fist. Ford would subsequently refuse to speak with reporters from the Star or to co-operate with the paper in any way.

Ford has twice bucked tradition and refused to attend Toronto's Pride parade, prompting widespread criticism.

Late in 2011, Ford called the police after Marg Delahunty (Mary Walsh) and the crew of CBC's satirical show "This Hour Has 22 Minutes" showed up at his home. While other politicians have reacted with laughter when approached by Delahunty, Ford said the "ambush" at his family home crossed the line.
Follow Dennis Earl on Twitter: www.twitter.com/DennisCEarl