One Simple Donation Rule And B.C. Liberals Still Broke It
This past weekend the Globe and Mail reported that lobbyists in the province have been making political donations on behalf of their clients, effectively camouflaging the identity of the real donors and breaking B.C.'s Elections Act in the process.

On Sunday, Elections B.C. announced it was conducting an investigation into the Globe's findings. Five days later, the entire matter was referred to the RCMP.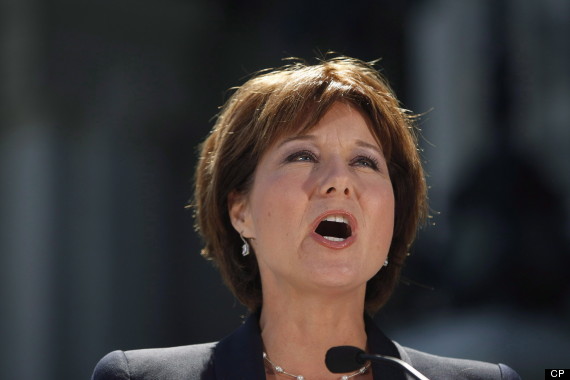 B.C. Liberal Leader Christy Clark. (Photo: CP)
To think it was only in January that Advanced Education Minister Andrew Wilkinson was boasting to CKNW's Jon McComb that British Columbia has the "most transparent disclosure system in the world."

B.C. doesn't even have the most transparent system in Canada. Five Canadian provinces have lower reporting thresholds than the $250 set by B.C.

And even then it's predicated on the donor being up front with the party and the party with Elections B.C.
The B.C. Liberal party tried to wave-off the Globe's report by calling the whole thing a "misunderstanding of the rules around political contributions."

Lobbyists aren't the first group that comes to mind when you're thinking of individuals that might grapple with the intricacies of election legislation.
It's tough to imagine this has been going on for so long and no one in officialdom noticed.
Some of those caught up in the Globe's investigation may include a former solicitor general, a former deputy minister, a former assistant deputy minister and immediate family members to two prominent political families in the province.

One of the lobbyists featured in the Globe's report is Woodfibre LNG's vice president of corporate affairs, Byng Giraud.

In 2015, Giraud is quoted as saying the company "supports both political parties (financially)." Mighty fine people.
Search Elections B.C.'s database of party donors and Woodfibre LNG has donated $30,500 to the Liberals and $15,500 to the NDP (2005 to 2015).

Check the five other names Woodfibre uses -- including Giraud's -- and the spread between the two parties grows from $15,000 to $72,109. Nothing to sneeze at.

It's tough to imagine this has been going on for so long and no one in officialdom noticed.

No, not financial agents, 11 years of tax receipts, 11 years of audits, 11 years of training, 11 years of Elections B.C.'s all-party election advisory committee meetings, or a fine upstanding lobbyist calling in to explain that the donation wasn't from him, but his client. Nothing.

According to the minutes from Elections B.C.'s election advisory committee in November 2008 -- when online donations by credit card were first permitted under the Elections Act -- the Liberal party was represented at the meeting by Vancouver lawyer Hector MacKay-Dunn and then-party executive director Kelly Reichert.
Deputy chief electoral officer Nola Western -- then-electoral finance and corporate administration director -- updated the assembled on changes to the Elections Act in regards to political financing, noting that "Political contributions over $100 are allowed to be made via the Internet... as long as the political contribution is made with a credit card in the name of the contributor."

Not a word about their lobbyist's credit card being used as a substitute.

It's not like the Liberal party has thousands of donors to keep track of, either.

The change may not be of the chump variety, but it only took 285 donors for the party to raise $52.3 million between 2005 and 2015.

Many of those who will have some 'splaining to do with Elections B.C. are among the 285.

So why do it at all?
It could be seen as unsavoury for a donor or a political party to be seen having a financial relationship with each other.

The Liberals swore off donations from casinos for years, but not from their executives, pulling in more than $400,000 in personal donations from 2005 to 2014.

Lost in the hullabaloo over lobbyists cleansing donations was something else in the Globe's report: the possibility that some party donors seem to believe they have incredible sway over B.C. government decisions.

The Globe quotes former solicitor general Kash Heed saying that representatives of the New Car Dealers Association met with him and "demanded he fire the chair of the Motor Vehicle Sales Authority," a consumer protection agency.

The association -- which has donated more than $1.3 million dollars to the Liberals -- confirms they had meetings with Heed, but draw issue with the topics.

Now every significant firing in government risks being seen in that same light.

One other shock? The sense from some of the lobbyists that they didn't think they were doing anything wrong by allegedly making donations in their name instead of their clients.

With the RCMP now involved, they may be in for a rude awakening.
Follow HuffPost Canada Blogs on Facebook
Also on HuffPost:
What A Political Donation Can Buy You
Republican donor and attorney Harry Whittington gave $1,000 in 2000 and $2,000 in 2004 to George W. Bush's presidential campaigns. A small price to make history: on a quail hunting trip in 2006, Bush' vice president, Dick Cheney, accidently shot Whittington in the face.

President Barak Obama has parlayed the star power of his Hollywood supporters into fundraising prizes this campaign season, including a dinner party with Sarah Jessica Parker for $40,000. If you don't have that much cash, $10,000 can get you the chance to shake the president's hand and pose with him for a photo.

Republican presidential nominee Mitt Romney has offered wealthy donors unusual levels of access to both himself and other Republican political stars during this campaign season, the New York Times reported. At a three-day GOP fundraising retreat in Utah earlier this summer, donors who gave $50,000 could sign up for a private seminars with GOP leaders like Karl Rove, Condoleezza Rice and John McCain.

Call it the most expensive hotel in the country. At least two dozen donors who gave a $100,000 or more to President Bill Clinton's re-election campaign in 1997 were rewarded with a sleepover in one of the the White House's most historic nooks, the Lincoln Bedroom.

The ambassador to France gig has always been a tempting reward for party loyalists who give handsomely. As early as 1904, Theodore Roosevelt reportedly used the job as a carrot for helping the Bull Moose candidate raise $250,000 -- $6.4 million in today's dollars -- for his election campaign. More recently, President Bill Clinton gave the job to Democratic donor and fundraiser Pamela Harriman.

Denise Rich (pictured at right) has given generously -- at least $1 million according to Time magazine -- to various Democratic Party causes over the years. And President Bill Clinton did not forget her generosity. On his last day in office in 2001 Clinton signed off on a controversial pardon for her fugitive ex-husband. Denise Rich has since given up her American citizenship and her U.S. tax bill and moved to Europe last fall.

State politics are not immune to donor money: The Minnesota Vikings have spent an estimated $5.5 million in lobbying efforts, giving at least $115,000 to state politicians in the first five months of 2012, to ensure passage of a new $975 million stadium for the NFL team. Much of the cost to build the stadium will be funded by taxpayers.

Casino mogul and heavy-hitting Republican donor Sheldon Adelson has given at least $25 million to GOP super PACs. What's in it for him? The U.S. government is looking into whether Adelson's company has violated the Foreign Corrupt Practices Act in Macau, where the company has been accused of bribing officials and profitting from prostitution.

Between 2000 and 2008, the oil and energy industry paid nearly $400 million to lobby the federal government and more than $82 million in donations to politicians, according to PBS. They got a return on their investment: Passed under President George W. Bush, the 2005 Energy Policy Act rolled back regulations and paved the way to allow widespread fracking.