Cuba: Long-Term Efforts Amidst A Hurricane Response
By Greg Spira
The scene from Haiti remains heartbreaking. Powerful Hurricane Matthew struck the vulnerable nation on Oct. 4 with winds exceeding 230 km/h, leaving an estimated 1.4 million people in need of assistance and more than 500 people confirmed dead.
But in Cuba not a single casualty has been counted.
Make no mistake, Hurricane Matthew left its own path of destruction there as well. After hitting Haiti, the storm made landfall over the eastern tip of Cuba. Aerial photographs of the affected region show a shattered landscape with crops wiped out; buildings, schools and key infrastructure destroyed; and homes left in ruin. Yet thanks to the government's swift efforts to evacuate people from vulnerable areas before the Category 4 hurricane struck, no one was killed.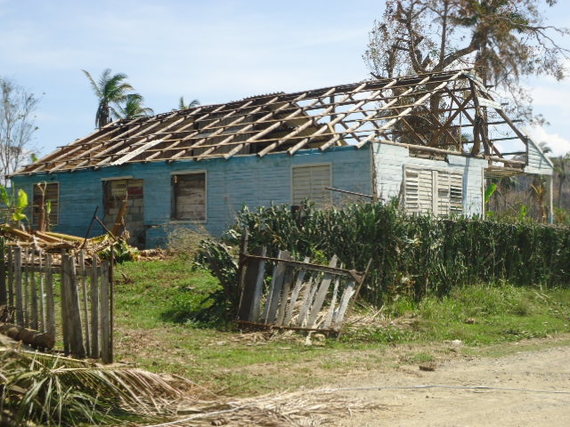 I travelled to Havana in early October to help our country office with the emergency response. CARE Canada has been engaged in Cuba for more than two decades. Our Cuban team is small -- under 10 staff members -- but we work closely with local partners and municipalities in our efforts.
CARE programming in Cuba has focused on helping families develop sustainable food solutions, livelihoods and economic empowerment initiatives, and responding to emergencies such as Hurricane Sandy in 2012 and this most recent storm.
As Hurricane Matthew was approaching Cuba, CARE's emergency team went on full alert to prepare to support the government in the response. The Cuban authorities evacuated one million people and have led the immediate emergency response following the storm.
CARE is looking to assist this effort with shelter support, working with local partners to help families build back safer homes. We'll also be providing families with water and sanitation kits and basic household supplies.
Our team has been putting a lot of attention into making sure all support provided meet the different needs of women and men when dealing with an emergency. CARE is planning to assist 26,000 people, with a priority placed on women, female-headed households and the elderly in Guantanamo and Holguin provinces (focusing on Maisi, Baracoa and Moa).
Stopping Food Loss and Waste
While this emergency response demands the attention of our hard-working team, CARE's other development initiatives in Cuba must continue. My colleagues here kept telling me about their hope that our long-term support for agricultural and economic growth would pave the road for communities to become better able to deal with shocks like Hurricane Matthew in the future.
One of these development initiatives is PROSAM (acronym from its Spanish name), a project being implemented by CARE Canada in partnership with Oxfam Canada and the Cuban Soils Institute. The five-year project seeks to promote sustainable agricultural production. With the support of Global Affairs Canada, the project is expected to reach 2,500 farmers and 100,000 consumers across five municipalities.
The $4.9 million project will be conducted with the support of five municipal governments located around Havana. Together, agencies will work to increase the sustainable production of a variety of foods and help strengthen the management of local agriculture development.
I travelled out to the municipality of Bejucal. Here, local farmers find between 40-60 per cent of the fruits and vegetables go to waste. Some of this occurs while distributing it outside the community, but most of the lost produce is simply left to wilt in the fields with no alternatives available.
Anyone that has been here and seen the old cars that continue to drive will know that Cubans can be quite resilient and resourceful people.
Our project team will be working with farmers to address these challenges in a few ways. First, we will look at creating new methods to harvest and process their extra produce. For example, I visited a small factory that will help in making guava and mango preserves and canned tomatoes that can be sold in local markets. We will also look at strengthening processes that convert waste into organic fertilizer, which will help with future harvests.
At the same time, we'll also be working with local markets and distributors to ensure the hard work of farmers isn't left to rot due to poor storage, handling or nowhere to sell the fruit of their yields.
Prime Minister Justin Trudeau's visit to Cuba is a clear demonstration that Canada and Cuba have a special relationship that goes far beyond our love for sun and sand. Both governments have enjoyed a positive bilateral relationship, uninterrupted for over 70 years. The Canadian government has helped broker important political discussions and is a leading donor towards development initiatives.
Anyone that has been here and seen the old cars that continue to drive will know that Cubans can be quite resilient and resourceful people. Whether it is responding to an emergency like Hurricane Matthew or developing new food solutions, our work in Cuba is built on this spirit, this ability to overcome great challenges.
In so many ways these are exciting and change-filled times in Cuba, giving us an ideal moment for Canadians and Cubans to harness the energy and move forward together.
Greg Spira is Program Manager at CARE Canada.
The views expressed are those of the authors and do not necessarily reflect the views of CCIC or its members.
Follow HuffPost Canada Blogs on Facebook
Also on HuffPost:
A man tries crosses the overflowing La Rouyonne river in the commune of Leogane Port-au-Prince, on Oct. 5, 2016.

Trees sway with the wind during Hurricane Matthew in Les Cayes, Haiti, Oct.4, 2016.

A tap tap (public transportation) crosses the water left by the rain after Hurricane Matthew, in Port-au-Prince, on Oct. 4, 2016.

Residents observe the overflowing Guaso river in the Guantanamo province, Cuba on Oct. 4, 2016. The most menacing storm in the Caribbean in nearly a decade, Matthew began battering Haiti late Monday with strong winds and rising sea levels, before barrelling ashore some 400 kilometres west of the capital Port-au-Prince.

People clean the coastline of Santo Domingo, near the Port of Haina in the Dominican Republic on Oct. 3, 2016.

Picture taken on Oct. 5, 2016 showing the state in which a coastal road between Guantanamo and Baracoa was left after the passage of Hurricane Matthew through the eastern tip of Cuba on Tuesday afternoon.

A man looks at the rise of a river, in a neighbourhood of the commune of Cite Soleil, in the Haitian Capital Port-au-Prince, on Oct. 4, 2016.

People look at the roof of a house which collapsed during the passage of Hurricane Matthew killing a child, in the neighbourhood of La Puya, in Santo Domingo, Dominican Republic on Oct. 4, 2016.

Picture taken in the flooded neighbourhood of La Puya, in Santo Domingo on Oct. 4, 2016 after the passage of Hurricane Matthew through Hispaniola -- the island that the Dominican Republic shares with Haiti. Matthew, a Category Four hurricane, slammed into the Dominican Republic and Haiti Tuesday, triggering major floods and forcing thousands to flee the path of the storm.

A wave splashes on the beach at Siboney ahead of the arrival of Hurricane Matthew, Cuba, Oct. 4, 2016.

People walk on the street after strong waves hit the coast at Siboney beach ahead of the arrival of Hurricane Matthew in Cuba, Oct. 4, 2016.

Locals gather at a downtown pub as they keep an eye on weather reports ahead of Hurricane Matthew approaching Nassau, Bahamas Oct. 5, 2016.
Follow Development Unplugged on Twitter: www.twitter.com/CCCICCIC