Make Giving Back A Part Of Your Routine And A Priority
Tamara Bournival and her husband quit their jobs. They packed up the essentials, and then, along with their two young children, set off backpacking around the world for a year.
While in Nepal, Tamara met a nurse and doctor working in remote communities. As a pharmacist, she was particularly interested, and toured some of the facilities in the area. Later, Tamara would return to Nepal with the Canadian Red Cross, where her expertise as a pharmacist would help save lives.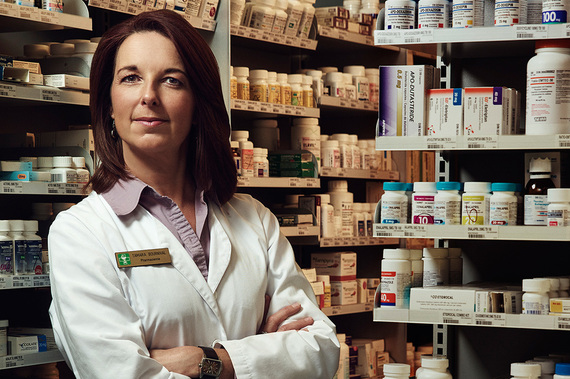 As Canadians, we owe it
Even as a kid Tamara had ambitions of "saving the world," with visions of travelling abroad to help vulnerable people. A proud Canadian, Tamara says she feels so fortunate to have been born here: "It's like winning the lottery, being born in Canada. So we owe it. As Canadians we have an obligation to help others." This philosophy fuels Tamara's humanitarian work.
When she joined the military, Tamara trained to be part of the Disaster Assistance Response Team (DART). While she was not deployed with DART (her only mission was cancelled 24 hours before it was scheduled to begin) this training "lit a flame" in Tamara, she says.
Years later, her travels with her family reinvigorated the need to give back and she joined the Canadian Red Cross. Tamara has been deployed as a pharmacist to the Philippines following Typhoon Haiyan, and to Nepal following last year's earthquake.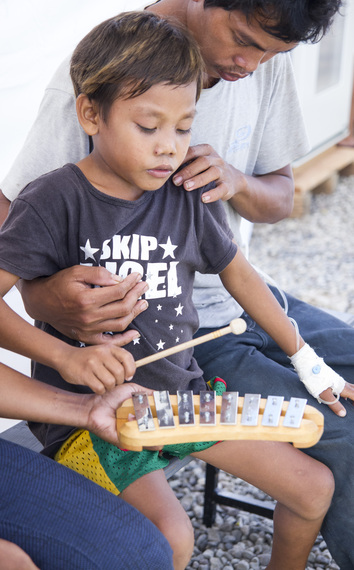 What a good day looked like
Disasters continue to impact healthcare long after they occur. Damaged and destroyed infrastructure adds additional strain in vulnerable communities. So when a young boy stepped on a jagged piece of metal while helping his father rebuild the family's roof in the Philippines, the situation became serious.
When the boy was brought to the emergency field hospital where Tamara was working, he had tetanus. Tetanus is an infection affects the nervous system, causing muscles to severely spasm. In areas with stronger medical infrastructure, tetanus is rare - but in other areas tetanus can be fatal.
Tamara recalls when the boy arrived at the hospital - the prognosis was not good. He had to be heavily sedated using IV medications for two weeks, a treatment that was extra complicated due to the drugs required.
When the Canadian Red Cross deploys their emergency field hospital, they bring medicine with them in part to make sure the hospital is able to sustain itself without impacting the already strained health system in these areas. There simply weren't enough of the drugs required to maintain his treatment.
Tamara would spend at least half her day traveling the area, going to other pharmacies and hospitals in order to get approved prescriptions to acquire the drugs needed to sustain the coma for two weeks. But she is quick to point out that her efforts were all part of her team coming together and "rallying to save the boy's life."
In a hospital that saw many unhappy endings, Tamara says there wasn't a dry eye when the boy was discharged after truly beating the odds: "It was one of those feel-good stories you weren't expecting."
What a stressful day looked like
Nerve-wracking aftershocks followed the major earthquake in Nepal. Tamara recalls a moment when communication was lost with a Red Cross team located in a remote valley following a powerful aftershock. Tamara had just visited that team, and trying to reach them was incredibly stressful.
In overwhelming moments like that, Tamara says she focuses on doing her part and her work and relies on faith that her team members are doing the same.
Giving back feels good
When speaking with Tamara about her work as a humanitarian, she stresses that she feels incredibly fortunate to be able to do this work, and that she personally feels like she is gaining a lot from it. "Giving back gives to you. Giving back feels good," she says.
Her advice for an aspiring humanitarian? Start small.

"Get involved, volunteer, help in your community. Make giving back a part of your routine and a priority. The Canadian Red Cross has local and international opportunities, and we all have different ways to give back. Everyone has their skillset, it's important to put it to use."
Faces of Humanity
Tamara Bournival is one of the Canadian humanitarians highlighted as part of Faces of Humanity, a campaign that is examining Canada's humanitarian story through personal accounts of Canadian Red Cross aid workers. This project is made possible through the generous support of the Government of Canada.
Follow HuffPost Canada Blogs on Facebook
ALSO ON HUFFPOST:
Volunteering With Your Family
Introduce your children to books that encourage compassion and generosity toward others. Try "The Lorax" by Dr. Seuss for its message about the environment, "The Legend of Bluebonnet" by Tomie De Paola for its focus on sacrificing for others, and "Something Beautiful" by Sharon Wyeth, which is about seeing beauty in the unlikeliest places. Biographies about inspiring figures ("Martin's Big Words: The Life of Dr. Martin Luther King, Jr." by Doreen Rappaport) can also spark important conversations on how they can pitch in.

A great way to get your family invested in volunteering is to use it as a way to explore their interests and talents. Are they into sports? Volunteer to coach a youth league or help them start a collection of unused gear to donate to a school or organization in need. Are they crazy about animals? Pitch in at a pet shelter or with an animal welfare organization. To foster an even deeper sense of togetherness, participate in activities that explore your family's heritage, whether it's volunteering at a museum or reading stories at your local community center.

What sparks excitement in a teenager may provoke boredom or confusion in your grade-school child. Try to turn younger children on to volunteering by starting with simple visit to a food bank or clothing drive where they can sort items. Alternatively, you can help them start an ongoing collection (glasses, old cell phones, etc.) to donate. For older children, activities that connect to their interests and skills will help them develop their talents, stay out of trouble and serve others.

It's too easy to lose out on the real spirit of the holidays when you're caught in a whirlwhind of materialism. How about finding a way to make your holiday about slowing down and spending time with your family? There are plenty of food banks, hospitals, homeless shelters and retirement homes that welcome volunteers on holidays like Thanksgiving and Christmas. It's a great way to establish a ritual of volunteering with your kids that could well extend through the rest of the year.

Even if your family can't devote a whole day to volunteering, incorporate giving as a routine. Make service both a long-term commitment and an everyday occurrence. And the benefits are long-lasting: According to Tanisha Smith, a national director of volunteer services for Volunteers of America: "Two-thirds of youths who volunteer become active adults who volunteer."

We admit that it's a hard sell to get your kid to sacrifice the allure of the traditional birthday party, but Volunteer Guide has some great pointers for making volunteering -- and fun! -- the main attraction. Encourage guests to donate a small sum to a charity of your family's choice in lieu of an extravagant gift. And instead of useless party favors, kids can leave knowing that they've made the world a little brighter, whether they've written a letter to a sick kid or planted a tree.

Volunteering is a great opportunity to model good values and have important conversations with your kids. Make it meaningful by asking them questions before, during and after: What do they hope to get out of this day of service? What did they learn? Go to DoingGoodTogether.org for more great discussion-starters.
Follow Development Unplugged on Twitter: www.twitter.com/CCCICCIC