7 Expert Tips For Packing Bulky Winter Clothes
As baggage restrictions tighten, travellers are finding more creative ways to avoid fees. But even the lightest packers find it difficult to forego checking a bag when travelling to chilly winter destinations. These five expert packing tips will help you squeeze all of your winter clothes into a single carry-on, so you can spend your travel savings on lift tickets and hot toddies.
Wear It
Most experienced travellers will advise you to keep layers to a minimum when travelling by air. The less you wear, the less there is to shed when passing through security. But travelling in the winter months is different.
While donning your bulky winter jacket, heaviest shoes, scarf and hat may be annoying for a moment during the security screening process, it could save you from having to check a bag. And you'll arrive at your destination dressed for the elements.
Don't Pack Outfits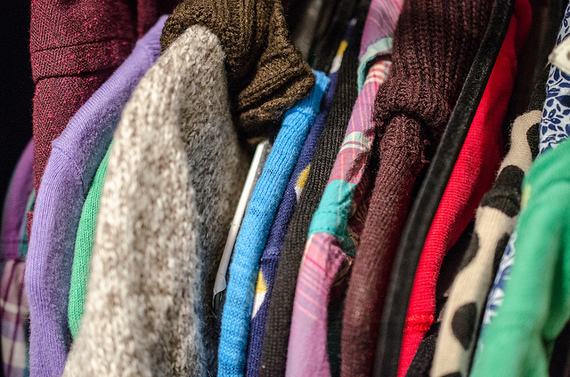 Photo credit: m01229
Specific outfits, with a top and bottom worn solely with one another, are not ideal for travelling light. Instead, pack neutral-coloured pants that can be worn with multiple tops. Make sure every shirt goes with each pair of pants, and you'll never have to wear the same outfit twice.
Do Laundry
Don't pack a clean pair of pants for everyday of your trip. Instead, research if the Airbnb apartment you're renting has access to a communal laundry space, or ask the friend you're visiting if you can do a load or two throughout your stay. Wherever you travel, you'll probably find laundry services nearby, which means you can pack much less.
Think Twice
Packing for cold weather requires much more thought than packing for a week-long trip to Jamaica. Imagine yourself at your destination and which items you'll be wearing. Leave any items behind that you won't be wearing more than twice.
Use Space Savers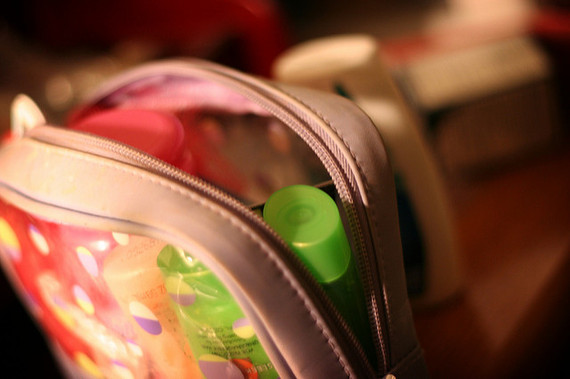 Photo credit: Ginny
It may seem a little over the top to purchase space-saving bags for a single journey, but they can be invaluable if you travel often during the winter months. There are dozens of brands available, but you can also make your own using plastic garbage bags and any vacuum cleaner with a hose.
If that seems like a little too much effort to save yourself $25 to $100 on checked baggage, carefully roll your clothing and use rubber bands to tie each piece. You'll be amazed at how much space you've been wasting by folding your clothing into your carry-on luggage.
Layer Lightly
Chunky sweaters are in style, but they're not practical when packing light. Forego packing your favourite thick wool sweater and opt for a lightweight but cozy cashmere one instead. Thermal underwear or any type of base layer can be worn on its own or under a traditional top for added warmth without bulk. Leggings work great as a bottom base layer for women, because they can be worn under pants or styled on their own.
Pack Accessories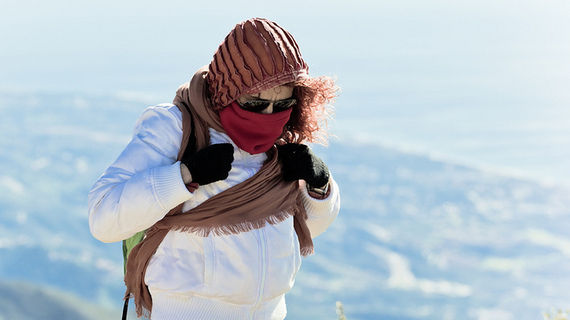 Photo credit: Hernan Pinera
You should pack more accessories than any other clothing item when heading to cooler temperatures. Instead of loading your carry-on with multiple sweaters or jackets to change your look every day, pack multiple accessories. You can accessorize the same black sweater with several cute hats and scarves to turn one clothing item into countless unique looks.
Follow HuffPost Canada Blogs on Facebook
Also on HuffPost:
1. INVEST IN A GOOD CARRY-ON BAG. Well-constructed bags will stand up to hundreds of flights, whether they're stowed in the overhead bin or checked down below. The lighter and more versatile, the better. In my experience, the best overall value is the Travelpro Crew series (pictured), though my personal favorite is the (pricier) Briggs & Riley Baseline bag. But once you commit to spending $200 or more on a rollaboard, the real question that divides luggage partisans is two wheels or four? You'll need to pick your personal travel style.

2. WRINKLES ARE FOR AMATEURS. There are great ways to pack clothes without wrinkling them; I've never been any good at most of them. Environmentalists cringe at running a steaming hot shower with the bathroom door closed to get out creases from luggage. So I bring a bottle of Downey Wrinkle Releaser in my liquids bag everywhere I go. A few spritzes and wrinkles come out well. I try not to overpack, or keep clothes packed for too long, and the wrinkles aren't usually that bad to begin with.

3. PACKING IS A LAST-MINUTE EXERCISE. I don't keep a "go bag" pre-packed. For most people, trips are different enough—length, climate, attire, schedule (day only? Evening?) that one pre-packed bag just doesn't make sense. I keep the clothing I travel with in one area, along with the electronics I only take on trips (compact power strip, extra cords for charging devices) and my travel-sized liquids, and that lets me pack in under five minutes.

4. SIGN UP FOR GLOBAL ENTRY. Once approved, you will also get TSA PreCheck. It costs $100, but several frequent flyer programs and credit cards (such as United MileagePlus for top elites and American Express for its Platinum and Centurion cardholders) will refund the fee for you. It's $15 more than just signing up for PreCheck and also gets you through immigration and customs quickly when returning to the U.S. (and also when entering Australia). But either program gets you through the security checkpoints quicker.)

5. DON'T PAY CHECKED BAG FEES. Most airlines now charge for checked bags—but they don't charge everyone. An airline's frequent flyers (and often, the frequent flyers of their airline partners as well) will get fees waived; and so will most airline co-brand credit card holders. If you fly an airline frequently, but not enough to earn status (such as flying 25,000 on that airline and its partners in a year) consider signing up for the airline's credit card. It may save you money, and also help you board earlier to ensure you have overhead space.

6. CHECK YOUR CARRY-ON SIZE (AND YOUR AIRCRAFT BIN SIZE). Most airlines allow 21-inch carry-on bags, but not all 21-inch bags are created equal. You want one that will fit in your airline's 'bin sizer' by the gate so you aren't forced to check a bag you want to carry on. Many regional aircraft have small bins that won't fit a rollaboard bag and you'll have to check it plane-side. You'll get the bag back plane-side when you land as well, but you don't want to pack valuable items or sensitive electronics in bags that will have to get checked.

7. PACK A FIRST-DAY BAG. If you're connecting, keep everything you need for the first day of your trip in your carry-on. Connections add increased complexity and risk of bag loss. Odds are if your bag is lost, it will make it on the next flight, but you might not have the bag back for a day (or longer, in more remote destinations). Carry key personal items (medicine, basic toiletries, documents) and an immediate change of clothing in your carry-on, if possible.

8. CHECK IN ONLINE. If you're flying an international airline, check in online (or they may make you check your bag). Many international airlines have weight limits on carry-on bags—that they enforce—so the roller bag you take on U.S. domestic flights may get taken and stowed below on an international flight.

9. CHECK YOUR BAG AT THE GATE. Airlines are usually enthusiastic to have passengers check bags at the boarding gate rather than having them carry bags onboard. It speeds up the boarding process (since looking futily for overhead bin space on a packed plane eats up time). If you take your bag through the security checkpoint, and you want to check it (or it's too big to fit), you can likely do so for free. It's a small reward for dragging your luggage through security.
Follow DiscountMyFlights.ca on Twitter: www.twitter.com/discmyflights