Where Do Atheists Belong in the Office of Religious Freedom?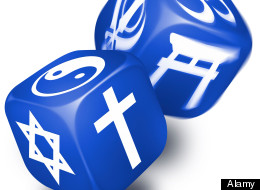 Many comments regarding the appropriateness and potential effectiveness of the Canadian Office of Religious Freedom have been made; however, with the exception of a few reporters, no one has noted the exclusion of Secular Humanist or atheist organizations from whatever consultation that occurred.
The frosting on that cake was the failure to invite representatives from any Secular Humanist organizations to the press conference formally announcing the creation of the office and the appointment of Dr. Andrew Bennett as its ambassador.
Ironically, the press conference was held in the main mosque of the Ahmadiyya Muslim Jama`at Canada. This Muslim group regularly invites Secular Humanist representatives to its World Religions Conference and respects the atheist perspective of those representatives. Perhaps the Harper government could take instruction.
We have tried to participate. On behalf of Secular Connexion Séculaire (SCS), I tried to present our case to the Minister of Foreign Affairs, John Baird at the time of the original announcement. Months later, Mr. Baird, or rather one of his minions, responded by repeating passages from the original announcement that did not mention persecuted atheists at all.
The first indication that the Harper government had thought, even in passing, about the plight of atheists highlighted by the International Humanist and Ethical Union, was Prime Minister Harper's response to a direct question about the matter from a reporter at the press conference.

I do appreciate the commitment this response indicates and will be in touch with the new ambassador to find ways to participate in the work of the Office of Religious Freedom.

In every country run by religiously dominated governments, atheists are systematically persecuted. And, yes, in every country with atheist governments believers are persecuted.
Any persecution of any person because of personal philosophy, religious or not, is not acceptable and we Canadians need to speak out strongly against such persecution.
At the same time, we must recognize that, even in the United States, several states ban atheists from testifying in court and in some cases from running for public office.
In Canada, the Income Tax Act discriminates against Secular Humanist organizations with its charitable status regulations by extending rights denied to Secular Humanists to religions for simply promoting their theist religions.
O Canada is theist in both official languages and sexist in English. SCS had proposed a solution to this situation on its website as a part of its policy of Open Secularism.
Our efforts must include work to eliminate these flaws and any other discrimination against or favouritism for any personal philosophy, religious or not.
Ambassador Bennett is newly appointed and the challenges facing the Office of Religious Freedom are large. His task is made more difficult by an inappropriately small budget, legitimate opposition party concerns about the removal of funding from other human rights organizations, and an apparent religious bias in the forming of the Office of Religious Freedoms.
More is to be gained by trying to participate in the efforts of the Office of Religious Freedom and by assisting Dr. Bennett than is to be gained by sniping from the sidelines.

SCS intends to vigorously pursue inclusion in the process.
10 Celebrities You Didn't Know Were Jewish
Aubrey "Drake" Graham was born to an African American father and a Jewish Canadian mother. Before he was breaking hearts and topping charts, the Young Money star attended a Jewish day school and had a Bar Mitzvah. (Photo by David Livingston/Getty Images)

After a 1954 car accident that almost took his life, Sammy Davis Jr. went to a hospital in California and began studying Judaism. He later converted to Judaism, telling TIME magazine "Talk about handicap--I'm a one-eyed Negro Jew."

Rashida Jones has an African-American father (music mogul Quincy Jones) and an Ashkenazi Jewish mother (Mod Squad beauty Peggy Lipton) Growing up, she attended a Hebrew School before being accepted to Harvard University.

After his mother informed him of his own family's Jewish heritage, Amar'e Stoudemire, traveled to Israel to learn more about his culture. While the specifics of his Jewish lineage remain unknown, the Knicks power forward has embraced his roots and even has a Star of David tattooed on his hand.

Jamal Michael Barrow, better known by his stage name Shyne, stepped into the spotlight as a rapper with Sean "P. Diddy" Combs' Bad Boy Records. While serving a ten-year prison sentence for attempted murder, Shyne changed his name to Moses Michael Levi to reflect his grandmother's Jewish heritage and practice Judaism.

Lauren London, an actress and model, was born in Los Angeles to an African American mother and Jewish father. She is most known for her roles in ATL and her parts on 90210 and Entourage.

Born in New York City in May 1964, Lenny Kravitz has an African American mother and a Jewish father. He has won several "Best Male Rock Vocal Performance" Grammy Awards.

Tracee Ellis Ross was born in Los Angeles to African-American singer/actress Diana Ross and Jewish music business manager Robert Ellis Silberstein. Her big break came in 2000 when Ross landed the role of Joan Carol Clayton on the sitcom series "Girlfriends." She currently plays the wife of Malcolm Jamal Warner in the BET sitcom "Reed Between The Lines."

Lisa Bonet is an actress best known for playing Denise Huxtale on the NBC sitcom "The Cosby Show." She was born in San Francisco, to an African American father, Allen Bonet, and a Jewish mother, Arlene Litman.

British musician Craig David's maternal grandfather was an Orthodox Jew and his maternal grandmother converted to Judaism.
Follow Doug Thomas on Twitter: www.twitter.com/@DJT_Humanist