Thank You for Speaking Out About Your Fertility Struggles, Jaime King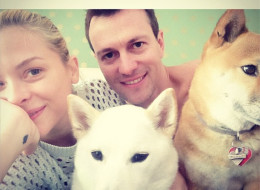 I see patients every day who long for a child, and the sadness that comes from their diagnosis is palpable. In my 23 years of medicine, I have worked with thousands of patients. I've found that most people choose to keep this struggle private.
Why the secrecy?
Many fear being judged by those they care about. They're afraid of feeling like less of a woman (or man), or fear being criticized and attacked for pursuing treatment. Others fear the vulnerability that accompanies sharing a highly personal decision.
And yet knowing all of this, Jaime you decided to come forward with your personal experiences and give a voice to all of those who found that trying for a baby didn't go as they planned.
Even though you had your son James naturally, you shared some very personal facts to help others. Before having James, you had experienced five miscarriages, five rounds of IVF, and 26 rounds of intrauterine insemination. You were undiagnosed with PCOS and endometriosis for eight years. You were trying to conceive for four and a half years. It took nine doctors to get to where you are today.
You didn't have to share this information, but you did. By doing so, you brought awareness to infertility and hope to women all over the world.
You're a beautiful, talented, and well-known Hollywood starlet who many admire. You have every right to keep your personal life private, particularly because you spend so much time in the public eye.
But you went against the grain and disclosed some very personal information to the world. You weren't afraid to take people deeper into your life. Sharing your story sheds some stigma of infertility and helps others by letting them know that you've been there too.
Thank you.
You've given a ray of hope to those who needed it amidst the flurry of injectable medications, ultrasounds, and doctor appointments. You've brought encouragement to those who went through the "two week wait" with baited breath only to be heartbroken and disappointed. Your honesty helped those who grieve the loss of a biological child when they learn their eggs are no longer viable. Your words brought comfort to those who don't know if their heart can survive another pregnancy loss or swift walk past the baby department.
To give you an idea of how many people needed your message, I would like to share some statistics with you:
• One in eight couples experience infertility.
• Between one in 10 and one in 20 women of childbearing age have PCOS.
• Roughly five million women in the U.S. have endometriosis.
• As many as 10 to 15 per cent of pregnancies are lost.
"The greatest glory in living lies not in never falling, but in rising every time we fall." -Ralph Waldo Emerson
ALSO ON HUFFPOST:
10 Things You May Not Know About Your Fertility
1. Your fertility is mostly determined by genetics, which influences how many eggs you are born with. Doctors believe that the number of eggs you have at birth determines the length of time you will remain fertile. At birth, women have about two million eggs in their ovaries. For every egg ovulated during your reproductive life, about 1,000 eggs undergo programmed cell death. Other things, such as smoking cigarettes and certain types of chemotherapy, can accelerate egg cell death and promote an earlier menopause.

2. Regular menstrual cycles are a sign of regular ovulation. Most women have regular cycles lasting between 24 and 35 days. This is usually a sign of regular, predictable ovulation. Women who do not ovulate regularly have irregular menstrual cycles. Those who do not ovulate at all may have a genetic condition called polycystic ovarian syndrome (PCOS).

3. Basal temperature charting does not predict ovulation. An older method of tracking ovulation involves taking your oral body temperature each morning before getting out of bed. This is called basal body temperature. This method is used to spot a rise in basal temperature, which is a sign that progesterone is being produced. The main problem with using this method is that your temperature rises after ovulation has already occurred. This makes it more difficult to time intercourse at an optimal time for conception. A better method is to use over-the-counter urine ovulation predictor test kits such as Clearblue Easy. These kits test for the hormone that prompts ovulation, which is called luteinizing hormone (LH).

4. Most women with blocked fallopian tubes are completely unaware they may have had a prior pelvic infection. About 10 percent of infertility cases are due to tubal disease, either complete blockage or pelvic scarring causing tubal malfunction. One major cause of tubal disease is a prior pelvic infection from a sexually transmitted disease such as chlamydia. These infections can cause so few symptoms that you may be completely unaware your tubes are affected. This is why fertility physicians will order a dye test of the tubes, called a hysterosalpingogram (HSG), if you have been trying and failing to conceive for 6 months or longer.

5. In most cases, stress does not cause infertility. Except in rare cases of extreme physical or emotional distress, women will keep ovulating regularly. Conceiving while on vacation is likely less about relaxation than about coincidence and good timing of sex.

6. By age 44, most women are infertile, even if they are still ovulating regularly. Even with significant fertility treatment, rates of conception are very low after age 43. Most women who conceive in their mid-40s with fertility treatment are using donated eggs from younger women.

7. Having fathered a pregnancy in the past does not guarantee fertility. Sperm counts can change quite a bit with time, so never assume that a prior pregnancy guarantees fertile sperm. Obtaining a semen analysis is the only way to be sure the sperm are still healthy!

8. For the most part, diet has little or nothing to do with fertility. Despite popular press, there is little scientific data showing that a particular diet or food promotes fertility. One limited study did suggest a Mediterranean diet with olive oil, fish and legumes may help promote fertility.

9. Vitamin D may improve results of fertility treatments. A recent study from the University of Southern California suggested that women who were undergoing fertility treatments, but had low vitamin D levels, might have lower rates of conception. This vitamin is also essential during pregnancy. At Pacific Fertility Center, we recommend our patients take 2,000-4,000 IU per day.

10. Being either underweight or overweight is clearly linked with lowered levels of fertility. The evidence in recent years is that obesity is clearly linked with a longer time to conception. Having a body mass index less than 18 or over 32 is associated with problems ovulating and conceiving, as well as problems during pregnancy.
Follow Dr. Angeline Beltsos on Twitter: www.twitter.com/TheFertilityDrs