Hyperbaric Oxygen Therapy Is More Than A Breath Of Fresh Air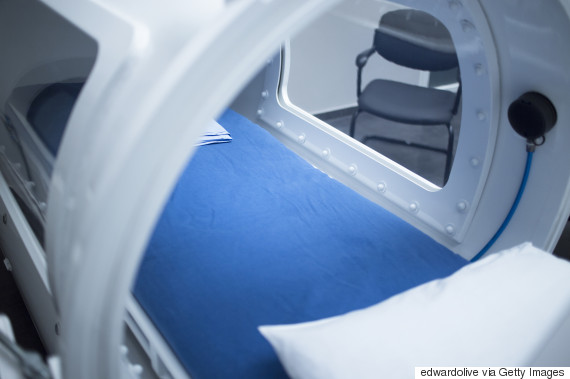 Hyperbaric Oxygen Therapy (HBOT) chamber tank used for specialised medical treatment for injuries in hospital clinic.
To amputate or not to amputate? Some decisions are easier than others.
Canadians rarely want to consider amputation as the best solution to treat a condition, but for Canadians living with diabetes, this can be a reality. Of the 2.3 million Canadians living with diabetes, it is estimated that 15 per cent will develop a diabetic foot ulcer in their lifetime, which can lead to amputation. Not only are diabetic foot ulcers accompanied by a long and painful recovery period, the Canadian Association of Wound Care estimates they cost our health-care system over $150 million annually.
In some cases, even severe ones, the amputation can be prevented, shielding the patient from a long and painful recovery period.
Meet Karen
Karen Trace was managing a severe foot wound at the time she was diagnosed with diabetes. "The wound refused to heal and my doctor believed my only option was to amputate. Understandably, I was scared," she said.
Though anxious, Karen's family was determined to find a solution other than amputation. After extensive research into possible alternatives, Karen's daughter discovered hyperbaric oxygen therapy (HBOT) at a medical centre in Scarborough, Ontario.
"My doctor was aware of the treatment but cautious about how it would work for me. After consultations and several treatments, the wound completely healed and my foot was saved!"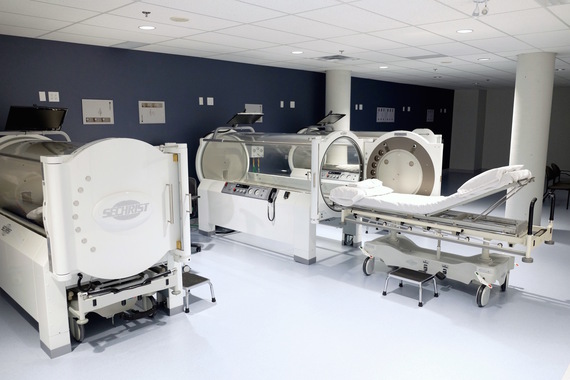 What Is Hyperbaric Oxygen Therapy?
Similar to Karen's physician, many have heard of HBOT but few understand what it is and how it can help treat medical conditions. So, what is it? HBOT is the medical use of 100 per cent oxygen at an increased atmospheric pressure to reach compromised tissues. This promotes the overall healing process of wounds. Initially HBOT was used to treat scuba divers suffering from the bends, but now Health Canada has approved HBOT for the treatment of 13 specific indications, including:
• Bone infection requiring antibiotic therapy;
• Delayed radiation injury after cancer treatment;
• Skin grafts and flaps that are failing to heal;
• Sudden hearing loss;
• Thermal burns; and
• Healing of wounds, such as the one Karen was managing.
How do I start?
There is a need for HBOT and doctors are working to increase awareness of its benefits amongst health-care professionals and patients. Patients across Canada may be the right fit for HBOT treatments, but it's important for you to do your homework first!
Referrals:
Once you have found the nearest HBOT treatment facility to you, speak with your doctor to see if you're an appropriate candidate. All patients referred to a hyperbaric medical centre or those who self-refer should undergo an initial consultation by a hyperbaric physician to determine if they are a fit.
Consultation:
No need to fear! The consultation consists of an assessment for an appropriate indication for hyperbaric treatment. A thorough medical history, physical examination and review of results of tests and imaging (if needed) will be performed to determine eligibility before you start.
Treatment:
Eligible patients for HBOT will have a treatment plan tailored to their needs, including the length of each treatment session and number of treatments. A typical treatment session lasts approximately two hours, while the number of treatments ranges from 20 to 60 in total.
Assessment:
Before and after each treatment session, your condition should be assessed to monitor the progress.
Chambers:
Hyperbaric chambers let you rest in a reclined or angled position. This means you can watch movies, listen to music or just relax during the treatment. Just breathe in and let the oxygen do the work.
Oxygen really is more than just a breath of fresh air.
Follow HuffPost Canada Blogs on Facebook
MORE ON HUFFPOST:
Commonly referred to as Juvenile Diabetes, because it's often diagnosed in childhood. However, it can also be diagnosed in adults. Type 1 diabetics have a pancreas that produces little or no insulin, which requires insulin management through medication that is usually injected.

Type 2 diabetes is a chronic condition that almost always develops in adulthood — which is why it's sometimes referred to as adult-onset diabetes. "About 90 per cent of diabetics are Type 2, meaning that their ability to produce adequate levels of insulin is highly compromised and they have significant levels of insulin resistance," says Dr. Barry Sears, president of the Inflammation Research Foundation. "The combination leads to significant increases in a variety of additional disorders — in particular heart disease and Alzheimer's — in addition to the standard problems of loss of vision, increased amputation, and kidney failure."

Insulin is a hormone. It's produced by the islet cells of the pancreas, and its role is to regulate glucose levels in the blood. The pancreas secretes insulin into the bloodstream, where it works to allow sugar to enter the cells and lowers the level of sugar in your bloodstream. As blood sugar drops, the secretion of insulin from the pancreas does too. While both types of diabetes involve insulin and the functioning of the pancreas, there are key differences in their causes and treatments.

Symptoms of type 1 diabetes include the emergence of bedwetting in children, frequent thirst, frequent urination, unintended weight loss, extreme hunger, blurred vision, and fatigue.

With type 2 diabetes, the condition can exist for years before diagnosis. But many of the symptoms are the same as with type 1: blurred vision, unexplained weight loss, excess thirst and urination, fatigue. Also watch for sores or infections that are slow to heal, as type 2 diabetes can affect your ability to heal and fight infection. As well, areas of darkened skin (acanthosis nigrican) in creased areas like the armpits and neck are a sign of insulin resistance.

A variety of factors may contribute to the development of type 1 diabetes, according to the Mayo Clinic, including possible genetics and exposure to certain viruses. Risk factors for the disease include family history and young age, with peaks in outset occurring between ages 4 and 7 and ages 10 and 14.

With type 2 diabetes, the risk factors include having excess fatty tissue, carrying fat around the abdomen, having a family history of diabetes, being inactive, having polycystic ovary syndrome, and getting older. As well, people of black, Asian, Hispanic, and Aboriginal backgrounds are at higher risk of developing type 2 diabetes, though it's not known why.

Interestingly, the incidence of type 1 diabetes increases as you travel away from the equator, according to the Mayo Clinic, leading some researchers to think it could develop more readily in winter than summer. The highest incidences of type 1 diabetes are found in Finland and Sardinia, for example, where rates are about double or triple those in the U.S. and 400 times those in Venezuela.

It's unknown exactly what causes type 1 diabetes, but in those with the condition, the immune system attacks the insulin-producing cells of the pancreas. In type 2 diabetes, the islet cells are still functioning as they should, to release insulin — the problem instead is that the pancreas doesn't produce enough insulin, the body becomes resistant to the insulin, or both. But while we know about some contributing factors, it's also not known exactly what causes type 2 diabetes.

Type 1 and type 2 diabetes can both have serious effects on your health if not managed. Diabetes can affect your eyes, heart, blood vessels, nerves, and kidneys, though keeping your blood sugar levels well managed does a lot to mitigate these effects. Nerve damage can manifest in loss of feeling or pain, usually beginning in the feet or hands. It could cause gastrointestinal problems or erectile dysfunction. Damage to the blood vessels in the kidneys can lead to kidney failure or kidney disease. Eye problems are also seen in some diabetics, and problems in pregnancy are also a risk.

Prevention of type 2 diabetes can be done in part through dietary choices, and making sure you get enough magnesium may be one of them. "Magnesium plays a pivotal role in the secretion and function of insulin," Dean says. "Without it, Type 2 diabetes is inevitable." Measurable magnesium deficiencies is common with the condition, she says, and related to many of the related complications.

Managing stress and anxiety can also help to keep your overall health steady, including possibly staving off type 2 diabetes. "The connection between stress, obesity and diabetes cannot be overlooked," Dean says. "The stress chemical cortisol signals a metabolic shutdown that makes losing weight almost impossible. Magnesium can neutralize the effects of stress and is known as the anti-stress mineral." And of course, if you do have diabetes, it's easier to manage your condition if you aren't overwhelmed.

There is no cure for type 1 diabetes, though the disease is manageable and treatment has advanced considerably in recent decades. Those with type 1 diabetes must take insulin for the duration of their lives; the physician works with the patient to find the best insulin and dose for blood sugar maintenance. Other medications may be required for related conditions. Not all type 2 diabetics require insulin therapy, but some do. For both types, regular exercise and a healthy diet, along with weight control, can also help keep glucose levels consistent.

For some type 2 diabetics, bariatric surgery may be an option to lose weight and control the disease. However, the surgery does involve serious risks that should be discussed with your physician.

If you suspect you or a family member has type 1 or type 2 diabetes, it's important to seek medical help as soon as possible. It may be helpful to keep track of your symptoms leading up to the appointment, and go in with a list of your medications and general information about your diet and exercise routines.