Newsflash: The Lottery is Not a Career Plan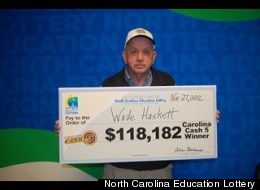 There was a lot of anxious hysteria in my neck of the woods recently. People were lining up in the hopes of hitting it big on the Powerball jackpot. As I was in line to spend my $10 on tickets, I heard everyone talking about what they would do with so much money. Most would quit their jobs. One person even went so far to say he would not quit right away because he wanted to come back in tell off his boss, slap a couple of coworkers, and tap dance on his desk naked. Not a pretty image, I can assure you.
Office pools everywhere popped up. Entire departments bought tickets in the hopes of a mass exit from working. As a talent strategist, my first thought was that none of my clients have workforce contingency plans to account for this happening.
People were pinning their next career move on winning. But why? And what does that say about your current job? Well, I am guessing you don't like it. But I have news for you... the lottery is not a valid career plan. By now, if you have been reading my blog, or read my book -- you know how I feel about the wait and hope method of career success. If there's something out there that you love to do, that you have been dreaming about, find a way to go do it.
Do not gamble your career away by waiting on odds that are one in 175 million to make your move. You have better odds of getting hit by lightning, or being bitten by a shark. It is just not a sane career plan. If you're waiting on the big bucks to make your move, they may never come. So quit waiting and start moving!
The fun of the lottery is dreaming about what you would do if you were not inhibited by money. But, interestingly, I did not hear anyone talk about starting a hedge fund, or investing in rocket design. What I heard were people that would start a non-profit, go back to teaching, or run their own small business. Sure, they would buy boats and homes, but almost all said they would keep working in some capacity.
All of the ideas I heard for what they would do for work did not require a lot of money. They simply required lifestyle choices, sacrifice, and a little bit of guts. And they were all attainable.
So the next time you start thinking about what to do with your career, let yourself dream. Think about what is possible and then wake up, get up, and get moving!
15 Things More Likely Than A Lottery Win
Odds: 88,000 to 1 (Deseret News)

Odds: 10,000,000 to 1 (Daily Beast)

Odds: 1,505,000 to 1 (Daily Beast)

Odds: 13,460,000 to 1 (Deseret News)

Odds: 13,000,000 to 1 (Time)

Odds: 12,100,000 to 1 (Seattlepi)

Odds: 6,100,000 to 1 (Seattlepi)

Odds: 4,400,000 to 1 (Daily Beast)

Odds: 840,000 to 1 (Seattlepi)

Odds: 649,740 to 1 (Seattlepi)

Odds: 18,000 to 1 (Deseret News)

Odds: 12,500 to 1 (Daily Beast)

Odds: 10,000 to 1 (Deseret News)

Odds: 4,464 to 1 (Deseret News)

Odds: 220 to 1 (Time)

NEXT: Weird Lottery Crimes

A South Carolina woman's luck stopped short after she told a few friends about her winning $500 ticket. Willie Jones, a friend of the winner, was charged with stealing her ticket.

After John Ross Jr. won a 'Set For Life' scratch off game, he was looking forward to turning his life around. However, Ross soon found himself behind bars after he allegedly helped a woman hide and repair a stolen car.

Mirlande Wilson, a McDonald's employee in Baltimore, claimed she had won the record-high $656 million Mega Millions jackpot and that she was not going to share her winnings with co-workers, who alleged that Wilson was a part of a workplace lottery pool. Wilson announced that she had hid the winning ticket at a McDonald's and subsequently claimed to have lost the ticket. In the end, it was revealed Wilson never even had the winning ticket.

A group including MIT undergraduates and a biomedical researcher discovered a loophole in the Cash WinFall game that netted them nearly $48 million. Apparently, lottery officials knew about the scam since at least 2010, but did nothing about it because it generated $16 million in revenue for the state.

Retired hospice chaplain Ron Yurcus stumbled across a million-dollar miracle when he found a winning lottery ticket while cleaning out his desk in November 2012. He had purchased the Powerball ticket from a BP gas station two months earlier.

After McDonald's employee Mirlande Wilson falsely claimed she won Mega Millions' record $656 million jackpot, three Maryland school teachers stepped forward to claim their share of the prize.

Two brothers from central New York who claimed a $5 million lottery ticket sold at their family's store were accused in November 2012 of scamming the winning ticket from a customer. Andy Ashkar, 34, and Nayel Ashkar, 36, are charged with second-degree attempted grand larceny and fourth-degree conspiracy.

John Turner, a 38-year-old Chicago man, bought a winning $100,000 lottery ticket after coming to New Jersey to help clean up after Hurricane Sandy. Turner runs National Catastrophe Solutions of Chicago, a local water removal business.

A homeless man in Greenville, S.C. won $200,000 from a scratch-off lottery game in October 2012.

Nicholas Ruth, a 19-year-old cancer survivor, matched five of the six numbers in the state's Mega Millions lottery, earning himself a second-tier prize of $250,000 in September 2012. After taxes, Ruth will have about $165,000 to spend and plans to donate some of his money back to the organizations that helped him with his leukemia.

Willie McPherson, 74, and Christopher Manzi, 44, won a $14 million jackpot in September 2012 after playing the Mega Millions lottery together for 25 years, according to the New York Post. The two had been buying lottery tickets together after becoming friends while working at Manzi's print shop in Manhattan.

A store clerk in England tried to turn in 77-year-old Maureen Holt's winning lottery ticket himself after telling her it was a losing ticket.

Ryan Kitching, a Scottish teenager, found a winning lottery ticket hiding in his bedroom after his mother told him to clean his room. The ticket is worth more than $80,000.

One Chicago couple won $30 million in the Illinois lottery, but didn't even tell their kids, according to the Chicago Tribune.

Greg Skidmore, Brandon Lacoff and Tim Davidson, who work at an asset management firm in Greenwich, one of the most affluent towns in America, came forward as lottery winners in 2011. Their lawyer said they formed a trust to manage the money after Davidson bought the $1 winning ticket at a Stamford gas station.

Amanda Clayton, 24-year-old from the Detroit-area, continued collecting $200 in government food assistance after she won a $1 million lotto prize.

Jose Antonio Cua-Toc, a foreign national from Guatemala, sued his former boss to reclaim his lotto money, which he had given to his employer out of fear of being exposed as an undocumented immigrant. Cua-Toc won the lawsuit.

The winner of an Iowa Lottery ticket in 2011 valued at $16.5 million waited until two hours before the deadline to claim the prize. The ticket was purchased nearly one year ago.

In 2011, an anonymous donor stepped in to help a Georgia church that was burglarized with a winning $80,000 lottery ticket the Associated Press reports.

NEXT: 10 Ways Lottery Winnings Can Change The World

Perhaps one of the best things you can give is the gift of education, because it can last for generations. For $10,000 at a time, there are many charities that you can assist with funding schools in impoverished countries. For example, with a Plan Canada donation, you could help establish schools in Honduras. Or, if you're looking for a more hands-on adventure travel experience, pack your hammer and head to Kenya to physically help build a school. Along with creating a place of learning for children who may never have had that experience, you can discover traditional Maasai culture. Oh, and never mind the elephant watching and beautiful sunsets you'll encounter.

Have you always loved heirloom vegetables, horses or herbs? What about buying some land and starting a mini-farm? That way you don't have to commit to a full-on operation but can see what an alternative lifestyle might be like. Bonus — you can eat the food you grow, plus donate the extras to foodshares or churches. Or, if you don't want to get your hands dirty, donate some of your winnings to a sustainable gardening project such as Food For Everyone. Its unique method helps establish gardens able to flourish in even the harshest conditions—current projects include Turkey, Turkey, Madagascar, and Armenia.

Chances are, if you've won the lottery, you've been able to surround yourself with beautiful music — perhaps a top-of-the-line car stereo or outdoor speaker system. But how can you share your love of music with others? There are a number of charities such as Musaid that provide instruments and instruction to music students all over the world who might not be able to participate in such programs. Other organizations based closer to home, such as The ArtsCan Circle, helps provide musical instruments and other support to aspiring musician students in remote, northern communities in Canada.

If you've always had a head for business, or perhaps already run a successful company, why not help someone else who's got a great idea but doesn't have the financial backing? Become an independent angel investor. Check out sites such as The Network of Angel Organizations-Ontario or a national angel group. Joining can help provide seed money to a variety of new businesses. Who knows, you could help fund a hot new Internet idea that could become the next Twitter or Instagram!

Some people say if they won millions, they'd spend the rest of their lives feeding and caring for animals. That could mean donating to humane societies or using the money you've won to start your own hobby farm. If pets are more your thing, why not help low-income people ensure their dogs and cats have access to good veterinary care through the Farley Foundation, named after the beloved dog from Canadian cartoon strip For Better or For Worse? You can donate in your own pet's name or create a legacy gift by providing funding in your will.

If you plan to spend your time after your lottery win hiking or camping, you might want to go beyond that to help preserve our country's precious outdoor space. Canada's Nature Conservancy, which was named one of the country's top charities of 2013 by Moneysense Magazine, can help you to become conservation leader by contributing to its fund to help preserve ecologically fragile landscapes. Help protect grasslands in the Okanagan valley or the habitats of Canadian songbirds.

Your home is your (likely) newly furnished castle. Perhaps you've splurged on that designer couch or a set of expensive antique cabinets. Now's the time to think of those who may be newcomers to Canada, like families trying to set up in an apartment block with little or no money. You can help them by donating to a furniture bank, which provides formerly homeless, immigrant and abused persons with their own tables and chairs and a sense of pride as they start their new lives.

If you had a love of fashion before winning the lottery, you can spread that fashion sense around by helping to provide clothing for disadvantaged people with your windfall. There are many charities for those who need outfits for events such as prom, their wedding, or a job interview. By supporting group Brides Against Breast Cancer, you'll not only help the less fortunate look beautiful on their day, but also support the fight against breast cancer.

Whether you attended university or college or not, there's no question that funding academic scholarships will help future generations achieve their career dreams. You can do it anonymously or name your scholarship after yourself or your family — ensuring it becomes part of the institution's history. Rules and regulations vary with each university, so check out their individual websites.

Winning the lottery can mean that you can explore wild, long-held childhood dreams—such as space exploration! Make a sizeable donation to NASA or join a growing number of people who are helping crowdfund projects such as the Mars One Mission, which aims to have the first human settlement on Mars by 2025.
Follow Dr. Curtis L. Odom on Twitter: www.twitter.com/@curtisodom