How Much Vitamin D do We Really Need?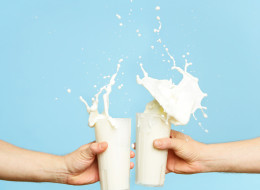 The Canadian Pediatric Society and American Academy of Pediatrics say babies and children should get at least 400 international units (IU) or vitamin D per day. The vast majority of babies and children do not get close to this.
Where does vitamin D come from?
Vitamin D can be ingested or we can get it from the sun. Most children do not get enough exposure to direct sunlight to get enough natural vitamin D. Due to concerns about skin cancer, parents often keep their kids out of the sun or apply sunscreen liberally -- both great strategies to prevent skin damage though this minimizes vitamin D attainment.
For more on sun safety, click see my blog.
Why is vitamin D important?
Vitamin D helps our body absorb calcium and phosphorus, which are critical to building bone. Vitamin D deficiency can cause rickets, a disorder where bones become too soft and don't form properly. Kids at highest risk of rickets are babies less than two years of age who are exclusively breast fed and not supplemented with vitamin D. Even babies who are receiving formula need a supplement with vitamin D if they are receiving less than 32 ounces of formula pre day.
How to give it
There are plenty of options out there. From chewable multivitamins that have 400 IU vitamin D to liquid preparations, there is a product for everyone. I personally prefer the one drop = 400 or 600IU variety as there are often tons of added ingredients such as sugar and aspartame in children's multivitamins. Most children that are eating a balanced diet don't require a multivitamin.
For the drop versions parents can drop directly into the child's mouth, put on a finger, mothers nipple or on a pacifier to be licked by the baby or it can be added directly in a bottle of milk.
Make sure that you keep the medication away from curious hands. Vitamin D drops are not usually dangerous in overdose, but should best be kept out of arms reach to your child. Overdose of a multivitamin can cause serious damage to a child.
What foods have vitamin D?
Though more difficult to do, some people are able to take enough vitamin D from food sources. I recommend finding a balance between feeding your children (and yourself) vitamin D in the diet with some minimal supplementation. Look for foods that are vitamin D fortified such as milk and soy products and orange juice. Vitamin D in milk -- one cup of milk or soy milk has about 100 IU. Unless your child is drinking four full cups (1L!) of milk per day, other vitamin D containing foods or supplementation is needed to reach the goal of 400 IU a day. Vitamin D is also found naturally in oily fish, liver, cheese, eggs and beef. However, to get the recommended daily amount of vitamin D, a child would require large portions of these foods (about 4 oz of fatty fish for example).
Summary
• Breastfed and partially breastfed babies should be supplemented with 400 IU of vitamin D per day
• Start supplementing within the first month of life
• Non-breastfeeding babies should receive 400 IU per day of vitamin D unless receiving 32 oz of formula a day.
• Older children and adults should receive at least 400 IU per day of vitamin D, with an ideal combo from vitamin D containing foods and supplementation.
• If your child has a condition that predisposes to vitamin D or calcium loss, please consult your physician to determine how much vitamin D he or she should take.
ALSO ON HUFFPOST:
7 Signs You Have Vitamin Deficiency
"Especially in winter, [vitamin D deficient] adults feel more achiness in bones and muscles," says Dr. Michael F. Holick, M.D., Ph.D., a professor of medicine, physiology and biophysics at the Boston University Medical Center. "And joints are a little more stiff when they get up in the morning."

Vitamin D seems to improve levels of the neurotransmitter serotonin, says Holick, which in turn could lift your spirits. In a small 1998 study, healthy people given vitamin D supplements during the winter reported greater positive feelings than people given no D. However, a larger study in women over 70 found no significant mental health benefit.

The skin simply doesn't make as much vitamin D as you get older, and the kidneys start to grow a little less productive when it comes to converting that D into the form the body puts to good use, according to the American Cancer Society. Older adults may also spend more time indoors, according to the NIH.

There's no change in vitamin D production in people carrying excess weight, but the higher concentration of body fat affects the levels of vitamin D in the blood. That's because vitamin D is fat soluble, says Holick, meaning the more body fat you have, the more it gets "diluted," he says. People who are overweight or obese may require more daily vitamin D to make up for this effect.

Studies have shown distinct demographic differences in rates of vitamin D insufficiency and deficiency. "Your skin pigment is natural sunscreen," says Holick. A sunscreen with 30 SPF reduces the skin's ability to make vitamin D by a whopping 97 percent, he says. Someone with very dark skin needs up to 10 times the amount of sun exposure than someone with a very pale complexion to make the same amount of vitamin D, he says.

Travel back in time a century or so and you'd find visiting doctors asking new mothers about how sweaty they found their heads. No joke, says Holick. "It's one of the first, classic signs of vitamin D deficiency."

People with Crohn's, celiac or inflammatory bowel disease may be a greater risk for vitamin D deficiency because of the way these gastrointestinal conditions affect fat absorption. With these and other stomach issues, fat absorption can be lower, but that in turn lowers absorption of fat-soluble vitamins like D, according to the NIH.

Holick says "sensible sun exposure" is key, since D production only occurs on unprotected skin. If you know you're likely to get a mild sunburn after 30 minutes outside without sunscreen, venture out for about 10 to 15 minutes and then put your sun protection on, he says. Expose arms, legs, abdomen and back if you can, for max vitamin D production. And keep in mind depending on where you live, you may only make vitamin D for part of the year due to the angle of the sun, he says, and likely only from about 10 a.m. to 3 p.m. for the same reasons. If that all sounds a little confusing -- and it certainly can be -- check out Holick's handy app, D Minder, which can help you pinpoint how long you need to be outside depending on your location and your skin type to get your optimal vitamin D.
Follow Dr Dina Kulik on Twitter: www.twitter.com/DrDinaKulik