It's Never too Late to Change Careers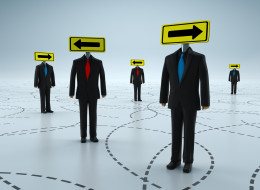 What does a university dean's resumé look like? I would guess that most have diverse leadership experience in a number of varied roles. My own work history includes stints as a barista, psychologist, professor, corporate executive, and politician -- to name just a few of the hats I've worn during my career. It hasn't been a linear path, but every one of my previous jobs has provided knowledge and skills that I use in my current job as dean of Canada's leading provider of university-based adult education.
Each of us is a lifelong learner, whether we know it or not. Each job teaches us new things, including new skills, opportunities to expand our networks, or ways to contribute. As dean of the Chang School, I am often asked for advice about how to successfully change careers. As my own story makes clear, there is no single, perfectly accurate answer to that query, but there are choices you can make to prepare yourself to make a career transition successfully and thrive in a new role.
As the mother of two recent university graduates, my friends and colleagues occasionally refer to me as "Dean Mom." My son and daughter have both taken continuing education courses since graduating university, to better prepare for a tough and evolving job market. Continuing education and lifelong learning are essential, both to personal career development and to the Canadian economy. But beyond continuing education, what are the essential strategies for career changers?
I recently participated in a Tweet chat hosted by the Chang School that served to answer that question by engaging our students with career change experts, including the Ryerson Career Centre and World Education Services (WES), to provide tips and strategies. This lively discussion featured voices as diverse as ThirdQuarter, a national non-profit organization that specializes in recruitment services for mature Canadian job seekers 45 and up, and Magnet, a not-for-profit social initiative co-founded by Ryerson University and the Ontario Chamber of Commerce, that uses an innovative job-matching technology incubated at Ryerson's Digital Media Zone. While these services could be said to serve demographics at opposite ends of their career journey, they and the other experts participating in the #ChangChat had very similar advice for career changers. Here are some highlights:
How do you know it's time to change careers?
Each of our experts agreed that there are some sure signs it may be time to change careers. Perhaps you are no longer learning new skills, are feeling uninspired, or your personal values are not aligned with the work you do. Maybe your job isn't exploiting your full potential or range of skills. As one career coach described it, your current job might give you that "ugh" feeling we all recognize. These could be signs it's time for you to make a change. This is a decision that can cause anxiety and you may worry about the risks involved. But a change can also lead to new opportunities and adventures, chances to learn new skills, and the freedom to be your best professional self.
Preparation is Key, and Change Can Be Challenging
Before jumping head first into a career change, it is important to assess whether your current skills are transferable to a new role. Take inventory of your soft skills such as communication and writing, teamwork and collaboration, adaptability, and problem solving, which are transferable across many industries. Reach out and ask questions of people in your current network and those that are in the roles you are considering pursuing. Research the labour market to determine whether your desired field has openings. And find online resources and career advising to support your preparation. Every change comes with potential challenges, and career changes are no exception. Starting from scratch brings insecurity, self-doubt, and uncertainty. It can also be hard to find time to learn and develop new skills. Volunteering can help ease the transition by allowing you to test and develop new skills before committing to a full career transition.
Strategies and Supports
There are numerous supports available to you if you are looking to change careers. From online tools like Magnet, to networking groups like Meetup or Ten Thousand Coffees, new technologies have allowed for even greater opportunities to connect. Though it may seem counterintuitive, your current network can be one of the best sources for support when preparing to change careers. Take advantage of career coaching that provides personalized support as you prepare to launch. Perhaps most importantly, your friends and family are the backbone of your personal network. Make sure you maintain your work-life balance in a way that supports your career change and your personal wellbeing.
Our Experts Agree: It's Worth It
Despite the anxiety and self-doubt that can come along with a career change, it could be the best move you ever make, provided you are properly prepared. Do your homework. Have a plan and stay with it, and maintain your courage, conviction, and positivity during the inevitable tough moments. Remember why you are making the change. And remember that hard work pays off.
If you had told me when I was a barista that I would one day lead an educational organization with over 100 staff members, serving over 70,000 annual student enrollments, I would have been excited by the prospect, but would have had a hard time envisioning a path to that goal. But I have followed the advice of many leaders before me and found my way to this job with proper preparation and a lot of hard work.
Remember -- we are all lifelong learners, and it's never too late to change careers.
MORE ON HUFFPOST:
13 People Who Prove It's Never Too Late For A Career Change
Dreams didn't always come true for Walt. The founder of The Walt Disney Company started out as a newspaper editor, but was apparently fired because "he lacked imagination and had no good ideas."

Before being named Showtime's Funniest Person in America in 1982, comedian and TV host Ellen Degeneres held these two much less glamorous jobs.

The famed chef wasn't cooking up delicious French cuisines until age 36. Before that, she worked as a CIA intelligence officer.

After his performance in "American Graffiti," Ford gave up acting for the financial stability of carpentry. That is, until George Lucas came calling about a little movie called "Star Wars."

Best known as Mr. Chow from The Hangover, actor and comedian Ken Jeong first earned his MD from the University of North Carolina and began a physician practice. In 2007, after a string of stand-up jobs on the side, Jeong made his first feature film debut in Knocked Up as -- what else? -- a doctor.

The songwriter's singing may have made him famous, but his genius was by no means limited to just music. Costello first spent his days in an office operating an IBM 360.

American beat poet Allen Ginsberg is best remembered for his bestselling poem, "Howl." But before he found success through writing, Ginsberg held a variety of odd jobs, working as a spot welder, night porter and cargo ship worker.

After graduating with a law degree from the University of Pisa, Andrea Bocelli worked as a defense attorney until the age of 34, when he left his job to sing full time.

Before stepping into the boxing ring, actor Sylvester Stallone was earning $1.12 an hour at the Central Park Zoo, among some other not-so-glamorous jobs.

Before Whoopi's big break in 1985, Goldberg worked at a funeral parlor applying makeup to the deceased.

For strippers. Yep, Brad used to drive strippers to and from bachelor parties. Before this, he also dressed up as a giant chicken and stood outside of an "El Pollo Loco" restaurant waving to cars.

The host of "The View" and "The Joy Behar Show" wasn't always the comedian we all love. In fact, Behar was a high school english teacher until the age of 40.

The American folk artist didn't even put paint to canvas until her 80s. For most of her life she worked on her farm in Virginia and practiced embroidery as a hobby. When her arthritis made it too difficult to hold a needle, she picked up a paint brush instead.
Follow Dr. Marie Bountrogianni on Twitter: www.twitter.com/marieatryerson