The Cleanse That Might Just Change Your Life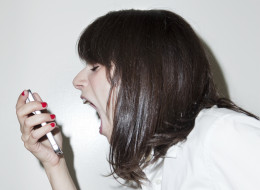 This cleanse is really the easiest thing I have ever done. I chose to do it while I was on vacation with my family, but it is equally amenable to a cooler, snowier climate. It helped me shed pounds, increase my focus and re-invigorate my passion for career and family. Do you want in?
Here is the general overview of a typical "cleanse" day. Following water and a quick workout, we ate breakfast, had a coffee and structured our day around the beach, lunch, and our children's napping schedules. In the afternoon we sat by the pool, drank blender-based libations and read real books -- on paper. This routine repeated itself for a little over a week.
Given that all good cleansing systems have acquired a name, I have called mine, "Control-Alt-Delete." My beach cleanse was not defined by a deprivation of calories, it was hallmarked by the removal of technology. I unplugged. For up to four days at a time, I ignored email, Twitter, Facebook and Instagram. I didn't respond to texts and I pretended voicemail didn't exist. At first it felt weird. I was a little bit light headed. As my body acclimatized to the change in mental demands, my brain became creative and my legs were inspired to get up and actually move. It was an incredible feeling.
The epidemic of sitting and screen time is not benign. According to a 2012 study in the Archives for Internal Medicine, occupational sitting is correlated to an increase in "all cause mortality." In other words, the more time you spend in front of a screen, the higher your chances of dying from any or all forms of chronic disease. Just as most of us would think better of smoking in front of our children, turning off your phone and spending face-to-face time with your kids could be life changing for both of you.
Despite our consistent efforts to discredit the inconvenient association between children's screen time and the development of obesity, metabolic syndrome and diabetes, the evidence suggests that all of these preventable diseases are highly correlated to children's engagement with technology.
Regardless of the genre of your cleanse, the motivation to "start fresh" or re-set your lifestyle habits is profoundly impactful. The evidence around juice, coffee and whole-food cleansing is limited. The purported benefits however, may have more to do with the capacity to induce behavior change than to re-orient physiological processes.
In their review of habit formation and lifestyle behavior change, the British Journal of General Practice noted that lifestyle changes (which includes screen time by the way), requires the pairing of behavior change with external cues. A simple example would be using the toilet and then washing your hands. In my own practice, the removal of unhealthy foods paired with the sense of motivation of having completed "the cleanse" nearly always leads to an increased desire to exercise or honour the body in a physical way. Physicality reinforces the sense of success and the juice and or food detox not only felt successful, it was successful in realigning the set point for healthy choices.
We each need to define the lifestyle habit that most significantly interrupts our capacity for healthy decision making. For me, a naturopathic doctor running a start-up, it was indeed the technology that needed the boot. So while my beach-inspired tech cleanse lacks the objective metrics to redefine public health policy, it has already inspired our family to limit our engagement with email, social media and television. Control-Alt-Delete, true to its name, has served as a critical re-orientation of my focus on family, physical movement and my career. Look out juice cleansing, I think I'm onto something.
ALSO ON HUFFPOST:
You deserve a breakfast that doesn't come shrink-wrapped every now and again, and cooking it yourself will make it all the more scrumptious. (Get some eggcellent inspiration, here.)

...when it isn't her birthday. Make a list of all the reasons she earns the title of BFF: She'll feel appreciated and grateful to have you in her life, and writing it will remind you how lucky you are to have her, too.

Lace up your sneaks, leash up your love and GO. No matter how you decide to move, choose to leave your cell at home -- grant yourself this time to be present with your own thoughts, and not the thoughts of the Twittersphere.

You'll wake up refreshed and ready to tackle any problem that seemed impossible pre-snooze. (Want to take a nap at work? We're all for it! Find some tips, here.)

Google Maps has saved your life again and again, but it's dulled the wonders of wandering. Why not take a break from knowing where you're going and instead explore the undiscovered?

For a lot of us, our A.M. cup of coffee blends into the frantic "routine" of getting to work on time. Consider setting your alarm 10 minutes earlier to enjoy every aspect of your delicious morning ritual. (Some tips to turn your morning cup of coffee into a meditation -- it works for tea, too!)

Maybe you don't have time to unplug today. Fine. What about five minutes to sit? Good. Get yourself in this postion -- Viparita Karani, or Legs Up the Wall -- for just five minutes and feel the stress of the day evaporate.

Remember when Art was your favorite subject in school? Relive that release of creativity. (Sampling the Elmer's Glue is not encouraged.)

Try crafting a meal from your roots, whether it's from a page of your Grandma's passed-down recipe book or the extravagant birthday dinner your dad used to cook you as a kid. One rule: No looking up the steps online!

Preferably one with pages that you turn, not tap.

Dust off those boxes of fourth grade genius: No one could compete with your report on Ulysses S. Grant (or so said your No. 1 fan: Mom). Revel in that fantastic feeling of nostalgia -- you are sure to find some gems!

It won't be long until waterproof phones become the norm. For now, light a candle and take a nice, long tech-free soak -- you'll emerge relaxed and peaceful.

Talk about appreciating the present moment: Those ducks won't ignore you for their Instagram feed. You'll get their full attention in exchange for a little bread.

Pick a space in your home and get organized. Doing a bit of a home-cleanse will help you feel less chaotic on the inside.

Whip out a pen and start scribbling -- you might be surprised to see all that's on your mind, without the interruptions and distractions from your external gadgets.

Pick a crowded part of town and observe: People are always up to curious things that you won't notice unless your head's up!

Gather your gang for a night of culinary joy -- everyone should bring a dish, but leave their cells behind.

Spend some time doing something good for someone else -- you'll reap the many benefits of altruism, and maybe even dig up a new hobby.

Just because they recently swapped the iconic iron piece for a cat doesn't mean your favorite classics aren't worth a revisit.
Follow Dr. Meghan Walker on Twitter: www.twitter.com/drmeghanwalker