At This Point Is Wearable Tech More About Fashion or Function?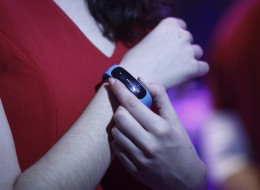 Taking calls on a wrist watch. Socks that monitor foot strike patterns to improve running performance. Biometric feedback and activity sensors that help wearers make healthier lifestyle choices. It sounds like the stuff of science fiction but it's not; it's a reality today. At WEST: Wearable Entertainment and Sports Toronto (Canada's first wearable tech show), I saw first-hand wearable technology that has already started to make waves.
I heard about major sports league scouts who can now monitor the vital statistics of athletes they were watching so they can see "under the hood" and make more quantitative decisions about drafting a player based on more than looks and gut instinct. Personal trainers can see real-time client performance data to improve form or workout quality with a more individualized approach. I even tried out a meditation headband that tracks brainwaves on a smartphone app to help lower brain activity for relaxation.
Wearables are running the gamut: technology that can boost activity, keep you connected, and at the end of the day, help you unwind. While I was amazed by the solutions being showcased at WEST (many of which we can buy today), the conference left me with more questions than answers about the bigger role of wearable technology in society.
On the one hand, the technology behind wearables isn't that new. In its most basic form, it's all about one computer talking to another like our old peer-to-peer networking environments. So, aside from the admittedly much cooler form factors, is it really all that 'new'? On the other hand, these new gadgets seek to help us improve our health by monitoring our activity and nutrition, make connecting from anywhere at any time easier (did we really need to be more connected?); and even improve safety with apps that can help parents to track the location of children or the real-time health status of the infirm or elderly.
I think that to be successful, these devices need to go beyond tracking information to interpreting the results providing meaningful insights or guidance to the wearers. I would want to know more than how many steps I took on a glorified pedometer, but rather how to insert activities with my stationary, desk-bound job; or suggest more personalized strategies for relaxation and meditation beyond a headband tracking brainwave patterns but not telling me how to make changes I need.
I very clearly see a role for wearables connected to Internet of Things. The key is transforming wearables' big data into something we can really use. I don't want a report on my inactivity -- I already know I have a relatively sedentary job! I want insights that I can use in real time that are personalized and tangible.
But like with any information-gathering device, I find myself asking questions about privacy and who owns the information. For example, if a biometric sensor is tracking the rhythm of my heartbeat and it detects an anomaly or a heart condition, does that information belong to me or to the app developer that enabled the device to pick it up? And how secure is that information?
While the applications and possibilities are very cool in the abstract, is the technology still too new and the domain of those who like to be on the bleeding edge of new gadgets?
Perhaps not surprisingly, over half the millennials surveyed by PWC are excited about the future of wearable tech and 20 per cent of adults in the U.S. already own one wearable device. But, this same survey of adults found one third weren't still using the devices after the first year.
For the purchasing public, many of whom may now be thinking about wearables as a holiday gift, barriers to greater adoption include price, privacy, security, and the lack of "actionable" as well as inconsistent information from such devices. The Internet of Things and big data analytics could help to address some of these issues but I wonder if we're there...yet.
Looking at what is possible, questions about privacy, security, confidentiality and who really owns the information that is being collected (the user or the service provider) are still being debated. And I haven't even begun to unravel the realm of wearables in the workplace! As I said, I have more questions than answers as this emerging space enters the mainstream.
What do you think: Is wearable technology a fashion accessory or a functional necessity? Who should own the information these devices tracks? Are you concerned about privacy or security when using a wearable device?
ALSO ON HUFFPOST:
Google Glass has been existence for well over a year now but that hasn't dimmed the hype. The smart glasses are voice and touch-controlled allowing you to see directions and information through its translucent display. At the moment only people who sign up for the Explorer program can use Glass, so while it's a truly significant piece of wearable technology the £1000 price tag could be a turn-off.

Samsung's best smart watch right now is also its most prohibitive. The Gear Neo 2 is a complete refinement of the previous Gear removing the clutter and creating a clean, refined and powerful smart watch. Sadly it's only available for those with a Samsung device - needlessly closing off Samsung's proficient TIzen-powered smart watch.

Starting off as a Kickstarter campaign, Misfit has gone from strength to strength all from releasing one, effortlessly simple product. The shine uses a simple ring of LED lights to show the time and also how much exercise you've done. It's waterproof, can measure steps and can now track your sleep. With so many features being added post-launch its value for money is increasing by the day.

The Huawei B1 Talkband is an interesting proposition to be sure. As one of the first smart devices that is compatible with both iOS and Android it's in the enviable position of cutting through the noise. Simple and intuitive the B1 tracks your fitness, alerts you to messages and calls and can even become a Bluetooth headset when removed from its wrist-dock.

The Moto 360 was -- it's fair to say -- a complete surprise from Motorola. No one was expecting the company to enter the wearable technology market, let alone unveil the product that is now leading the charge for smart watches. The Moto 360 is a beautiful thing; made from high quality metals and glass it looks and feels like a normal watch. Of course it's not though - under that glass is Android Wear, Google's all-new operating system for smart watches.

The original Jawbone UP was beautiful but flawed. Thankfully Jawbone went back to the drawing board, listened to its consumers and unveiled the Jawbone UP24 and it's an improvement in every single way. Just as good looking, the UP24 is aimed at tracking your life, not just your activities. A new update tracks your calorie intake whilst the apps in built vibration motor can alert you to keep moving. It's the Swiss Army knife of wellness.

Pebble can -- quite rightly -- claim to be one of the first smart watch manufacturers. Having secured their future through crowd-funding the humble company launched a simple wrist-worn watch that used an E-Ink display to show notifications from your phone. Since then Pebble has grown leaps and bounds and the Pebble Steel is the culmination of all that work. With a more premium design and a whole range of new features it's carving its own niche as the low-fi-but-sci-fi smart watch that just works.
Follow Elaine Mah on Twitter: www.twitter.com/e_mah